Sophie Brussaux, Founder And Artistic Director Of Arts Help Shares The Fundamental Role Creativity Plays In Social Change – Forbes
The power and value of art is undeniable when you look at the numbers. More than other industries such as agriculture, transportation or warehousing, the arts contribute $763.6 billion to the US economy and employ 4.9 million workers across the country. Yet still, pathways to economic stability and successful careers are not always clear for both established and emerging artists.
Founded on the principle of art making the world a better place, Arts Help seeks to provide clarity and access to revenue streams that artists need to be successful. As the world's largest art publisher, with a community of 2.5 million members, the organization's objective is to provide the necessary exposure for independent artists to create awareness for their work.
Arts Help Founder and Artistic Director, Sophie Brussaux, understands the unique challenges artists face today. First dabbling in various forms of art as a young girl, "Ever since I was a little kid I was an artist. My mom made me try all types of art – dancing, playing music and a whole lot of things until I found what I truly love a few years ago," she recalls. Brussaux eventually recognized her gift as a visual artist; a career that provided her with the opportunity to travel the world exhibiting her work. Along the way, she found within her own career, that artists struggle to overcome similar barriers – recognition of various disciplines, intellectual property (IP) protection, stigmas that art can't be a sustainable career and access to government funding.
Creating Arts Help is Brussaux's solution to navigating these career obstacles. "I want to break the stigma of art and what it means to be an artist. Regardless of medium, your art is important and Arts Help is the guidance. Individual growth is the highest hope we have for a published artist." The nonprofit offers free master classes, partners with large institutions to develop pieces for social change, and publishes content from artists of all disciplines on all platforms. "Arts Help has thousands of art page editors who follow the platform and repost its content, and in this ever-increasing digital world, online exposure has the power to open the artist to a global audience otherwise extremely difficult to penetrate," says Brussaux.
Here she shares advice for fellow artists on how to build a thriving career and how art is making the world a better place.
The Power of an Artist's Voice
Typically artists let their creations speak on behalf of themselves, but Brussaux began to see the value in being an advocate for her work and others as well. "As an artist I usually let my art be my voice, as I put my thoughts and emotions into every brush stroke. However, being a spokeswoman of a major platform has allowed me to open up a major part of who I am, as a person, to an audience of fellow artists and like-minded individuals," she says. Ensuring that her voice would have the ability to make a lasting impact in the global art community was a careful consideration that Brussaux made before taking on the role of Artistic Director. As both an artist and mother to her 2-year-old son Adonis Graham, her vision is to use her position at Arts Help to assist in creating a world where climate change and the environmental degradation of previous generations has less of a lasting impact. "Arts Help is my way of using my art and voice to advocate for two of my greatest life interests; art and valuable global impact" Brussaux says.
While art is one of the universal languages of the world that brings people together, Brussaux also recognizes that work still needs to be done in ensuring that artists and their work aren't undervalued. "One of the first questions I ask myself is, 'will my words and representation be impactful?' As an organization that represents global artists of every discipline, I have to ensure that I am always working as an advocate for art and artists and gage whether it benefits my community," she states.
Art Plays a Fundamental Role in Business
With earnings of more than $370 billion in the US, art plays a meaningful role in our everyday lives. It is common to think of artistry in the entertainment we consume, from music to art galleries but less often people consider the importance of art in business. For instance, a startup tech company seeking funding or a product or service-based business will inadvertently need an artist to work on their visual branding. Everything public-facing of a business – logo, pitch deck, product packaging, website design – require the expertise of an artist. "There is an art to how your business is perceived. With the perception that art is not a viable livelihood, it has been largely noted that artists are oftentimes left unrecognized, found to have their wages undercut, or simply not compensated at all," says Brussaux. Equipping the Arts Help community with the knowledge necessary to charge what they are worth and excel is a monumental element of the guidance and support the organization provides its members. "We initially engaged with the Art Community digitally on our social media, and now with a solid support base, we will be re-launching our masterclass this fall to further enrich our artists and members. A key focus will be IP protection for artists and we are currently working with the government on rolling out digestible online information that can be clearly communicated to our members."
Art For Social Change
Using art as a vehicle for taking action on the world's biggest issues is an important founding pillar for Arts Help. "My co-founder and I were just sitting in a coffee shop, talking about our upcoming projects, and he showed me a video titled 'We The People' for The Global Goals. The campaign was for the United Nations 17 Sustainable Development Goals (SDG's). The video is a Universal call to action to make the world a better place, by ending poverty and other deprivations by 2030, through global partnerships. Many of the people involved, such as Bill Gates, Malala Yousafzai and Stephen Hawking were not only people I admired, but champions of protecting our planet and ensuring peace and prosperity for the human race," says Brussaux. That moment led to a meeting with the UN and being awarded by the UN-Habitat Global Advocate for Arts Help's collaborative "Icons With a Purpose" exhibition at the Toronto Design Exchange Museum. Arts Help defined an icon as exceptional people who are using their wide-reaching platforms to make local and global changes that align with UN's SDG's.
Heavily invested in climate change, Arts Helps also partnered with York University, one of the largest Universities in Toronto, representing over 150 countries around the world to build the first ever Climate Solutions Park on 4 acres of land. "We call this Project Climate Change. Our park will have art, inspirational displays and innovative hands-on training opportunities, carefully curated to showcase how to solve the climate emergency," says Brussaux. Artists as she believes can use their creativity as a vessel to educate, engage and inspire innovation in their audience.
Street art festival boosts LGBT visibility in Vancouver's Chinatown – CBC.ca
Pride in Chinatown is celebrating its third anniversary and, unlike the Vancouver Pride Parade and other major events across the Lower Mainland, the event is not going online because of the COVID-19 pandemic.
"The idea of Pride in Chinatown [is] to have a presence," said Paul Wong, the artistic director and curator of the month-long street art festival.
The festival features eight artists' projects scattered throughout the neighbourhood, meant to promote the inclusion of LGBT people in the community.
"Chinatown has been segregated through discrimination and racism and fear. Chinatown has evolved from being very conservative and being very repressed … and homophobic," Wong said to Stephen Quinn, host of CBC's The Early Edition.
Most of the festival's artworks are displayed at a single location. But artist Kendall Yan's creation Quarantine is a bit different — with several locations across Chinatown.
The drag performer — whose stage name is Maiden China and who has family ties to Chinatown — turned one of his Instagram self-portraits into a poster and put it up at multiple locations across the neighbourhood.
"It's very pleasing for my ego," Yan said about seeing his face all over Chinatown.
The project began after he uploaded 41 portraits to the photo-sharing platform while stuck at home during the height of the pandemic, one photo per day.
But what came after was an unpleasant experience.
Yan initially wanted to display all 41 of his self-portraits on a storefront. He approached three businesses near his studio, but said the responses were disappointing.
"People are very hesitant to give space that's very visible, in the fear that someone is going to vandalize their business," he said.
"That is a very homophobic thing in and of itself."
Wong faced similar resistance when he dispatched volunteers asking business associations and community service organizations to put "Pride in Chinatown" stickers on their doorways and windows.
"It's been an interesting way to see that kind of embracing or resistance to being queer out loud and proud in Chinatown," said Wong.
On Saturday, community organization Youth Collaborative for Chinatown had an anonymous artist present a floral installation at the Millennium Gate as a tribute to people of different races and sexualities.
Good morning, <a href="https://twitter.com/hashtag/ChinatownYVR?src=hash&amp;ref_src=twsrc%5Etfw">#ChinatownYVR</a>! You look beautiful today!! Celebrating launch of Pride in Chinatown today 2PM w/ <a href="https://twitter.com/paulwongproject?ref_src=twsrc%5Etfw">@paulwongproject</a>. We're proud to present Floral Installation by Anononymous Artist after their original action! Blooms by The Flower Factory. <a href="https://twitter.com/hashtag/pride?src=hash&amp;ref_src=twsrc%5Etfw">#pride</a> <a href="https://twitter.com/hashtag/strength?src=hash&amp;ref_src=twsrc%5Etfw">#strength</a> <a href="https://twitter.com/hashtag/resilience?src=hash&amp;ref_src=twsrc%5Etfw">#resilience</a> <a href="https://t.co/ffCzcdM6EZ">pic.twitter.com/ffCzcdM6EZ</a>

&mdash;@ycc_yvr
All the exhibits for Pride in Chinatown — except the artwork made of real flowers — will be displayed until Sept. 7.
Click the following link to listen to Paul Wong and Kendall Yan's interview on The Early Edition:
Solo exhibition "Pastel Stories" debuts at Quesnel Art Gallery – Quesnel Cariboo Observer
For Marcela Bodorikova, her first art gallery show is a celebration of texture and colour.
"Pastel Stories", which opened August 6, 2020 at the Quesnel Art Gallery, is the culmination of a year of work. Bodorikova has brought together 50 artworks, all rendered in pastels.
"About a year ago I discovered pastels, and I completely fell in love with the texture and the colours and how vibrant they are," said Bodorikova.
Her solo show is testament to that love. The images range in subject matter, from small landscapes to larger, close-up images of flowers or fruit; from colourful barnyard beasts to Bodorikova's latest works, a series of self-portraits. But a common theme is Bodorikova's exploration of the medium. "Because I just started [using pastels] a year ago, it's all a learning process," explained the artist.
Bodorikova, who moved to Canada from Slovakia in 2002, only began creating art in a serious way about five years ago. It was the gift of a colouring book that sparked her creativity.
"Somebody got me a colouring book, and I thought, 'This is cool, but also kind of boring to colour things. I'd rather create these pages,'" said Bodorikova. She began experimenting with an art form called Zentangle, in which the artist combines dots, lines, orbs, and other small shapes in an unplanned way on small pieces of paper. Bodorikova began to Zentangle on porcelain mugs, and she sold her creations in local shops, including Cariboo Keepsakes and Tiny Treats.
"At some point, the Zentangle started to be a little bit too repetitive for me," admitted Bodorikova, who then challenged herself with acryllics on canvas. Next came charcoals. "I thought, 'These are so cool to use, but I need more colour.'" So Bodorikova ordered a set of pastels, and stumbled onto her preferred medium.
Bodorikova favours a technique that showcases the mark-making process. "I prefer a non-smudging style, so you actually see the strokes of pastels." A piece titled Set Free, for example, depicts a horse rearing against a blue background made up of hundreds of pastel markings in different shades, densities and thicknesses.
Bodorikova said she is still learning about working with pastels, but hopes to continue evolving her style as she experiments. She takes online art classes, and every month there is a different topic to explore. These explorations have resulted in some of the works hung in the Art Gallery until August 28: an image series of different kinds of fruit, for example, showcases experimentation with blending the foreground and background. "The exercise with the pear and the apple, it's called 'lost and found edges' … the edges of the apple are lost at some point in the background; it's about making a joined impression with the background," said Bodorikova.
Above all, Bodorikova said she enjoys the tactile nature of working in pastels. "I like the feel of it. I like the messiness of it," she said. "It's part of the pleasure of painting with pastels."
"Pastel Stories" runs Aug. 6-28 at the Quesnel Art Gallery. For more information about this and other local art shows, visit quesenlartgallery.com.
---
Do you have a comment about this story? email:
editor@wltribune.com
Like us on Facebook and follow us on Twitter.
Local artists urge patio patrons to check out Arts District (4 photos) – OrilliaMatters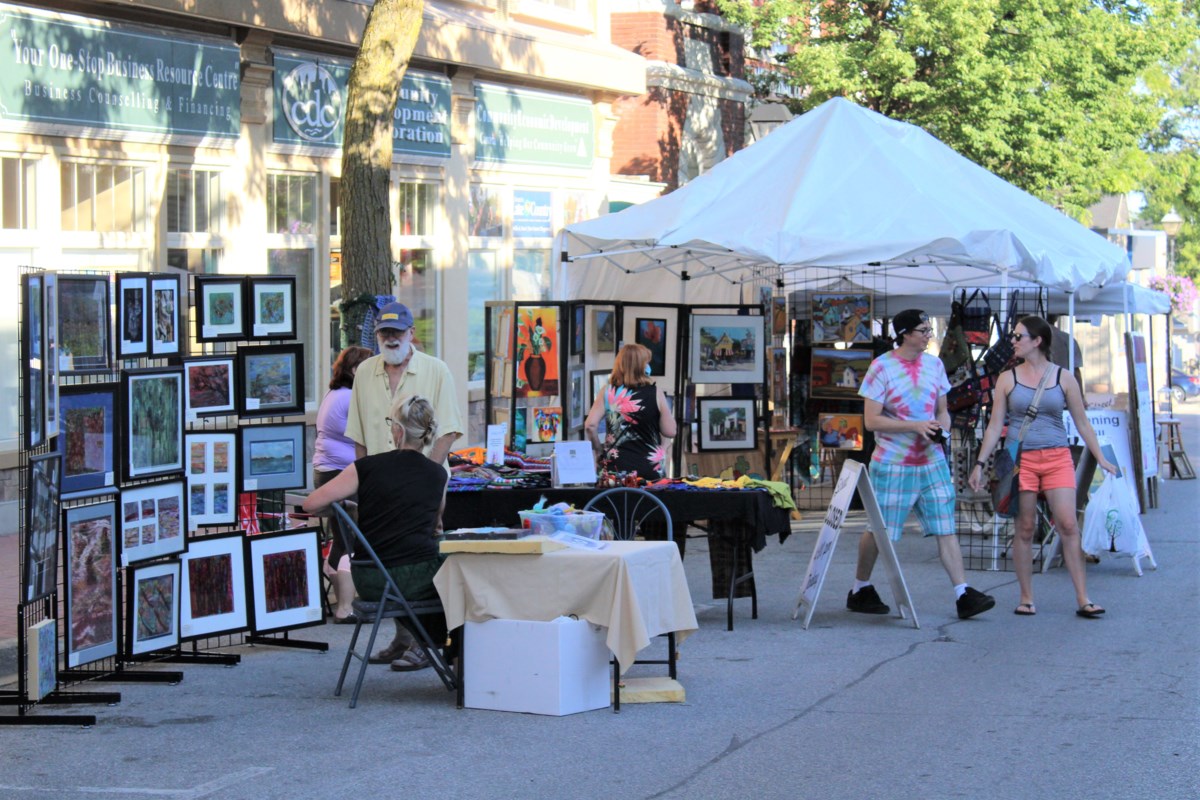 Local artists want to remind residents there's more than restaurants to explore on the weekend.
Every other Friday, the Peter Street Arts District hosts an Art Walk, during which Peter Street is closed to traffic from Colborne to Mississaga streets.
"The arts district gets dismissed sometimes. We are here," said Molly Farquharson, owner of Hibernation Arts, who helps organize the Art Walk.
The event sees artists bring their work onto the street. While the turnout has been increasing since the Art Walk began, artists would like to see more people stop by before or after enjoying dinner or drinks on a nearby patio.
"If people could buy art, we could afford to eat on the patios," Farquharson said with a laugh.
The final Art Walk of the season will take place Aug. 21 from 6 to 9 p.m. Organizers expect there will be more artists on the street and there could be interactive opportunities for kids.
Farquharson wants people to spread the word to help ensure the Art Walk series goes out with a bang.
"We're trying to toot our own horns, but we need others to help us toot them," she said.
Lucia McGarvey, who owns The Shadow Box, said she understands art might not be at the top of someone's shopping list right now, but she noted there are many affordable pieces for sale, and any purchase helps artists who have been struggling during the COVID-19 pandemic.
"It's really important that (restaurants) have this opportunity, but other small businesses need the community's support," she said. "If people are enjoying time on a patio, they can consider meandering into the arts district."
McGarvey encourages people to check out the Aug. 21 Art Walk, even if they don't purchase anything.
"Even positive comments to the artists go a long way," she said.