Souls Grown Deep Like the Rivers: Black Artists from the American South review – hardwon labours of love
A line strung with dead birds runs across an overcast sky of blue-grey enamel. The image appears familiar: crows used as scarecrows, the dead displayed to warn off the living. But these birds turn out to be scraps of black cloth suspended from real wire against the canvas, each with curiously human overtones. A glove, a hat, the actual traces of people – beyond the allusions to Jim Crow laws and southern lynchings the tragic poetry is irreducible. These flightless birds have neither life nor freedom.
Thornton Dial was 80 when he made this masterpiece in 2008. Born on a former cotton plantation in Alabama, he left school at 10 to support his family, working for decades in a railroad car plant. His struggle to find time, money or materials outside the established systems and institutions is emblematic of all 34 Black artists from the American south in this show. Theirs is a hardwon art of direct speech and passionate vision, of love, witness and historic record conjured out of wood, tin and cloth, car paint and clay, even the dirt of the earth.
Thornton Dial's Mrs Bendolph is the size and shape of a bed, flat to the wall, all crisscrossing cloth strips and wooden struts. It looks like a Robert Rauschenberg assemblage except that Dial had no knowledge of such artists (unlike Rauschenberg, who said the influence of southern "junkyard" art ran the other way). Carpet, textile, a dressing gown, furze from the fields, it commemorates one of the great Gee's Bend quilters of rural Alabama, whose brilliant free-form quilts so often invoke that landscape.
Straight away you are out in those fields, looking down from above as a slave flees from her predator in one of Dial's whorled drawings, and again through one of Mrs Bendolph's spectacularly labyrinthine quilts, displayed on the opposite wall.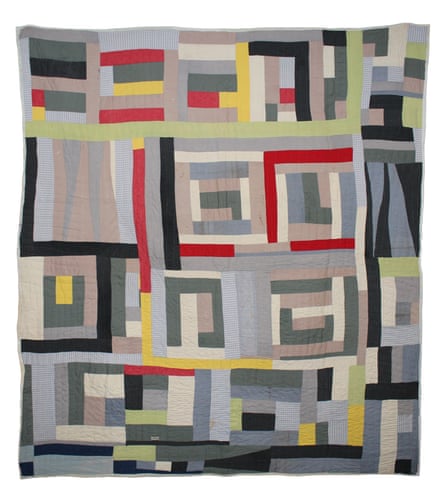 Dial's nephew Ronald Lockett constructs a floral tribute to his great-grandmother's back yard out of tin cans and car paint that exactly resembles the patches on the quilts she used to make. His rusted metal grille, concealing a sinister white mass, is a memorial to the 1995 Oklahoma bombing. You are in very deep, very fast, to community, landscape and penury.
Much of this art comes directly from the land itself. Ralph Griffin brings forth a magnificent eagle out of found wood, its wings a clattering array of sticks. Jesse Aaron's frightening totem pole of a trunk looks back at you with plastic eyes.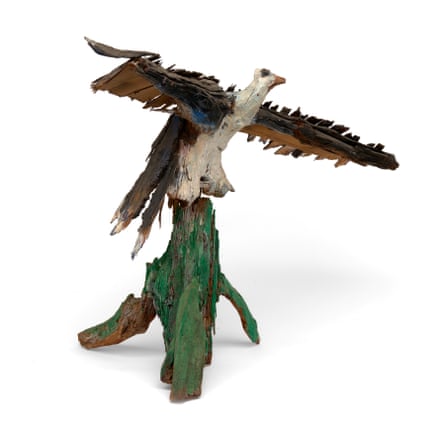 Bessie Harvey, who carved dolls out of roots as a child in Georgia, sees a vision of black faces as they might look to white oppressors in a single tree root torn straight out of the ground.
The material is the message, along with the making. Joe Minter, whose colossal African Village in America is on permanent display in the half-acre yard of his home in Birmingham, Alabama, worked for years in construction and welding. One of his independent sculptures, at the Royal Academy, is a crucifixion in which the suffering figures of Christ and the two thieves on Calvary are invoked as industrial steel brackets, garage nails driven straight through them to welded iron crosses. Rust blossoms like blood. The past is riveted to the present.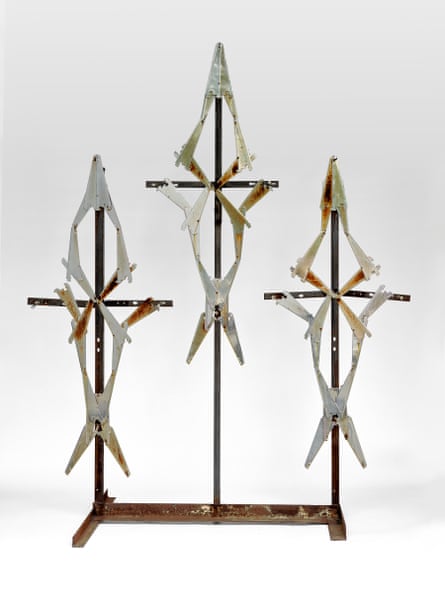 One of the starkest works here is a large and very careful painting of a blue purse on an orange background, signed in pencil Nellie Mae Rowe. Rowe was a domestic servant in Georgia who taught herself to draw and decorated her yard with images, which were eventually shown in Black Folk Art 1930-80 in Washington in 1976. The purse was made a few years later, after Rowe was diagnosed with terminal cancer at the age of 81. It is a celebration of a vital object, apparently empty but treasured: simple as the image itself.
Sometimes the narrative feels too private, or opaque. Whose heads are these, fashioned in clay with real locks of hair? A very vivid painting called My Main Man Dan stands right out, with its Roy Lichtenstein licks, but who is this Dan? Why does Mose Tolliver portray himself as a huge red bull's head?
Musician and artist Lonnie Holley's Copying the Rock, from 1995, positions a chunk of rock on a defunct photocopier with words scrawled inside its lid: "It's Like I am Living in Hell", but presented entirely out of context like this, it is not obvious who's speaking to whom. The sense of community is everywhere tight, but sometimes too much so.
There is abstract painting on old television screens, on corrugated tin and buckled plywood. A vision of Africa, made in Alabama in the 60s, was painted in blackberry juice and grass stain on old board. The sense of its making, so arduous, so loving, effortfully made with the fingertips, comes before (and indeed after) anything in the image itself.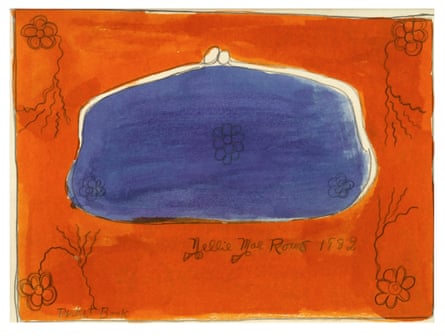 And a point may come – it did for me, looking up at a sculpture made of rusted bean cans and baking trays – when the dissonance just gets too much, between the places where these works were made (and who made them) and the expensive white walls of the Royal Academy.
This is the whole point of the Souls Grown Deep Foundation behind the exhibition, of course. Founded by the late Atlanta collector and curator William Arnett to preserve and document African American art from the deep south, and now with a board of directors featuring Jane Fonda and the art star Amy Sherald, SGDF has produced numerous museums shows all over America. Works have even been shown in the White House.
But what we see here is a fraction of the collection – 64 works out of several thousand – crammed, moreover, in three small rooms at the back of the Royal Academy on antiseptic white plinths, with careful spotlighting, as if it were just another tranche of costly blue-chip art.
Still, it is a most welcome and essential introduction for British viewers to an art that is by turns jubilant, defiant, poignant, barbed, urgent, wild, elegiac, awkward, profound. And which, if it has any single defining characteristic, has no sense of banal formal constraints. Carvings become installations, sculptures become paintings that burst into three dimensions – like Dial's self-portrait as an eagle trying to get out of a ridiculous suit, the stars of the spangled banner exploding in painted tin all around him: a bird lifting off into flight.
Art collector Myriam Ullens killed outside her home in Belgium, allegedly by her stepson – Art Newspaper
Myriam Ullens, a major collector who, with her husband Guy Ullens, supported and championed Chinese contemporary art, was killed outside the couple's home in the village of Ohain south of Brussels today (29 March) according to multiple reports in the Belgian press. She was 70 years old. The reports claim she was shot by her stepson Nicolas Ullens, who has been detained by police. Her husband, Guy, reportedly survived the incident.
Myriam and Guy were in their car outside their home around 10am when Nicolas fired on his stepmother, who died at the scene, according to La Libre. Myriam and Nicolas had been in a protracted dispute over issues of inheritance, according to multiple reports.
Myriam and Guy Ullens, who married in 1999, have been important and influential art collectors for decades. They started out collecting classical Chinese scroll paintings, but eventually shifted their attention to contemporary art. In 2007, they opened the Ullens Center for Contemporary Art in Beijing—considered at the time to be the first contemporary art museum in China—which showed works from their collection of more than 2,000 works. In 2017 they sold the museum, renamed the UCCA Center for Contemporary Art, to a group of investors; they continued and broadened their collecting activities under the banner of the Swiss-based Fondation Guy & Myriam Ullens.
In 2004 Myriam, who went by Mimi and was a cancer survivor, founded the Mimi Foundation to create centres within hospitals to provide physical and mental therapy for patients undergoing cancer treatment. In 2013 she co-organised an exhibition and benefit auction during Frieze Week in London to support the Mimi Foundation.
"If many of the artists in this project are Chinese that is because of our long and close relationship with them. This is just the tip of our iceberg—that we are continuing to follow and collect intensively with the new generation," Myriam told Ocula at the time. "A collection is like a living breathing body. It evolves in an organic manner."
Myriam was born in Cologne, Germany. Following early success in the food industry, she married Guy, a Belgian businessman and baron, and devoted herself to fashion (launching the brand Maison-Ullens) and philanthropy. The couple's charitable activities also included opening the Ullens School, an educational facility in Nepal.
Nicolas Ullens, a former Belgian state security agent, is one of four children Guy had with his first wife, ​​Micheline Franckx.
The Ullenses' foundation did not immediately respond to a request for further information.
Major Collector and Chinese Art Patron Myriam Ullens Has Been Shot Dead Outside Her Home in Belgium – artnet News
Myriam Ullens de Schooten, a preeminent collector and well-known figure in the art world, was shot dead yesterday in front of the house she shared with her husband, Baron Guy Ullens de Schooten. Both are major collectors of Chinese art and respected in the art world as the founders of UCCA in Beijing, China.
The murder occurred at 10 a.m. on Wednesday, March 29. Local media have reported that Ullens suffered four bullets to the head, and had died by the time emergency services arrived to the family home in the Belgian village of Ohain. The stepson of the 70-year-old German baroness is reportedly a prime suspect.
The 50-year-old Nicolas Ullens de Schooten, a former state security agent and one of four children, is suspected of shooting his stepmother while she was in a car with his father, who survived the attack. He has been taken into custody for questioning. According to some Belgian reports, the victim and suspect were in an open dispute over an inheritance issue. Local authorities did not immediately respond to Artnet News's request for further information.
"The vision and passion of Myriam Ullens—her love for art, belief in cultural exchange, and commitment to helping others—are at the core of UCCA's history and values," said Philip Tinari, UCCA's director, in a statement shared on social media. "We are shocked and saddened by her death, and will remember her strength, style, creativity, and generosity as we carry forward the work of the institution that she and Guy so generously founded and nurtured through its first decade."
Born in Cologne in 1952, Myriam, known to friends as "Mimi" Ullens was an active philanthropist, who initiated an education program and school in Nepal. A cancer survivor, Ullens also launched The Mimi Foundation, which was active in cancer wards at eight hospitals in Belgium, France, and Switzerland, providing support to patients going through treatment.
Myriam and Guy Ullens married in 1999 and built out an evolving collection focused on art from China, beginning at first with classical Chinese scroll painting before focusing on contemporary art from China. Their "universal" collection, as it is described on their foundation's website, includes works by prominent Chinese artists including Huang Yong Ping, Wang Jianwei, Xu Zhen, together with Western art stars like Rashid Johnson, Sterling Ruby, and Tracey Emin; another area of focus in their collection was digital art.
They opened the Ullens Center for Contemporary Art in 2007 to exhibit their collection that numbers around 2,000 artworks; the institution was one of the first of its kind in China. In 2017, the couple sold the museum to a group of patrons and shareholders and it was renamed the UCCA Center for Contemporary Art. They continued to be involved and served on the foundation council, while actively collecting via their Fondation Guy & Myriam Ullens, based in Switzerland. Myriam was also actively involved in luxury brand Maison Ullens, which she founded in 2011. The family is of Belgian nobility; Guy Ullens is a philanthropist as well as a financial services company executive who has been collecting art since the 1960s.
Follow Artnet News on Facebook:
Want to stay ahead of the art world? Subscribe to our newsletter to get the breaking news, eye-opening interviews, and incisive critical takes that drive the conversation forward.
Banksy artwork Brace Yourself! sells for over $2m at auction in US – The Guardian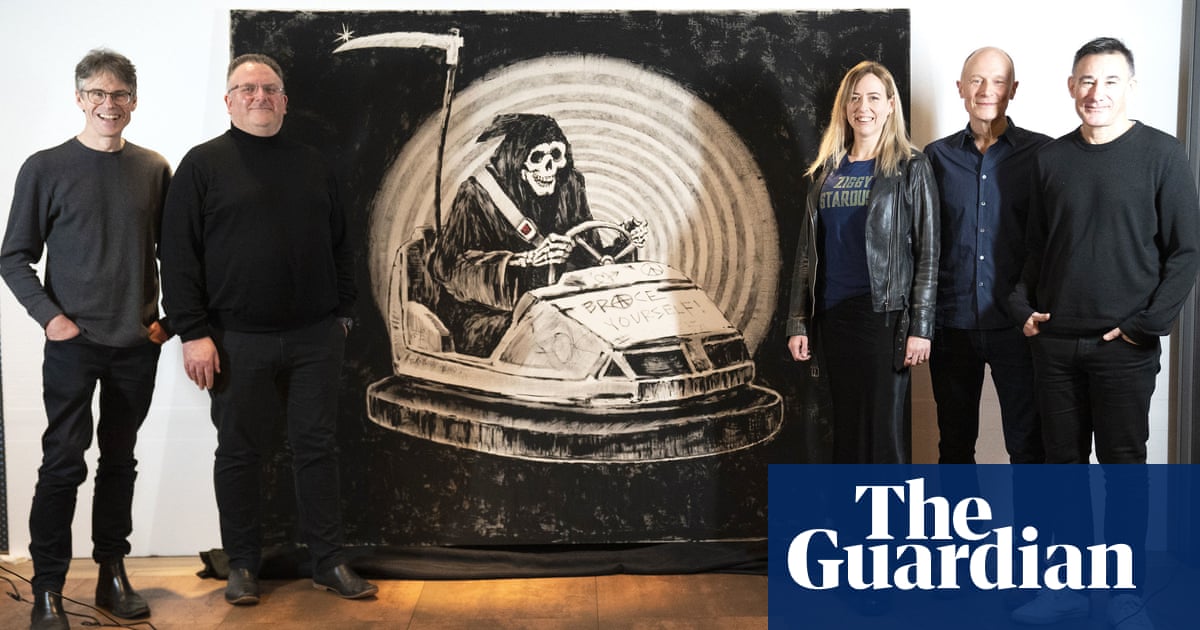 The Banksy artwork Brace Yourself! has sold for $2,032,000 (£1.6m), more than three times its original estimate, during an auction featuring a performance from the band that inspired the piece.
The anonymous artist created the work in 2010 for the British band then known as Exit Through the Gift Shop, who shared the same name he wanted to use for his 2010 documentary film.
To avoid copyright issues, the group agreed to Banksy's offer to create a painting for them on the condition they changed their name.
The artwork, a large-scale painting of a grim reaper figure riding in a carnival bumper car, was sold to Miguel Garcia Larios, the owner of Rcnstrct Studio in Hollywood, during an event hosted by Julien's Auctions in Beverly Hills.
Its original estimate was $600,000 and the sale was preceded by a live performance by Brace Yourself!, fronted by the singer Natalie Zalewska.
Zalewska previously said the sale was about preserving the artwork as a "piece of history".
The Exit Through the Gift Shop documentary tells the story of Thierry Guetta, a Los Angeles-based Frenchman who videotapes underground art escapades and later finds fame with the moniker Mr Brainwash.
A portion of the proceeds from the sale of the artwork will go to the music charity MusiCares, which provides health, financial and rehabilitation support to people working in the sector.
Also featured in the auction was an original print of Banksy's Girl With Balloon, which sold for $195,000, and more than 70 artworks from famous names such as the painter Bob Ross, the actor Jim Carrey and the Jane's Addiction guitarist Dave Navarro.
In early March, Brace Yourself! was displayed in the window of the Hard Rock Cafe in Piccadilly Circus, London.