Souls Grown Deep Like the Rivers review – art of poverty and resilience from the US south
Narratives of the great migration and the Harlem renaissance have dominated conversations around African American art in the 20th century, but a new exhibition, Souls Grown Deep Like the Rivers, which opens at the Royal Academy in London this week, invites us to consider the cultural contribution of artists from the American south. Communities that remained there in the aftermath of the civil war continued to be exposed to extremes of racial violence, segregation and the hardship of economic exclusion.
The psychic scars of that collective trauma run deep through many of the works in the show. Alabama native Thornton Dial's Blue Skies: The Birds That Didn't Learn How to Fly, for example, where cloth rags hang limp from a rubber-coated copper wire, paints a picture of abjection, while Mary T Smith's We All Want a Jobe, created in the early 1980s during her retirement in Hazlehurst, Mississippi, positions a line of blurred faces beside the desperate, scrawled text of the title to create a tableau haunted by otherness. In Keeping a Record of It (Harmful Music), Lonnie Holley, also a native of Birmingham, Alabama, positions an animal skull in the centre of a salvaged record player, gripped as though by a pincer in the record player's arm while Ronald Lockett's Oklahoma, made in 1995 in response to the Oklahoma City bombing, pieces together sheets of metal, tin, wire and nails on wood to conjure the horror of murderous white supremacy.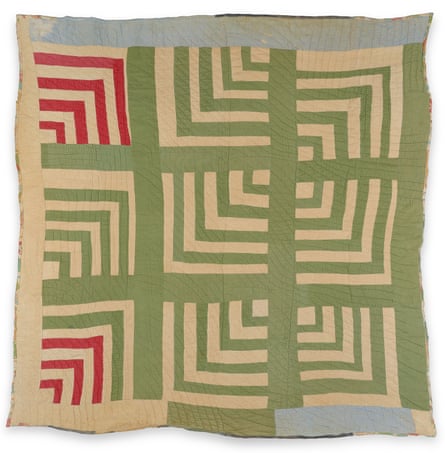 At times the exhibition feels overwhelmingly bleak. And yet in the material inventiveness of the works and in the sense of meaning made in community, with what materials are available, a powerful counterpoint to suffering emerges. It speaks to resilience, innovation and a propensity for survival that, through these artists, continues to exert an influence on prominent African American artists including Theaster Gates and Leonardo Drew (whose new work Number 360 opens at the Yorkshire Sculpture Park chapel this week) who have also made use of waste materials to propose an art of reclamation.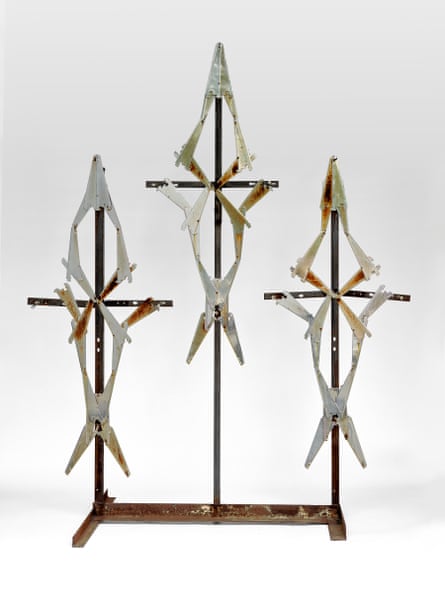 Dial's Stars of Everything, for example, transforms old cans into a cosmic night sky and a spray paint can and a piece of old carpet into an almost human presence that dances in the centre of this assemblage. His Tree of Life pulls together fragments of found wood, roots, rubber tyres and air freshener to create a monument to being that also reflects his 30 years' experience as a steelworker in Bessemer, Alabama, where his sons, Thornton Jr and Richard (both artists in the exhibition too) also worked.
The theme of intergenerational conversation and a creative tradition sustained through adversity underpins the exhibition and is also evident in the display of quilts (intended as objects to help people keep warm economically) that were made through the course of the 20th century in Gee's Bend, on the banks of the Alabama River, by artists including Rachel Carey George, Martha Jane Pettway and Loretta Pettway. "I came to realise," Loretta Pettway has written, "that my mother, her mother, my aunts, and all the others from Gee's Bend had sewn the foundations, and all I had to do now was thread my own needle and piece a quilt together."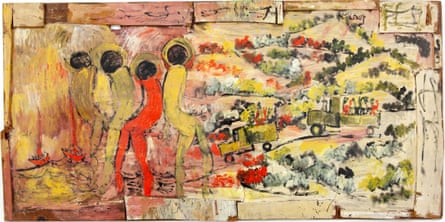 In the early 1980s, when the boxcar factory that was employing Dial and his sons shut down, they went on to set up a metal patio furniture business together where they would, on the side, experiment with making sculptures from scrap metal. Jesse Aaron, working as a cabinet maker in Lake City, Florida turned his skills in woodworking to the task of carving faces on trees around his property to act as protective presences. Joe Minter's And He Hung His Head and Died draws on the artist's experience as a welder in the construction industry, also in Birmingham, Alabama, to evoke "the 400 years journey of Africans in America" – a theme that also runs through the immersive environment, African Village in America, that he has installed behind his house to preserve the tradition of the yard show – artists, for want of any kind of institutional support, would exhibit works at their properties.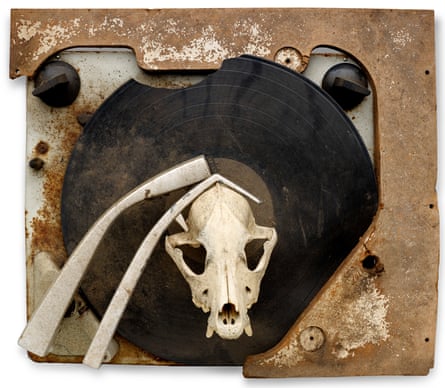 There's a giddying contrast in seeing these works now on display, when so many of the artists included in the exhibition are already dead, in the vaulted galleries of the Royal Academy where so much of the wealth and cultural capital amassed through the era of the plantation has been preserved. Placed here, this show speaks, above all, to the cultural life that has prevailed in communities shaped by histories of African exploitation and enslavement on the other side of the Atlantic Ocean, and that contrast, though uneasy, feels generative, too, and perhaps the first intimation of a longer process of reparation that is to come.
Rubbish fashion: street art costumes of Kinshasa – in pictures – The Guardian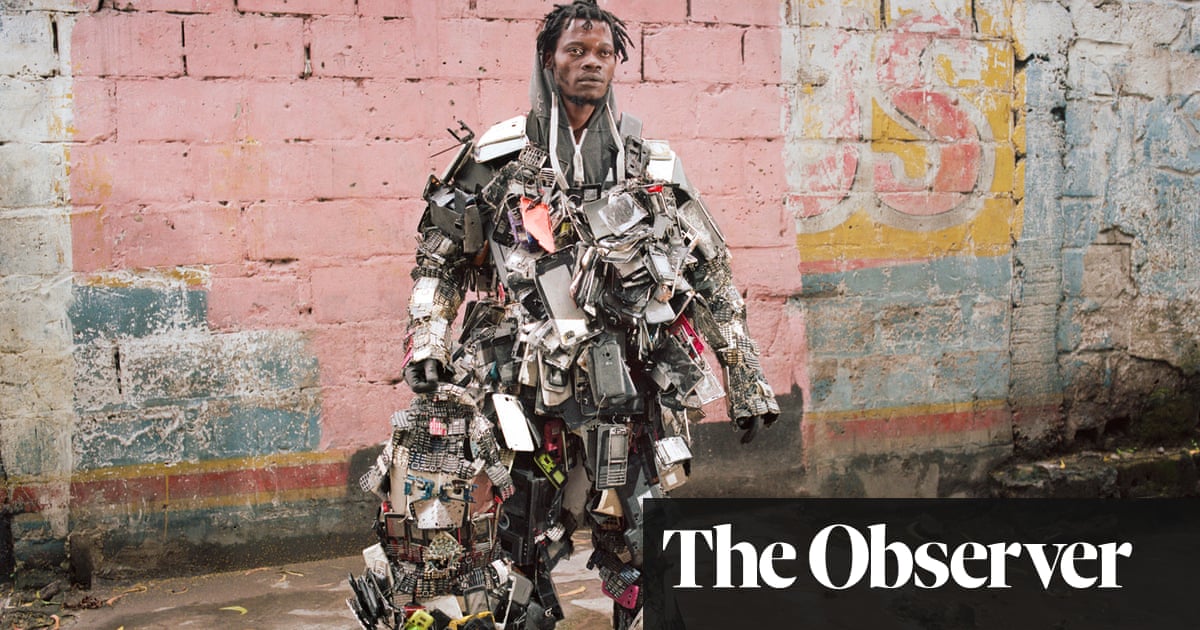 Falonne Mambu posing in her electric wires costume in Limete district, Kinshasa. As a performing artist, she raises issues about social development in her own country. The Democratic Republic of the Congo is potentially the biggest electricity provider in sub-Saharan Africa. Unfortunately, decay and corruption have crippled the national Inga dam, which only works to the minimum of its capacity. Nowadays, only 19% of Congolese people have access to electricity.
Montreal artist won't change puppet that community groups say looks like blackface
MONTREAL — A theatre performance for children featuring a puppet that has been described as racist is continuing in the Montreal area.
Several Black community organizations have criticized the puppet as being reminiscent of blackface minstrel shows — racist performances during which white people portrayed exaggerated stereotypes of Black people for laughs.
But the show's creator — Franck Sylvestre, who is Black — has no plans to change the puppet, which he said is a caricature of his own features. Sylvestre said in an interview he can't accept the idea that he's not allowed to create a caricature of someone who is Black because racists created caricatures of Black people in the past.
"That's unheard of for an artist," he said.
The play, called L'incroyable secret de barbe noire — French for The Incredible Secret of Blackbeard — first drew controversy in February.
A performance at a municipal theatre in the Montreal suburb of Beaconsfield, Que., was cancelled after complaints by Black community organizations. The neighbouring community of Pointe-Claire, meanwhile, removed the play from its official Black History Month programming but allowed the performance to go ahead.
Sylvestre, who wrote the one-man show in 2009 aimed at kids aged five to nine years old, said he had never received a complaint about his show before February.
A series of performances of the play, which combines theatre, storytelling, masks and puppetry, begins Sunday in Laval, Que., he said, before he takes it to France for 30 performances.
Sylvestre said the play tells the story of a young man who travels from Montreal to Martinique — the Caribbean island where Sylvestre's parents are from — at the request of his dying grandfather, who is haunted by his discovery of a mysterious wooden chest with a connection to the pirate Blackbeard.
Max Stanley Bazin, president of the Black Coalition of Quebec, describes the puppet's appearance as "very, very, very ugly" and said he worries that seeing a Black person presented in such a way could cause emotional damage to young audiences.
"It will have an impact on them, it will have an impact on the mind of the young people who see this puppet, and that's what we should think about," he said in an interview.
People are more likely to speak out about racism now than they were in 2009, Bazin said, adding that he thinks Sylvestre should listen to community members and replace the puppet with a less controversial creation.
"If there are people in society who have said this isn't right, you have to react," he said.
Philip Howard, a professor in the department of integrated studies in education at McGill University, said he's not sure the puppet is an example of blackface — but he said that's beside the point.
"There is still very much the matter of representation and the potential use of monstrous and grotesque representations of Black people as a source of entertainment and even humour," said Howard, who has studied contemporary blackface.
Howard said the intentions of the artist are less important than the impact of the performance on an audience.
"Here we have, in this particular instance, a whole community of folks that are responding and saying, 'Wait a minute, we don't love this, we don't think this is OK and we're particularly disturbed about it during Black History Month,'" he said.
Dismissing the opinions of Black people who have a problem with the performance demonstrates anti-Black racism, he said.
Sylvestre said he thinks much of the criticism comes from people who haven't seen the play.
"It's the job of the community to see what purpose these caricatures serve; are they, like blackface, denigrating Black people, or, as in my case, are they being elevated?" he said. "This character, he's a strong character for me personally, and when I made it, I was inspired by myself."
He said the puppet, named Max, is "like a great sage," whose interventions lead to the play's happy ending.
"Max, he was the voice of reason, he was the one who advised us, who mocked me when I made a bad decision, who was above me," he said.
Prof. Cheryl Thompson, who teaches performance at Toronto Metropolitan University, said she didn't like the puppet when she viewed a trailer for the play.
"I was extremely shocked," she said. "I just couldn't believe what I was seeing."
While blackface minstrel shows are primarily associated with the United States, Thompson's research has shown that blackface performances took place in Canada, with shows in Montreal as recently as the 1950s.
Even though blackface originated with white performers, Black actors in the 1800s would also don the exaggerated makeup and participate in the racist performances for white audiences.
"It actually didn't matter if it was a white actor in blackface or a Black actor in blackface, it was the caricature that audiences thought was funny," she said.
Thompson said there's room for theatre performances to be provocative. But performers, she said, need to engage with audiences and be willing to discuss artistic choices — especially when artists are performing for audiences whose histories might be different than their own.
"Why wouldn't this person at least try to hear the voices of people who maybe have a different experience to him?" she said.
She said she wouldn't take a child to see the show, especially during Black History Month.
"I just don't see the uplifting messaging," Thompson said. "I don't see the messaging of 'you matter,' I just don't see that celebration of life. I just see something that is steeped in a history of racial caricature and mimicry."
This report by The Canadian Press was first published March 25, 2023.
Jacob Serebrin, The Canadian Press
Vancouver to remove unsanctioned spider art creeping-out transit riders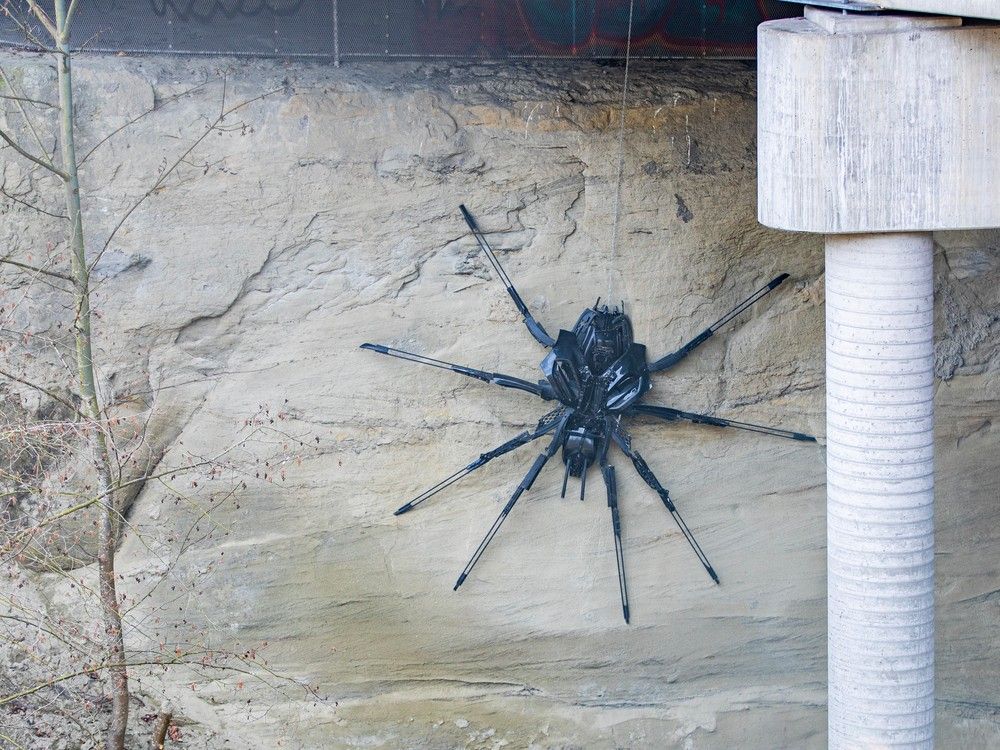 City staff are looking into how to remove a large metallic spider from under a high-traffic bridge on Commercial Drive in Vancouver.
The artwork, which startled some arachnophobic SkyTrain riders when it was installed earlier this month, was created by pop artist Junko Playtime.
In an email to Postmedia News on Friday, city staff say they were made aware of the unsanctioned spider artwork located in a corridor for SkyTrain and CN/BNSF Rail.
The installation wasn't done in consultation with the city or the rail corridor partners, city staff said. They're trying to figure out the best way to remove the artwork so there is no damage to the bridge structure or rail lines.
Staff said the artist will have the ability to claim the work through the city's impoundment process.
According to Playtime's Instagram page, the eight-foot-diameter spider was installed at night recently on the north bank below the bridge between North Grandview Highway and Broadway.
Playtime, from Montreal, has gained a reputation over the past two years for installing very large and far-out insect like futuristic sculptures from scrap metal and household items.
The artist called this latest spider creation "Phobia 2023. Time to face our fears."
— With files from David Carrigg