South Korea's 'Artificial Sun' Just Set a New World Record For High-Temperature Plasma – ScienceAlert
Scientists have just set a new world record for high-temperature sustained plasma with the Korea Superconducting Tokamak Advanced Research (KSTAR) device, reaching an ion temperature of above 100 million degrees Celsius (180 million degrees Fahrenheit) for a period of 20 seconds.
Known as Korea's "artificial sun", the KSTAR uses magnetic fields to generate and stabilise ultra-hot plasma, with the ultimate aim of making nuclear fusion power a reality – a potentially unlimited source of clean energy that could transform the way we power our lives, if we can get it to work as intended.
Before this point, 100 million degrees hadn't been breached for more than 10 seconds, so it's a substantial improvement on previous efforts – even if there's still a long way to go before we can completely ditch other sources of energy. At this point, nuclear fusion power remains a possibility, not a certainty.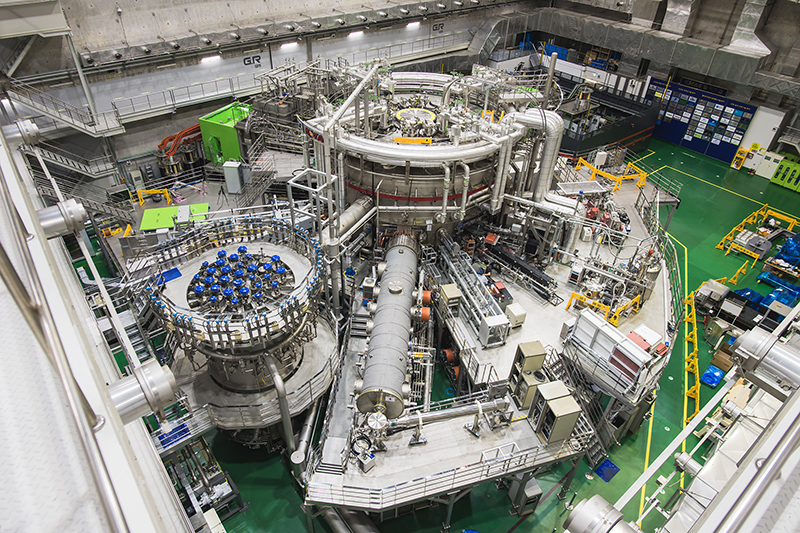 The KSTAR. (Korea Institute of Fusion Energy)
"The technologies required for long operations of 100 million-degree plasma are the key to the realisation of fusion energy," says nuclear physicist Si-Woo Yoon, a director at the KSTAR Research Centre at the Korea Institute of Fusion Energy (KFE).
"The KSTAR's success in maintaining the high-temperature plasma for 20 seconds will be an important turning point in the race for securing the technologies for the long high-performance plasma operation, a critical component of a commercial nuclear fusion reactor in the future."
Key to the leap to 20 seconds was an upgrade to the Internal Transport Barrier (ITB) modes inside the KSTAR. These modes aren't fully understood by scientists, but on the simplest level they help to control the confinement and the stability of the nuclear fusion reactions.
The KSTAR is a tokamak-style reactor, similar to the one that recently went online in China, merging atomic nuclei to create these huge amounts of energy (as opposed to nuclear fission used in power plants, which splits atomic nuclei apart).
Though the scientific work necessary to achieve this is complex, progress has been steady. KSTAR first breached the 100 million-degree limit in 2018, and in 2019 managed to sustain the temperature for 8 seconds. Now, that's been more than doubled.
"The success of the KSTAR experiment in the long, high-temperature operation by overcoming some drawbacks of the ITB modes brings us a step closer to the development of technologies for realisation of nuclear fusion energy," says nuclear physicist Yong-Su Na, from Seoul National University (SNU).
Fusion devices like KSTAR use hydrogen isotopes to create a plasma state where ions and electrons are separated, ready for heating – the same fusion reactions that happen on the Sun, hence the nickname these reactors have been given.
As yet, maintaining high-enough temperatures for a long enough period of time for the technology to be viable has proved to be challenging. Scientists are going to need to break more records like this for nuclear fusion to work as a power source – running off little more than seawater (a source of hydrogen isotopes) and producing minimal waste.
Despite all the work that lies ahead in getting these reactors to produce more energy than they consume, progress has been encouraging. By 2025, the engineers at KSTAR want to have exceeded the 100 million-degree mark for a period of 300 seconds.
"The 100 million-degree ion temperature achieved by enabling efficient core plasma heating for such a long duration demonstrated the unique capability of the superconducting KSTAR device, and will be acknowledged as a compelling basis for high performance, steady state fusion plasmas," says nuclear physicist Young-Seok Park, from Columbia University.
Findings from the experiment have yet to be published in a peer-reviewed paper, but are being shared at the 2021 IAEA Fusion Energy Conference.
UOttawa startup gets $4M funding boost for technology that curbs 'freezer burn' in stem cell tissue – Ottawa Business Journal
A biotech startup co-founded in Ottawa has landed millions of dollars in new funding for its pioneering solution that helps preserve human cells used in next-generation medical research.
PanTHERA Cryosolutions says it's secured a $4-million investment from a pair of U.S.-based firms, Washington state-based BioLife Solutions and New York's Casdin Capital, to help get its system ready for market over the next two years. In exchange, BioLife will receive exclusive worldwide marketing and distribution rights to PanTHERA's products for use in its cell and gene therapy applications.
Founded four years ago by University of Ottawa chemistry professor Robert Ben and University of Alberta researcher Jason Acker, PanTHERA makes small organic molecules that slow down the buildup of ice ​– known as recrystallization ​– that occurs when biological material used in the fields of cell therapy and regenerative medicine is frozen.
Scientists have been freezing cells and tissues for decades to preserve them for research into therapies for a wide range of diseases, explained Ben, who specializes in synthetic organic and medicinal chemistry.
Protective agents such as glycerol are used to prevent the cells from drying out in the freezing and thawing process, he said. But that process "is kind of hit and miss," Ben noted in a recent post on uOttawa's website.
Preventing cellular damage
"We might freeze 100,000 cells, but only 25,000 will survive and be viable for research or clinical applications," he said, likening the process to "freezer burn" that changes the structure ​– and subsequently the taste – of ice cream that's been stored for too long.
"That's because up to 80 per cent of the cellular damage that happens during freezing is due to the uncontrolled growth of ice. Since current cryoprotectant solutions don't address this problem, our returns, measured in cell recovery and function, are quite dismal."
PanTHERA's technology also allows cells to survive at higher temperatures than traditional methods, making it easier to store and ship them to remote locations.
"Small ice crystals are innocuous," Ben said. "They're like grains of sand on a Caribbean beach. They're so small that they mould to your body and you can lay comfortably on the beach for an entire day. Now, let's say those grains of sand were replaced by gravel or pebbles. That's a lot less comfortable. Our cryopreservation technology prevents ice crystals from growing too large for comfort."
For the past 10 months, Ben and his team have been working on a new class of compounds that can protect proteins and viruses. They're now in the process of proving that the technology can preserve COVID testing materials and RNA-based vaccines.
"Our molecules are unique because, unlike conventional cryoprotectants, they prevent all that cellular damage caused by ice," Ben said. "In the end, we recover more cells, they're healthier and more functional. There is nothing else like it out there."
Global Ice Loss Is Speeding Up: the Risks of Melting Ice Sheets – Green Matters
Melting ice sheets is one of the most cliché signifiers of global warming and the climate crisis — but clichés originate in the truth, after all, and ice sheets are still melting. In fact, new research has found that the rate of global ice loss — aka melting ice sheets — is higher than ever before.
Article continues below advertisement
On Monday, Jan. 25, 2021, researchers from the University of Leeds, the University of Edinburgh, University College London, and Earthwave published their findings in European Geosciences Union's journal The Cryosphere.
Article continues below advertisement
According to the study, ice melt over the past three decades has steadily increased — in the 1990s, there was an average global ice melt of 0.8 trillion tonnes per year; by 2017, there was an average of 1.3 trillion tonnes per year. In total, the rate of ice loss has increased by 65 percent between 1994 and 2017.
Overall, between 1994 and 2017, planet Earth lost 28 trillion tonnes of ice. To put that in perspective, that would be equivalent to a 100-meter-thick sheet of ice the size of the U.K.
Article continues below advertisement
This melting ice has been the most concerning in two polar climates: Antarctica and Greenland. 58 percent of the ice loss happened in the northern hemisphere, while the other 42 percent happened in the southern hemisphere.
"Although every region we studied lost ice, losses from the Antarctic and Greenland ice sheets have accelerated the most," lead author Dr. Thomas Slater said in a statement for the University of Leeds. "The ice sheets are now following the worst-case climate warming scenarios set out by the Intergovernmental Panel on Climate Change. Sea-level rise on this scale will have very serious impacts on coastal communities this century."
Article continues below advertisement
"The melting of ice across the planet is accelerating at a record rate /…/ The rate of loss is now in line with the worst-case scenarios of the Intergovernmental Panel on Climate Change." https://t.co/Xn9wpWSgfF

— Greta Thunberg (@GretaThunberg) January 25, 2021
Article continues below advertisement
This rapid ice melt poses a series of significant issues for Antarctica, Greenland, and other cold climates. For one thing, it has a strong correlation with sea level rise.
"Sea ice loss doesn't contribute directly to sea level rise but it does have an indirect influence. One of the key roles of Arctic sea ice is to reflect solar radiation back into space which helps keep the Arctic cool," co-author Dr. Isobel Lawrence explained in a statement.
Article continues below advertisement
"As the sea ice shrinks, more solar energy is being absorbed by the oceans and atmosphere, causing the Arctic to warm faster than anywhere else on the planet," she continued. "Not only is this speeding up sea ice melt, it's also exacerbating the melting of glaciers and ice sheets which causes sea levels to rise."
As these ice sheets melt and glaciers retreat, people and animals around the world "at both local and global scales" are at risk, according to report co-author Inès Otosaka.
The rate at which Earth's ice is vanishing is speeding up.

* Over 28 trillion tonnes of ice (equivalent to a sheet of ice 100 metres thick covering the whole of the UK) lost since 1994

* For every centimetre of sea level rise, a million people are in danger of being displaced pic.twitter.com/TSyNCXLZT6

— Ben See (@ClimateBen) January 25, 2021
Article continues below advertisement
On a global scale, when sea level rise gets out of hand, coastal areas experience high flood risks. Cities like Miami, New York City, and New Orleans could wind up underwater by the end of this century if we don't take action, as reported by Business Insider.
On a local scale, "mountain glaciers are also critical as a freshwater resource for local communities," as per Otosaka. With fewer mountain glaciers, people who depend on these for a source of water could suffer. Not to mention, animals who rely on or live on glaciers and ice sheets may suffer; according to GlacierHub, this long list of animals includes polar bears, penguins, seals, snow leopards, bison, and reindeer.
Scientists find a cloudless 'hot Jupiter' exoplanet with a four-day year – Yahoo Movies Canada
The Canadian Press
BRUSSELS — The European Union's executive body proposed Monday that the bloc's 27 nations impose more travel restrictions to counter the worrying spread of new coronavirus variants but make sure to keep goods and workers moving across EU borders. Amid concerns related to the production and delivery of COVID-19 vaccines, the European Commission urged EU nations to reinforce testing and quarantine measures for travellers as virus mutations that are more transmissible threaten to overwhelm European hospitals with new cases. More than 400,000 EU citizens have already died from the virus since the pandemic first hit Europe last year. "The start of the EU vaccination campaign kicked off the beginning of the end of the pandemic," EU Justice commissioner Didier Reynders said. "At the same time, new, more transmissible variants of the virus have surfaced. There is currently a very high number of new infections across many member states. And there is an urgent need to reduce the risk of travel-related infections to lessen the burden on overstretched healthcare systems." Among the new measures, which need to be approved by EU nations before taking effect, is the addition of a new "dark red" colour to the EU's weekly map of infections. Reynders said this new colour highlights areas where the rate of new confirmed infections in the last 14 days is 500 or more per 100,000 inhabitants. He said between 10 and 20 EU countries would already see that colour on all or part of their territory if it was in effect now. "We also think it is necessary for essential travellers arriving from dark red areas to get tested before travelling and to undergo quarantine, unless these measures would have a disproportionate impact on the exercise of their essential function," Reynders said. Since the discovery of the new virus variants, several EU countries have already reinforced their lockdown measures. Belgium has introduced a ban on all nonessential travels for its residents until March, while France could soon start a third lockdown if a stringent 12-hour daily curfew already in place can't slow down the spread of new infections. "We are suggesting stricter measures for dark red areas, because we must recognize the high level of cases," Reynders said. Insisting that all non-essential travel is "strongly discouraged," the commission repeated the need to keep the single market functioning so workers and goods can continue to cross borders smoothly, "Border closures will not help, common measures will," Reynders said. The commission also proposed that travellers from outside the EU should face mandatory coronavirus testing before they depart, tests once they arrive, mandatory quarantines for up to 14 days and hand over data for contact tracing. It suggested EU citizens and residents take a coronavirus test upon arrival and could face further restrictions if they coming in from a country where a variant has been detected. ___ Follow AP coverage of the virus outbreak at: https://apnews.com/hub/coronavirus-pandemic https://apnews.com/hub/coronavirus-vaccine https://apnews.com/UnderstandingtheOutbreak Samuel Petrequin, The Associated Press