SpaceX rocket performs first last-second launch abort in years, delaying Starlink mission – Teslarati
A Falcon 9 rocket has performed SpaceX's first last-second launch abort in years, shutting down the booster's main engines and preventing liftoff just milliseconds after ignition.
Scheduled to lift off at 9:22 am EDT (13:22 UTC) on March 15th, SpaceX will now wait until no earlier than (NET) 8:21 am EDT (12:21 UTC) on Wednesday, March 18th for the sixth 60-satellite Starlink mission's next launch attempt. Featuring an exceptionally flight-proven Falcon 9 booster and marking the second time ever SpaceX has reused a payload fairing, yesterday's launch abort is also unique in its own right.
Notably, shortly after the launch countdown froze and Falcon 9 shut down at T-00:00:00, a launch operator – on-console either in Florida or at SpaceX's Hawthorne, CA headquarters – revealed that the rocket had triggered a "launch abort on engine high power". To explain that decision, a little background on how SpaceX launches its rockets and what exactly abort conditions are is necessary.
Software has always been a central part of SpaceX's launch vehicles, treated more like a first-class citizen in design and engineering instead of the reluctant necessity other launch providers have frequently relegated it to. For anyone that's watched numerous SpaceX launch webcasts, some might recognize the familiar "vehicle is in startup" callout that made around T-1 minute to liftoff. Standard on most modern launch vehicles, SpaceX's Falcon rockets use onboard computers to take over their countdowns shortly before launch.
This is mainly done to allow the vehicle to simultaneously analyze thousands of channels of telemetry far faster and more reliably than humans ever could. During today's launch attempt, that meant that Falcon 9 saw something it didn't like just milliseconds before it was scheduled to command the release of the pad's hold-down clamps and lift off.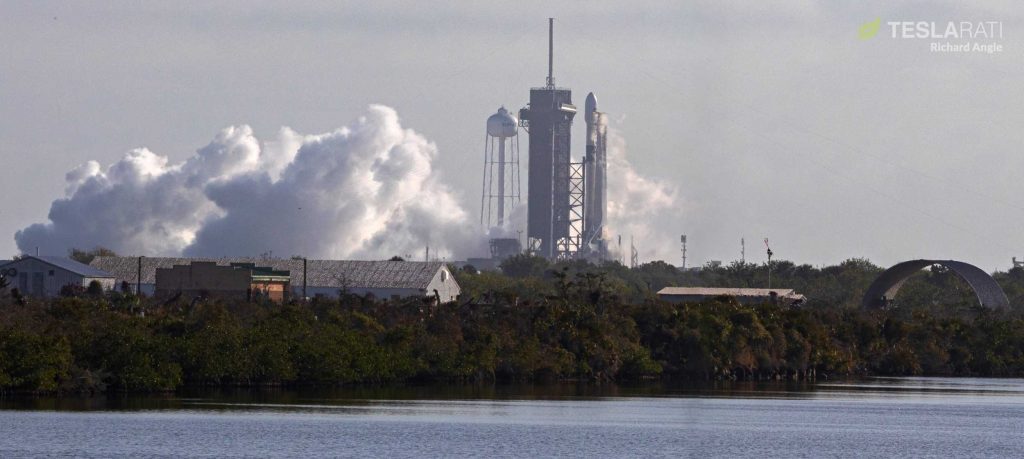 Per one of SpaceX's on-console engineers, the specific issue Falcon 9's computer flagged was an "engine high power" alert. Soon after, SpaceX provided an update on Twitter, stating that the abort was "triggered due to out-of-family data during [an] engine power check" – putting the blame more on the sensors and software used to determine engine thrust than the engine hardware itself. An actual hardware or software failure that caused one or several booster engines to exceed their design limits could have potentially damaged B1048's Merlin 1Ds, likely requiring weeks of repairs or a full swap with a different booster.
Given that Falcon 9 B1048 has already performed four orbital-class launches, hardware issues would not come as a major shock, but the successful static fire test it completed on Saturday made that far less likely. SpaceX's confirmation that it was looking at an "out-of-family" reading thankfully means that only one of several thrust sensors showed the Falcon 9 booster producing too much thrust.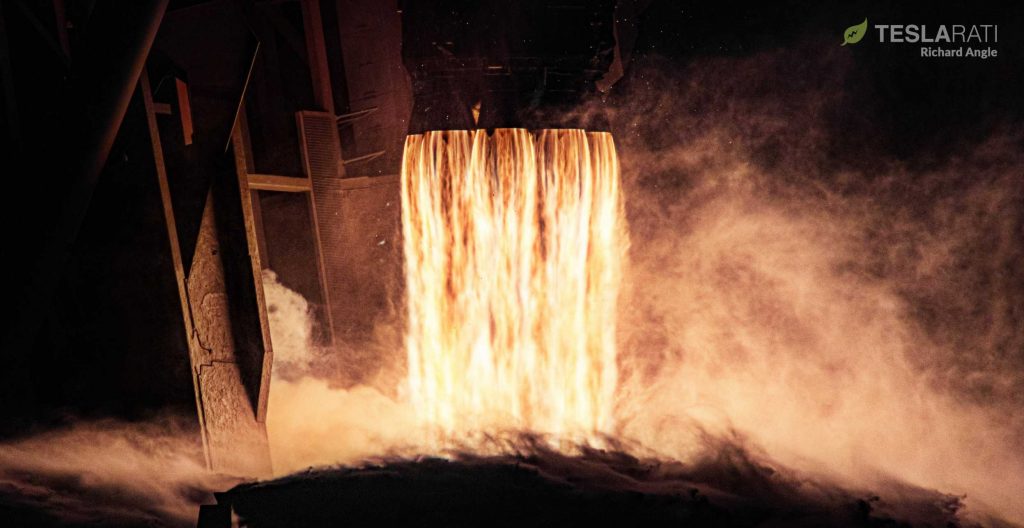 With any luck, post-ignition launch aborts will continue to be extremely rare for SpaceX's Falcon launch vehicle family. The last such abort occurred in February 2016, more than four years and several booster 'Block' iterations ago.
Starlink L6 (V1 L5) is now scheduled to launch on Wednesday, March 18th, giving SpaceX workers some 72 hours to inspect Falcon 9 B1048's engines, replace thrust sensors, tweak software, and prepare for a second launch attempt. Drone ship Of Course I Still Love You (OCISLY), fairing recovery ships GO Ms. Tree and GO Ms. Chief, and another support vessel or two remain on station in the Atlantic Ocean and will have to wait a bit longer for their next rocket recovery attempts.
Check out Teslarati's newsletters for prompt updates, on-the-ground perspectives, and unique glimpses of SpaceX's rocket launch and recovery processes.
SpaceX rocket performs first last-second launch abort in years, delaying Starlink mission

.ntvAdChoicesImg
position: absolute;
top: 0px;
right: 0;
z-index: 9999;
div.ntv-boap .ntv-image
float: left;
margin-right: 15px;
width:300px;
line-height: 0;
.ntv-boap .ntv-title
font-family: 'Work Sans', sans-serif;
color: #222;
font-size: 32px;
font-weight: 800;
line-height: 30px;
text-transform: none;
width: 100%;
.ntv-boap .ntv-preview
font-family: 'Lato', sans-serif;
color: #222;
display: block;
font-size: 1rem;
font-weight: 400;
line-height: 22px;
margin-top:8px;
.ntv-boap .ntv-byline
color: #0b86b5; display: block; font-family: 'Lato', sans-serif; font-size: 14px; line-height:1.2; font-weight: bold;
@media screen and (max-width:767px)
.ntv-boap .ntv-preview display: none;
div.ntv-boap .ntv-image width: 250px;
@media screen and (max-width:500px)
div.ntv-boap .ntv-image width:100% !important; margin-right:0px !important; margin-bottom:10px !important;
Sponsored Content
Read how Blue Planet® helped a major CSP transform their operations and saved them hours and $1.3 million per week.

<!–
–>
NASA taps SpaceX for future cargo deliveries to the lunar Gateway – SlashGear
In an announcement on Friday, NASA revealed the first private American space company to receive a Gateway Logistics Services contract under the Artemis program: SpaceX. Under this new deal, SpaceX will eventually deliver various experiments, supplies, and other cargo to the planned lunar Gateway. The space agency has described this as a 'significant step forward' in its Artemis program, which is aiming for a manned return to the Moon by 2024.
Under a Gateway Logistics Services contract, NASA will be able to order missions for as long as 12 years, it explained on Friday. The space agency is working on making the lunar Gateway outpost a reality — it will be a small spaceship that remains in lunar orbit, serving as a living space for astronauts, a space lab for scientific work, and more.
As with the International Space Station today, the future Gateway will require regular shipments of cargo and other goods. SpaceX has worked extensively with NASA over the years to launch cargo deliveries, among other things, and it makes sense that the space agency would continue its work with the private space company.
In a statement, NASA Kennedy Space Center's Deep Space Logistics manager Mark Wiese said:
This is an exciting new chapter for human exploration. We are bringing the innovative thinking of commercial industry into our supply chain and helping ensure we're able to support crews preparing for lunar surface expeditions by delivering the supplies they need ahead of time.
At this point in time, NASA says that it is planning supply missions to the Gateway that will involve a cargo spacecraft spending between six and 12 months at the outpost each time. SpaceX plays an important role in NASA's Artemis program and future Mars ambitions, but it isn't the only private American space company working with the space agency. Among others, Boeing also has considerable involvement with the Artemis program.
Astronaut tips to survive lockdown: Talk, teamwork, treats – The Jakarta Post – Jakarta Post
Stick to a daily routine, stay connected with family and treat yourself occasionally – those are some of the tips German astronauts gave for surviving lockdown during the coronavirus crisis, which they said was much like their time in space.
Thomas Reiter, 61, who was the first German astronaut to perform a spacewalk, recalled during a Skype conversation with other astronauts on Thursday how he had a tight daily routine in space.
"I think it's important to follow a conscious routine in such a situation … keeping that routine all week," said Reiter, now retired.
But weekend treats were important to look forward to.
"During the week we picked out the things from the food container that each person liked the most for a Friday or Saturday evening and then had a bit better food," he said.
Reiter recalled using Skype to connect with his family from the International Space Station. Sitting in front of a bookshelf, he recommended using lockdown to catch up on reading.
"You have to be able to retreat," he said, but added that in confinement with others, people must put the group first. "You work together as a crew, you have to think of the others."
Matthias Maurer, 50, the newest addition to the European Space Agency's astronaut corps, said it was important to address any niggles before they blow up into arguments.
Read also: 'Embrace your passion': Confinement tips from French barrel sailor
"Everyone of us has a quirk which we are comfortable with but which can annoy others," he said, recalling how his taste for bananas annoyed a colleague who couldn't stand their smell.
"If he hadn't said that so politely and clearly, I would have continually annoyed him," said Maurer.
Alexander Gerst, 43, who commanded the International Space Station, addressed the anxiety people may feel during the coronavirus epidemic.
Before a mission, astronauts think about the worst that could happen and then train how to respond.
"Then you have the feeling not that you are losing control, but that you have some control over the situation," he said.
"Now the situation is similar. We have a very effective means of limiting this illness – that is that we stay at home."
Reiter urged people to act likes astronauts going into quarantine before a mission – a protocol to prevent illness in space.
"Some people take the attitude 'I'm young, I'm not at danger, I have no symptoms, so I don't need to pay attention'," he said. "It is up everyone to behave appropriately now, just like for us in quarantine."
Your premium period will expire in 0 day(s)
close x
Subscribe to get unlimited access
Get 50% off now
Uranus has started leaking gas, NASA scientists confirm – Happy Mag
As if 2020 couldn't get any more cursed, NASA scientists looking back through decades-old data from the Voyager 2 spacecraft have discovered a mysterious gas escaping from Uranus.
The data showed some mysterious force sucking the atmosphere straight out of the planet and into space.
Highly detailed and scientific NASA research can confirm that something massive is coming out of Uranus.
Buried data reveals that when the spacecraft flew past the gas giant in 1986, it passed through something called a plasmoid that escaped and stole a big old cloud of the planet's atmosphere along with it.
NASA have learnt from Voyager 2's gassy expedition that the plasmoid itself was about 127,000 miles long and twice as wide. The data, first published in August in the journal Geophysical Research Letters, will be able to give NASA a much more detailed understanding of Uranus' atmospheric composition, however won't be able to tell them everything.