SpaceX targets bold new 'catch' strategy for landing Super Heavy rockets – Space.com
SpaceX plans to get even more ambitious with its pinpoint rocket landings.
Elon Musk's company routinely recovers and reuses the first stages of its Falcon 9 and Falcon Heavy rockets, bringing the boosters down for soft vertical landings about 9 minutes after liftoff on ground near the launch pad or on autonomous "drone ships" in the ocean.
These touchdowns are impressively precise. But SpaceX aims to achieve something truly mind-blowing with Starship, the next-generation system the company is developing to take people and payloads to the moon, Mars and other distant destinations.
Related: SpaceX's Starship and Super Heavy rocket in pictures
We're going to try to catch the Super Heavy Booster with the launch tower arm, using the grid fins to take the loadDecember 30, 2020
"We're going to try to catch the Super Heavy booster with the launch tower arm, using the grid fins to take the load," Musk said via Twitter on Dec. 30.
That's right: SpaceX wants to bring Super Heavy, the giant first stage of the two-stage Starship system, down directly on the launch stand.
Musk has voiced this ambition before, but last week's tweet adds new wrinkles — for example, that Super Heavy will ideally be caught by the tower arm, so its touchdowns won't really be landings at all. Unlike Falcon 9 and Falcon Heavy first stages, then, Super Heavy won't need landing legs. (The catch-enabling grid fins, by the way, are waffle-like control surfaces that help returning rockets steer during precise touchdowns.)
The newly announced strategy offers several important benefits, Musk said.
"Saves mass and cost of legs and enables immediate repositioning of booster onto launch mount — ready to refly in under an hour," he said in another Dec. 30 tweet.
Starship's upper stage is a 165-foot-tall (50 meters) spacecraft called (somewhat confusingly) Starship. Both Starship and Super Heavy will be fully and rapidly reusable, Musk has stressed, potentially making Mars colonization and other ambitious exploration feats economically feasible.
SpaceX has already built and flown several Starship prototypes from its South Texas facility, near the Gulf Coast village of Boca Chica. Last month, for example, the SN8 ("Serial No. 8") vehicle soared to an estimated altitude of 7.8 miles (12.5 kilometers) and returned to Earth at the designated spot. Though SN8 came in too fast and exploded in a massive fireball, Musk declared the epic test flight a big success.
Another such leap should be coming soon: SpaceX recently moved SN9 to the launch stand. Like SN8, SN9 sports three powerful Raptor engines, so the maximum altitude of its flight may also be in the 7.8-mile range. (The three prototypes that flew before SN8 were single-engine vehicles that got just 500 feet, or 150 m, off the ground.)
The final Starship vehicle will have six Raptors, making it powerful enough to launch itself off the surface of the moon and Mars (but not Earth). Super Heavy will have about 30 Raptors, Musk has said. Though the Starship program has to date devoted most of its time to building and testing spaceship prototypes, it appears that construction of the first Super Heavy prototype is now underway.
Mike Wall is the author of "Out There" (Grand Central Publishing, 2018; illustrated by Karl Tate), a book about the search for alien life. Follow him on Twitter @michaeldwall. Follow us on Twitter @Spacedotcom or Facebook.
How to watch SpaceX launch over 100 satellites on a Falcon 9 rocket tomorrow – CNET
SpaceX will transform one of its Falcon 9 rockets into the space equivalent of a crowded Uber when it launches its Transporter-1 ride-share mission from Cape Canaveral in Florida as soon as Saturday.
The payload for this mission includes a cornucopia of small satellites from government and commercial entities, along with 10 of SpaceX's own Starlink broadband satellites.
We learned Thursday that the cargo will include 48 SuperDove satellites for Planet Labs, reportedly bringing the total to a record-breaking 133 satellites in a single launch.
SpaceX itself has not yet confirmed the official number of satellites in the ride-share payload. There's been some last-minute shifting around after two DARPA satellites were accidentally damaged earlier this month at a processing facility. The Starlink satellites were also a last-minute addition. The payload includes several small spacecraft from Nanoracks and more from the German Aerospace Center (DLR), the US Department of Defense and many others.
The launch was originally scheduled for December, but has been postponed a handful of times.
The Falcon 9 booster will be making its fifth flight and is expected to land on a droneship stationed in the Atlantic not long after flight. SpaceX is also likely to attempt to recover the fairing, or nose cone, a move that's becoming a more routine part of each mission.
The launch is set for as early as 6:40 a.m. PT (9:40 a.m. ET). The entire mission will be livestreamed as usual by SpaceX. You can follow along below starting about ten minutes before launch.
Follow CNET's 2021 Space Calendar to stay up to date with all the latest space news this year. You can even add it to your own Google Calendar.
Coronavirus outbreak declared over at northern BC Coastal GasLink sites – PrinceGeorgeMatters.com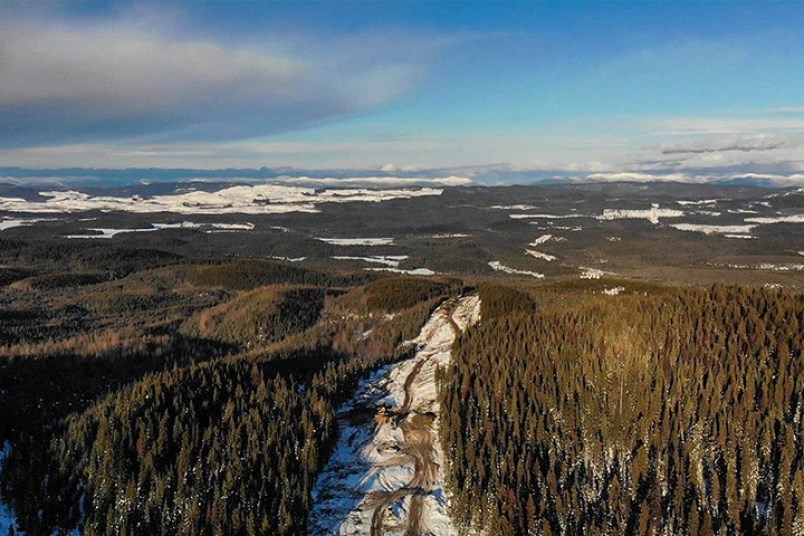 Northern Health now has one less outbreak in the region.
The authority announced this morning (Jan. 22) the COVID-19 outbreak at a pair of Coastal GasLink work sites is now over.
The two sites involved, 7 Mile Lodge and Little Rock Lake Lodge, saw a recorded total of 56 cases after the outbreak was declared on Dec. 19, 2020.
"Northern Health is pleased to announce that Medical Health Officers have declared an end to the COVID-19 outbreak at two workforce accommodation sites on the Coastal Gas Link (CGL) project," a statement reads.
The previous update on Jan. 8 said there had been an increase of three cases involving the outbreak after its Dec. 31, 2020 outbreak, but none were active.
Northern Health is pleased to announce that Medical Health Officers have declared an end to the COVID-19 outbreak at two workforce accommodation sites on the Coastal Gas Link (CGL) project. https://t.co/tqD87uugJv pic.twitter.com/gkBsB5qY7F

— Northern Health (@Northern_Health) January 22, 2021
As of publication, there has been a recorded total of 3,054 COVID-19 cases in northern B.C. with 508 currently active.
There are 45 people hospitalized with 18 of those currently in critical care, along with 2,472 recoveries since the first infection was detected in March last year.
The region also has seen 54 deaths since the virus hit the area in March.
Only 31 Magnetars Have Ever Been Discovered. This one is Extra Strange. It's Also a Pulsar – Universe Today
Some of the most stunningly powerful objects in the sky aren't necessarily the prettiest to look at. But their secrets can allow humanity to glimpse some of the more intricate details of the universe that are exposed in their extreme environs. Any time we find one of these unique objects it's a cause for celebration, and recently astronomers have found an extremely unique object that is both a magnetar and a pulsar, making it one of only 5 ever found.
The object, called J1818.0-1607, was first detected in March by NASA's Neil Gehreis Swift Telescope. It was first classified simply as a magnetar – one of only 31 ever found. Magnetars are a type of neutron star that has the strongest magnetic field ever detected – millions of billions of times stronger than that of Earth. But J1818.0-1607 wasn't the same as other magnetars found so far.
It appeared to be the youngest, with an estimated age of 500 years. Correspondingly, it also spins faster than any other observed magnetar. Younger magnetars will spin more quickly than older ones, which have had a chance to slow down some. J1818.0-1607 takes the cake with a blistering rotational speed of 1.4 seconds.
Finding a unique magnetar such as this will always attract other astronomers, and some brought other kinds of telescopes to bear. One of those telescopes was the Chandra X-ray Observatory, which a team led by researchers from the University of West Virginia and the University of Manitoba commanded to look at the newly found magnetar less than a month after its original discovery.
Chandra is able to see in the X-ray spectrum, so it was able to calculate the efficiency with which the object was translating its decreasing spin energy into X-rays. That efficiency was in line with another type of object, known as a rotation-powered pulsar.
Pulsars are a type of neutron star that repeatedly pulses out radiation as it spins. Observations from other telescopes, including the Very Large Array, provided supporting data for the magnetar to also be a pulsar. That puts it on a very short list of only 5 objects ever discovered that combined the characteristics of both types of object.
All of the mysteries of the newly discovered object are not yet solved, however. One is where all the debris has gone. All neutron stars are formed as a result of a supernova, and J1818.0-1607 is no exception. However, at such a young age, astronomers would expect to see the debris field from the explosion. There was some that Chandra picked up, however, it is much farther away than expected, implying that J1818.0-1607 is either much older than previously thought, or that it exploded with such force that it blew the debris field out much faster than other known neutron stars.
Either hypothesis is viable, and of course more data will need to be collected in order to truly solve that mystery. But the discovery of J1818.0-1607 and its subsequent observation are an excellent example of the kind of science that is possible when multiple instruments operating in multiple spectra are brought to bear on a single object of interest. With luck that coordination will lead to more discoveries of these ultra rare combinations of magnetically powerful lighthouses.
Learn More:
NASA: Chandra Studies Extraordinary Magnetar
NASA: A Cosmic Baby is Discovered and Its Brilliant
Sci-News: Astronomers Discover Youngest Magnetar Ever
UT: A brand new magnetar found, it's only 240 years old
Lead Image: Composite image of J1818.0-1607 in Xray and infrared.
Credit: NASA / CXC / U West Virginia / H. Blumer / JPL-CalTech / Spitzer