SpaceX's Next NASA Launch: When to Watch – The New York Times
In Florida on Sunday, a rocket and capsule built by SpaceX will carry crew members to the International Space Station. The NASA mission follows on a successful demonstration of the same spacecraft that launched in May and returned two astronauts to Earth in August. Here's what you need to know about the launch.
What is SpaceX launching?
Four astronauts — three from NASA, one from JAXA, the Japanese space agency — will be sitting inside a SpaceX Crew Dragon capsule, boosted to orbit on top of a Falcon 9 rocket. The mission is known as Crew-1, and the astronauts named their capsule Resilience. They are headed to the International Space Station for a six-month stay.
This is the first of what NASA calls "operational" flights of the Crew Dragon. In May, there was a demonstration mission, with two NASA astronauts — Robert Behnken and Douglas Hurley — aboard. That launch, in a capsule named Endeavour, was the first time that a crewed mission had lifted off from the United States to orbit since the retirement of NASA's space shuttles in 2011. Its return was also the first water landing by astronauts aboard an American spacecraft since the Apollo capsules stopped flying in the 1970s.
NASA has been relying on Russian Soyuz rockets to get its astronauts to the space station. That has become increasingly expensive, rising to a cost of more than $90 million a seat.
When is the launch?
The Crew-1 mission is scheduled to launch on Sunday at 7:27 p.m. Eastern time from the Kennedy Space Center in Florida. NASA Television will broadcast coverage beginning at 3:15 p.m.
The astronauts will arrive at the space station at about 11 p.m. Eastern on Monday, a journey of approximately 27 hours.
Forecasts currently give a 50 percent chance of favorable conditions at the launchpad. SpaceX and NASA are also keeping watch farther out in the Atlantic Ocean. The weather and waters there need to be fairly calm in case something goes wrong during the ascent to orbit and the Crew Dragon needs to make an emergency splashdown (adverse weather conditions led to a postponement of the earlier Saturday launch date).
If Sunday's launch is delayed, there is a backup opportunity on Wednesday.
Who are the astronauts?
Michael S. Hopkins, 51, a colonel in the United States Space Force, is the commander for the flight. (Colonel Hopkins is also the first member of the newly created U.S. Space Force to go to space.) He was one of nine astronauts selected by NASA in 2009. He has made one previous trip to the International Space Station, in 2013 and 2014, spending 166 days in orbit.
Shannon Walker, 55, has had one previous stint on the space station, in 2010. Dr. Walker has a doctoral degree in space physics from Rice University, where she studied how the solar wind interacted with the atmosphere of Venus.
Soichi Noguchi, 55, an astronaut with JAXA, the Japanese space agency, will be making his third trip to space. He was a member of the crew of the space shuttle Discovery in 2005 on the first shuttle launch after the loss of Columbia and its seven astronauts more than two years earlier.
During that visit to the International Space Station, Mr. Noguchi made three spacewalks. That included one to test techniques developed to repair damage to the heat tiles on the shuttle similar to what had doomed Columbia when it re-entered Earth's atmosphere. In 2009 and 2010, he spent five months in orbit as a member of the space station crew.
Victor Glover, 44, selected by NASA in 2013 to be an astronaut, will be making his first spaceflight. He will be the first Black NASA astronaut to serve aboard a space station crew. Mr. Glover's achievement is notable for NASA, which has worked to spotlight the "hidden figures" in its history but has so far sent only 14 Black Americans to space out of a total of more than 300 NASA astronauts.
He will not be the first Black astronaut aboard the station. But those who proceeded him from NASA were members of space shuttle crews during the station's construction and only completed brief stays on the outpost.
Allyson Waller contributed reporting.
China's sample-return Moon mission touches down – BBC News


.css-94m6rd-HeadingWrapperborder-bottom:solid 1px #BABABA;padding-bottom:1.5rem;.css-94m6rd-HeadingWrapper > *:not([hidden]):not(style) ~ *:not([hidden]):not(style)margin-top:1rem;.css-vk3nhx-ComponentWrappermargin:1.5rem 0;
.css-1759m9z-StyledFigurefont-family:ReithSans,Helvetica,Arial,freesans,sans-serif;font-weight:400;font-size:0.875rem;line-height:1.125rem;
.css-uf6wea-RichTextComponentWrappermargin:1rem 0;max-width:36.25rem;
.css-83cqas-RichTextContainercolor:#3F3F42;.css-83cqas-RichTextContainer > *:not([hidden]):not(style) ~ *:not([hidden]):not(style)margin-top:1rem;
.css-14iz86j-BoldTextfont-weight:bold;China has successfully put another probe on the Moon.
Its robotic .css-yidnqd-InlineLink:linkcolor:#3F3F42;.css-yidnqd-InlineLink:visitedcolor:#696969;.css-yidnqd-InlineLink:link,.css-yidnqd-InlineLink:visitedfont-weight:bolder;border-bottom:1px solid #BABABA;-webkit-text-decoration:none;text-decoration:none;.css-yidnqd-InlineLink:link:hover,.css-yidnqd-InlineLink:visited:hover,.css-yidnqd-InlineLink:link:focus,.css-yidnqd-InlineLink:visited:focusborder-bottom-color:currentcolor;border-bottom-width:2px;color:#B80000;@supports (text-underline-offset:0.25em).css-yidnqd-InlineLink:link,.css-yidnqd-InlineLink:visitedborder-bottom:none;-webkit-text-decoration:underline #BABABA;text-decoration:underline #BABABA;-webkit-text-decoration-thickness:1px;text-decoration-thickness:1px;-webkit-text-decoration-skip-ink:none;text-decoration-skip-ink:none;text-underline-offset:0.25em;.css-yidnqd-InlineLink:link:hover,.css-yidnqd-InlineLink:visited:hover,.css-yidnqd-InlineLink:link:focus,.css-yidnqd-InlineLink:visited:focus-webkit-text-decoration-color:currentcolor;text-decoration-color:currentcolor;-webkit-text-decoration-thickness:2px;text-decoration-thickness:2px;color:#B80000;Chang'e-5 mission touched down a short while ago with the aim of collecting samples of rock and dust to bring back to Earth.
The venture has targeted Mons Rümker, a high volcanic complex in a nearside region known as Oceanus Procellarum.
The lander is expected to spend the next couple of days examining its surroundings and gathering up surface materials.
It has a number of instruments to facilitate this, including a camera, spectrometer, radar, a scoop and a drill.
The intention is to package about 2kg of "soil", or regolith, to send up to an orbiting vehicle that can then transport the samples to Earth.
It's 44 years since this was last achieved. That was the Soviet Luna 24 mission, which picked up just under 200g.
Unlike the launch of the mission a week ago, the landing was not covered live by Chinese TV channels.
Only after the touchdown was confirmed did they break into their programming to relay the news.
Images taken on the descent were quickly released with the final frame showing one of the probe's legs casting a shadow on to the dusty lunar surface.
.css-1jltxxc-ComponentWrapper-SocialEmbedComponentWrappermargin:1.5rem 0;.css-1jltxxc-ComponentWrapper-SocialEmbedComponentWrapper iframemax-width:100%;.css-1jltxxc-ComponentWrapper-SocialEmbedComponentWrapper div > blockquoteborder:1px solid #BABABA;border-radius:4px;padding:1rem;max-width:36.25rem;margin-bottom:0.5rem;.css-1jltxxc-ComponentWrapper-SocialEmbedComponentWrapper spandisplay:block;font-size:0.875rem;line-height:1.125rem;margin-bottom:0.5rem;.css-1jltxxc-ComponentWrapper-SocialEmbedComponentWrapper .fb-postmax-width:100%;margin-bottom:0.5rem;.css-1jltxxc-ComponentWrapper-SocialEmbedComponentWrapper .fb-post spanmax-width:100%;
.css-1pzprxn-BulletListContainermargin-left:1.5rem;.css-1pzprxn-BulletListContainer *:not([hidden]):not(style) ~ *:not([hidden]):not(style)margin-top:1rem;.css-1pzprxn-BulletListContainer ullist-style-type:disc;.css-1pzprxn-BulletListContainer ollist-style-type:decimal;
.css-18mjolk-ComponentWrappermargin:1.5rem 0;max-width:50rem;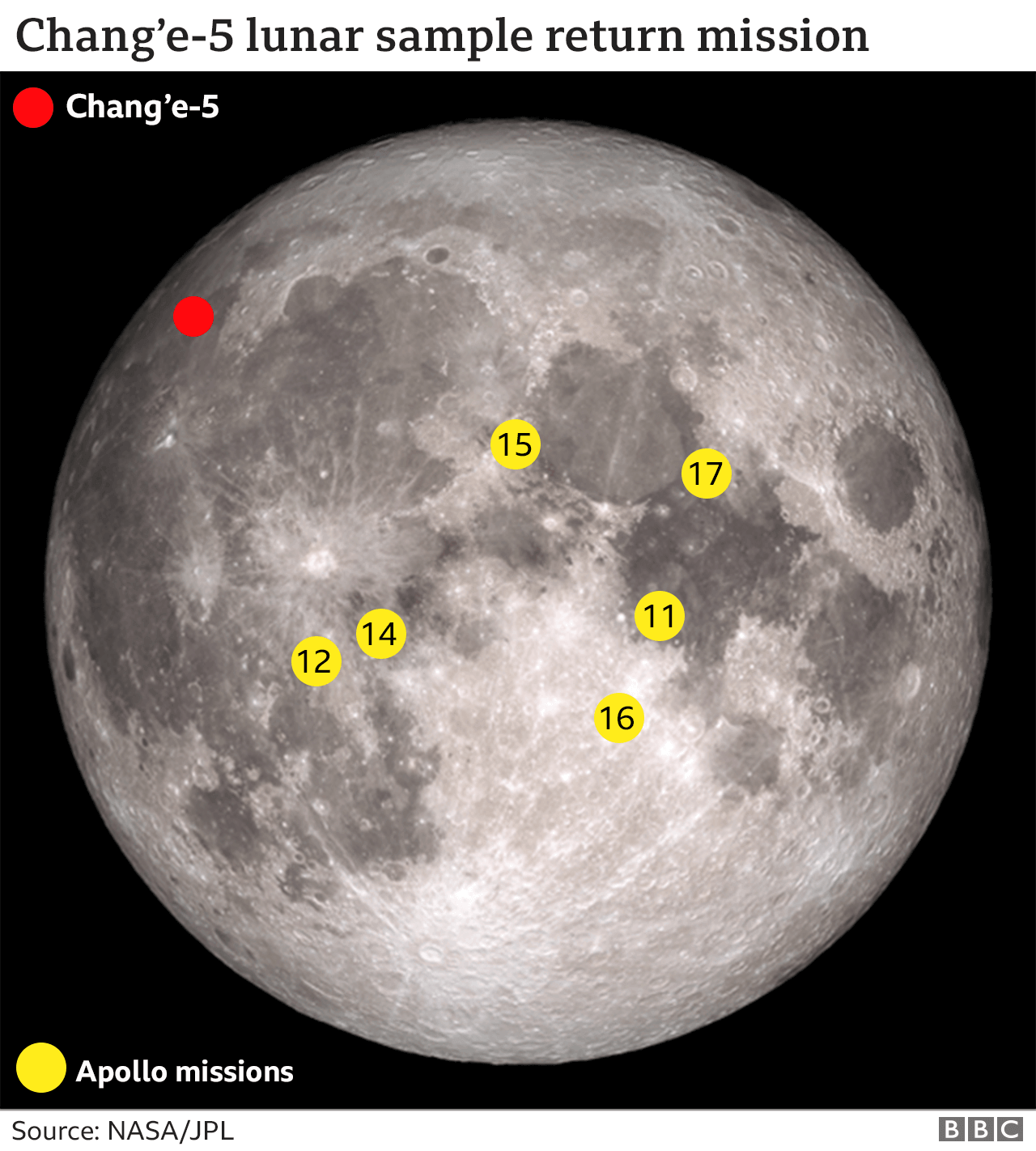 The 8.2-tonne Chang'e-5 spacecraft "stack" was launched from the Wenchang spaceport in southern China on 24 November (local time). It arrived above the Moon at the weekend and then set about circularising its orbit before splitting in two.
One half – a service vehicle and return module – stayed in orbit, while a lander-ascender segment was prepared for a touchdown attempt.
Chinese authorities say this lander-ascender element put down on the Moon's surface at about 15:15 GMT (23:15 China Standard Time), after a 15-minute automated descent, controlled by the thrust of a 7,500-newton engine.
It follows China's two previous Moon landings – Chang'e-3 in 2013 and Chang'e-4 last year. Both of these earlier missions incorporated a static lander and small rover.
A total of just under 400kg of rock and soil were retrieved by American Apollo astronauts and the Soviets' robotic Luna programme – the vast majority of these materials coming back with the crewed missions.
But all these samples were very old – more than three billion years in age. The Mons Rümker materials, on the other hand, promise to be no more than 1.2 or 1.3 billion years old. And this should provide additional insights on the geological history of the Moon.
The samples will also allow scientists to more precisely calibrate the "chronometer" they use to age surfaces on the inner Solar System planets.
This is done by counting craters (the more craters, the older the surface), but it depends on having some definitive dating at a number of locations, and the Apollo and Soviet samples were key to this. Chang'e-5 would offer a further data point.
Reports from China suggest the effort to retrieve surface samples may last no longer than a couple of days. Any retrieved materials will be blasted back into orbit on the ascent portion of the landing mechanism, and then transferred across to the service vehicle and placed in the return module.
The orbiter will shepherd the return module to the Earth's vicinity, jettisoning it to make an atmospheric entry and landing in the Siziwang Banner grasslands of the autonomous region of Inner Mongolia. This is where China's astronauts also return to Earth.
"Chang'e-5 is a very complex mission," commented Dr James Carpenter, exploration science coordinator for human and robotic exploration at the European Space Agency.
"I think it's extremely impressive what they're trying to do. And what I think is fascinating is you see this very systematic, step by step approach to increasing their exploration capabilities – from the early Chang'e missions to this latest one."
.css-144ki52-SectionWrappermargin:1.5rem 0;padding-top:1.5rem;
Alphabet"s UK subsidiary DeepMind makes breakthrough protein shape discovery – Proactive Investors USA & Canada
DeepMind, a London-based subsidiary of Google's owner Alphabet Inc, has been praised by the global scientific community after solving a 50-year-old challenge in biology.
Its artificial intelligence system AlphaFold has figured out what shapes proteins fold into, the so-called 'folding problem'.
It is a major scientific breakthrough because it allows to better understand what a protein does and how it works, since its shape is closely correlated with its function.
Proteins are the 'building blocks of life' because they underpin the biological processes in every living thing.
There are currently around 200mln known proteins and another 30mln is found every year.
Each of them has their own shape and it is often expensive and time-consuming to find their 3D composition, so we know only a fraction of the millions known to science.
Proteins are made of amino acids, which make the protein to fold when they interact, meaning there are nearly infinite possibilities for shapes.
The 3-D shape into which proteins fold themselves determines just about everything in biology. To predict that shape from the 1-D sequence of amino acids is a truly stunning achievement. If a computer program were eligible for a Nobel Prize . . .https://t.co/n8QxINE5M0

— Richard Dawkins (@RichardDawkins) December 1, 2020
AlphaFold was trained on the sequences and structures of 100,000+ proteins mapped out by scientists around the world and can now predict a protein's shape based on the sequence of amino acids.
As a result, scientists worldwide will have extra help in finding solutions, such as developing treatments for diseases or finding enzymes that break down industrial waste, because of the key role of proteins.
The system was officially recognised as a solution to the issue by the biennial Critical Assessment of protein Structure Prediction, a community created in 1994 by scientists that were looking to solve the protein folding problem.
Farrell calls for consideration of city bylaw to stop street harassment in Calgary – Calgary Herald
Article content continued
Some other Canadian cities have rules to deal with street harassment. In London, Ont., you can be fined for using "abusive or insulting language" in a public space.
Street harassment takes many forms, from unwanted sexual comments to whistling to flashing or groping, and it's based on someone's perceived gender or sexual identity. It's a point of focus for gender equity advocates, as an example of how control tactics make people feel unsafe in public spaces.
Sagesse executive director Andrea Silverstone said Monday that street harassment can't be dismissed as one-off comments or isolated incidents.
"It's a structured pattern of behaviour that occurs in society that makes certain people feel unsafe," she said. "Whether they're women or 2SLGBTQ individuals or visible minorities feeling unsafe on the street."
Jake Stika, executive director of Next Gen Men, said street harassment is a symptom of how boys absorb the message that being a man is about power and dominance, and they start defining their interactions that way.
Street harassment, he explains, is overwhelmingly perpetuated by men, but men are also key to stopping it.
"It's not a women's issue. Women are impacted by it … but what we need to do as guys is take this up as our issue," he said. "We're the problem, but we're also the solution."
Stika's organization works to redefine manhood and masculinity with youth and community programs as part of working "upstream" to stop gender-based violence and improve men's health and relationships.