Spend on haircuts, home renos and restaurants to stimulate economy: economists – OrilliaMatters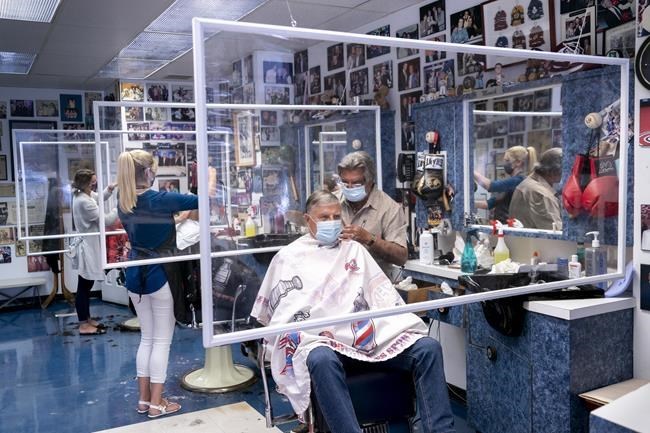 TORONTO — Canadians who want to help the country's economy rebound should book haircuts, hire tradespeople for home renovations and keep ordering from local restaurants, economists say.
They believe these actions are more likely to quickly stimulate Canada's economy and keep money within the country than online impulse shopping, which many have gravitated to during COVID-19 lockdowns.
"We could get a little bit more bang for every buck that's spent by households if they were incentivized to spend more on the services that have domestic content and those also just happen to be the services that have been hardest hit during the pandemic," said Royce Mendes, a senior economist with at CIBC.
Spending on services, said Mendes on Friday, helps stimulate a rebound because the people who offer them are likely to take money they earn and spend it within the domestic economy again.
If they see demand for their services return quickly enough, they may spend more on supplies needed for their work and may hire back Canadians laid off during the pandemic.
The economy lost almost 213,000 jobs in January as lockdown measures erased months of gains and marked the worst monthly declines since last April. The hospitality and service industry were hit particularly hard because restaurants, salons and other entertainment venues were ordered closed in many provinces to quell the spread of the virus.
However, Statistics Canada said Friday that 259,000 jobs were added in February, almost entirely wiping out losses sustained since the start of the year.
Douglas Porter, Bank of Montreal's chief economist, said spending on services can help stimulate the economy and bring back even more jobs, but the reality is lockdowns and restrictive measures still remain in parts of the country, so haircuts or trips to the gym aren't an option for everyone.
"Canadians should really double down on trying to help local businesses and services as much as they can and in the here and now and that's with things like supporting your local restaurant through takeout or a small retailer through curbside pickup," he said.
While he's hoping Canadians will boost the economy by opening up their wallets, he warned that it won't be an option for everyone.
Some have seen their financial situation bolstered during the pandemic, but others have taken on mounting debt or lost their source of income.
"Before this all began, the single biggest concern for the Canadian economy was an overextended consumer, so I would say this (spending advice) applies to people whose finances can actually handle that," he said.
Yet Porter doesn't believe it will be hard to get most people to spend again.
Many, he said, have saved during the pandemic and others are anxious to spend on favourite pastimes they've missed or on something other than goods.
"You only need so many Peloton bikes," he joked.
Mendes had similar predictions.
"I expect that there will be some indulging, some going out for dinner more often or going out for maybe more expensive dinners," he said.
"Maybe even going on a vacation that is a little bit more expensive, or maybe going on a few more vacations over the next 12 months."
When vacations are safe and permitted, he said the key will be encouraging people to travel within Canada.
"Keeping that money within the borders will help the economy recover at a faster pace."
Mendes' remarks echoed a recent call by Destination Canada, a crown tourism corporation, for Canadians to consider domestic travel before flying abroad. The company recently said that if enough Canadians shift their international travel plans to focus on domestic destinations, it could speed up recovery for the tourism sector by up to one year.
This report by The Canadian Press was first published March 12, 2021.
Companies in this story: (TSX:CM, TSX:BMO)
Tara Deschamps, The Canadian Press
CANADA STOCKS – TSX ends flat at 19,228.03
* The Toronto Stock Exchange's TSX falls 0.00 percent to 19,228.03
* Leading the index were Corus Entertainment Inc <CJRb.TO​>, up 7.0%, Methanex Corp​, up 6.4%, and Canaccord Genuity Group Inc​, higher by 5.5%.
* Lagging shares were Denison Mines Corp​​, down 7.0%, Trillium Therapeutics Inc​, down 7.0%, and Nexgen Energy Ltd​, lower by 5.7%.
* On the TSX 93 issues rose and 128 fell as a 0.7-to-1 ratio favored decliners. There were 26 new highs and no new lows, with total volume of 183.7 million shares.
* The most heavily traded shares by volume were Toronto-dominion Bank, Nutrien Ltd and Organigram Holdings Inc.
* The TSX's energy group fell 1.61 points, or 1.4%, while the financials sector climbed 0.67 points, or 0.2%.
* West Texas Intermediate crude futures fell 0.44%, or $0.26, to $59.34 a barrel. Brent crude  fell 0.24%, or $0.15, to $63.05 [O/R]
* The TSX is up 10.3% for the year.
Canadian dollar outshines G10 peers, boosted by jobs surge
By Fergal Smith
TORONTO (Reuters) – The Canadian dollar advanced against its broadly stronger U.S. counterpart on Friday as data showing the economy added far more jobs than expected in March offset lower oil prices, with the loonie also gaining for the week.
Canada added 303,100 jobs in March, triple analyst expectations, driven by the recovery across sectors hit by shutdowns in December and January to curb the new coronavirus.
"The Canadian economy keeps beating expectations," said Michael Goshko, corporate risk manager at Western Union Business Solutions. "It seems like the economy is adapting to these closures and restrictions."
Stronger-than-expected economic growth could pull forward the timing of the first interest rate hike by the Bank of Canada, Goshko said.
The central bank has signaled that its benchmark rate will stay at a record low of 0.25% until 2023. It is due to update its economic forecasts on April 21, when some analysts expect it to cut bond purchases.
The Canadian dollar was trading 0.3% higher at 1.2530 to the greenback, or 79.81 U.S. cents, the biggest gain among G10 currencies. For the week, it was also up 0.3%.
Still, speculators have cut their bullish bets on the Canadian dollar to the lowest since December, data from the U.S. Commodity Futures Trading Commission showed. As of April 6, net long positions had fallen to 2,690 contracts from 6,518 in the prior week.
The price of oil, one of Canada's major exports, was pressured by rising supplies from major producers. U.S. crude prices settled 0.5% lower at $59.32 a barrel, while the U.S. dollar gained ground against a basket of major currencies, supported by higher U.S. Treasury yields.
Canadian government bond yields also climbed and the curve steepened, with the 10-year up 4.1 basis points at 1.502%.
(Reporting by Fergal Smith; Editing by Andrea Ricci)
Canadian dollar rebounds from one-week low ahead of jobs data
By Fergal Smith
TORONTO (Reuters) -The Canadian dollar strengthened against its U.S. counterpart on Thursday, recovering from a one-week low the day before, as the level of oil prices bolstered the medium-term outlook for the currency and ahead of domestic jobs data on Friday.
The Canadian dollar was trading 0.4% higher at 1.2560 to the greenback, or 79.62 U.S. cents. On Wednesday, it touched its weakest intraday level since March 31 at 1.2634.
"We have seen partial retracement from the decline over the last couple of days," said Greg Anderson, global head of foreign exchange strategy at BMO Capital Markets.
"With oil prices where they are – let's call WCS still at roughly $49 a barrel – I still think CAD has room to strengthen over the medium term and even over a one-week horizon."
Western Canadian Select (WCS), the heavy blend of oil that Canada produces, trades at a discount to the U.S. benchmark. U.S. crude futures settled 0.3% lower at $59.60 a barrel, but were up nearly 80% since last November.
The S&P 500 closed at a record high as Treasury yields fell following softer-than-anticipated labor market data, while the U.S. dollar fell to a two-week low against a basket of major currencies.
Canada's employment report for March, due on Friday, could offer clues on the Bank of Canada's policy outlook. The central bank has become more upbeat about prospects for economic growth, while some strategists expect it to cut bond purchases at its next interest rate announcement on April 21.
On a more cautious note for the economy, Ontario, Canada's most populous province, initiated a four-week stay-at-home order as it battles a third wave of the COVID-19 pandemic.
Canadian government bond yields were lower across a flatter curve in sympathy with U.S. Treasuries. The 10-year fell 3.3 basis points to 1.469%.
(Reporting by Fergal Smith;Editing by Alison Williams and Jonathan Oatis)