Sponges, Other Animals Discovered Deep Beneath Antarctic Ice Shelves – AZoCleantech
A new study published recently in the Frontiers in Marine Science journal reports that there is more life than predicted far beneath the Antarctic ice shelves.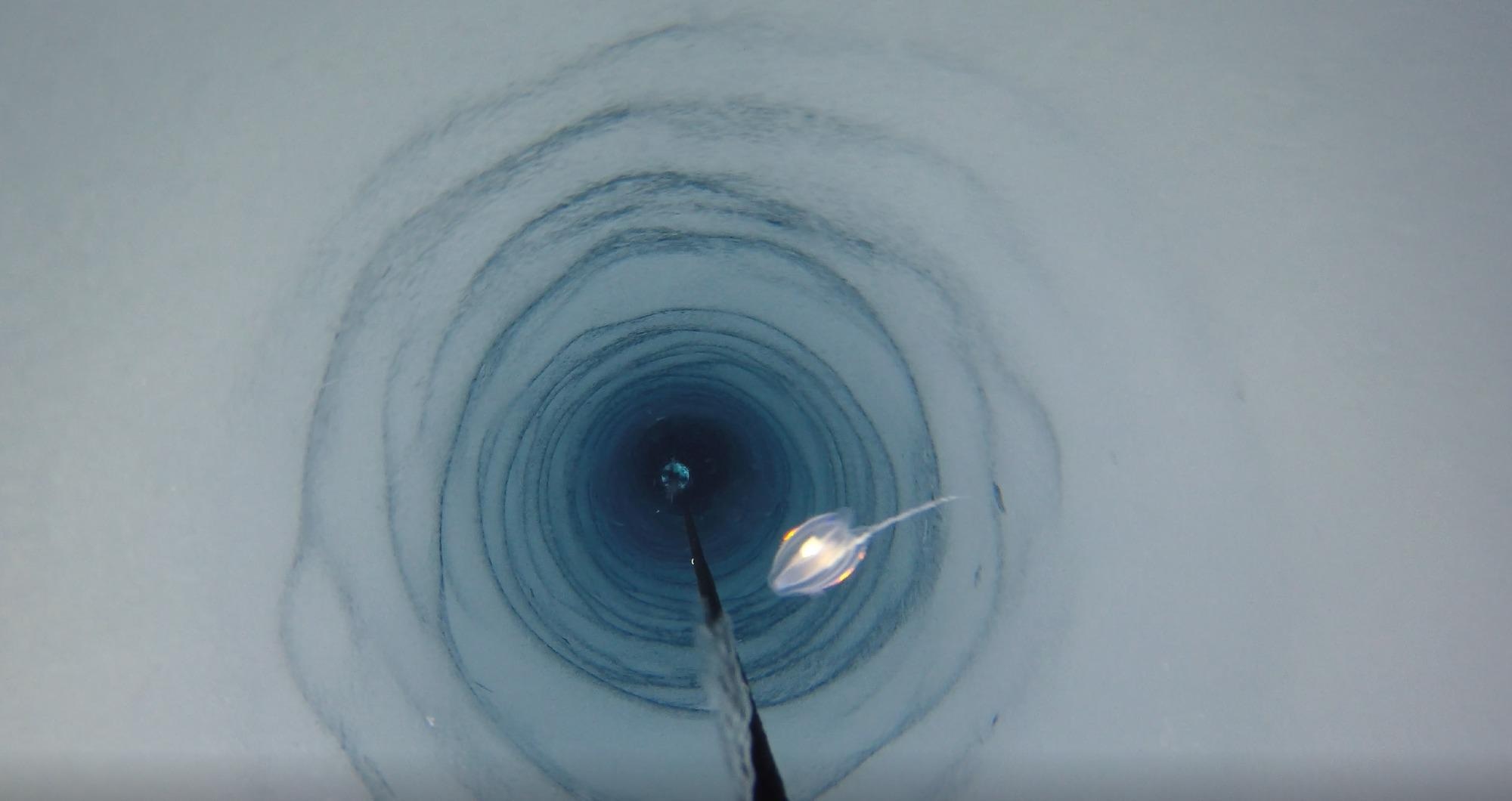 As part of an exploratory survey, scientists drilled through 900 m of ice in the Filchner-Ronne Ice Shelf, located on the southeastern Weddell Sea. Very few animals have ever been noticed in these conditions at a distance of 260 km away from the open ocean, with temperatures of −2.2°C and under complete darkness.
However, this study is the first to find the occurrence of stationary animals—analogous to sponges and possibly various previously unknown species—bound to a boulder on the seafloor.
"This discovery is one of those fortunate accidents that pushes ideas in a different direction and shows us that Antarctic marine life is incredibly special and amazingly adapted to a frozen world," noted biogeographer and lead author, Dr Huw Griffiths of British Antarctic Survey.
More Questions than Answers
Our discovery raises so many more questions than it answers, such as how did they get there? What are they eating? How long have they been there? How common are these boulders covered in life? Are these the same species as we see outside the ice shelf or are they new species? And what would happen to these communities if the ice shelf collapsed?

Dr Huw Griffiths, Study Lead Author and Biogeographer, British Antarctic Survey
Floating ice shelves are the most unexplored habitat in the Southern Ocean. Although they encompass over 1.5 million square kilometers of the Antarctic continental shelf, only a total area the size of a tennis court has been investigated through eight previous boreholes.
Existing theories about the kind of life that could survive under ice shelves indicate that all life becomes less abundant while moving further away from open water and sunlight. Previous studies have discovered certain small mobile predators and scavengers, like worms, fish, krill, or jellyfish in these habitats.
However, filter-feeding organisms—that rely on a supply of food from the above—were predicted to be among the first ones to disappear further beneath the ice.
It was surprising for the team of geologists to drill through the ice to gather sediment samples, and hit a rock rather than mud at the bottom of the ocean below. They were much more astonished by the video footage showing a large boulder presenting strange creatures.
New Antarctic Expedition Needed
This is the first record of a hard substrate (that is, a boulder) community deep underneath an ice shelf and appearing to challenge all earlier theories of what kinds of life could survive there.
In light of the water currents in the area, the team estimates that this community could be nearly 1,500 km upstream from the nearest photosynthesis source. Although other organisms are also known to gather nutrients from chemicals in methane seeps or from glacial melts, the team cannot gain more insights about these organisms until they have the tools to gather samples of these organisms—a huge challenge in itself.
To answer our questions we will have to find a way of getting up close with these animals and their environment—and that's under 900 meters of ice, 260km away from the ships where our labs are. This means that as polar scientists, we are going to have to find new and innovative ways to study them and answer all the new questions we have.

Dr Huw Griffiths, Study Lead Author and Biogeographer, British Antarctic Survey
Griffiths and the team also state that due to the climate change crisis and the breakdown of these ice shelves, there is not much time left to analyze and protect these ecosystems.
Journal Reference:
Griffiths, H. J., et al. (2020) Breaking All the Rules: The First Recorded Hard Substrate Sessile Benthic Community Far Beneath an Antarctic Ice Shelf. Frontiers in Marine Science. doi.org/10.3389/fmars.2021.642040.
Source: https://www.frontiersin.org/
This hot super-Earth has temperatures of 800°F and rivers of glowing lava – Digital Trends
No day or night, heat intense enough to melt lead, and glowing rivers of lava: This hellish landscape is a typical day on Gliese 486b, a recently discovered exoplanet orbiting the nearby star Gliese 486. The planet is rocky and around three times the mass of Earth, making it a type called a super-Earth. But it is so hot that the conditions there are quite different from what we're used to.
The planet is so close to its star that a year there lasts only 1.5 Earth days. Though the star is fainter and cooler than our sun, the planet orbits just 1.5 million miles away and it is tidally locked, meaning one side of the planet always faces the star. This drives temperatures up even higher, reaching a surface temperature of 700 Kelvin (800 degrees Fahrenheit).
The researchers who made the discovery believe this means the planet would appear more like Venus than like Earth, with a hot and dry landscape and rivers of glowing lava. There is probably little atmosphere there, as the heat from the star would act to evaporate it away, but the planet's gravity likely helps it to retain some atmosphere.
The potential existence of a thin but present atmosphere makes this planet an excellent candidate for research as it allows scientists to test their theories on atmospheric models for rocky planets. "The discovery of Gliese 486b was a stroke of luck," said José A. Caballero of the Centro de Astrobiología in Spain, co-author of the paper, in a statement. "A hundred degrees hotter and the planet's entire surface would be lava. Its atmosphere would consist of vaporized rocks. On the other hand, if Gliese 486b were a hundred degrees colder, it would have been unsuitable for follow-up observations."
The researchers now want to use upcoming next-generation telescopes to study the planet further and to try to peer into its atmosphere to see its composition. "The proximity of this exoplanet is exciting because it will be possible to study it in more detail with powerful telescopes such as the upcoming James Webb Space Telescope and the future Extremely Large Telescopes," said lead author Trifon Trifonov of the Max Planck Institute for Astronomy.
"We can hardly wait for the new telescopes to become available. The results will help us to understand how well rocky planets can hold their atmospheres, what they are made of, and how they influence the energy distribution on the planets."
Editors' Recommendations
In Oregon, Scientists Find a Virus Variant With a Worrying Mutation – Yahoo News
Scientists in Oregon have spotted a homegrown version of a fast-spreading variant of the coronavirus that first surfaced in Britain — but now it's combined with a mutation that may make the variant less susceptible to vaccines.
The researchers have so far found just a single case of this formidable combination, but genetic analysis suggested that the variant had been acquired in the community and did not arise in the patient.
"We didn't import this from elsewhere in the world — it occurred spontaneously," said Brian O'Roak, a geneticist at Oregon Health and Science University who led the work. He and his colleagues participate in the Centers for Disease Control and Prevention's effort to track variants, and they have deposited their results in databases shared by scientists.
Sign up for The Morning newsletter from the New York Times
The variant originally identified in Britain, called B.1.1.7, has been spreading rapidly across the United States, and accounts for at least 2,500 cases in 46 states. This form of the virus is both more contagious and more deadly than the original version, and it is expected to account for most U.S. infections in a few weeks.
The new version that surfaced in Oregon has the same backbone, but also a mutation — E484K, or "Eek" — seen in variants of the virus circulating in South Africa, Brazil and New York City.
Lab studies and clinical trials in South Africa indicate that the Eek mutation renders the current vaccines less effective by blunting the body's immune response. (The vaccines still work, but the findings are worrying enough that Pfizer-BioNTech and Moderna have begun testing new versions of their vaccines designed to defeat the variant found in South Africa.)
The B.1.1.7 variant with Eek also has emerged in Britain, designated as a "variant of concern" by scientists. But the virus identified in Oregon seems to have evolved independently, O'Roak said.
O'Roak and his colleagues found the variant among coronavirus samples collected by the Oregon State Public Health Lab across the state, including some from an outbreak in a health care setting. Of the 13 test results they analyzed, 10 turned out to be B.1.1.7 alone, and one the combination.
Other experts said the discovery was not surprising, because the Eek mutation has arisen in forms of the virus all over the world. But the mutation's occurrence in B.1.1.7 is worth watching, they said.
In Britain, this version of the variant accounts for a small number of cases. But by the time the combination evolved there, B.1.1.7 had already spread through the country.
"We're at the point where B.1.1.7 is just being introduced" into the United States, said Stacia Wyman, an expert in computational genomics at the University of California, Berkeley. "As it evolves, and as it slowly becomes the dominant thing, it could accumulate more mutations."
Viral mutations may enhance or weaken one another. For example, the variants identified in South Africa and Brazil contain many of the same mutations, including Eek. But the Brazilian version has a mutation, K417N, that is not present in the version from South Africa.
In a study published Thursday in Nature, researchers compared antibody responses to all three variants of concern — the ones identified in Britain, South Africa and Brazil. Consistent with other studies, they found that the variant that pummeled South Africa is most resistant to antibodies produced by the immune system.
But the variant circulating in Brazil was not as resistant, even though it carried the Eek mutation. "If you have the second mutation, you don't see as bad an effect," said Michael Diamond, a viral immunologist at Washington University in St. Louis, who led the study.
It's too early to say whether the variant in Oregon will behave like the ones in South Africa or Brazil. But the idea that other mutations could weaken Eek's effect is "excellent news," Wyman said.
Overall, she said, the Oregon finding reinforces the need for people to continue to take precautions, including wearing a mask, until a substantial portion of the population is immunized.
"People need to not freak out but to continue to be vigilant," she said. "We can't let down our guard yet while there's still these more transmissible variants circulating."
This article originally appeared in The New York Times.
© 2021 The New York Times Company
NASA rover Perseverance takes first spin on surface of Mars – Global News
NASA's Mars rover Perseverance has taken its first, short drive on the surface of the red planet, two weeks after the robot science lab's picture-perfect touchdown on the floor of a massive crater, mission managers said on Friday.
The six-wheeled, car-sized astrobiology probe put a total of 6.5 meters (21.3 feet) on its odometer on Thursday during a half-hour test spin within Jezero Crater, site of an ancient, long-vanished lake bed and river delta on Mars.
Taking directions from mission managers at NASA's Jet Propulsion Laboratory (JPL) near Los Angeles, the rover rolled 4 meters (13.1 feet) forward, turned about 150 degrees to its left and then drove backward another 2.5 meters (8.2 feet).
"It went incredibly well," Anais Zarifian, a JPL mobility test engineer for Perseverance, said during a teleconference briefing with reporters, calling it a "huge milestone" for the mission.
NASA displayed a photo taken by the rover showing the wheel tread marks left in the reddish, sandy Martian soil after its first drive.

4:23


Perseverance rover: Scientist on when we can expect samples back from Mars



Another vivid image of the surrounding landscape shows a rugged, ruddy terrain littered with large, dark boulders in the foreground and a tall outcropping of rocky, layered deposits in the distance – marking the edge of the river delta.
Some additional, short-distance test driving is planned for Friday. Perseverance is capable of averaging 200 meters of driving per day.
But JPL engineers still have additional equipment checks to run on the rover's many instruments before they will be ready to send the robot on a more ambitious journey as part of its primary mission to search for traces of fossilized microbial life.
So far, Perseverance and its hardware, including its main robot arm, appear to be operating flawlessly, said Robert Hogg, deputy mission manager. The team has yet to conduct post-landing tests of the rover's sophisticated system to drill and collect rock samples for return to Earth via future Mars missions.
NASA announced it has named the site of Perseverance's Feb. 18 touchdown as the "Octavia E. Butler Landing," in honor of the award-winning American science-fiction writer. Butler, a native of Pasadena, California, died in 2006 at age 58.
(Reporting by Steve Gorman, Editing by Rosalba O'Brien)