St. Louis Surprises With Art And Soul – Forbes
St. Louis surprises. No more so than at the Pulitzer Arts Foundation where intrigue begins before even entering the angular, concrete Modernist masterpiece from legendary Japanese architect Tadao Ando which houses it.
The Pulitzer campus is located in the Grand Center Arts District and includes the museum, the Park-Like garden–a fascinating reclaimed grass lot now bursting with native plants–a tree grove behind the museum–framed from inside by a central water court–and the forthcoming Spring Church, an adjacent 100-plus year old stone husk of a church burned by an electrical fire in 2001 which will open this fall as an installation space for artwork.
An exhibition on now through October 31 ties these areas together for the first time. "Chloë Bass: Wayfinding," brings more than 20 site-specific sculptures installed across the Pulitzer's outdoor spaces and neighboring areas. Each of these locations, or "chapters," are anchored by a billboard with a question posed by the artist considering an aspect of the human condition including familial intimacy, desire, anxiety and loss.
Accompanying sculptures contain related texts and images encouraging private reflection and intensifying everyday moments. Through these meditations, the work engages the viewer in an exploration of both visual and written language. In addition to the sculptures, the project includes a site-specific audio artwork that grapples with notions of place, belonging, joy and risk.
"We've done some of these public projects in our neighborhood periodically over the last decade and the more we've done these temporary projects, the more we've realized that to be real stewards of the neighborhood, and as owners of land, we have to do something more intentionally… and more long-term with the community in mind," Kristin Fleischmann, who organized the Chloe Bass installation, told Forbes.com.
Over the past couple years, a landscape designer has been enlisted to gradually transform Park-Like into one of the city's most unusual public parks, a natural space for people and wildlife–walking paths placing neighbors among the area's birds and pollinators.
"The 'Wayfinding' exhibition is the first time we've installed public art on the site and it actually feels like it's now fully alive," Fleischmann said.
"We try to think about art and architecture, which extends to both the built and the natural environment; we try to think about how we can use those to bring people together," Tamara Schenkenberg, one of Fleischmann's colleagues at the Pulitzer told Forbes.com. "Over the years–we're turning 20–we're thinking more ambitiously about the inside and the outside building; it's an exciting moment where we're expanding and thinking more broadly."
Schenkenberg has curated the featured attraction inside the museum, "Hannah Wilke: Art for Life's Sake," the first major exhibition of Wilke's (1940-1993) groundbreaking work in over a decade. One of the foremost American artists to emerge in the 1960s, Wilke developed an unabashed, boundary-crossing art practice that included photography, video and works on paper, as well as sculptures in clay, latex, chewing gum and other non-traditional materials.
"Materially diverse and formally experimental" is how Schenkenberg describes Wilke's body of work which was highlighted by her signature feminist iconography—the abstracted vaginal form in clay. For Wilke, this was a means to affirming her body and validating women's experiences.
Here, St. Louis surprises again.
Stereotypes of middle-America–and nowhere is more middle-America than St. Louis–as culturally conservative, dull, unadventurous, utterly miss the mark here. Culturally, St. Louis is consistently provocative.
"Art for Life's Sake" would turn heads in New York or Los Angeles. Wilke is an artist who can still be considered cutting edge three decades after her death. "Wayfinding" was originally commissioned by The Studio Museum in Harlem to highlight a Black, female artist not yet 40-years-old. The Pulitzer's astonishing building looks nothing like you'd expect to see in the home of Budweiser.
"The Midwest often gets marginalized and we have this bifurcated thinking of the arts and culture only thriving on the coasts," Schenkenberg said. "The Wilke show clearly goes against that binary thinking. We've been really excited to present (this exhibition) and judging from how our audiences have responded to it, I do think there's a great appetite and interest (in St. Louis) in feminist themes, in conversations around gender."
"Art for Life's Sake" concludes with Wilke's affecting Intra-Venus series of photographs (1991–92) where she lays bare the changes to her body caused by cancer treatments. Non-Hodgkin lymphoma would ultimately claim her life.
"What I see across her practice is a desire to affirm life. You see that from the very early work in the 1960s all the way through the last body of work she took after she was diagnosed (with cancer)," Schenkenberg said. "(Intra Venus) is very provocative–which is also another aspect of her work–but it's also life-affirming and she is documenting these changes to her body with honesty and humor and vulnerability, and I think it's that mix between the vitality of her body and the vulnerability of her body that is really piercing and testament to the power of her images."
Intra Venus is the rare, raw artmaking, universally stirring to audiences regardless of their familiarity with "fine art."
"It really normalizes elements of our bodies changing over time. Women, we grow up with a certain way our bodies should look and be and we don't talk about illness, and we don't talk about death in American culture and normalizing this as much as it should be," Fleischmann adds. "So many women go through this and there's a lot of shame that can be involved–or hiding–and I think Wilke's unflinching honesty–there's a ton of beauty and power in it–so it's very emotionally challenging to experience, but at the same time, it's very life-affirming and powerful and beautiful."
Since opening 20 years ago, the Pulitzer, where admission is always free, has revitalized the neighborhood it calls home, bringing new energy and interest to an area which, like many in St. Louis, had long since seen its better days after the city's mid-20th century population peak. Making a similar impact across St. Louis are the city's Black owned businesses, another surprise to discover.
Gourmet Soul Restaurant is reinventing traditional soul food while Turn does the unimaginable, offering "health centered American comfort food." Turn's Sunday "Slow Jams Brunch" deliciously combines chef and owner David Kirkland's love for food and music. The former DJ's biscuit flight with four different biscuits and seasonal house made jam demands a visit. For treats, Pharaohs Donuts serves up old school favorites while La Patisserie Chouquette indulges with sumptuous cakes and macarons. At Prime 55, Orlando Watson and Tony Davis, co-owners and childhood friends, offer an urban infusion on the classical steak and seafood fine dining experience with a dash of Creole.
Diversity Gallery jewelry or a title from EyeSeeMe African American Children's Bookstore makes for the perfect gift or souvenir and on that weekend visit or longer vacation, Central West End Bed and Breakfast puts you minutes away from the city's top attractions.
Richmondite contributed artwork to support councillor Au's mobile art gallery – Richmond News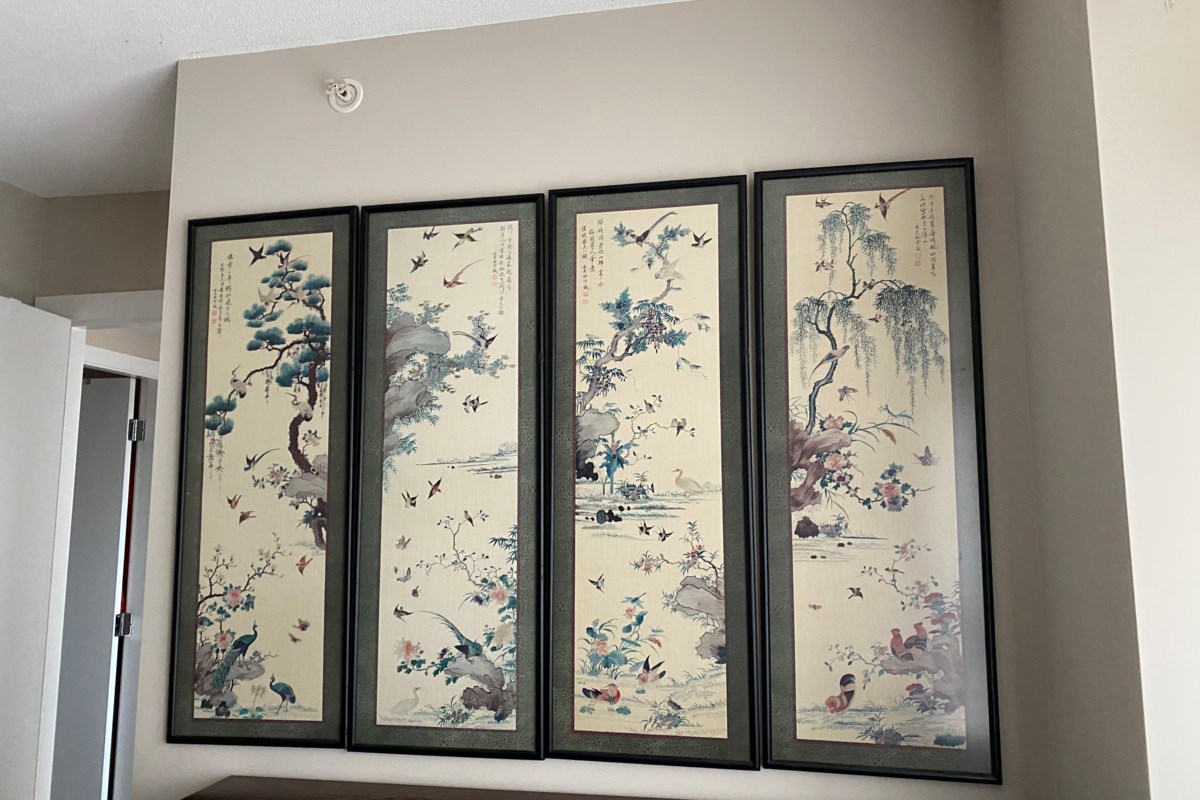 Richmond city councillor Chak Au has spent the past year pondering launching a mobile art gallery for showcasing folk art and connecting the community.
Au is still looking for a venue to showcase such art, but he's already collecting items to exhibit, including one from retired Richmond chartered accountant James Heish, who donated a piece of Chinese decorative needlework this week.
"My idea for the gallery is more like a mobile communication hub. The artwork displayed in the gallery shouldn't be limited to one culture. Instead, it could be as diverse as possible, encouraging more people to share their thoughts on who we are and where we are going as an evolving community," said Au.
The artwork exhibited at the gallery can be returned to the owner when the show comes to an end, added Au, noting that hopefully, Heish's donation could stir up conversations in the community.
Heish told the Richmond News he got his piece dozens of years ago through an auction held by a bank and, since then, it has been kept in his bedroom.
Au said some Chinese immigrants told him how surprised they felt when they first came across some pottery work in galleries around the world, including some from European countries and the Middle East – with the colours being as fresh as painted yesterday and the details so delicate.
The most important thing, added Au, was that they felt ignorant after seeing these art pieces.
"They said we wish we could have known these fantastic work earlier. Looking at other countries' art broadens our horizons and inspires us to embrace their languages and cultures," said Au.
"Artwork represents history and tells fascinating stories, which could be used as a way to connect us."
Heish's donation is now well-preserved at Au's home, and later, they will invite the public to a small exhibition when they find a decent place to display the work.
City of Nanaimo puts together public art advisory group – Nanaimo News Bulletin – Nanaimo Bulletin
The five Nanaimo residents tasked with advising city council on matters relating to public art are set to meet for the first time early next month.
In August, the City of Nanaimo announced the members of its new art in public spaces working group. They include Nanaimo Art Gallery curator Jesse Birch, art conservator Cheryle Harrison, art historian Marie Leduc, art educator Yvonne Vander Kooi and artist Eliot White-Hill, Kwulasultun.
"We were looking for people specifically who have demonstrated experience in aspects of visual arts and we wanted people who represented a variety of professions and experiences to be able to speak to public art," city culture and events manager Julie Bevan said.
The members are all volunteers appointed to a two-year term. Bevan said they will be meeting "several times a year" and their duties will include serving on selection panels for art projects, reviewing and providing feedback on requests for proposals and calls to artists and helping the city proceed in line with its 2010 community plan for public art.
"Part of their role, big picture, is to champion the role of art, artists and creative practitioners and promote processes and policies at the city that support the livelihood of artists and to promote awareness and understanding about the public value of art in public spaces," Bevan said.
Birch said he was drawn to the position because of his commitment to supporting the "cultural fabric" of Nanaimo.
"I'd love to see Nanaimo continue to develop an innovative and inspiring public art policy and body of public art that speaks to this place and honours Snuneymuxw and other regional Indigenous communities and sparks community connections," he said.
As a conservator, Harrison has worked on public art work including the E.J. Hughes mural at the Vancouver Island Conference Centre and projects at the B.C. legislature, Vancouver Post Office and Victoria city hall. She said the 2010 community plan could use some updating.
"In the last 10 years Nanaimo's grown a lot. Our public spaces and how we use them has also changed," she said. "And I see that public art … can communicate and inspire and contribute in new and diverse ways and part of that is looking at our spaces now that we have in our community."
Aside from writing and researching, Leduc has also studied and taught studio art and art history at the post-secondary level and has been a gallery curator. She said she's concerned about how Nanaimo is represented through art and wanted to be involved with the decision making.
"This group, I think, is a really good addition," she said. "A lot of big cities have such a committee and help to guide the selection choices and help to not just guide that, but to nurture more art activity. So it's a reciprocal thing."
Vander Kooi has created public art projects with students from Bayview Elementary School and as participants of the NAG's youth art groups. She also facilitated the creation of a memorial mural for murdered Nanaimo teenager Makayla Chang.
"I've participated with some public art in Nanaimo and I think it's really an important part of our local culture in identifying who we are in a playful way," she said. "So it's part of my experience and it's part of what I hope to continue to help support in the community."
White-Hill has exhibited his work at the Nanaimo Art Gallery, painted murals at Beban Pool and this year he was awarded the City of Nanaimo's Emerging Cultural Leader award. He said public art can have a role in educating people about the city's Indigenous history.
"When there's public art work it fundamentally shifts the nature of a space and the way that people interact with that space," he said. "And I think it's really important that Snuneymuxw is represented and our stories are talked about and that this is coming back to the surface in Nanaimo and teaching people about where they are and the history of this place."
---

arts@nanaimobulletin.com
Like us on Facebook and follow us on Twitter
Art Installation Occurring At Tom Thomson Art Gallery As Part Of #HopeAndHealingCanada Project – Bayshore Broadcasting News Centre
The Tom Thomson Art Gallery is announcing the launch of the #hopeandhealingcanada project, featuring Métis artist Tracey-Mae Chambers.
A release notes this live, one-day outdoor art installation on Sept. 18, reflects upon the challenges of the current global and national climate, including the impacts left by the pandemic and the realities of past and present racial discrimination. This is further emphasized by the discovery of Indigenous children buried on the grounds of residential schools over the summer.
In her art-work, Chambers asks "Where do we go from here – individually and collectively. How do we heal and remain hopeful?"
For the project, Chambers aims to create site-specific art installations for both indoor and outdoor spaces at museums, galleries, and cities across the country.
"This is a poetic and powerful public art project and I look forward to seeing this one-day installation take place in our community – creating conversation, connecting us through our desire and hope for a better future," says Owen Sound Mayor Ian Boddy.
The installations will be used with red yarn, which she will reuse at various locations to act as a way of creating a visual and tangible image of connectivity. Also aimed as an act of decolonization and offering hope to find healing and a way of deeper understanding.
"The red yarn represents danger and power, but also courage and love," says Chambers.
Tom Thomson Chief Curator and Director Aidan Ware adds this project responds to crisis with elegance, humanity, and a prevailing optimism for a future in which we are all more deeply connected, compassioned, and kindred.
"The Tom Thomson Art Gallery is honoured to join the other spaces across Canada in hosting this intimate and resonant performative art installation," says Ware.
Each of the installations with be temporary, ranging from only a day, to six months.
Residents are invited to watch and engage with Chambers as she works on the art installation west of the Tom Thomson Art Gallery and the Library buildings on 2nd Avenue West.
The project ends Sept. 18 at 3 p.m.