Stagflation rocked the economy before. Is it coming back? – CNN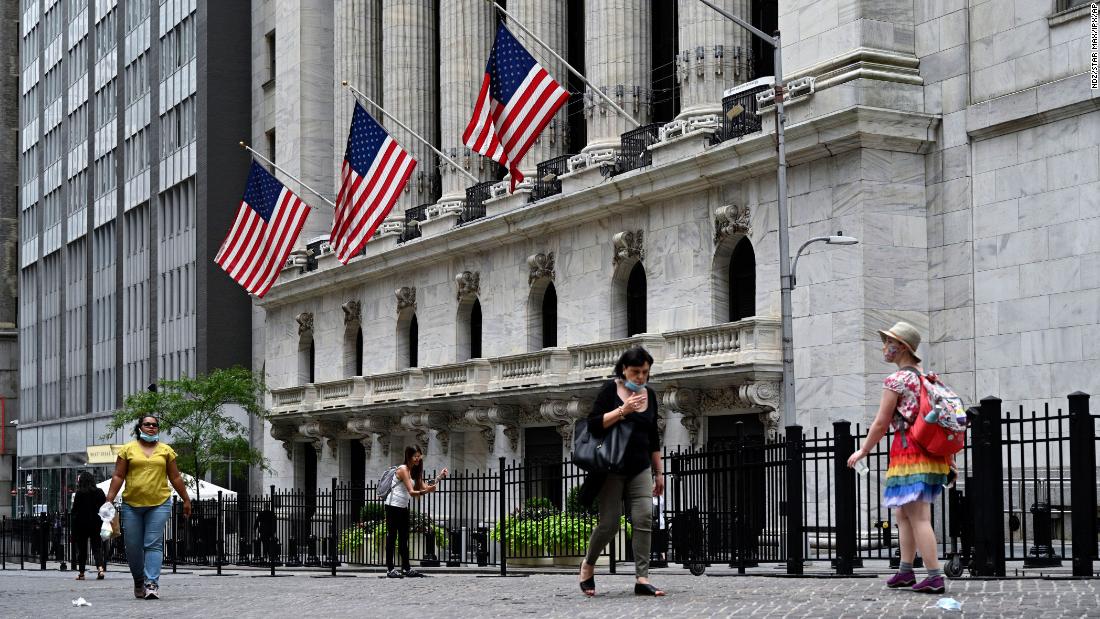 A version of this story first appeared in CNN Business' Before the Bell newsletter. Not a subscriber? You can sign up
right here
.
London (CNN Business)Mention the word "stagflation" to someone who followed the economy in the 1970s, and you can expect a strong reaction.
The phenomenon — which describes a period of high inflation and stagnant economic growth — was a nightmare for policymakers, leaving them with few options to rein in runaway prices without damaging the economy.
Federal Reserve Chair Paul Volcker
was ultimately forced to jack up interest rates to unprecedented levels to get inflation under control.
Now for the bad news: Decades later, talk of stagflation is back.
"One can make a case that 'mild' stagflation is already underway," the economist Nouriel Roubini wrote in a
recent column
. "Inflation is rising in the United States and many advanced economies, and growth is slowing sharply, despite massive monetary, credit, and fiscal stimulus."
Meanwhile, economists have been downgrading predictions for economic growth as they assess the impact of the highly contagious Delta variant of the coronavirus, which arrives as some stimulus measures start to wind down.
A prolonged period of stagflation is still not the baseline assumption among economists and Wall Street investors.
"Is that a permanent state, or is [it] more related to frictions around reopening? I think most of it is temporary," Neil Shearing, group chief economist at Capital Economics, told me.
But there is reason to pay close attention to what's unfolding. Although the Federal Reserve also maintains that recent inflation is transitory, and will pass once post-pandemic supply chain pressures and labor market disruptions ease, consumers are exhibiting growing anxiety.
Last week, the Federal Reserve Bank of New York released its latest survey of consumer expectations. It found that inflation expectations for the year ahead were at a record high, as were those at the three-year horizon. The data goes back to 2013.
Breaking it down: Economists closely watch inflation expectations because they could encourage workers to demand higher wages. If consumers are paid more, their purchasing power grows, and businesses may hike prices again — starting the entire cycle anew.
In a recent note to clients, Bank of America strategists Ohsung Kwon and Savita Subramanian also flagged concerns about energy prices. The 1973 oil crisis is widely seen as having exacerbated inflation problems.
"Although not our base case, stagflation has often been accompanied by oil shocks, and with crude prices recently jumping on supply chain disruptions, the risk of oil shocks has increased," Kwon and Subramanian said.
What happens next: The economy is showing some signs of resilience in the face of the Delta variant. But Kwon and Subramanian are advising clients to consider stocks with healthy dividends and shares of smaller companies that are more protected from inflation.
Those in charge of managing the economy, meanwhile, must weigh a complex matrix of factors. Officials at the Federal Reserve and the Bank of England, who will meet this week, have to decide whether to stick to their assessment that the problem is fleeting.
That would allow them to start pulling back crisis-era support in an orderly fashion. But as stagflation chatter grows, these decisions won't be easy.
"It's going to be an uncomfortable few months for central banks," Shearing said.
Catch up on the WSJ's blockbuster Facebook investigation
Last week, the Wall Street Journal released a
series of damning articles
about
Facebook
(FB)
, citing leaked internal documents that detail in remarkably frank terms how the company is not only well aware of its platforms' negative effects on users, but also how it has repeatedly failed to address them.
There's a lot to unpack from the Journal's investigation. But one thing that stands out is just how blatantly Facebook's problems are documented, using simple, observational prose not often found in internal communications at multinational corporations, my CNN Business colleague Allison Morrow writes.
On teen health:
In the Journal's report on Instagram's
impact on teens
, reporters cite a slide deck from Facebook's own researchers.
"We make body image issues worse for one in three teen girls," said one slide from 2019, according to the WSJ. Another reads: "Teens blame Instagram for increases in the rate of anxiety and depression … This reaction was unprompted and consistent across all groups."
Facebook's whitelist:
Facebook CEO Mark Zuckerberg has repeatedly, publicly maintained that Facebook is a neutral platform that puts its billions of users on equal footing. But in
another report
on the company's "whitelisting" practice — a policy that allows politicians, celebrities and other public figures to flout the platform's rules — the WSJ found a 2019 internal review that called Facebook out for misrepresenting itself in public.
"We are not actually doing what we say we do publicly," the review said, according to the paper. "Unlike the rest of our community, these people" — those on the whitelist — "can violate our standards without any consequences."
Getting angrier:
In 2018, Zuckerberg said a change in Facebook's algorithm was intended to improve interactions among friends and family and reduce the amount of professionally produced content in their feeds. But according to the documents published by the Journal,
staffers warned
the change was having the opposite effect.
A team of data scientists put it bluntly: "Misinformation, toxicity and violent content are inordinately prevalent among reshares," they said, according to the Journal's report.
Up next
Monday: NAHB Housing Market Index
Tuesday:
OECD economic outlook; US building permits and housing starts;
AutoZone
(AZO)
,
Adobe
(ADBE)
,
FedEx
(FDX)
and
Stitch Fix
(SFIX)
earnings
Wednesday: Bank of Japan and Federal Reserve policy decisions; US existing home sales; General Mills earnings
Thursday:
Bank of England policy decision;
Darden Restaurants
(DRI)
,
Rite Aid
(RAD)
,
Nike
(NKE)
and
Costco
(COST)
earnings; US initial jobless claims
Friday: New US home sales
Dollar set for another week of losses even as Fed tapering looms
The dollar was heading for a second week of declines on Friday as sentiment stayed tilted towards riskier assets, while an intervention by the Australian central bank put a halt to the Aussie dollar's recent surge.
The dollar index was last at 93.733, little changed in Asian hours but off 0.24% on the week, as it continues its fall from a 12-month high of 94.565 hit in earlier this month.
It had managed to stem losses on Thursday, bouncing on better U.S. jobs and housing data, but the rally petered out on Friday morning in Asia, where risk sentiment was boosted news that beleaguered developer China Evergrande Group has supplied funds to pay interest on a U.S. dollar bond, averting a default.
But traders are still trying to assess whether the dollar has scope to fall further, or if this is a temporary blip on a march higher.
"People are wondering whether we are at an inflection point, as the dollar has been weakening and that doesn't really fit with the broader narrative that global growth is cooling and the Fed is on the path to tapering, which should be supportive for the dollar," said Paul Mackel, global head of FX research at HSBC.
On Friday, benchmark 10-year U.S. Treasury yields were at 1.6872%, slightly off from Thursday's multi-month high of 1.7%, as markets continue to prepare themselves for an announcement by the Federal Reserve that it will start to wind down its massive bond buying programme, which is widely expected for November.
Mackel said part of the reason for the dollar's weakness had been strong performances by currencies from most commodity exporting countries.
These were quieter on Friday, however, as traders took profits, analysts said, and energy prices softened.
Brent crude, which had risen above $86 dollars a barrel on Thursday, continued its tumble and was last at $84.10.
The Australian dollar was at $0.7475, off Thursday's three-month top, as the boost to the China-exposed currency from Evergrande's news was outweighed by action from the Reserve Bank of Australia to stem a bond sell off, as well as the pause in energy price rises.
The RBA said on Friday it had stepped in to defend its yield target for the first time in eight months, spending A$1 billion ($750 million) to dampen an aggressive bonds sell-off as traders have bet on inflation pulling forward rate hikes.
Also affected by energy prices, the Canadian dollar slipped to C$1.2352 per U.S. dollar, off Thursday's C$1.2287, a level last seen in June.
The British pound paused for breath at $1.3798, off a month peak hit earlier in the week, to which it had been carried by growing expectations of an interest rate hike to combat rising inflationary pressures.
The euro was little changed at $1.1627, while the yen wobbled within sight of its multi-year lows, with one dollar worth 114.01 yen, compared with 114.69 earlier in the week, a four-year low.
China's yuan eased against the dollar on Friday after the FX regulator warned of possible action if the currency market is hit by greater volatility following its recent rally. But the yuan still looked set for the biggest weekly gain since May.
Bitcoin was at $63,928, a little off Wednesday's all-time high of $67,016
(Reporting by Alun John; Editing by Sam Holmes and Kim Coghill)
UN sets up trust fund for 'people's economy' in Afghanistan – The Globe and Mail
The United Nations said on Thursday it had set up a special trust fund to provide urgently needed cash directly to Afghans through a system tapping into donor funds frozen since the Taliban takeover in August.
With the local economy "imploding", the aim is to inject liquidity into Afghan households to permit them to survive this winter and remain in their homeland, it said.
Achim Steiner, the U.N. Development Programme's (UNDP) administrator said Germany, a first contributor, had pledged 50 million euros ($58 million) to the fund, and that it was in touch with other donors to mobilize resources.
Some 97% of Afghan households could be living below the poverty line by mid-2022, according to UNDP.
"We have to step in, we have to stabilize a 'people's economy' and in addition to saving lives we also have to save livelihoods," Steiner told a news briefing.
"Because otherwise we will confront indeed a scenario through this winter and into next year where millions and millions of Afghans are simply unable to stay on their land, in their homes, in their villages and survive," he said.
The International Monetary Fund said on Tuesday that Afghanistan's economy was set to contract https://www.reuters.com/world/asia-pacific/afghanistans-economic-collapse-could-prompt-refugee-crisis-imf-2021-10-19 up to 30% this year and this was likely to further fuel a refugee crisis that would affect neighbouring countries, Turkey and Europe.
The Taliban takeover saw billions in central bank assets frozen https://www.reuters.com/world/asia-pacific/un-chief-liquidity-needed-stem-afghanistan-economic-humanitarian-crises-2021-10-11 and international financial institutions suspend access to funds, although humanitarian aid has continued. Banks are running out of money, civil servants have not been paid and food prices have soared.
Steiner said the challenge was to repurpose donor funds already earmarked for Afghanistan, where the Taliban, the de facto authorities, are not recognized internationally. The fund allows the international community to be "confident enough that these funds are not meant as government-to-government funding", he said.
VIRTUALLY NO LOCAL CASH
The U.N. has discussed the programmes with the Taliban, he said, noting that 80% of the micro-businesses being helped were led by women.
"Our greatest challenge right now is that there is a economy in which there is virtually no domestic currency in circulation," Steiner said, adding that the U.N. wanted to avoid foreign currencies dominating, which would undermine the economy.
"Our intent is to find ways very quickly in which we can convert international support into local currency in order to be able to stimulate local markets, local livelihoods. This is how you keep an economy alive," he said.
Kanni Wignaraja, director of UNDP's regional bureau for the Asia Pacific, said that cash would be provided to Afghan workers in public works programmes, such as drought and flood control programmes, and grants given to micro-enterprises. Temporary basic income would be paid to the vulnerable elderly and disabled, she said.
The UNDP had costed activities to be covered over the first 12 months at approximately $667 million, she said.
Our Morning Update and Evening Update newsletters are written by Globe editors, giving you a concise summary of the day's most important headlines. Sign up today.
This content appears as provided to The Globe by the originating wire service. It has not been edited by Globe staff.
Province Invests in Midland Automotive Parts Manufacturer to Boost Local Economy – Government of Ontario News