Standing Tall: Massive Moon Rocket Milestone for Artemis – SciTechDaily
The rocket that will launch <span class="glossaryLink" aria-describedby="tt" data-cmtooltip="
NASA
Established in 1958, the National Aeronautics and Space Administration (NASA) is an independent agency of the United States Federal Government that succeeded the National Advisory Committee for Aeronautics (NACA). It is responsible for the civilian space program, as well as aeronautics and aerospace research. It's vision is "To discover and expand knowledge for the benefit of humanity."
" data-gt-translate-attributes="["attribute":"data-cmtooltip", "format":"html"]">NASA's Orion spacecraft with the European Service Module to the Moon has been moved to the launchpad in Florida, USA, for its first full test before the Artemis I launch later this year.
The Space Launch Systems rocket (<span class="glossaryLink" aria-describedby="tt" data-cmtooltip="
SLS
NASA's Space Launch System (SLS) is part of NASA's deep space exploration plans and will launch astronauts on missions to an asteroid and eventually to Mars. As the SLS evolves, the launch vehicle will to be upgraded with more powerful versions. Eventually the SLS will have the lift capability of 130 metric tons, opening new possibilities for missions to places like Saturn and Jupiter.
" data-gt-translate-attributes="["attribute":"data-cmtooltip", "format":"html"]">SLS), with Orion atop it, left the Vehicle Assembly Building at NASA's Kennedy Space Center at around 23:00 CET (22:00 <span class="glossaryLink" aria-describedby="tt" data-cmtooltip="
GMT
When completed, the Giant Magellan Telescope (GMT) will be a member of the next class of giant ground-based telescopes that promises to revolutionize our view and understanding of the universe. It will consist of seven 8.4 meter mirrors that will observe optical and near infrared light, with an effective aperture 24.5 meters in diameter. The Giant Magellan Telescope is expected to have a resolving power 10 times greater than the Hubble Space Telescope.
" data-gt-translate-attributes="["attribute":"data-cmtooltip", "format":"html"]">GMT) on March 17 to begin its 6.5 km trip to Launchpad LC39B.
The first Artemis mission will send Orion to the Moon and back, farther than any human-rated spacecraft has traveled before. ESA's European Service Module is the powerhouse that fuels and propels Orion and provides everything needed to keep astronauts alive, including water, oxygen, power, and temperature control.
[embedded content]
One of the many milestones in the leadup to the launch of Artemis is its rollout: this is when a crawler will carry the SLS rocket with Orion and ESM from the Vehicle Assembly Building to launchpad 39B. NASA's John Giles gives us a tour of the crawler and explains the adaptations made to this "wonderful piece of machinery" since it was first built for the Apollo program in the 1960s. ESA is playing a key role in NASA's Artemis program, which will bring astronauts back to the Moon. The European Service Module – or ESM – will provide propulsion, power, and thermal control for the Orion spacecraft. Credit: ESA – European Space Agency
A short but long trip
While the rocket will propel Orion to supersonic speeds, the rocket itself is moved slowly but securely to the launchpad. Traveling at a maximum speed of just 1.3 km/h, the 6.5-km voyage took nearly 12 hours to complete on a specially designed crawler vehicle.
Launching Orion and the European Service Module into Earth orbit and onto the Moon requires a huge amount of energy and the size of the mega-Moon rocket SLS is hard to convey in photos.
At 100 m tall, it is roughly the height of the Elizabeth Tower (Big Ben) in London, UK, or 16 giraffes stacked on top of each other. If you laid the rocket on the ground, it would take over a minute to walk from the engines to the tip of the launch abort system.
We are going
"Seeing the complete rocket on the launchpad with the ESA and NASA logos on the fairing is an amazing view," says ESA's Pierre Boisvert on location, "to think that the European Service Module is inside there, ready to power a human-rated spacecraft to the Moon and back is a spine-tingling moment.
"Many of us in the ESA team have been working for years with our NASA partners on this spacecraft, and to see it on the launchpad is driving it home, we are going forward to the Moon!"
The first Artemis mission will be without astronauts, but it will include two mannequins to chart radiation received during the trip in deep space.
Meanwhile the second and third Artemis missions are being prepared for their launch. The second European Service Module is undergoing pressure checks to ensure the welds connecting it to the rest of the Orion spacecraft were done correctly. This service module will power the first Artemis mission with astronauts around the Moon.
The third European Service Module is being built up in Bremen, Germany, after the structure arrived from Torino, Italy. Technicians at the Airbus integration hall have started laying kilometers of electric cables, the groundwork for sharing information and sending commands in the advanced Orion spacecraft. It has the honor of powering the Artemis III mission that will send astronauts to the Moon's surface for the first time in over 60 years.
[embedded content]
The Orion spacecraft with European Service Module will fly farther from Earth than any human-rated vehicle has ever flown before. This video gives an overview of the first mission – without astronauts – for Artemis, focusing on ESA's European Service Module that powers the spacecraft. Credit: ESA – European Space Agency
Starlink Group 4-13 | Falcon 9 Block 5 – Everyday Astronaut
Featured image credit: SpaceX
Lift Off Time

May 13, 2022 – 22:07 UTC | 15:07 PDT

Mission Name

Starlink Group 4-13; the fifteenth launch to Starlink Shell 4

Launch Provider
(What rocket company launched it?)

SpaceX

Customer
(Who paid for this?)

SpaceX

Rocket

Falcon 9 Block 5, B1063-5; 108.20 day turnaround

Launch Location

Space Launch Complex 4 East (SLC-4E), Vandenberg Space Force Base, California, USA

Payload mass

~16,250 kg (~35,800 lb) (53 x 307 kg, plus dispenser)

Where did the satellites go?

Starlink Shell 4; 540 km circular low-Earth orbit (LEO); initial orbit: 315 x 305 km at 53.22°

Did they attempt to recover the first stage?

Yes

Where did the first stage land?

B1063 successfully landed 642 km downrange on Of Course I Still Love You

Tug: Debra C; Support: GO Quest

Did they attempt to recover the fairings?

The fairing halves were recovered from the water ~654 km downrange by NRC Quest

Were these fairings new?

No, both fairing halves were flight proven

This was the:

– 153rd Falcon 9 launch
– 93rd Falcon 9 flight with a flight proven booster
– 97th re-flight of a booster
– 18th re-flight of a booster in 2022
– 119th booster landing
– 45th consecutive landing (a record)
– 19th launch for SpaceX in 2022
– 23rd SpaceX launch from SLC-4E
– 53rd orbital launch attempt of 2022

Where to watch

Official Replay
How Did It Go?
SpaceX's Starlink Group 4-13 mission successfully launched 53 Starlink satellites atop a Falcon 9 rocket. The Falcon 9 lifted off from Space Launch Complex 4 East (SLC-4E), at the Vandenberg Space Force Base, in California, United States. Starlink Group 4-13 marked the 44th operational Starlink mission, boosting the total number of Starlink satellites launched to 2,547, of which 2,300 are in orbit around the Earth. Starlink Group 4-13 marked the 15th launch to the fourth Starlink shell; roughly 30 launches will be required to fill this shell.
What Is Starlink?
Starlink is SpaceX's internet communication satellite constellation. The low-Earth orbit constellation will deliver fast, low-latency internet service to locations where ground-based internet is unreliable, unavailable, or expensive. The first phase of the constellation consists of five orbital shells.
Starlink is currently available in certain regions, allowing anyone in approved regions to order or preorder. After 28 launches SpaceX achieved near-global coverage, but the constellation will not be complete until ~42,000 satellites are in orbit. Once Starlink is complete, the venture is expected to profit $30-50 billion annually. This profit will largely finance SpaceX's ambitious Starship program, as well as Mars Base Alpha.
What Is The Starlink Satellite?
Each Starlink V1.5 satellite has a compact design and a mass of 307 kg. SpaceX developed a flat-panel design, allowing them to fit as many satellites as possible into the Falcon 9's 5.2 meter wide payload fairing. Due to this flat design, SpaceX is able to fit up to 60 Starlink satellites and the payload dispenser into the second stage, while still being able to recover the first stage. This is near the recoverable payload capacity of the Falcon 9 to LEO, around 16 tonnes.
As small as each Starlink satellite is, each one is packed with high-tech communication and cost-saving technology. Each Starlink satellite is equipped with four phased array antennas, for high bandwidth and low-latency communication, and two parabolic antennas. The satellites also include a star tracker, which provides the satellite with attitude data, ensuring precision in broadband communication.
Each Starlink V1.5 satellite is also equipped with an inter-satellite laser communication system. This allows each satellite to communicate directly with other satellites, not having to go through ground stations. This reduces the number of ground stations needed, allowing coverage of the entire Earth's surface, including the poles.
The Starlink satellites are also equipped with an autonomous collision avoidance system, which utilizes the US Department of Defense (DOD) debris tracking database to autonomously avoid collisions with other spacecraft and space junk.
To decrease costs, each satellite has a single solar panel, which simplifies the manufacturing process. To further cut costs, Starlink's propulsion system, an ion thruster, uses krypton as fuel, instead of xenon. While the specific impulse (ISP) of krypton is significantly lower than xenon's, it is far cheaper, which further decreases the satellite's manufacturing cost.
Ion Power
Each Starlink satellite is equipped with the first Hall-effect krypton-powered ion thruster. This thruster is used for both ensuring the correct orbital position, as well as for orbit raising and orbit lowering. At the end of the satellite's life, this thruster is used to deorbit the satellite.
What Is The Starlink Satellite Constellation?
A satellite constellation is a group of satellites that work in conjunction for a common purpose. Currently, SpaceX plans to form a network of 11,716 satellites; however, in 2019 SpaceX filed an application with the Federal Communication Commission (FCC) for permission to launch and operate an additional 30,000 satellites as part of phase 2 of Starlink. To put this number of satellites into perspective, this is roughly 20 times more satellites than were launched before 2019.
Of the initial ~12,000 satellites, ~4,400 would operate on the Ku and Ka bands, with the other ~7,600 operating on the V-Band.
Due to the vast number of Starlink satellites, many astronomers are concerned about their effect on the night sky. However, SpaceX is working with the astronomy community and implementing changes to the satellites to make them harder to see from the ground and less obtrusive to the night sky. SpaceX has changed how the satellites raise their orbits and, starting on Starlink V1.0 L9, added a sunshade to reduce light reflectivity. These changes have already significantly decreased the effect of Starlink on the night sky.
Starlink Phase 1 Orbital Shells:
| | | | |
| --- | --- | --- | --- |
| | Inclination (°) | Orbital Altitude (km) | Number of Satellites |
| Shell 1 | 53.0 | 550 | 1,584 |
| Shell 2 | 70.0 | 570 | 720 |
| Shell 3 | 97.6 | 560 | 348 |
| Shell 4 | 53.2 | 540 | 1,584 |
| Shell 5 | 97.6 | 560 | 172 |
Orbital Shells
Shell 1
The first orbital shell of Starlink satellites consists of 1,584 satellites in a 53.0° 550 km low-Earth orbit. Shell 1 consists of 72 orbital planes, with 22 satellites in each plane. This shell is currently near complete, with occasional satellites being replaced. The first shell provides coverage between roughly 52° and -52° latitude (~80% of the Earth's surface), and will not feature laser links until replacement satellites launch after 2021.
Shell 2
Starlink's second shell will host 720 satellites in a 70° 570 km orbit. These satellites will significantly increase the coverage area, which will make the Starlink constellation cover around 94% of the globe. SpaceX will put 20 satellites in each of the 36 planes in the third shell. This shell is currently being filled, along with Shell 4.
Shell 3
Shell 3 will consist of 348 satellites in a 97.6° 560 km orbit. SpaceX deployed 10 laser link test satellites into this orbit on their Transporter-1 mission to test satellites in a polar orbit. SpaceX launched an additional three satellites to this shell on the Transporter-2 mission. On April 6, 2021, Gwynne Shotwell said that SpaceX will conduct regular polar Starlink launches in the summer, but this shell is now the lowest priority, and is expected to be the last filled. All satellites that will be deployed into this orbit will have inter-satellite laser link communication. Shell 4 will have six orbital planes with 58 satellites in each plane.
Shell 4
The fourth shell will consist of 1,584 satellites in a 540 km 53.2° LEO. This updated orbital configuration will slightly increase coverage area and will drastically increase the bandwidth of the constellation. This shell will also consist of 72 orbital planes with 22 satellites in each plane. This shell is currently being filled alongside Shell 2.
Shell 5
The final shell of Phase 1 of Starlink will host 172 satellites in another 97.6° 560 km low-Earth polar orbit. Shell 5 will also consist purely of satellites with laser communication links; however, unlike Shell 3, it will consist of four orbital planes with 43 satellites in each plane.
Starlink Phase 2 Orbital Shells:
Shell 6
The sixth orbital shell of Starlink satellites is permitted to consist of 2,493 satellites in a 42° 335.9 km LEO. This large number of satellites will decrease latency and increase bandwidth for lower latitudes.
Shell 7
The seventh Starlink shell permits SpaceX to deploy 2,478 satellites into a 48° 340.8 km low-Earth orbit. These satellites will further decrease latency and increase bandwidth for lower latitudes.
Shell 8
The final shell of Starlink Phase 2 allows SpaceX to deploy 2,547 satellites in a 53° 345.6 km orbit.
SpaceX has until March of 2024 to complete half of phase 1 and must fully complete Phase 1 by March of 2027. Phase 2 must be half complete by November of 2024, and be finished by November of 2027. Failure to do so could result in SpaceX losing its dedicated frequency band.
What Is Falcon 9 Block 5?
The Falcon 9 Block 5 is SpaceX's partially reusable two-stage medium-lift launch vehicle. The vehicle consists of a reusable first stage, an expendable second stage, and, when in payload configuration, a pair of reusable fairing halves.
First Stage
The Falcon 9 first stage contains 9 Merlin 1D+ sea level engines. Each engine uses an open gas generator cycle and runs on RP-1 and liquid oxygen (LOx). Each engine produces 845 kN of thrust at sea level, with a specific impulse (ISP) of 285 seconds, and 934 kN in a vacuum with an ISP of 313 seconds. Due to the powerful nature of the engine, and the large amount of them, the Falcon 9 first stage is able to lose an engine right off the pad, or up to two later in flight, and be able to successfully place the payload into orbit.
The Merlin engines are ignited by triethylaluminum and triethylborane (TEA-TEB), which instantaneously burst into flames when mixed in the presence of oxygen. During static fire and launch the TEA-TEB is provided by the ground service equipment. However, as the Falcon 9 first stage is able to propulsively land, three of the Merlin engines (E1, E5, and E9) contain TEA-TEB canisters to relight for the boost back, reentry, and landing burns.
Second Stage
The Falcon 9 second stage is the only expendable part of the Falcon 9. It contains a singular MVacD engine that produces 992 kN of thrust and an ISP of 348 seconds. The second stage is capable of doing several burns, allowing the Falcon 9 to put payloads in several different orbits.
For missions with many burns and/or long coasts between burns, the second stage is able to be equipped with a mission extension package. When the second stage has this package it has a grey strip, which helps keep the RP-1 warm, an increased number of composite-overwrapped pressure vessels (COPVs) for pressurization control, and additional TEA-TEB.
Falcon 9 Booster
The booster that supported Starlink Group 4-13 is B1063. As the booster had supported 4 previous flights, its designation for Starlink Group 4-13 is B1063-5. This changed to B1063-6 upon successful landing.
| | | |
| --- | --- | --- |
| B1063's missions | Launch Date (UTC) | Turnaround Time (Days) |
| Sentinel-6 | November 21, 2020 17:17 | N/A |
| Starlink V1.0 L28 | May 26, 2021 18:59 | 186.07 |
| DART | November 24, 2021 06:21 | 181.47 |
| Starlink Group 4-11 | February 25, 2022 17:12 | 62.45 |
| Starlink Group 4-13 | May 13, 2022 22:07 | 108.20 |
Following stage separation, the Falcon 9 conducted two burns. These burns softly touched down the booster on SpaceX's autonomous spaceport drone ship Of Course I Still Love You.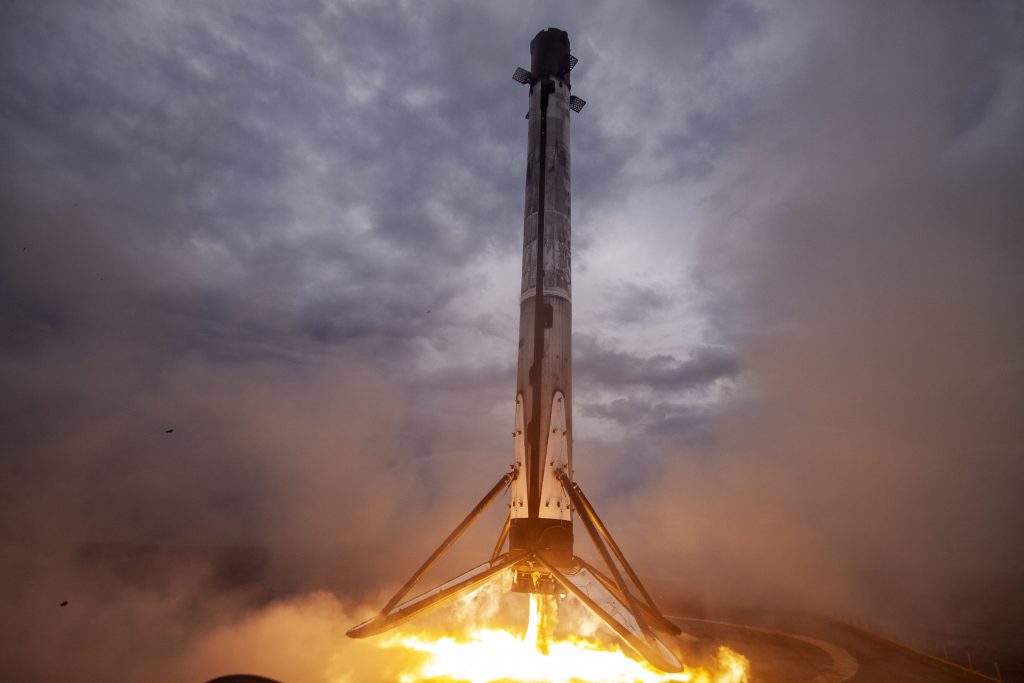 Falcon 9 Fairings
The Falcon 9's fairing consists of two dissimilar reusable halves. The first half (the half that faces away from the transport erector) is called the active half, and houses the pneumatics for the separation system. The other fairing half is called the passive half. As the name implies, this half plays a purely passive role in the fairing separation process, as it relies on the pneumatics from the active half.
Both fairing halves are equipped with cold gas thrusters and a parafoil which are used to softly touch down the fairing half in the ocean. SpaceX used to attempt to catch the fairing halves, however, at the end of 2020 this program was canceled due to safety risks and a low success rate. On Starlink Group 4-13, SpaceX recovered the fairing halves from the water with their recovery vessel NRC Quest.
In 2021, SpaceX started flying a new version of the Falcon 9 fairing. The new "upgraded" version has vents only at the top of each fairing half, by the gap between the halves, whereas the old version had vents placed spread equidistantly around the base of the fairing. Moving the vents decreases the chance of water getting into the fairing, making the chance of a successful scoop significantly higher.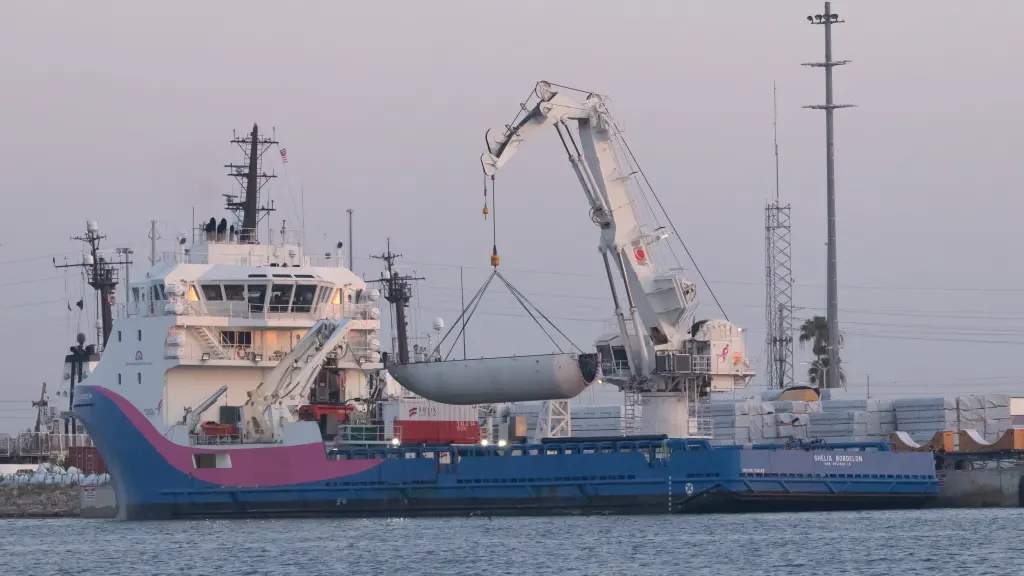 Starlink Group 4-13 Countdown
All times are approximate
| HR/MIN/SEC | EVENT |
| --- | --- |
| 00:38:00 | SpaceX Launch Director verifies go for propellant load |
| 00:35:00 | RP-1 (rocket grade kerosene) loading underway |
| 00:35:00 | 1st stage LOX (liquid oxygen) loading underway |
| 00:16:00 | 2nd stage LOX loading underway |
| 00:07:00 | Falcon 9 begins engine chill prior to launch |
| 00:01:00 | Command flight computer to begin final prelaunch checks |
| 00:01:00 | Propellant tank pressurization to flight pressure begins |
| 00:00:45 | SpaceX Launch Director verifies go for launch |
| 00:00:03 | Engine controller commands engine ignition sequence to start |
| 00:00:00 | Falcon 9 liftoff |
Starlink Group 4-13 Launch, Landing, and Deployment
All times are approximate
| HR/MIN/SEC | EVENT |
| --- | --- |
| 00:01:12 | Max Q (moment of peak mechanical stress on the rocket) |
| 00:02:30 | 1st stage main engine cutoff (MECO) |
| 00:02:34 | 1st and 2nd stages separate |
| 00:02:40 | 2nd stage engine starts (SES-1) |
| 00:02:45 | Fairing deployment |
| 00:06:25 | 1st stage entry burn start |
| 00:06:44 | 1st stage entry burn complete |
| 00:08:10 | 1st stage landing burn start |
| 00:08:33 | 1st stage landing |
| 00:08:46 | 2nd stage engine cutoff (SECO-1) |
| 00:53:40 | 2nd stage engine starts (SES-2) |
| 00:53:41 | 2nd stage engine cutoff (SECO-2) |
| 01:02:42 | Starlink satellites deploy |
Supermassive black hole at the center of our galaxy revealed – Earth.com
By use of extremely powerful telescopes, scientists had previously seen stars orbiting around something invisible, compact, and very massive at the center of our galaxy. This object – known as Sagittarius A* (Sgr A*) – appears to be a huge black hole located 27,000 light-years away from Earth. Now, for the fist time, astrophysicists have managed to capture an image of this supermassive black hole – which is four million times more massive than our sun – at the heart of the Milky Way.
Although the black hole itself is invisible, glowing gas around it reveals a tell-tale signature: a dark central region – called a "shadow"- surrounded by a bright ring-like structure, which is the light bent by the enormous gravity of the black hole.
"For decades, astronomers have wondered what lies at the heart of our galaxy, pulling stars into tight orbits through its immense gravity," said Michael Johnson, an astrophysicist at Harvard University. "With the image [captured by Event Horizon Telescope or EHT], we have zoomed in a thousand times closer than these orbits, where the gravity grows a million times stronger. At this close range, the black hole accelerates matter to close to the speed of light and bends the paths of photons in the warped (space-time)."
"We were stunned by how well the size of the ring agreed with predictions from Einstein's theory of general relativity," added EHT Project Scientist Geoffrey Bower. "These unprecedented observations have greatly improved our understanding of what happens at the very center of our galaxy and offer new insights on how these giant black holes interact with their surroundings."
To image the black hole, scientists used the powerful EHT, which linked together eight radio observatories across the planet to form a single, "Earth-sized" virtual telescope. By employing this groundbreaking technology to observe Sgr A* on multiple nights and collect data for long periods of time, the researchers created a library of millions of images which then needed to be interpreted theoretically to assess what type of astronomical objects they had in fact detected.
"To understand how the EHT has produced an image of Sgr A* one can think of producing a picture of a mountain peak based on a time-lapse video," explained Luciano Rezzolla, a theoretical astrophysicist at Goethe University Frankfurt. "While most of the time the peak will be visible in the time-lapse video, there are times when it is not because it is obscured by clouds. On average, however, the peak is clearly there. Something similar is true also for Sgr A*, whose observations lead to thousands of images which have been collected in four classes and then averaged according to their properties. The end result is a clear first image of the black hole at the center of the Milky Way."
This breakthrough discovery follows EHT's 2019 release of the first image of a black hole, called M87*, located at the center of the more distant Messier 87 galaxy. Even though our galaxy's black hole is over a thousand times smaller than M87*, the two astronomical objects look amazingly similar. Now, the scientists can compare the two to shed more light on how gas behaves around supermassive black holes.
"Now we can study the differences between these two supermassive black holes to gain valuable new clues about how this important process works," said EHT scientist Keiichi Asada. "We have images for two black holes — one at the large end and one at the small end of supermassive black holes in the Universe — so we can go a lot further in testing how gravity behaves in these extreme environments than ever before."
A detailed description of Sgr A* is published in the Astrophysical Journal Letters.
Image Credit: Younsi, Fromm, Mizuno & Rezzolla (University College London, Goethe University Frankfurt
—-
By Andrei Ionescu, Earth.com Staff Writer
SpaceX launches Starlink 4-15 mission, expands booster fleet – NASASpaceFlight.com – NASASpaceflight.com