Star will collapse, explode – Skywatching – Castanet.net
Photo: twanight.org
The very bright star towards the upper left corner of the frame is Antares.
In science and technology, we are now fairly used to the idea of achieving things today that were unthinkable even a few years ago.
This applies to astronomy, too. One of these is our new ability to make useful images of other stars. Stars other than the sun are no longer inaccessible points of light. We are finding that other stars can be very different from our local, yellow dwarf star. A good example of this is revealed by images taken by the Atacama Large Millimetre Array (ALMA) of the red supergiant Antares, a star in the constellation of Scorpius, which we can see this time of the year low in the southern sky.
ALMA is a radio telescope consisting of an array of 66 dish antennas, which function together as a radio camera. This is an international project in which Canada is a partner. It uses radio wavelengths of a few millimetres (your local FM stations use wavelengths in the region of three metres). At these wavelengths the instrument acts as a very sensitive thermal imager, seeing through the dust clouds that block visible light and infrared. Millimetre wavelengths are strongly absorbed by our atmosphere, especially the water vapour in it, so ALMA is located on one the highest, driest places in the world, the Atacama Plateau in Chile.
Antares is a red supergiant star. It has about 12 times the mass of the sun. The brightness of a star increases enormously as the mass increases. A star with 12 times the mass of the sun will radiate energy at about 5,000 times the rate our sun radiates energy. This means that despite its having more fuel available, it will have a shorter life than the sun. Our star will have a lifetime in the region of 10 billion years. Antares will run out of fuel after a lifetime of about 25 million years. If it has any planets, there is not much chance of life developing on any of them. Antares is now close to the end of its life, and is running out of fuel.
When stars get old, they swell enormously into red giant stars. The sun will do this. With its higher mass, Antares has swollen into a red supergiant star. When we start to run out of something, we generally become more frugal in the way we use it. Paradoxically, stars do the reverse. They burn through their remaining fuel even faster. Antares is now shining about 80,000 times the brightness of the sun. To sustain this, it is totally annihilating 320 billion tonnes of its material every second.
Antares has expanded to about 700 times the diameter of the sun. Even with 12 times the solar mass, this means the star is about as close to being a very hot vacuum as one can get. Its gravitational hold on its outer layers is weak, and they are flowing off into space as a supersized solar wind. This is where ALMA comes in; it has imaged the outer layers of Antares and revealed how they have become hugely swollen. For example, immediately above the yellow, shining "surface" of our sun, there is a hot layer known as the chromosphere, maybe 2,000 km thick. Antares has pushed its chromosphere out to a thickness of around 500 million kilometres. It is losing material into space at a horrendous rate. This cannot last. When the fuel runs out, the outward pressure will vanish and the star will collapse and then explode. This is likely to happen in the next few thousand years. For a few months, it will outshine everything in the sky other than the sun and moon.
Antares means "Rival of Ares," where Ares is the Greek name for the god of war. His Roman name is Mars. Both bodies appear as red lights in the sky. However, since stars twinkle and planets don't, it is easy to see which is which. Some time in the next few thousand years, Mars will no longer have any competition. It might worth keeping a weather eye on the southern sky.
Before dawn, Jupiter and Saturn are close together in the south.
Mars lies low in the southeast.
Venus lies low in the sunrise glow.
The moon will be full on the 4th.
NASA pens new rules to prevent us from contaminating the Moon and Mars – The Weather Network
NASA has a strict set of guidelines for sending missions out into space to prevent Earth microbes from contaminating the planets and moons that we visit. Now, the agency has revised those rules to clear the way for human missions to the Moon, and eventually Mars.
Science fiction has already taught us many lessons about the human exploration of space. Chief among those lessons is how we need to do everything we can to prevent some kind of harmful alien bacteria or organisms from being brought back to Earth.
On the flipside, however, is another crucial issue: to preserve the unique alien environments of our solar system – on the Moon, Mars, and other celestial bodies. To do this, we also need to prevent them from being contaminated by microbes that originate from Earth. That is one of the key points of the Outer Space Treaty – an international agreement for the fair and responsible use of space.
This is where NASA's Office of Planetary Protection comes in. The sole concern for this part of the agency is the possibility of harmful biological contamination due to space exploration. Their rules and regulations cover both forward contamination (Earth microbes hitching a ride to another celestial body) and back contamination (returning spacecraft, or astronauts, or samples bringing alien microbes back to Earth).
This is an artist's concept of NASA's Mars Science Laboratory spacecraft approaching Mars. Credit: NASA/JPL-Caltech
By pure biological necessity, we bring microbes with us, no matter what we do or where we go. Apparently, with NASA's previous rules, this fact would prevent any living astronaut from ever setting foot on Mars. They would also impose restrictions on visiting anywhere on the Moon that could have frozen water ice.
With new missions to the Moon currently in the works, such as NASA's Artemis program, and with ideas for future crewed missions to Mars, the agency realized they needed to revisit these guidelines.
Now, after going over those rules, they have released two new NASA Interim Directives (NIDs) this week.
These directives take into account what they've learned from nearly 20 years of continuous human habitation of the International Space Station, as well as decades of robotic exploration of the Moon and Mars, and even from their plans for the new Lunar Gateway station.
The first NID changes how we treat the surface of the Moon. Before this, visiting anywhere on the lunar surface required special consideration, because we now know that the Moon has pockets of water ice. The new NID states that these restrictions now only count for specific areas of the surface where these pockets could exist; notably the so-called Permanently Shadows Regions at the bottom of craters near the lunar poles, and the Apollo landing sites which already contain biological materials left behind by the astronauts. The rest of the lunar surface would be free from planetary protection restrictions.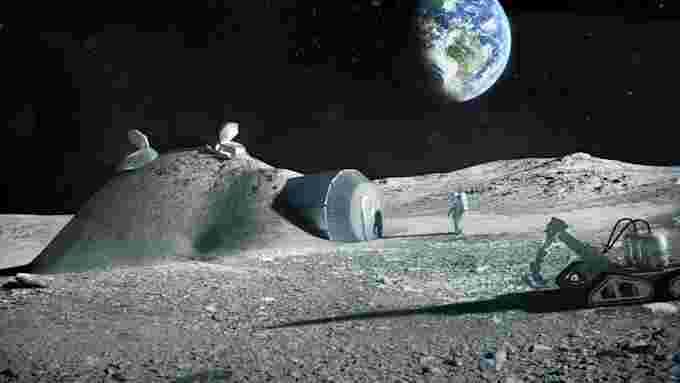 This artist's rendition shows a base on the Moon. Credit: ESA
"We are enabling our important goal of sustainable exploration of the Moon while simultaneously safeguarding future science in the permanently shadowed regions," Thomas Zurbuchen, Associate Administrator of NASA's Science Mission Directorate, said in a NASA press release. "These sites have immense scientific value in shaping our understanding of the history of our planet, the Moon and the solar system."
The other NID updates the planetary protections in place for Mars. Before now, Mars had one of the most stringent sets of restrictions in place. Anything that would touch down on the surface needed to be almost completely sterilized before it would be allowed to launch. For landers and rovers with life-detection capabilities, such as the Viking landers or the new Perseverance rover, they would have to be even more thorough.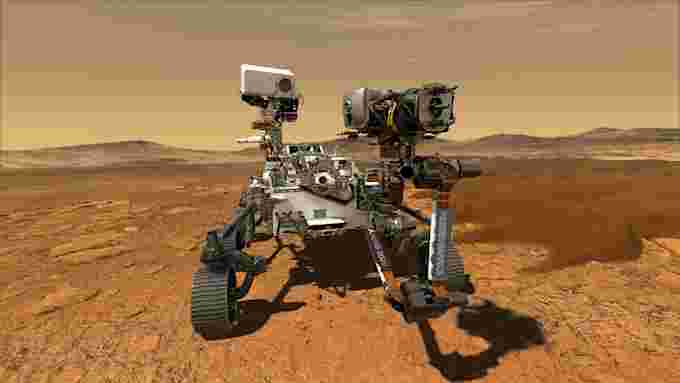 This artist's rendition shows the Perseverance rover on the surface of Mars. Credit: NASA
Basically, there's no sense in sending a robot to detect life on another planet if it only ends up detecting life that hitched a ride from Earth. To ensure that the search for extraterrestrial life is as honest and thorough as possible, we cannot bring anything with us.
The problem becomes: we can't use the same sterilization methods with human astronauts as we do robotic explorers. So, if we are going to plan crewed missions to Mars, these rules have to change.
There's one limitation to changing the rules, however. Even after over 40 years of exploring the surface of Mars, we still don't know enough about it to develop a responsible set of restrictions.
"The challenge with Mars is that we simply don't yet have enough information to know where it is we can go and where we shouldn't go, and where we can go but we need to be more careful than other places," NASA Administrator Jim Bridenstine said when the new NIDs were announced.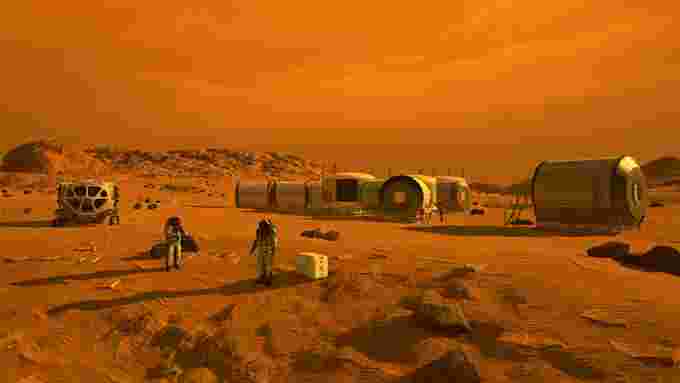 A simulated base on Mars. Credit: NASA
NASA's new Perseverance Rover is designed to search for signs that life existed on Mars in its distant past. It may even be able to tell us if there is life on the planet now (although in all likelihood, it would be microbes deep beneath the ground). Perseverance is currently scheduled to launch later this month, with a landing in Mars' Jezero crater in February of 2021. So, once Perseverance arrives and begins its investigations, the science it collects will go into forming these new rules for human missions to Mars.
RELATED: PERSEVERANCE! NASA MARS2020 ROVER GETS ITS NEW NAME
Space mystery: Scientists spot 'unexpected class of astronomical objects' – Express.co.uk
They can be everything from the leftovers of a supernova, a planetary nebular, or looking at something such a proto-planetary disc or star-forming galaxy from a certain angle.
They can also be a sign of a bug and may come about when there are bright sources from incorrectly-calibrated telescopes.
However, the newly discovered circles do not appear to be explained by any of those more traditional objects.
Instead, the researchers note, they "appear to be a new class of astronomical object".
Your guide to spotting the NEOWISE comet – London Free Press (Blogs)
Article content
Discovered at the end of March, the NEOWISE comet is passing within 100 million kilometres of our planet. "That in astronomical terms is close, but in human terms very far," said Parshati Patel, an astrophysicist with Western University's Institute for Earth & Space Exploration.
So don't worry — even though Patel says comets are unpredictable, this one won't ram into the Earth, as often happens in Hollywood movies and science-fiction paperbacks.
Comets are leftover chunks from the formation of a planet, she says, composed of dust, ice and rocks. "It's almost like a dirty snowball in many ways," Patel said. They appear as bright spots, with a tail, in the sky.
Patel got up early this week to catch a glimpse of NEOWISE, which gets its name from the asteroid-hunting part of NASA's Wide-field Infrared Survey Explorer mission, an Earth-orbiting telescope that detected the object.
"I personally went on Tuesday. It wasn't really great. There were some clouds in the sky," Patel said. "We couldn't really see it with the naked eye."