Starliner Spacecraft's Landing on Sunday a Critical Moment for Boeing and NASA – Space.com
Update for Dec. 22: Boeing's first Starliner spacecraft has successfully landed in New Mexico. For photos and videos, read our full landing story here.
Boeing's first Starliner spacecraft will return to Earth Sunday (Dec. 22) to cap a rocky test flight that, despite some successes, left the capsule in the wrong orbit and unable to reach the International Space Station for NASA as planned.
If all goes according to the revised plan, the uncrewed Starliner — which Boeing designed to eventually fly astronauts for NASA — will land at White Sands Space Harbor in New Mexico at 7:57 a.m. EST (1257 GMT), six days earlier than its original Dec. 28 target. The spacecraft will rely on a heat shield to withstand the searing heat of reentry, three parachutes to slow its descent back to Earth and airbags to cushion its landing. And all of that gear needs to work perfectly for a safe touchdown.
"Tomorrow is a big day," NASA Administrator Jim Bridenstine said of Starliner's landing in a teleconference with reporters today (Dec. 21). "We have to be on our 'A' game."
You can watch Boeing's Starliner landing live on Space.com Sunday, courtesy of NASA TV, beginning at 6:45 a.m. EST (1145 GMT).
Video: How Boeing's Starliner Spacecraft Will Land
More: Boeing's 1st Starliner Flight Test in Photos
A critical test
A smooth, successful landing will be a redemption of sorts for Boeing's Starliner, which was left in its unplanned orbit due to a timing error with the spacecraft's mission clock. The glitch meant Starliner, which launched early Friday (Dec. 20), was unable to rendezvous with the space station to demonstrate its automated docking system, a vital capability for future astronaut missions.
But just as vital is landing safely. And that's what Boeing will attempt to show on Sunday.
"Entry, descent and landing is not for the faint of heart, and this vehicle has not entered," said Jim Chilton, senior vice president of Boeing's Space and Launch Division. "We have not gone from space to the atmosphere."
Leaving orbit
Starliner's return to Earth will occur in stages, each of which must go right for the spacecraft to land safely. First, Starliner will have to leave its current orbit, which is about 155 miles (250 kilometers) above Earth.
To do that, Starliner's service module will fire its thrusters in a so-called "deorbit burn" at 7:23 a.m. EST (1223 GMT) that will last 50 seconds. That should slow the spacecraft to about 25 times the speed of sound, Steve Stich, deputy manager of NASA's Commercial Crew Program, said in the teleconference. Mach 25 is about 19,181 mph (20,870 km/h).
After the deorbit burn, the cylindrical service module should separate from the Starliner crew capsule and perform its own maneuver to fall safely out space and into the Pacific Ocean, Stich said.
Parachute landing
The rest of the landing scenario relies on Starliner's crew capsule, which will plunge through the atmosphere on a trajectory that flies over the Pacific Ocean and crosses Baja California and Mexico, and then just west of El Paso, Texas, to reach a landing zone at White Sands Space Harbor in New Mexico.
When the gumdrop-shaped Starliner slams into the Earth's atmosphere, its heat shield will heat up to 3,000 degrees Fahrenheit (1,650 degrees Celsius), according to a Boeing mission description. The spacecraft will then jettison that heat shield and prepare to deploy its parachutes.
"By the time we get to 30,000 feet [9,100 meters], we'll deploy parachutes; the vehicle will be going less than the speed of sound, less than Mach 1," Stich said.
Starliner is equipped with three main parachutes to slow its descent back to Earth. During a pad abort test in November, only two of those parachutes deployed during a Starliner landing, a glitch Boeing pegged to a misaligned pin in the parachute rigging system.
Chilton said both Boeing and NASA have checked and double-checked that the pins in the current Starliner's parachutes were installed correctly.
"We did have a NASA team go in and look at all the closeout photos," Stitch added. "The parachutes on this spacecraft were rigged correctly."
Starliner's big test
At 3,000 feet (900 m), air bags should inflate on Starliner's base. Those airbags are designed to cushion the impact of landing on astronauts inside the spacecraft.
While there are no human astronauts on this Starliner, the spacecraft is carrying "Rosie the Rocketeer," a spacesuit-clad anthropomorphic test dummy equipped with sensors to measure what astronauts will feel.
"We're going to be able to measure how the human would receive the Gs during entry, and also as the parachutes deploy and as we land," Stich said. "We can measure that environment on Rosie and then extrapolate how a human would do in that environment."
Related: Boeing's CST-100 Starliner Space Capsule (Infographic)
After landing, teams from Boeing and NASA will arrive to recover the vehicle (and its Rosie dummy) to see how Starliner and its systems performed during the trip home.
About the only thing Starliner will not have done during its test flight is the actual docking with the space station. Timing issue aside, the spacecraft fared well during launch and its major systems performed as expected in orbit, Chilton said. Engineers were also able to to deploy and retract Starliner's docking system to make sure it would work during actual dockings.
But just like launch, landing is a test that stands apart, Chilton said.
"Not all objectives are created equal,"he added. "Make no mistake. We still have something to prove here on entry tomorrow."
Visit Space.com Sunday, Dec. 22, for complete coverage of Starliner's OFT landing at White Sands Space Harbor, New Mexico.
Email Tariq Malik at tmalik@space.com or follow him @tariqjmalik. Follow us @Spacedotcom, Facebook and Instagram.
NASA Astronaut Will Vote From Space – KCCU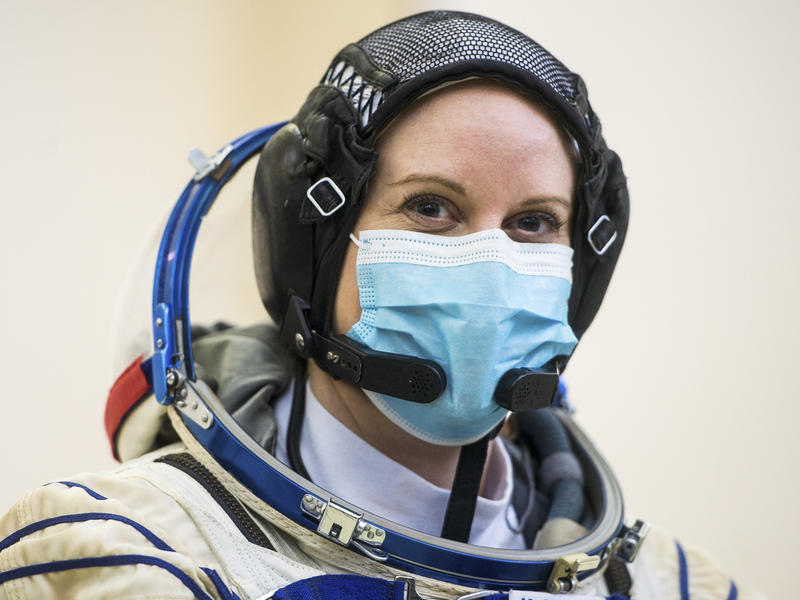 On Election Day, NASA astronaut Kate Rubins will be more than 200 miles above her nearest polling place. But she's still planning to vote — from space.
"It's critical to participate in our democracy," Rubins told the Associated Press. "We consider it an honor to be able to vote from space."
Rubins, who has a Ph.D. in cancer biology from Stanford and was the first person to sequence DNA in space, is currently training for her upcoming six-month mission on the International Space Station.
Voting from the space station is similar to voting absentee from anyplace on the planet — except instead of relying on the U.S. Postal Service to deliver the ballot, Rubins will get hers forwarded electronically from Mission Control in Houston.
"Using a set of unique credentials sent to each of them by e-mail, astronauts can access their ballots, cast their votes, and downlink them back down to Earth," the Smithsonian National Air and Space Museum explained in 2018.
The ballot is then sent to the county clerk for tabulation.
American astronauts have been able to cast ballots from above for over two decades now, ever since a Texas lawmaker learned that astronaut John Blaha couldn't vote in the 1996 presidential race between Bill Clinton and Bob Dole. At the time, Blaha was serving on Russia's Mir Space Station, a predecessor to the ISS.
"He expressed a little bit disappointment in not being able to do that," Republican State Senator Mike Jackson told NPR's Nell Greenfieldboyce in 2008.
Voting from space had never really been an issue before then, because NASA astronauts typically spent no more than about two weeks on shuttle missions. But with the advent of the space station, Americans were sometimes on missions for months at a time.
So a new law was born. "I can attest to how important one person's vote is because my first election I won by seven votes out of over 26,000," Jackson said.
Texas lawmakers approved the measure in 1997, and then-Gov. George W. Bush signed it into law. That same year, astronaut David Wolf became the first American to "vote while you float," as NASA cheekily put it.
"I voted alone up in space, very alone, the only English speaker up there, and it was nice to have an English ballot, something from America," Wolf told The Atlantic in 2016. "It made me feel closer to the Earth and like the people of Earth actually cared about me up there."
Most NASA astronauts live in Houston, so since that Texas law was passed, several astronauts have been able to cast ballots from above. This isn't even the first time Rubins has exercised her orbital privilege; she also voted in the 2016 presidential election from the space station — listing her address as "low-Earth orbit."
"I think it's really important for everybody to vote," Rubins said. "If we can do it from space, then I believe folks can do it from the ground, too."
Copyright 2020 NPR. To see more, visit https://www.npr.org.
Estee Lauder Pays NASA $128000 for Photo Shoot in Space – BNN
(Bloomberg) — Estee Lauder Cos. is sending its newest skincare formula into space, and it'll cost only about as much as paying a big influencer for a few Instagram posts.
The U.S. cosmetics giant is spending $128,000 for NASA to fly 10 bottles of its skin serum to the International Space Station. Once there, astronauts will take pictures of Estee Lauder's Advanced Night Repair in the cupola control tower, which has panoramic views of the cosmos. The images will be used on social media, with the company planning to auction one bottle off for charity when the items return to Earth this spring.
The global recession, triggered by the coronavirus pandemic, has pushed brands to get more creative with their advertising because consumers are cutting back. Within beauty, several companies are spending less on traditional ads, while looking for new ways to break through the glut of content out there. In a press release, Estee Lauder highlighted it being the "first beauty brand to go into space" as a means to tout its "skincare innovation."
The Northrop Grumman Antares rocket that will transport the skin serum as part of a supply run is scheduled to launch on Tuesday night from Wallops Island, Virginia. The Cygnus cargo craft will then dock on the space station early Saturday.
Estee Lauder's push into micro-gravity is part of NASA's effort to commercialize low-earth orbit and make it a domain where private enterprise eventually does business as routinely as the government conducts spacewalks. Companies from Goodyear Tire & Rubber to Merck & Co have used space for research, and NASA is hoping to expand its use, including private citizens visiting the space station.
"We need to expand people's perspective on what we can accomplish in space," said Phil McAlister, NASA's director of commercial spaceflight development.
©2020 Bloomberg L.P.
A dazzling full 'harvest moon' is set to illuminate Vancouver skies next week – North Shore News
While the weekend forecast calls for rain, Vancouver skies are expected to clear next week, which is just in time for the glorious full Harvest moon.
Earlier this month, locals were treated to a full corn moon. Last year, September's full moon was a full 'harvest moon,' which takes place in two years out of three. However, since October's full moon falls closest to the fall equinox this year, it will carry the harvest title.
According to the Old Farmer's Almanac, "this full Moon name is attributed to Native Americans because it marked the time when corn was supposed to be harvested."
The Harvest Moon gets was given its name because farmers needed its silvery light to harvest crops. It has since inspired a rather dreamy, beautiful song by Canadian icon Neil Young, too.
The Old Farmer's Almanac also notes that Native peoples would give distinctive names to each reoccurring full moon to mark the change of seasons. As such, many of these names arose when Native Americans first interacted with colonialists.
The October moon will be at its fullest in Vancouver on Thursday, Oct. 1 at 2:05 p.m.
Stargazers should opt to travel as far away from city lights as possible in order to avoid light pollution that will obscure the clarity of heavenly bodies. While this works best in more remote places, anywhere that has a higher elevation will also provide more ideal viewing conditions.