Statistics Canada says economy added 55000 jobs in December, unemployment rate 5.9% – Coast Reporter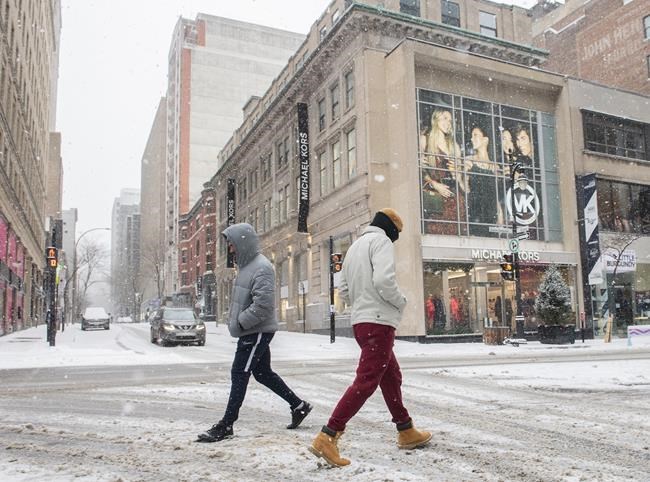 OTTAWA — Statistics Canada says the economy added 55,000 jobs in December before COVID-19 cases began spiking at the end of the month.
The agency says in its labour force survey that the increase in the number of people working came as the unemployment rate edged down to 5.9 per cent compared with 6.0 per cent in November.
It was the lowest unemployment rate since February 2020 before the pandemic when it was 5.7 per cent.
The overall increase in jobs in December was due to a gain in full-time jobs of 123,000, while part-time employment fell by 68,000 for the month.
The report was based on survey results done during the week of Dec. 5 to 11, before the public restrictions put in place to slow the latest surge in COVID-19 cases.
The highly transmissible Omicron variant has fuelled a massive spike in COVID-19 cases and prompted a return to restrictions in many parts of the country that have forced many businesses to temporarily close or curtail operations.
This report by The Canadian Press was first published Jan. 7, 2022.
The Canadian Press
IMF official urges 'deep reforms' to Tunisian economy – FRANCE 24
Issued on: 16/01/2022 – 04:40
Tunis (AFP) – Tunisia's crisis-stricken economy needs "deep reforms" such as slashing its vast public wage bill, the International Monetary Fund's outgoing country chief has said as the government seeks a new bailout.
Jerome Vacher, speaking in an interview at the end of his three-year term as the global lender's envoy to the North African country, said the coronavirus pandemic had helped create Tunisia's "worst recession since independence" in 1956.
"The country had pre-existing problems, in particular budget deficits and public debt, which have worsened," he said.
Tunisia's debts have soared to nearly 100 percent of Gross Domestic Product.
Its GDP plunged by almost nine percent in 2020, the worst rate in North Africa, only modestly offset by a three percent bounceback last year.
That is "quite weak and far from enough" to create jobs to counteract an unemployment rate of 18 percent, Vacher said.
He said young graduates face particular challenges in finding work, despite the country being able to offer "a qualified workforce and a favourable geographic location".
Since dictator Zine El Abidine Ben Ali was toppled by mass protests in 2011, Tunisia's troubled democratic transition has failed to revive the economy.
President Kais Saied sacked the government and suspended parliament on July 25 last year, and the government has since asked the IMF for a bailout package — the fourth since the revolution.
Tunisian authorities say they are optimistic about reaching a deal by the end of this quarter.
Vacher said discussions are still at an early stage and that the IMF first wants "to understand what they're planning in terms of economic reforms".
"It's an economy that needs very deep, structural reforms, especially to improve the business environment," the French economist said.
Hefty public wage bill
But Vacher added that the government "understands the main challenges and problems, which is already a good basis", urging Tunisia to come up with a "solid and credible" reform plan.
To do that, it must tackle its huge spending on public sector salaries.
"The public wage bill is one of the highest in the world," Vacher said.
In a country of 12 million people, more than half of public spending goes to paying the salaries of around 650,000 public servants — a figure that does not include local authority wages.
Nor does the figure include Tunisia's hefty public companies, which often hold monopolistic positions across sectors from telecoms to air transport and employ at least 150,000 people at the public expense.
All this drains resources that the state could be investing in education, health and infrastructure, Vacher said.
"There needs to be a big efficiency drive in the public sector (to meet) public expectations in terms of services," he said.
The IMF has long called for a restructuring of Tunisia's system of subsidies on basic goods such as petrol and staple foods, which essentially see more state funds doled out to the biggest consumers — a system Vacher said was unfair.
The lender recommends scrapping subsidies and instead creating a system of targeted cash payments to needy groups.
The IMF's recommendations are important as not only could it lend billions more to Tunisia, but other bodies including the European Union have said they will condition future aid on the global lender's green light.
For Vacher, the biggest responsibility lies in the hands of Tunisia's decision-makers.
"It's up to them to act to find solutions, put forward reforms, a vision and an ambition," he said.
While many observers have predicted doom for Tunisia's public finances, Vacher said the situation is "not optimal, but manageable".
But "there is an urgent need to make the public finances more sustainable."
© 2022 AFP
Wonking out: France's economy is having a good pandemic – Kathimerini English Edition
I have written about America's surprising success in limiting the economic damage from COVID-19. Compared with expectations and compared with our handling of the 2008 financial crisis, we've done remarkably well. But other countries have also done well, in some cases and by some measures better. In fact, among major advanced economies, the star performer of the pandemic era, arguably, is … France.
France? For as long as I can remember, U.S. media coverage of the French economy has been relentlessly negative.
Back in 1997, The New York Times' Roger Cohen described France as "America's favorite European basket case" (although he had the good grace to make fun of his own premature pessimism 16 years later). Indeed, in the '90s we were told that France was too culturally stagnant to keep up with modern technology; another 1997 article was titled "Why the French Hate the Internet." (France currently has higher broadband penetration than we do.) During the 2010-13 euro crisis, I constantly read assertions that France was next in line to join the afflicted economies of Southern Europe — "France is in Free Fall," asserted an editor at Fortune.
The data never actually supported this negativism. What was really going on, I believe, was that business and economic discourse in the United States is strongly shaped by conservative ideology — and given that ideology, France, with its huge social expenditure, high taxes and extensive economic regulation, should have been a basket case. So reporting about France seized on every negative development as a sign that the long-awaited disaster was finally arriving.
But it never did show up. Instead, the French economy just kept on plugging along. True, gross domestic product per capita is about a quarter lower in France than it is here. But that mainly reflects a combination of earlier retirement and, above all, shorter working hours — because the French, unlike Americans, actually take vacations. That is, somewhat lower GDP mainly reflects a choice rather than a problem.
And while the French work less than we do, they're more likely than Americans to be employed during their prime working years. That's probably not the story you've heard; my sense is that many Americans still imagine that France suffers from mass unemployment, a vision that had some truth to it 25 years ago but has long been out of date.
And prime-age employment is where France has done astonishingly well during the pandemic. Many economists use the employed percentage of adults ages 25-54 as a gauge of labor market conditions. This ratio plunged in the United States during the worst of the COVID-19 slump; it has since recovered strongly but is still below pre-pandemic levels, even though other indicators suggest a very tight labor market — one of the divergences that have economists talking about a Great Resignation of workers unwilling or unable to return to the labor force. France, however, not only managed to avoid a huge plunge in employment but has also surpassed its pre-pandemic level.
How did it do that? When the pandemic forced economies into a temporary lockdown, Europe, France included, and the United States took divergent routes toward supporting workers' incomes. We offered enhanced unemployment benefits; France offered subsidies to employers to keep furloughed workers on the payroll. At this point it seems clear that the European solution was better, because it kept workers connected to their employers and made it easier to bring them back once vaccines were available.
Oh, and while the French have their anti-vaxxers, they don't have as much political clout as their U.S. counterparts, so the country has done better at getting shots in arms.
France also has universal child care, which reopened relatively early in the pandemic, as did schools — freeing parents, largely mothers, to return to work.
I don't want to romanticize the French economy or French society, both of which have plenty of problems. And liberals who like to imagine that we could neutralize the anger of the white working class by raising wages and strengthening the social safety net should know that France, whose policies are to the left of U.S. progressives' wildest dreams, has its own ugly white nationalist movement, albeit not as powerful as ours.
Still, at a time when Republicans denounce as destructive "socialism" any effort to make America less unequal, it's worth knowing that the economy of France — which isn't socialist but comes far closer to socialism than anything Democrats might propose — is doing pretty well.
[This article originally appeared in The New York Times.]
Regime change in the global economy – Jordan Times
MILAN — In 1979, W. Arthur Lewis received the Nobel Prize in economics for his analysis of growth dynamics in developing countries. Deservedly so: His conceptual framework has proved invaluable in understanding and guiding structural change across a range of emerging economies.
The basic idea that Lewis emphasised is that developing countries initially grow by expanding their export sectors, which absorb the surplus labour in traditional sectors like agriculture. As incomes and purchasing power rise, domestic sectors expand along with the tradable sectors. Productivity and incomes in the largely urban, labour-intensive manufacturing sectors tend to be 3-4 times higher than in the traditional sectors, soaverage incomes rise as more people go to work in the expanding export sector. But, as Lewis noted, this also means that wage growth in the export sector will remain depressed as long as there is surplus labour elsewhere.
Because labour availability is not a constraint, the key factor with respect to growth is the level of capital investment, which is needed even in labour-intensive sectors. The returns on such investment depend on competitive conditions in the global economy.
These dynamics can produce startlingly high growth rates that sometimes continue for years, even decades. But there is a limit: When the supply of surplus labour is exhausted, the economy reaches the so-called Lewis turning point. Typically, this will happen before a country has climbed out of the lower-middle-income range. China, for example, reached its Lewis turning point 10-15 years ago, which brought about a major shift in the country's growth dynamics.
At the Lewis turning point, the opportunity cost of shifting more labour from traditional to modernising sectors is no longer negligible. Wages start to increase across the whole economy, which means that if growth is to continue, it must be driven not by shifting labour from low- to higher-productivity sectors, but by productivity increases within sectors. Because this transition often fails, the Lewis turning point is when many developing economies fall into the middle-income trap.
Lewis's growth model is worth revisiting because something similar is happening today. When the global economy started to open and become more integrated several decades ago, massive amounts of previously disconnected and inaccessible labour and productive capacity in emerging economies shifted to the manufacturing and export sectors, producing dramatic results. Manufacturing activity relocated from developed countries, and emerging economies' exports grew faster than the global economy.
Owing to the sheer scale of relatively low-cost labour in emerging economies (especially China), wage growth in advanced economies' tradable sectors was subdued, even when the activity did not shift to emerging economies. Labour's bargaining power was reduced in developed economies, and the negative pressure on middle- and low-income wages spilled over to non-tradable sectors as displaced labour in manufacturing shifted to non-tradable sectors.
But that process is largely over. Many emerging economies have become middle-income countries, and the global economy no longer has any more large reservoirs of accessible low-cost labour to fuel the earlier dynamic. Of course, there remain pools of underutilised labour and potential productive capacity, for example in Africa. But it is unlikely that these workers will enter productive export sectors fast enough and at sufficient scale to prolong the pre-turning point dynamics.
The Lewis turning point will have profound consequences for the global economy. The forces that have been depressing wages and inflation over the past 40 years are receding. A wide range of emerging and developed economies are growing older, reinforcing the trend, and the COVID-19 pandemic has further reduced the labour supply in many sectors, possibly on a permanent basis. Under these conditions, the four-decade decline in labour incomes as a share of national income is likely to be reversed, though automation and other rapidly advancing labour-saving technologies may counteract this process to some extent.
In short, now that several decades of developing-country growth have exhausted much of the world's unused productive capacity, global growth is increasingly constrained not by demand but by supply and productivity dynamics. This is not a transitory shift.
One clear consequence of this process is that inflationary forces have shifted fundamentally. After vanishing or flattening for an extended period, the Phillips curve, which describes an inverse relationship between inflation and unemployment, is probably back, permanently. Interest rates will rise along with inflationary pressures, which are already forcing major central banks to withdraw liquidity from capital markets.
A highly indebted global economy, the legacy of years of low interest rates, will go through a period of turbulence as debt levels are reset for a "new normal" interest-rate environment. Portfolio asset allocations will be adjusted accordingly, and the extended honeymoon during which risk assets outperformed the economy will end.
It is anyone's guess how abruptly this will happen. Specific outcomes are impossible to forecast precisely. The global economy's encounter with the Lewis turning point will be a period of considerable uncertainty, which is to be expected with any tectonic shift.
Many parts of the global economy will experience a fundamental regime change. Several decades of growth in emerging economies have driven a massive increase in middle-income consumers and overall purchasing power, while simultaneously removing the world's ultra-low-cost productive capacity.
Of course, there may still be periods of demand-constrained growth, following crises like the pandemic or future climate-driven shocks. But the underlying pattern will be one of supply-and productivity-constrained growth, because the remaining reservoirs of underutilised productive capacity simply are not large enough to accommodate growing global demand.
Lewis's work was not primarily focused on the global economy, except to the extent that international markets provide the technology and demand needed to fuel early-stage export-led growth in developing countries. Nonetheless, his insight that growth patterns shift dramatically depending on whether there are accessible untapped productive resources, especially labour, is as relevant as ever.
Applied to the transitions now underway in the global economy, Lewis's insights imply major changes in growth patterns, the structure of economies, the configuration of global supply chains, and the relative prices of pretty much everything — from goods, services, and labour to commodities and various asset classes. Equally important, they indicate that this transition will be irreversible.
Navigating the global version of the Lewis turning point will be tricky. Understanding the underlying structural changes is the necessary place to start.
Michael Spence, a Nobel laureate in economics, is an emeritus professor at Stanford University and a senior fellow at the Hoover Institution. Copyright: Project Syndicate, 2022.