Statistics Canada says economy grew 0.6% in November, and above pre-COVID level – Coast Reporter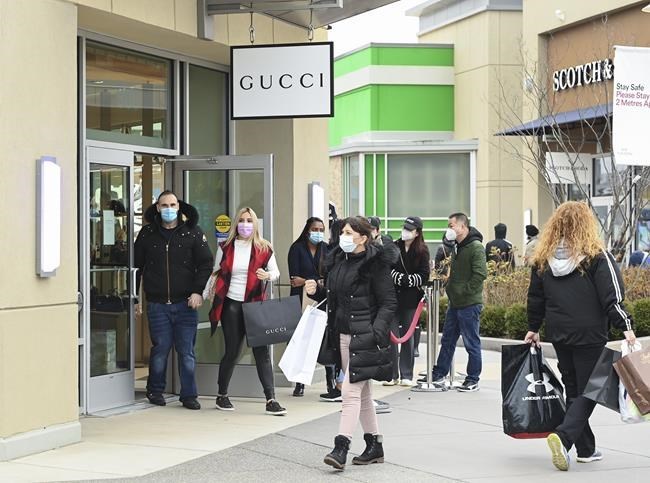 OTTAWA — Better-than-expected growth in November pushed the Canadian economy above pre-pandemic levels for the first time in nearly two years, but the Omicron surge in COVID-19 cases is expected to deal it yet another setback to start 2022.
Statistics Canada said Tuesday that real gross domestic product grew for a sixth straight month in November, as it posted a monthly gain of 0.6 per cent to bring it 0.2 per cent above pre-pandemic levels recorded in February 2020.
The growth fizzled though to end the year as the agency said its initial estimate suggests real GDP in December was essentially unchanged.
However, BMO chief economist Douglas Porter said the weakness could be short-lived.
He pointed to growth in November despite devastating flooding in British Columbia, and that the economy looks to have held its ground in December despite Omicron.
"We know that the economy can come back pretty quickly when things reopen," Porter said.
"So, provided this latest, slight reopening that we're seeing here at the start of February lasts, I would anticipate a pretty nice rebound in the economy through the rest of the quarter."
The statistics agency also said its initial estimate is that the economy grew by 4.9 per cent for the full year. The result, which won't be finalized until next month, is a turnaround from 2020 when the Canadian economy suffered its worst year on record as output shrank by 5.4 per cent.
Driving to the finish line of 2021, Statistics Canada estimated the economy grew at an annualized rate of 6.3 per cent in the fourth quarter, which, if it holds up, would mark the fastest quarterly growth last year.
Gains in November were seen in wholesale trade, which saw its largest monthly growth since July 2020, and manufacturing.
There was also growth in the finance and insurance sector that Statistics Canada attributed to atypically high trading activity in November as investors moved funds to safer assets because of the uncertainty linked to Omicron when it first emerged.
Accommodation and food services also saw increases in November with more travellers and looser restrictions on capacity limits in bars and restaurants in Ontario and Quebec.
Canada's men's soccer team also helped strike an economic gain: Statistics Canada said the two World Cup qualifying matches in Edmonton in November, one of which Canada won 1-0, helped grow the arts and entertainment sector by 5.4 per cent.
Tu Nguyen, an economist with consulting firm RSM Canada, said the high vaccination rate across Canada has helped the recovery.
"That allowed us to fill up arenas, and theatres, and hotels, and restaurants, and we saw a significant uptick in in-person activity," Nguyen said.
Despite the growth for restaurants and sporting events, Stephen Brown, senior Canada economist with Capital Economics, noted the arts and entertainment sector was 20 per cent below pre-pandemic levels, and accommodation and food services still far from its February 2020 mark.
The Bank of Canada warned last week that it expects Omicron to dampen spending in the first quarter, and slow growth to an annualized rate of about two per cent.
Whatever economic growth the country loses in the first quarter will be pushed to the second quarter of 2022, Nguyen said.
Despite an expected contraction in January, Royce Mendes, managing director and head of macro strategy at Desjardins, said he expects the central bank to look at the strong end of 2021 and go forward with a first rate hike in March.
This report by The Canadian Press was first published Feb. 1, 2022.
Jordan Press, The Canadian Press
Argentines Seek Hedging in Crypto After Economy Minister Resigns – BNN
(Bloomberg) — The cost of buying Tether with Argentine pesos surged Saturday after Economy Minister Martin Guzman resigned.
The resignation marked the biggest departure of President Alberto Fernandez's government after infighting escalated within the ruling coalition. No replacement was immediately named.
The price of Tether measured in Argentine pesos jumped on major exchanges soon after the minister announced his resignation on Twitter, according to the CryptoYa website, which reports minute-by-minute prices. The coin fetched 257 Argentine pesos on the Binance exchange, up 6.6%. On the Lemon Cash exchange, prices jumped 11% to 279 pesos.
Crypto is the only market trading in Argentina on Saturday. While volumes are small, the moves could indicate unease, at least among some traders, over the growing rift within the ruling coalition and concern over the government's ability to tackle rising inflation and other economic challenges.
Argentina is one of the nine countries with the highest adoption of cryptocurrencies, according to Chainalysis, a site specializing in crypto and blockchain. In a country with recurring currency crises and inflation running around 60% annually, two-thirds of Argentines who invest in crypto say they do so to protect their savings, according to a study by Buenos Aires-based Wunderman Thompson.
©2022 Bloomberg L.P.
Charting the Global Economy: Factories Slow Down From US to Asia – BNN
(Bloomberg) — Sign up for the New Economy Daily newsletter, follow us @economics and subscribe to our podcast.
Manufacturing from the US to Asia is very much in a slowdown as factories continue to struggle with supply snarls, labor shortages and elevated materials costs.
A measure of US manufacturing activity weakened in June to a two-year low, and several regional Federal Reserve surveys indicated business activity shrank. Factory purchasing managers' gauges across Asia eased, with South Korea, Thailand and India among those showing the biggest declines, according to S&P Global.
Similar indexes in Poland, Spain and Italy also showed weaker activity compared to May.
Here are some of the charts that appeared on Bloomberg this week on the latest developments in the global economy:
US
Consumer spending fell in May for the first time this year and prior months were revised lower, suggesting an economy on somewhat weaker footing than previously thought amid rapid inflation and Fed interest-rate hikes.
Regional Fed manufacturing surveys have taken on a grimmer tone, with four of five indicating business activity shrank in June. Separately, a measure of overall manufacturing slid to a two-year low as new orders contracted, restrained by lingering supply constraints and some softening in demand.
The pandemic housing boom is careening to a halt as the fastest-rising mortgage rates in at least half a century upend affordability for homebuyers, catching many sellers wrong-footed with prices that are too high.
Europe
Confidence in the euro-area economy slipped as households become more pessimistic amid fears a Russian energy cutoff will spark a recession. At the same time, they're less worried about inflation than they were a month ago, though there's a split between core and peripheral euro-area countries.
After suffering from unprecedented shocks in recent years, the UK is succumbing to more intractable problems marked by plodding growth, surging inflation and a series of damaging strikes.
Asia
China's economy showed some improvement in June as Covid restrictions were gradually eased, although the recovery remains muted. That's the outlook based on Bloomberg's aggregate index of eight early indicators for this month. The overall gauge returned to the neutral level after deteriorating for two straight months.
Japan's factory output shrank at the fastest pace since the height of the pandemic as the lagged impact of China's virus lockdowns continued to disrupt supply chains and economic activity in the region. The weakness in manufacturing extended across Asia, particularly in South Korea, Thailand, India and Taiwan.
Emerging Markets
Colombia's central bank delivered its biggest interest rate increase in over two decades. Policy makers are bracing for another spike in annual inflation that's already above 9%.
Two years after Argentina emerged from its latest default, a debt crisis in brewing once again. This time, the immediate trouble is in the local bond market, where creditors have become reluctant to roll over maturing government bonds.
Zambia's inflation rate dropped below 10% for the first time in almost three years in June, bucking a global trend of record consumer-price growth. Optimism over the nation's economy since the election of Hakainde Hichilema as president in August, a potential debt restructuring and a $1.4 billion bailout package from the International Monetary Fund has seen a rally in the local currency, which has helped contain prices.
World
Differences in underlying inflation trends call for different policy outlooks among the world's top central banks, according to Bloomberg Economics. The Fed will have to go well into restrictive territory, the Bank of England may go a little above neutral and the European Central Bank might not even get that far.
©2022 Bloomberg L.P.
Quarterly Investment Guide 3Q 2022: US economy on shaky ground – CNBC
Coming off its fastest growth spurt in 37 years, the U.S. economy heads into the second half of 2022 caught between sputtering and slamming into reverse. There's no doubt that conditions are slowing. The question is whether the current period ends up being a necessary downshift to control inflation, or an outright recession that could wreak even more damage. For now, most economists and policymakers are in the former camp. But there's a growing sense of unease that the latter scenario easily could take hold. "You just don't have the fault lines in the economy that you typically do before recessions," said Mark Zandi, chief economist for Moody's Analytics. "With a little bit of luck, I think we make our way through. But it's going to be uncomfortable for sure." Economic pros The optimistic case for the economy largely rests on two pillars: A resilient, cash-flush consumer and a tight jobs market with an unemployment rate just off its lowest level since 1969. Household net worth edged lower in the first quarter due largely to a sharp decline in the stock market . But at $149.3 trillion, net worth is still up 34.8% since the end of 2020, according to Federal Reserve data. The value of individual stock ownership by households has risen 15.8% during that period, while real estate values have soared 20% to $44.1 trillion. As for the jobs market, with 11.4 million job openings , there are 1.9 positions per every available worker in the U.S. workforce, according to the Bureau of Labor Statistics. The unemployment rate is 3.6%, just 0.1 percentage point above its pre-Covid level. Even with a major labor shortage across multiple industries, nonfarm payroll growth has averaged 488,000 through the first five months of 2022. Household debt is on the rise, surging 8.3% in the first quarter. But debt as a share of after-tax income is still running at just 9.5%. That's lower than the 9.9% at the end of 2019 and way off the Q4 2017 record of 13.2%. Given all that in a vacuum, it seems almost absurd to be talking about recession. "While our models suggest that recession risks are still low, the Fed's rapid policy tightening will trigger a marked slowdown in economic growth, which means that the risks are likely to build over the coming quarters," Michael Pearce, senior U.S. economist at Capital Economics, said in a client note. "But suggestions that a recession is imminent or inevitable are well wide of the mark." In fact, Pearce insists that "recession risks are close to zero over the next 12 months," in part because bond markets indicate little stress and financial conditions — despite interest rate increases — "are not especially tight from a historical perspective." Ed Hyman, chairman and head of the economics team at ISI, titled a note Friday, "What Would Make Us Think We're Already In a Recession?" Hyman rejects recession talk because of a strong labor market, solid company sentiment and, again, a lack of stress in fixed income markets that would point to a downturn. Economic cons In answer to Hyman's question: Plenty. While the economy is being supported by its most important contributor, the consumer, there is mounting evidence of substantial crevices in that foundation. Hyman's note came specifically in response to the Atlanta Fed's GDPNow tool , a running tracker of economic data that gets more accurate as the quarter goes on and additional inputs are gathered. The gauge was revised lower Friday afternoon and now sees GDP in the second quarter falling 2.1%. GDP rose 5.7% in 2021 , the best performance since 1984. Coupled with Q1's 1.6% decline, that would be a technical recession — not in the second half, not at some far off point in the future, but now. (The Commerce Department will release its official GDP count on July 28.) The Atlanta Fed said its latest downgrade emanated from several reports, capped off with Friday's ISM Manufacturing survey, showing that consumer spending and private investment are retrenching more than expected. That's bad news for an economy so dependent on both. The ISM report also showed hiring in the sector contracted and new orders tumbled to their lowest levels since the early days of the pandemic. The main specter is inflation running at 8.6% , the highest level since late-1981. While consumers have handled rising prices, including gasoline at close to $5 a gallon, that simply can't last forever, particularly as savings levels are falling. "Inflation is weighing on consumer sentiment and restraining consumer spending. Consumers that still have spare spending power are spending it on dining out, vacations, and other services, not more stuff," said Bill Adams, chief economist for Comerica Bank. "It's increasingly likely that U.S. real GDP contracted for two consecutive quarters in the first half of 2022. But unless the U.S. starts to see outright job losses, this period looks more like a slump than an outright recession," he added. The U.S., however, has never in the post-World War II era had two consecutive quarters of declining GDP without a recession. Of course, what's really keeping economists up at night is how the Fed reacts. The central bank is on a rate-hiking cycle that started well after inflation took hold and is accelerating just as the economy is starting to weaken. Zandi, the Moody's economist, said that's the biggest risk now. The central bank's sudden pivot in June from what had looked like a well-telegraphed 50 basis point (0.5 percentage point) rate hike to a 75 basis point move following elevated inflation data made it look like "they're ad-libbing," Zandi said. "It augurs less well for their ability to manage things appropriately." The view from the Street Zandi considers the likelihood of a recession to be about 40% over the next year and 50% over the next two years. That's about in line with the rest of Wall Street, which nevertheless has boosted the chances of recession recently. Goldman Sachs recently reduced its Q2 outlook for GDP to a relatively rosy 2.8%, but cut its respective view for the subsequent three quarters to 1.75%, 0.75% and 1%, which would imply full-year growth from Q4 to Q4 of just 0.9%, down from the previous 1.3% forecast. "We now see recession risk as higher and more front-loaded," chief economist Jan Hatzius wrote, basing his view on a more aggressive Fed. The firm sees recession probability of 30% over the next year and 48% over the next two years. Credit Suisse expects GDP growth of just 0.8% in each of the next two years. "Rapid Fed tightening, rising risk premia, and slower global growth all make a prolonged US slump likely," economist Jeremy Schwartz wrote. UBS raised its recession probability to 69% based on recent data flows. And Deutsche Bank, which was the first major Wall Street firm to warn of a recession, moved up its timing. "More aggressive hikes have led us to bring forward our timing of the expected US recession slightly to mid-2023," Deutsche chief economist David Folkerts-Landau wrote. "There is no immaculate disinflation from 8% plus inflation and near-full employment, and thus there will be no soft landing." —CNBC's Michael Bloom contributed to this report .