Students helping shape our astronomical future – Skywatching – Castanet.net
Photo: Contributed
Dominion Radio Astrophysical Observatory at White Lake, near Penticton.
Every Friday we hold a Dominion Radio Astrophysical Observatory (DRAO) science meeting.
At the moment, these are mainly done using Zoom. After the usual organizational stuff that starts all staff meetings, the rest of the time is dedicated to project and science reports, where people report on what they are up to and what interesting new scientific findings they have made.
Much of this part of the meeting covers reports by students who are working at DRAO. Some of them are co-op students, where working terms at the observatory are part of their degree studies. Others are graduate students, working towards their doctorates. Finally there are some post-doctoral students. These are people who got their doctorates recently and are at the launching point in their careers as scientists.
They are all at DRAO because their career plans involve not only pure research, but also gaining experience on working with radio telescopes and the data they produce and the design and operation of the instruments we attach to those telescopes when making observations.
These are the people who will define the future course of Canadian astronomy, and play a key role in implementing the new instrumentation needed for working at the astronomical frontiers.
Most astronomers are "pure" researchers. They do not have a close relationship with instrumentation. Questions arising during their work lead to the need for new observations. To address this, they look at observing facilities around the world to determine which of them has the instrumentation to address those questions.
These days this is normally done by referring to the observatory web sites. They then apply for observing time, and if the applications are approved, the observations are carried out.
It used to be that the astronomer needed to be at the observatory to oversee the observations, but since the operation of modern telescopes is now exclusively done by trained on-site staff, the researcher usually stays home and receives the data over the Internet.
The astronomical community as a whole settles on the "big questions" we should be looking at over coming decades. But it requires scientists who understand telescopes and instrumentation to turn those questions into equipment that can be used to address them.
This is where those students come in. They, and their peers, will make sure Canada remains in the forefront of instrument design. Without them, we will be mere passengers on the astronomy ship. With them, we help design and build the ship and help set the course.
There is another angle. Modern astronomy works at the cutting edge of technology, digital signal processing and imaging. This includes antenna design and development of high-sensitivity receivers, software and computing equipment. Much of this is applicable outside astronomy, for example in communications, medical and other imaging, environmental sensing and consumer electronics. A lot of the equipment is built by industry, transferring knowledge that can be used to develop new products and devices.
Today, most front-line astronomical facilities are international collaborations. Canada is a partner in several of them, contributing technology and operational support.
DRAO is a purely national facility, which means we decide what it does and which way it will evolve. This also gives us flexibility as to how we can address the training of future technically literate astronomers and astronomically literate engineers.
A big plus is that the techniques and devices developed by the students and "post-docs" are often tested and deployed at DRAO. This helps the observatory stay relevant in an age where scientific discovery is moving faster than at any time in our history.
•••
• Mercury lurks low in the dawn glow, with Venus higher and brighter. To Venus' right, lie Mars and Jupiter, close together, then Saturn.
• The Moon will be full on June 14, and the last quarter visible on June 20.
This article is written by or on behalf of an outsourced columnist and does not necessarily reflect the views of Castanet.
Young Jupiter likely gobbled up millions of planetoids – The Weather Network
New research suggests that Jupiter contains the remnants of numerous planetoids that it consumed as it grew in the early solar system.
Jupiter is the largest and most massive planet in our solar system, tipping the cosmic scales at over 317 times the mass of Earth. Most of its bulk is made up of just two elements — hydrogen and helium. However, a small percentage of the planet is composed of heavier elements, all of which astronomers group together into the category of metals.
This artist impression shows dark scars in Jupiter's clouds due to shards of Comet Shoemaker-Levy 9 impacting the planet in 1994. Credit: ESO/M. Kornmesser/NASA/ESA
---
SEE ALSO: It's a bird. It's a plane. It's the best products for stargazing this summer
---
This same distinction is used in stellar astronomy, where a star is described as having a specific metallicity, which refers to the amount of stuff in the star that is not hydrogen or helium.
New research has used data from NASA's Juno probe to investigate Jupiter's metallicity.
As Juno orbits around Jupiter, it makes periodic close passes over the planet's cloud-tops. During each of these passes, the spacecraft keeps careful record of the gravitational pull it experiences due to the material underneath it. This gives researchers an idea of exactly how much stuff is under Jupiter's clouds in different regions of the planet.
Using this data, an international team led by Yamila Miguel, from the Dutch national expertise institute for scientific space research (SRON) and the Leiden Observatory, constructed computer models of Jupiter's interior to account for what Juno recorded.
Their study revealed some unexpected details about the massive gas giant.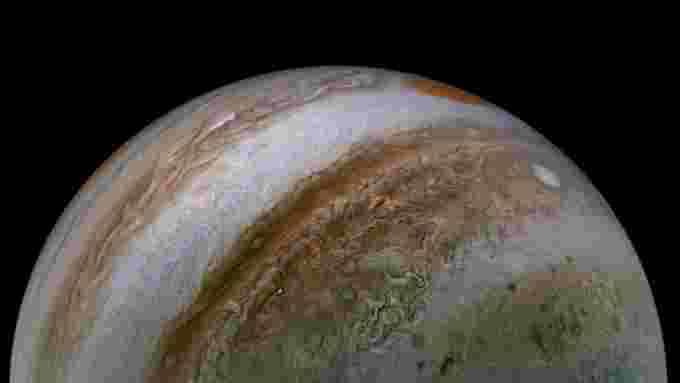 This view of Jupiter's cloud tops was taken by NASA's Juno spacecraft as it made its 31st close-pass around the planet. Credits: NASA/JPL-Caltech/SwRI/MSSS, processed by citizen scientist Tanya Oleksuik (CC BY-NC-SA 3.0)
---
DON'T MISS: Overlapping meteor showers put on a show in the night sky this summer
---
Firstly, the distribution of the metals within Jupiter is not uniform. Instead, they are more concentrated the deeper into the planet you go. While heavier elements do tend to sink towards a planet's core, this discovery is unusual because it was assumed that the motions of Jupiter's atmosphere would cause the metals to be more evenly distributed.
"Earlier we thought that Jupiter has convection, like boiling water, making it completely mixed," Miguel said in a SRON press release. "But our finding shows differently."
Secondly, the total amount of Jupiter's metal content is somewhere between 3 to 9 per cent of the entire planet, or roughly equivalent to 11-30 times the mass of Earth. That's a lot of heavy elements for the planet to consume in a relatively short time.
"There are two mechanisms for a gas giant like Jupiter to acquire metals during its formation: through the accretion of small pebbles or larger planetesimals," Migel said.
Planetesimals (aka planetoids) are solid chunks of rock and/or ice that formed in the early solar system. This includes asteroids and comets larger than 1 kilometre across, but smaller than 100 km. Anything larger would be an 'embryonic planet' or 'protoplanet', while objects smaller than 1 km would be considered 'pebbles'.
Watch below: NASA Juno spots exotic SHALLOW LIGHTING on Jupiter
According to Migel, once a 'baby' planet grows massive enough, its gravity tends to snag the smaller pebbles and fling them out of the way. Thus, by the time Jupiter accumulated enough mass to develop its hydrogen-helium atmosphere, its own gravity would have blocked it from consuming these tiny objects.
However, as the researchers note in the paper, their results
indicate that Jupiter continued to accumulate heavy elements, in large amounts, while its hydrogen-helium envelope was still growing. So, a significant amount of the planet's metals had to come from larger objects.
"Planetesimals are too big to be blocked, so they must have played a role," Migel said.
So, how many planetesimals has Jupiter eaten?
If we use some typical asteroid masses from NASA, to account for up to 30 Earth-masses worth of metals, Jupiter would have had to gobble up somewhere between a few hundred million larger ones to billions of smaller ones!
Five planets are lining up in the sky in June and will peak tonight. Here's how to see it. – CBS News
Five planets are moving into a rare alignment, which will be visible from Earth this week. Mercury, Venus, Mars, Jupiter and Saturn are lining up — in that order — for the first time since December 2004. On Friday, June 24, the phenomenon will be the most visible to stargazers.
While it is common to see a conjunction of three planets close together, seeing five is rare, according to Sky & Telescope. The planets are lining up in their natural order from the Sun, which is also remarkable, says the science magazine published by American Astronomical Society.
The five so-called "naked-eye" planets were visible beginning on June 3 and 4, and the lineup could be seen with binoculars — but only for about half an hour, before Mercury was lost in the glare of the sun.
But on June 24, viewing will be optimal. Even if the distance between Mercury and Saturn increases, it's getting easier to spot Mercury, so it is getting progressively easier to see all five planets, Diana Hannikainen, observing editor of Sky & Telescope, told CBS News via email.
Hannikainen said the sky on the morning of the 24th "will present a delightful sight" because the waning crescent moon will also join the procession between Venus and Mars.
The planets should be visible on the days leading up to this. Sky & Telescope says the best time to see the line up on June 24 is 45 minutes before sunrise. It should be visible on the eastern horizon.
Four of the naked-eye planets have been lining up in the for the past few months, according to NASA. But over the next few months, Saturn, Mars, Jupiter and Venus will spread out. By September, Venus and Saturn will no longer be visible to most observers.
Another astronomical phenomenon will be visible in June: the M13 globular star cluster, a tightly packed spherical collection of stars. The M13, also known as the Hercules Cluster, contains thousands of stars, which are thought to be around 12 billion years old — almost the age of the universe itself, NASA says.
Clear skies across mid-Island allowing for unobstructed view of rare planetary alignment – Nanaimo News NOW
No special equipment is needed to spot the stellar phenomena, with all being easily bright enough to be visible with the naked eye.
Arkos said they'll even be visible in more populated city areas, although he suggested getting away from light pollution for the best effect.
"Just before the sun comes up is when you have your best chance to catch all of these planets," Arkos added. "The trickiest one is going to be Mercury because it's very close to the sun in the sky so you have to wait literally until the sun is just about to rise to catch a glimpse of Mercury in the glow of the sun."
The event peaks ahead of sunrise on Friday, meaning those wanting to catch a glimpse should set an alarm for 4 a.m. and be in position by 4:30 a.m. looking eastward.
A clear view of the sky to the horizon from the northeast to southeast is key.
With little cloud in the forecast, stargazers will have the opportunity to see variations of the alignment with the moon until June 27th.
The planetary alignment will be visible in varying degrees until July 6 when Mercury will disappear in the light of the sun.
"You'll see them shifting as time goes on because of course they move at different rates in the sky so they won't maintain that particular configuration exactly, it'll change over time," Arkos said.
Following this planetary alignment event, the attention of Arkos and his fellow astronomers turns to the James Webb deep space telescope, due to release its first official images on July 12.
Local news. Delivered. Free. Subscribe to our daily news wrap and get our top local stories delivered to your email inbox every evening
info@nanaimonewsnow.com
On Twitter: @Nanaimonewsnow