'Super Mario 3D All-Stars': 1 terrible choice ruins the 'Mario 64' nostalgia – Inverse
Super Mario 64 is one of the most influential games in history. The Super Mario 64 port that's part of the Super Mario 3D All-Stars bundle, however, fails to adapt it properly. And that's because rather than a version of the original, it is instead an alternate version known as the "Shindou Edition" which effectively nerfs attempts at speed-running — arguably the one thing that has kept this game relevant for many years.
Super Mario 3D All-Stars including this version of the game makes it seems like Nintendo assumes Super Mario 64 has maintained public relevance due to its quality. No, Super Mario 64 has remained relevant because speedrunners have kept it relevant. This port stops those efforts in their tracks, which effectively means that the most popular way to play Super Mario 64 is, in fact, not even possible on the Nintendo Switch.
Speedrunners are a type of elite game player that attempts to beat a game in the fastest possible time. Anyone engaging in this competitive exercise cannot use assistive technology like Game Genies, Action Replays, or anything beyond their own skill.
However, Speedrunners can utilize innate flaws in the game's code like glitches that catapult the player past numerous levels. Exploiting glitches is a core part of speedrunner culture, and there's always a hunt for new glitches to exploit.
Through a glitch utilizing a technique called Backwards Long Jump, players have been able to finish Super Mario 64 at superhuman speeds. When enjoyed by your average player, Super Mario 64 is estimated to take 13 hours to beat. The current world record holder, however, finished the game in just six and a half minutes.
Backward Long Jumps work due to an error in the code. In the original version, Nintendo placed a cap on Mario's forward momentum, which stops him from going too fast for the game to handle. But developers failed to place that same cap on his backward momentum.
By using successive backward jumps, speedrunners were able to force Mario to jump at unreasonably high speeds, pushing the character through nearby walls. This glitch is one of the biggest time skips available to speedrunners, allowing Mario to reach endgame stages far earlier than he's supposed to. It's impossible to use this glitch in the Shindou Edition, the update to Super Mario 64 available in Super Mario 3D All-Stars.
The Shindou Edition is a Japan-only cartridge update to Super Mario 64 that first released in 1997. The Shindou Edition makes numerous alterations to the Super Mario 64 such as adding Rumble Pak support, improving text flow, and fixing numerous glitches such as the Backward Long Jump.
Due to the numerous fixes included, the Shindou Edition naturally became Nintendo's go-to Super Mario 64 port. It's what they've used for previous ports like the 2004 Nintendo DS release, 2006 Wii Virtual Console version, and the 2015 Wii U Virtual Console re-release. Despite its ubiquity on Nintendo's end, releasing the Shindou Edition again shows ignorance on Nintendo's end as to why Super Mario 64 remains in the cultural zeitgeist. Speedrunners are the reason Super Mario 64 remained relevant.
This essentially proves that Nintendo either doesn't know or doesn't care about this important aspect of gamer culture. A far better alternative would be to include both versions of the game and to let gamers choose which they want to experience. Plenty of old games are littered with bugs, and experiencing them all over again is part of the nostalgic fun factor.
The superhuman achievements of speedrunners have constantly drawn eyes from players of all ages. If you search Super Mario 64 on YouTube, nearly every top-viewed video is a Super Mario 64 speedrun. The most popular of these speedruns has over 35 million views.
Some credit Super Mario 64 as a huge contributor to Twitch's massive take off as a streaming platforming, mainly because watching top-tier Mario players was popular before live-streaming ever became a thing..
Super Mario 64 speedruns ensured the game was spoken about regularly with curiosity. There are regular articles discussing how impressive a feat speedrunning is to watch. Each article keeps Super Mario 64 in the discussion a little bit longer. Super Mario 64's contemporaries don't receive this same flow of regular discussion. Pokémon Gold and Silver and Star Fox 64 aren't discussed as frequently as Super Mario 64, and that's because there's no equivalent.
Including the original, glitch-filled Super Mario 64 is how Nintendo can actively preserve the game's legacy. Each release that passes means that slowly but surely the copies of Super Mario 64 that can be speedrun are deteriorating. This is particularly important as many speedrunners continue to show a preference for using a physical Nintendo 64, rather than emulating the same game.
If Nintendo can port the original properly, with all its glorious bugs, we can finally have a port that not only remembers what Super Mario 64 was when it released, but what it's become years later.
Read also: 1 glaring Super Mario 3D All-Stars change destroys the Sunshine experience.
PlayStation reveals updated mobile app with overhauled UI, voice chat and more – MobileSyrup
Sony has revealed a major update to its free PlayStation app on Android and iOS that brings with it a suite of changes and new features for use with both PS4 and the upcoming PS5.
[embedded content]
Most notably, the update introduces a complete overhaul of the app's UI, with a new home screen that displays what your friends are playing and easy access to your recently played games and Trophy List.
Further, a new 'Explore' tab is being added to let you see official news from game developers and PS Blog content. On top of that, the PlayStation Store has been integrated into the app for smooth browsing and shopping. From here, you can also remotely download games and add-ons directly to your PS4 and PS5.
Elsewhere in the app is newly added support for voice chat and party groups. This means that you can create party groups from within the PS app and begin voice chatting with up to 15 friends through your mobile devices.
As part of these new social features, you'll also be able to send PSN messages through the app. With this new functionality, however, Sony says it will be retiring its existing standalone PS Messages mobile app. While a date for this wasn't provided, Sony noted that all existing PSN messages will carry over to the new version of the PS app.
Sony says the PS app update is rolling out globally later today on iOS (12.2 or later) and Android (6.0 or later) devices.
The PlayStation 5 will launch in Canada on November 12th for $629 CAD. We'll have more on the console in the coming days.
Source: PlayStation
AMD's newest graphics cards: RDNA2 power from $579 to $999 – Ars Technica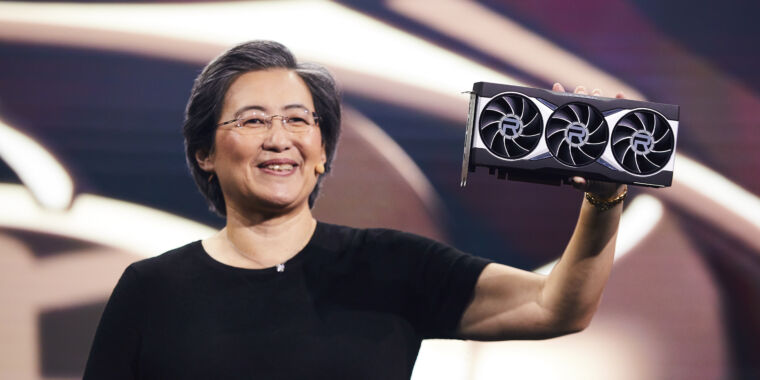 AMD


AMD


AMD


AMD


AMD


AMD


AMD
Today, AMD launched the first of its "Big Navi" RDNA 2 architecture Radeon graphics cards, the RX 6800 XT and RX 6900 XT. These cards compete directly against Nvidia's RTX 3070, RTX 3080, and RTX 3090.
Like Nvidia's RTX 3000 line, the new cards offer 60+ fps 4K gaming, with full DirectX 12 Ultimate support, including hardware-accelerated real-time ray tracing.
Performance
RDNA2 brought enormous gen-on-gen fps gains from last generation's "little Navi" RX 5000 series—but what most people will care about is how the components compare to Nvidia's offerings, not to last generation's AMD. In terms of sheer GPU horsepower, Nvidia's RTX 3000 series and AMD's RX 6000 series appear to be in a dead heat. As always, it's worth taking a vendor's own private benchmarks with a grain of salt—but we don't expect to see materially different results in private testing later as these cards filter down to the market.
AMD did not compare the RX 6800 (non-XT) with Nvidia's RTX 3070; instead, the 6800 was compared with last generation's RTX 2080Ti. But for most intents—and as backed up by our own Sam Machkovech's recent testing—these cards perform quite similarly. So we can reasonably read the RX 6800 chart as comparing to the RTX 3070.
Features
The biggest addition to the Radeon arsenal with RDNA 2 is real-time ray tracing and support for DirectX 12 Ultimate. The new cards feature one Ray Accelerator for each Compute Unit on the card, offering a roughly tenfold increase in ray-tracing performance compared to software-only implementations.
The addition of real-time hardware ray tracing brings Radeon to gaming-feature parity with Nvidia's lineup, at least on paper. It will take some time to decipher how well Radeon's ray-tracing support stacks up to Nvidia's in real life—and particularly in the context of real-world games, which up until now have been advertised loudly with "Nvidia RTX" logos, even though they largely rely on a more open DirectX Ray Tracing protocol.
On the console front, Microsoft was keen on immediately reminding gamers that its next-gen consoles would leverage the "full feature set of RDNA 2 in hardware."
The new RDNA2 architecture also brings greater power efficiency to the Radeon lineup, with the 300W 6800 XT and 6900 XT beating out their Nvidia competitors by 20W and 50W, respectively. On the lower end of the lineup, Nvidia takes the lead, with the 220W Nvidia RTX 3070 beating the 250W Radeon RX 6800.
Pricing
| | | | |
| --- | --- | --- | --- |
| AMD card | AMD price | Most comparable Nvidia card | Nvidia price |
| Radeon RX 6800 | $580 | RTX 3070 | $500 |
| Radeon RX 6800 XT | $650 | RTX 3080 | $700 |
| Radeon RX 6900 XT | $1,000 | RTX 3090 | $1,500 |
In some ways, AMD looks like it might have gotten caught with its pants down on the RX 6800 pricing. Consumers will probably have a hard time justifying an extra $80 at that price bracket on a card with higher thermals and a more uncertain real-time ray-tracing pedigree. But in other ways, AMD might have the edge—if higher amounts of VRAM in each class are your selling point. The RX 6800's 16GB of GDDR6 VRAM doubles that of Nvidia's comparable RTX 3070.
The value proposition is closer to even when upgrading to the 6800XT and just about overwhelming at the top tier. That's where Nvidia's RTX 3090 costs a whopping 50 percent more than AMD's RX 6900 XT for roughly the same 4K frame rates delivered. Both of these AMD cards sport 16GB of GDDR6 VRAM, as well, but that's not clocked as highly as Nvidia's choice of GDDR6X VRAM (11GB of it in the RTX 3080, and 24GB in the RTX 3090).
If all you're looking for is the best raw 4K frame rates on current AAA games, ray tracing be damned, the top end of the RX 6000 series seem like clear winners. For anyone heavily invested in ray tracing, sticking with Nvidia—who brought it to market a generation sooner—might be the better bet if you can't wait a few months to see how those features and their performance shake out in the market.
This article has been updated with more information about VRAM capacity in AMD's newest GPUs.
Listing image by AMD
Apple search crawler activity could signal a Google competitor, or a bid to make Siri a one-stop-shop – TechCrunch
Encouraged by the spate of antitrust activity brewing in both the Justice Department and on Capitol Hill, Apple may be developing a search competitor to Google, according to a report in the Financial Times.
That would be a move ripe with irony as the push for an end to anti-competitive practices is seemingly creating greater competition among the largest companies which already dominate the technology industry rather than between those established companies and more nimble upstarts.
Signs of Apple's resurgent interest in search technologies can be found in both a subtle but significant change to the latest version of the iOS 14 iPhone operating system and increasing activity from Apple's spidering tools that are used to scour the web and refine search functionality, the Financial Times reported.
Apple is now showing its own search results and linking directly to websites when users type queries from its home screen in iOS 14. For context, this is a behavior that has been known for a while as people have seen the feature pop up in beta versions of iOS. And the search volume being up on Apple's crawler is something that Jon Henshaw of Coywolf had noted back in August.
Sources cited by the Financial Times said that the change marked a significant step-change in Apple's in-house search development and could be the basis for a broader push into search.
The Cupertino, Calif.-based company certainly has the expertise. A little less than three years ago it nabbed Google's head of search, John Giannandrea in what was widely seen as an attempt to shore up Apple's foundations in artificial intelligence and voice search via Siri. Because of the way that Apple is organized internally, it's unlikely that Giannandrea will be devoting full-time effort to both a potential "search product" and Siri . But it's within the realm of possibility that he could be lending his expertise to a team working on a separate feature.
Any development of a search tool would be a third way for Apple, which now uses Google as its default search service thanks to a lucrative contract between the two (one that's also at the heart of a Justice Department inquiry into Google's purported anti-competitive activities around search). The only other major search services on the market rely on Microsoft's Bing to power their results.
While the signs do point to an actual uptick in activity, there could be an explanation for Apple's crawler activity that's less heavy on corporate skunkworks skulduggery and more in line with goals that Apple's stated pretty clearly.
While the story about Apple getting into direct competition with Google on search makes for a great headline, the uptick in activity could be explained equally as rationally by Siri getting more search queries and being more of an interlocutor between Apple and search services like Google or Microsoft's Bing. This disintermediation is something that Google began years ago and has even modified and expanded over the years to combat the same kind of behavior from Siri.
Some of this comes down to semantics. By "search engine" do we mean "a web site that people type queries into" or do we mean a voice assistant that steps in to white-label web results with its own sourcing. Cutting down on the brand presence of a monster like Google on your own platform is a powerful motivator for any competitor, no matter the space.
Making Siri a one-stop-shop could inoculate Apple in the scenario where they are forced to enable a search provider choice in the iOS onboarding flow by regulation. It won't do anything to help Google though, who pays Apple billions because iOS users are worth way more than any other mobile web users to its business. Google, for its part, says that when people have a choice they still pick Google anyway. Perhaps another reason why making Siri the search equivalent of an overtalker is the strong play for Apple.
TechCrunch has reached out to Apple for comment and will update when we hear back.