Surrey issues notice to Uber to stop operating
The City of Surrey issued a notice to Uber Friday to stop operating by 9 p.m. or face fines.
Councillor Jack Hundial said council did not receive a copy of the notice but he confirmed the news with city staff.
The reasoning is that Uber, which just began operating Friday morning in the Lower Mainland after years of delays, does not have the proper business licence to operate in Surrey, Hundial said.
"I don't see how the city would be able to enforce it," he said.
Hundial said there are "a few hundred" businesses operating in the city without licences due to expiration and other factors. He said the city is capable of issuing licences to businesses quickly or providing a grace period.
Hundial said he was not sure whether Uber complied with the notice and ceased its operations in the city by 9 p.m., but said he supports ride-hailing.
"I was excited this morning. Like a lot of people, finally, it's coming here," he said. "But we're up against a mayor who supports his friends and really not what the people of Surrey are wanting.
"I just want to see the City of Surrey get the same benefits of ride share that every other city in the region is benefiting from."
As ride-hailing operators Uber and Lyft began picking up passengers for the first time in the Lower Mainland on Friday morning, Surrey Mayor Doug McCallum reiterated his opposition to ride-hailing.
"What continues to be my chief concern is the unfair advantage that has been created without any regard as to how it will impact those who are employed in the taxi industry. It is no secret that a large percentage of cab drivers live in Surrey," he said.
Surrey businesses can be subject to a $500 fine if they do not have an operating licence, Hundial said.
"They can expedite business licences if they choose to," he said. "So it's really up to the city now to sort of decide what they're wanting to do with Uber operators."
The Ministry of Transportation and Infrastructure said municipalities can set requirements for business licences for ride-hailing operators but provincial laws prohibit blocking ride-hailing altogether.
In a statement Friday night, Rob Costanzo, general manager of corporate services for the City of Surrey, said staff told Uber that council has not yet come to a decision on how it wants to deal with ride-hailing business licences.
"Until a decision is made on this regard, ride-hailing companies are precluded from operating within Surrey's boundaries," he said.
Uber was not immediately available for comment Friday night.
Key inflation measure shows price pressures cooled off in November, but remain high – CNN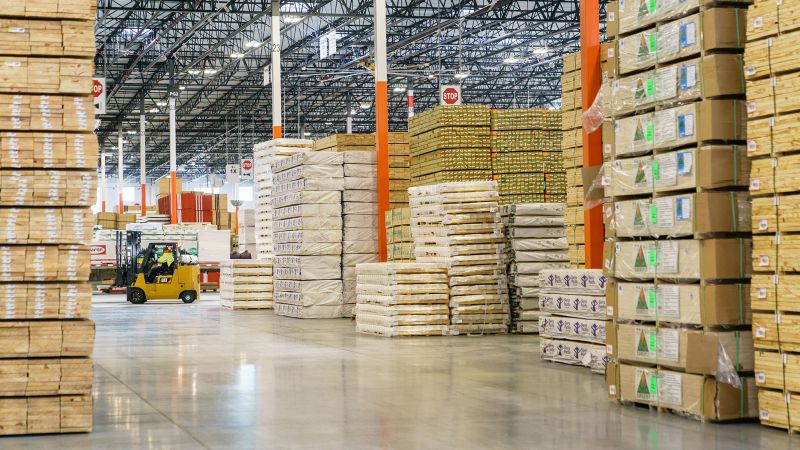 Another key inflation measure shows price pressures cooled off but remained stubbornly high in November, despite the Federal Reserve's monthslong efforts to fight inflation through higher interest rates.
The Producer Price Index, which measures prices paid for goods and services by businesses before they reach consumers, rose 7.4% in November compared to a year earlier, the Bureau of Labor Statistics reported Friday. That's down from the revised 8.1% gain reported for October.
US stocks fell immediately after the report, as economists surveyed by Refinitiv had expected wholesales prices to have risen just 7.2%, annually. The higher-than-expected inflation readings raised concerns about whether the Fed will be able to slow the pace of rate hikes.
But futures for the Fed funds rate still show a strong likelihood of a half-point increase at the central bank's policymaking meeting next week, rather than the three-quarter point hike instituted at the last four meetings.
The PPI report generally gets less attention that the corresponding Consumer Price Index, which measures prices paid by US consumers for goods and services. But this is a rare month in which the PPI report came out before the CPI report, which is due out Tuesday.
That and the Fed meeting scheduled for Tuesday and Wednesday next week is making this inflation report of particular importance to investors.
"Next Tuesday's CPI release will be more important than today's data, but with traders on edge, any indication that prices remain elevated and that inflation is more sticky than currently believed is a negative for markets," said Chris Zaccarelli, Chief Investment Officer for Independent Advisor Alliance.
Overall prices rose a seasonally adjusted 0.3% compared to October — the same monthly increase as was reported in both September and October — but were slightly higher than the 0.2% rise forecast by economists.
Stripping out volatile food and energy prices, core PPI rose 6.2% for the year ending in November, down from the revised 6.8% increase the previous month. Economists had forecast only a 5.9% increase.
Core PPI posted a 0.4% increase from October, a far bigger rise than the revised 0.1% month-over-month rise in that previous month, and twice as big as the 0.2% rise forecast by economists.
Keystone pipeline temporarily closed following Kansas oil spill
The energy company in charge of the pipeline has not said what caused the spill or how much oil was released.
The Keystone pipeline has halted operations following an oil spill into a creek in the United States state of Kansas. The pipeline carries more than 600,000 barrels of oil from Canada to the Texas Gulf Coast each day.
Canada-based TC Energy said in a press release that it shut down the pipeline on Wednesday night in response to a drop in pipeline pressure. The company has yet to offer information on the scale and cause of the spill.
"The system remains shut down as our crews actively respond and work to contain and recover the oil," the release said.
The spill resulted in oil leaking into a creek in northeastern Kansas and the company has said they were using machinery to prevent the oil from moving further downstream. Pipelines have long spurred concerns about the destructive potential of oil spills.
Another pipeline previously proposed by TC, the Keystone XL pipeline, would have been 1,930 kilometres (1,200 miles) long and cut across US states such as Montana, South Dakota and Nebraska.
That proposal spurred strong opposition from advocates who said it would increase the chance of spills, undermine the rights of Indigenous communities and worsen climate change.
Former President Donald Trump approved a permit for the contentious project in 2017 but a court halted construction in 2018 before the permit was cancelled by President Joe Biden's administration last year.
TC finally abandoned the effort in June 2021 but has since filed a claim seeking remuneration for losses it says it faced because of the cancellation.
The spill on Wednesday occurred several years after the Keystone pipeline leaked about 1.4m litres (383,000 gallons) of oil in eastern North Dakota in 2019.
As word of the shutdown spread on Wednesday, oil prices ticked upwards by about five percent.
"It's something to keep an eye on, but not necessarily an immediate impact for now," said Patrick De Haan, head of petroleum analysis at GasBuddy, which tracks gasoline prices, according to the Associated Press. "It could eventually impact oil supplies to refiners, which could be severe if it lasts more than a few days."
In their statement, Keystone said their primary focus was the "health and safety of onsite staff and personnel, the surrounding community, and mitigating risk to the environment through the deployment of booms downstream as we work to contain and prevent further migration of the release".
Previous Keystone spills have resulted in stoppages that lasted up to two weeks. However, analysts have noted that the current stoppage could possibly last longer because it involves a body of water.
Bank of Canada policy will 'hit home' in 2023: David Rosenberg
The Bank of Canada may be signalling a possible end to its months-long aggressive interest-rate hike cycle, but economist David Rosenberg said next year will see the lagging impact of 2022's monetary policy "hit home" for Canadians.
"Next year is the payback," Rosenberg, chief economist and strategist at Rosenberg Research and Associates Inc., said in an interview with BNN Bloomberg.
"2022 was the year of the sharp run-up in rates, 2023 will be the year where the policy lags from those rising rates hit home."
He made the comments Thursday, a day after the Bank of Canada raised its overnight lending rate by 50 basis points to 4.25 per cent, as the central bank continued with its approach to bringing down inflation.
Rosenberg predicted a "severe recession" for Canada next year based on the rate hike cycle, calling for a "triple whammy" with economic impacts compounded by high levels of household debt, a housing bubble and ripples in the global economy.
Possible spillover effects from the interest rate cycle could be felt, Rosenberg said, as banks may constrain the availability of credit and spending drops across various sectors.
Based on the latest rate increase, Rosenberg said he predicts at potentially one more rate hike from the bank before a pause. Once inflation starts to come down, Rosenberg said he thinks the central bank may start to cut rates, possibly in the second half of 2023.
"The next stage is going to be waiting for the inflation to come down, which I think it will, and the recession is going to catch a lot of people by surprise," he said.
A similar pattern may play out in the U.S., but Rosenberg said Canadians are more exposed to higher interest rates through variable-rate mortgages and because more consumer credit is tied to short-term interest rates.
"As bad as it's going to be in the U.S., and believe me, it's not going to be a pretty picture there, I think the Canadian situation in the next year is going to be clouded at best," he said.