System value can unlock the net-zero economy. Here's how – World Economic Forum
The challenges of today cannot be solved using yesterday's solutions.
Our recovery must be based on full-value creation – which is where the system value approach comes in.
Through this lens, sustainable development can be linked with decarbonization efforts.
The world today is facing a series of convergent global emergencies linked to the economy, the environment and society.
The new challenges, and the speed of the necessary changes, cannot be overcome by using solutions from the past. Business as usual is no longer an option; it exists merely as evidence that our current systems have failed in delivering economic, social and environmental sustainability.
Investing in the future we want
It is time to ask ourselves as a society whether the investments that help economic recovery will create value in the long-term. There may be many possibilities to stimulate the economy and job growth, but there is only one way to do so while improving the environment, and that is with low-carbon infrastructure.
Clean technologies lead the concept of green recovery as an exemplary investment to generate immediate and future value, capable of creating a more resilient economy while fighting global warming. Indeed, the decision whether to invest in low-carbon technologies or not is the decision whether to invest in the future or in the past.
Thanks to lessons learned from past crises, consensus is growing on the need to build a recovery based on full value creation. In fact, the traditional focus on cost is ineffective in finding solutions to the interconnected problems of the present.
Solutions to the new challenges need new system
If we want prosperity beyond cost criteria, industries should be valued for their ability to create wealth without negative externalities.
However, real change requires a systems thinking lens. That is why ACCIONA has collaborated with the World Economic Forum's Electricity Industry Action Group to create the new system value framework.
This framework more holistically evaluates the economic, environmental, social and technical outcomes of potential energy solutions across markets. The framework aims to shift political and commercial focus beyond cost to include value.
Just a few years ago, setting a horizon of carbon neutrality was a utopian ideal. Today, countries and companies are demanding a fully decarbonized horizon, something for which ACCIONA has always advocated.
If we take as an example what happened with renewables, the energy sector's main organizations have underestimated their growth rate for years. This is one of the many signs for optimism. Now more than ever, the mission is possible – and all we have to do is to escalate technologies that already exist.
Recognizing the full value that low-carbon infrastructure brings to the economy will accelerate that low-carbon future. The context of each country or region differs due to a combination of different energy transition 'starting points', different levels of ambition, and the different dependencies on supply chains and fossil fuels.
Regardless of the geographic context, both 'addition markets' (those with a relevant growth in electricity demand) and 'substitution markets' (those with no growth in demand and with predominance of installed capacity of fossil origin) understand that carbon neutrality by 2050 is not negotiable, for the simple fact that nature does not understand climate inaction.
The close link between decarbonization and sustainable development
Analysis from the World Economic Forum, with support from Accenture, shows near-term recovery opportunities around renewables expansion across markets, regardless of where a country is in its own clean energy transition – from improving grid infrastructure in India, to onshore wind and solar expansion in the United States, to renewables increasingly powering the electrification of mobility, heating and industry in Europe.
In many countries, renewables and clean technologies offer a solution in the short term, as they can be quickly deployed, and can generate more investment and employment while advancing towards a sustainable and resilient economy.
As an example, South Africa's renewables sector is the largest in sub-Saharan Africa attracting over half of all clean energy investments from 2009 through 2018, with Foreign Direct Investment (FDI) attributed to 30% of South Africa's clean energy investments. Greater renewables deployments through FDI can ensure domestic electricity sources that do not face fuel supply chain impacts, decrease pollutant levels, and create numerous job opportunities, from manufacturing of local content to renewables construction.
Moving to clean energy is key to combating climate change, yet in the past five years, the energy transition has stagnated.
Energy consumption and production contribute to two-thirds of global emissions, and 81% of the global energy system is still based on fossil fuels, the same percentage as 30 years ago. Plus, improvements in the energy intensity of the global economy (the amount of energy used per unit of economic activity) are slowing. In 2018 energy intensity improved by 1.2%, the slowest rate since 2010.
Effective policies, private-sector action and public-private cooperation are needed to create a more inclusive, sustainable, affordable and secure global energy system.
Benchmarking progress is essential to a successful transition. The World Economic Forum's Energy Transition Index, which ranks 115 economies on how well they balance energy security and access with environmental sustainability and affordability, shows that the biggest challenge facing energy transition is the lack of readiness among the world's largest emitters, including US, China, India and Russia. The 10 countries that score the highest in terms of readiness account for only 2.6% of global annual emissions.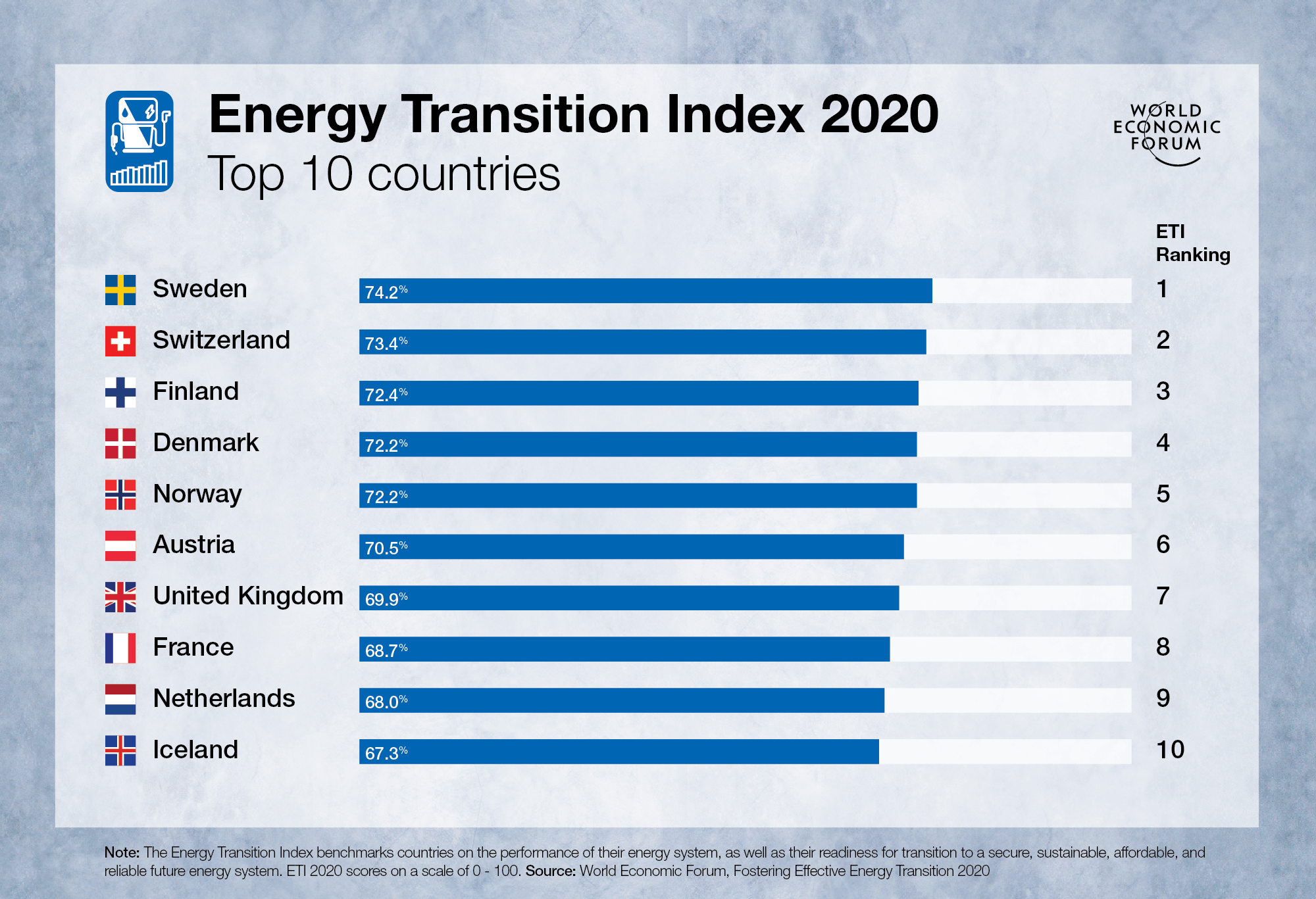 Additionally, the Mission Possible Platform (MPP) is working to assemble public and private partners to further the industry transition to set heavy industry and mobility sectors on the pathway towards net-zero emissions. MPP is an initiative created by the World Economic Forum and the Energy Transitions Commission.
Is your organisation interested in working with the World Economic Forum? Find out more here.
The energy transition pays for itself
In every country, in every context, investing in clean energy solutions far outweigh other options. In fact, the envisaged energy transformation would effectively pay for itself, with every dollar spent bringing returns of between $3-8 from savings related to reduced externalities.
Crisis periods provide an opportunity to reflect on what we want to be when we emerge from them. In these moments in which models are redefined, it is important to remember that achieving a future state that respects the planet and people is more technologically achievable than ever today.
U.S. economy posts record growth in Q3; COVID-19 scarring to last – The Guardian
By Lucia Mutikani
WASHINGTON (Reuters) – The U.S. economy grew at a historic pace in the third quarter as the government injected more than $3 trillion worth of pandemic relief which fueled consumer spending, but the deep scars from the COVID-19 recession could take a year or more to heal.
The 33.1% annualized growth rate reported by the Commerce Department on Thursday, the last major economic scorecard before next Tuesday's presidential election, did not ease the human tragedy inflicted by the coronavirus pandemic, with tens of millions of Americans still unemployed and more than 222,000 dead.
The economy remains 3.5% below its level at the end of 2019 and incomes plunged in the third quarter. Nevertheless, with five days remaining to Election Day President Donald Trump, trailing in most national opinion polls, cheered the report.
"Biggest and Best in the History of our Country, and not even close," Trump wrote on Twitter. "So glad this great GDP number came out before November 3rd."
Trump's Democratic challenger Joe Biden highlighted the lack of full recovery and the rapidly petering growth spurt.
"We are in a deep hole and President Trump's failure to act has meant that third-quarter growth wasn't nearly enough to get us out of (it)," said Biden. "The recovery that is happening is helping those at the top, but leaving tens of millions of working families and small businesses behind."
According to Christopher Way, an associate professor of government at Cornell University, the report "will have absolutely zero effect on the election and it is economic performance in the first half of an election year that matters."
The rebound in gross domestic product followed a 31.4% rate of contraction in the second quarter, the deepest since the government started keeping records in 1947. On a year-on-year basis GDP jumped 7.4% last quarter after sinking 9.0% in the April-June period. The rebound reversed about two-thirds of the 10.1% drop in GDP in the first half. By comparison, the economy contracted 4% peak to trough during the 2007-09 Great Recession.
Economists polled by Reuters had forecast GDP expanding at a 31% rate in the July-September quarter. The economy plunged into recession in February.
The government's rescue package provided a lifeline for many businesses and the unemployed, juicing up consumer spending, which on its own contributed 76.3% to the surge in GDP.
But government funding has been depleted with no deal in sight for another round of relief. New COVID-19 cases are spiraling across the country, forcing restrictions on businesses like restaurants and bars.
"We still don't have the level of GDP surpassing the pre-COVID level until fourth-quarter 2021 and closing the output gap will take even more time," said Kevin Cummins, chief U.S. economist at NatWest Markets in Stamford, Connecticut.
Foreshadowing a slowdown in consumer spending, personal income tumbled at a $540.6 billion rate in the third quarter after surging at a $1.45 trillion pace in the prior period. The drop was attributed to a decline in government transfers related to the pandemic relief programs.
Though savings remain high, the pace at which Americans are stashing away money is moderating. That, together with persistent layoffs and slowing employment growth could restrain consumer spending in the coming months.
Stocks on Wall Street were trading higher. The dollar rose against a basket of currencies. U.S. Treasury prices fell.
ELEVATED LAYOFFS
A separate report from the Labor Department on Thursday showed initial claims for state unemployment benefits fell 40,000 to a seasonally adjusted 751,000 in the week ending Oct. 24. Including a government funded program, 1.1 million people sought unemployment benefits last week.
Though claims have dropped from a record 6.867 million in March, they remain above their 665,000 peak seen during the 2007-09 Great Recession. About 22.7 million Americans were receiving unemployment benefits in early October, though many have exhausted their eligibility for state aid.
Just over half of the 22.2 million jobs lost during the pandemic have been recouped.
Consumer spending, which accounts for more than two-thirds of the U.S. economy, rebounded at a historic rate of 40.7% in the third quarter, driven by purchases of goods like motor vehicles, clothing and footwear. Americans also boosted spending on recreation, healthcare and dining out. But spending on services remained below its fourth quarter level.
Spending was boosted by billions of dollars in government transfers, including a $600 weekly unemployment subsidy and a one-off $1,200 check to households. Growth estimates for the fourth quarter are below a 5% rate.
"Without further stimulus, the winter may indeed be very painful," said Jeff Madrick, senior fellow at The Century Foundation in New York.
The shift toward goods spending pulled in imports, resulting in a widening of the trade deficit. Some of the imports, however, ended up in warehouses. The accumulation of inventory offset the trade hit to GDP growth.
There was also a turnaround in business investment after the second-quarter drubbing, but the bounce could be temporary as demand for goods that do not complement life-style changes brought by COVID-19 remains weak. Boeing Co reported its fourth straight quarterly loss on Wednesday.
The pandemic has also crushed oil prices, weighing on spending on nonresidential structures like gas and oil well drilling. Business spending on nonresidential structures contracted for a fourth straight quarter.
Record low interest rates boosted housing. Government spending fell, pressured by cuts at state and local governments, whose finances have been squeezed by the coronavirus.
(Reporting by Lucia Mutikani; Editing by Chizu Nomiyama)
U.S. economy notches record growth in 3rd quarter – CBC.ca
The U.S. economy grew at an unrivalled pace in the third quarter as the government poured out more than $3 trillion US worth of pandemic relief that fuelled consumer spending, but the deep scars from the COVID-19 recession could take a year or more to heal.
Gross domestic product rebounded at a 33.1 per cent annualized rate last quarter, the Commerce Department said in its advance estimate on Thursday. That was the fastest pace since the government started keeping records in 1947 and followed a historic shrinkage rate of 31.4 per cent in the second quarter.
The GDP report — one of the last major economic scorecards before next week's presidential election — will do little to mitigate the human tragedy inflicted by the coronavirus pandemic, with tens of millions Americans still unemployed and more than 222,000 dead.
With five days remaining to Election Day, President Donald Trump, trailing in most national opinion polls, will probably seize on the stunning rebound in GDP as a sign of recovery. But U.S. output remains below its level in the fourth quarter of 2019, a fact Trump's Democratic challenger Joe Biden is almost certain to highlight along with signs that the growth spurt is fast petering out.
Economists polled by Reuters had forecast the economy expanding at a 31 per cent rate in the July-September quarter. The economy slipped into recession in February.
"We expect minimal growth in [the fourth quarter] as consumer and business anxiety can only increase amid rising virus infections," BMO senior economist Sal Guatieri said in a commentary.
With no further U.S. government aid in sight this year, Goldman Sachs has slashed its growth forecast for the current fourth quarter to a three per cent annual rate from six per cent.
Unemployment benefits claims down
The government's rescue package provided a lifeline for many businesses and the unemployed, juicing up consumer spending, which on its own powered the surge in GDP. But government funding has been depleted with no deal in sight for another round of relief. New COVID-19 cases are spiralling across the country, forcing restrictions on businesses like restaurants and bars.
Slightly more than half of the 22.2 million jobs lost during the pandemic have been recouped, and layoffs persist.
A separate report from the Labour Department on Thursday showed 751,000 people filed for state unemployment benefits in the week ending Oct. 24, compared to 791,000 in the previous period. Though claims have dropped from a record 6.867 million in March, they remain above their 665,000 peak seen during the 2007-09 recession.
Bank of Canada says economy will likely be scarred by COVID-19 until 2023
Maybe it's his job to prepare us for the worst, but Canada's chief central banker, Tiff Macklem, has warned of a long, slow recovery as successive rounds of COVID-19 lead to a "scarring" of the domestic and world economy.
After what some see as a false dawn this summer as the economy resurged, Macklem, governor of the Bank of Canada, and his senior deputy, Carolyn Wilkins, offered a gloomy outlook for an economy that they say is unlikely to get back on track until 2023.
Not only that, but jobs — hit harder in this recession than the last one — are disproportionately affecting Canadians with the lowest wages. While 425,000 jobs disappeared following the 2008 credit crisis, this time around, employment has been cut by 700,000.
And Macklem said some of those jobs may never come back.
"We're going to get through this, but it's going to be a long slog," he said at a virtual meeting with financial reporters on Wednesday.
Good news? Lower for longer
The good news, if you could call it that, was that the central bankers have committed to keeping interest rates at current extraordinarily low levels until inflation climbs back to between two and three per cent, which they don't foresee as likely for three years.
Forecasting the economy is always something of a guessing game, but Macklem and Wilkins said that this time there was added uncertainty because of not knowing what the novel coronavirus is going to do next.
The central bankers made it very clear that the current outlook depends on a number of assumptions about the path of the pandemic that may turn out to be better or worse than they currently foresee.
Among those assumptions is that the virus will return in succeeding waves, each less damaging than the last. Another is that a vaccine will not become widely available until 2022, a sobering estimate from sober central bankers that may be disheartening for those who had hoped U.S. President Donald Trump's optimistic outlook of an October vaccine launch was more than just electioneering.
By promising that interest rates will stay low until 2023 — something central bankers call "forward guidance" — Macklem said he hopes businesses and consumers can confidently borrow for the medium term without fear that interest rates, and therefore loan repayments, will suddenly shoot up.
That's good if you are buying a new stove but not for a home, or for a longer-term business investment. To influence those longer-term rates, the central bank has shifted the way it buys bonds as part of its quantitative easing plan that it initiated for the first time following the COVID-19 market disruption.
When the market crisis hit in early spring, the bank bought short-term bonds to help increase the amount of money in circulation, reassuring investors, Macklem said. But now that markets are working more normally, the Bank of Canada has reduced its monthly bond purchases from $5 billion to $4 billion and is switching to buying bonds that don't mature for up to 30 years, in theory making longer-term loans cheaper.
Economy scarred by COVID-19
But while making borrowing cheap will help, the central bank worries that it won't be enough to prevent the economy from being scarred by large employment losses as some people's jobs never come back.
"We've assumed that a fraction of these people are permanent," Wilkins said. "That's because with COVID, not only is the recovery going to take longer so that there is more chance there'll be scarring, it's also the types of jobs created."
As the economy rebounds, she said, the new jobs available will not match the skills of those who became unemployed. Among those worst hit will be women and young people.
"The effects of this pandemic have been extremely uneven," Macklem said, directing reporters to a "particularly stunning" chart in the Monetary Policy Report, reproduced below, showing low-income workers have suffered more and their jobs have uniquely failed to recover.
Just as we saw during the long climb out of the last recession, replacing those jobs will require new private investment, some of it in entirely new sectors. But with so much uncertainty — and so much permanent structural change — Macklem said many companies will be hesitant to invest until things begin to stabilize.
"Clearly we are seeing a resurgence of the virus — it's happening in Canada and it's happening elsewhere," he said.
Macklem's current economic outlook is only a best guess based on so many unknowns. It may be that the virus gets even worse, he said, and it may be that a vaccine does not arrive until later than the bank has estimated or that it is ineffective.
But while the central bank is compelled to consider the bleakest case in its economic planning, Macklem does not exclude the possibility of a far less gloomy outcome, which he said would be "wonderful."
"There's certainly scenarios where a vaccine is available early next year and it proves effective, and we can deploy it at scale so that by the end of the year, we don't need to physically distance anymore."
And from a central banker, that is a positive ray of sunshine.
Follow Don Pittis on Twitter: @don_pittis
Source: – CBC.ca