Taiwan plans state funeral for democracy champion labelled 'sinner' by mainland media – Cape Breton Post
TAIPEI (Reuters) – The Taiwanese government on Friday said it will hold a state funeral for former President Lee Teng-hui, a figure respected on the island for ending autocratic rule but branded by mainland Chinese state media as a "national sinner".
Dubbed "Mr. Democracy" for ushering freewheeling pluralism and defying China's drive to absorb an island it regards as a wayward province, Lee died late on Thursday aged 97 in Taipei.
Vice President William Lai will lead a committee to organise the funeral and the government has ordered flags to fly at half mast across the island.
A venue will be set up for the public to pay their respects in Taipei, the Presidential Office said. The date of the funeral has not been decided, it said.
"We want to show our respect to former president Lee, who ushered the country's new era of democracy and pluralism," Presidential Office spokesman Alex Huang told reporters.
World leaders offered condolences, with Japanese Prime Minister Shinzo Abe praising Lee for laying Taiwan's foundation for liberty as well as boosting Japan-Taiwan relations.
U.S. Secretary of State Mike Pompeo called Lee a crucial player in transforming Taiwan into a "beacon of democracy".
"We will honour President Lee's legacy by continuing to strengthen our bond with Taiwan and its vibrant democracy," he said in a statement.
Responding to Lee's death, Zhu Fenglian, spokeswoman for China's Taiwan Affairs Office, in a statement said Taiwan independence is a "dead end" and national unification is "unstoppable".
Widely read Chinese state-backed tabloid the Global Times labelled Lee a "traitor" for being the "godfather of Taiwan secessionism".
"Lee's death is definitely not sad news to most people in the Chinese mainland," the newspaper published in an opinion piece late on Thursday.
"His image as a national sinner will never be changed in the history of China, and the separatists of the island can never change the historic trend that Taiwan will eventually be reunified with the mainland."
Lee's greatest act of defiance was becoming Taiwan's first democratically elected president in 1996, achieved with a landslide vote following eight months of intimidating war games by Beijing in waters around the island.
Beijing has not renounced the use of force to bring Taiwan under its control and has stepped up threatening military activity near the island in recent months.
(Reporting by Yimou Lee; Additional reporting by Chang-Ran Kim in Tokyo and Ryan Woo in Beijing; Editing by Christopher Cushing)
A 'safe space for racists': antisemitism report criticises social media giants – The Guardian
Former Winnipeg Jets forward Mathieu Perreault first media availability with the Habs – Illegal Curve Hockey
[embedded content]
After seven years in Winnipeg forward Mathieu Perreault is returning to his home province to play for the Habs. He spoke today in his first media availability as a member of the Montreal Canadiens.
He played a total of 455 games during his time in Manitoba with the Jets (including his 600th in the NHL) compiling 88 goals and 142 assists playing up and down the lineup. Of course his most famous game might have been his four goal night where he could have scored a fifth goal and won one lucky Manitoban (Gail McDonald from Brandon) one million dollars. Gail still ended up with $100,000.00 so not exactly a bad night for her as well as a "sorry Gail" response from Perreault when he found out which was a rather classic Perreault type response.
For those curious about the language in the media availability:
First seven minutes are questions in French
then next four are in English
then it returns to French until about the 13 minute mark
and from 16 minutes till the end it is in French.
Rugby Canada fires Cudmore over social media posts – BradfordToday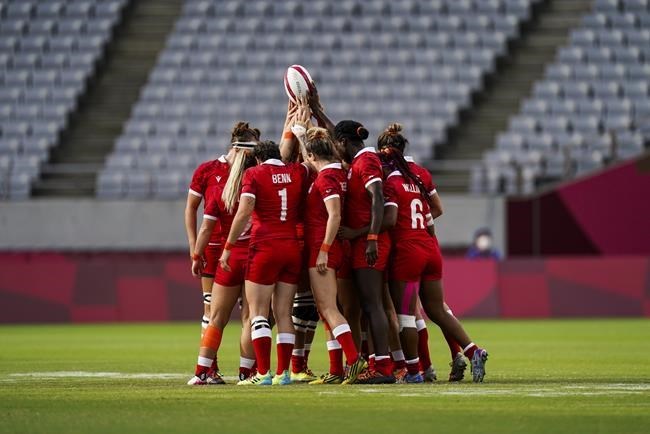 Rugby Canada fired Jamie Cudmore, a former star player in charge of developing the next generation of talent, on Friday for a series of social media posts belittling the women's sevens team.
His posts took aim at the sevens squad for its disappointing performance at the Tokyo Olympics.
Much had been expected of the Canadian women in Tokyo, given their performance in Rio and the fact they were tied with Australia on points for second in the World Rugby Sevens Series standings when the pandemic shut down the season last year.
But the Canadian women lost to Fiji and France after beating Brazil to miss out on the quarterfinals. They finished ninth after defeating Kenya 24-10.
Cudmore, an enforcer in the rugby field during his playing days, served as an assistant coach with the Canadian men's 15s team and ran Rugby Canada's national development academy.
The fact that the comments came from within has added to a year of turmoil for the governing body and the sevens women, who launched a formal complaint in January under Rugby Canada's bullying and harassment policy.
Cudmore apologized for the posts but was relieved of his duties soon after. Rugby Canada called the posts "unacceptable and in breach of organization policy."
"It was an emotional event for a good friend and I let that get the better of me," Cudmore said on Twitter. "I've always played/coached with my heart on my sleeve for this great country. I'm sorry if I've offended anyone."
The good friend is former sevens coach John Tait.
In the wake of the complaint filed by 37 current and former team members, an independent review concluded that while the conduct described in the complaint reflected the experiences of the athletes, it did not fall within Rugby Canada's policy's definition of harassment or bullying.
Tait, while maintaining he had done nothing wrong, subsequently stepped down.
A former Canadian international, Tait was one of Rugby Canada's most successful coaches, leading the sevens team to the bronze medal at the Rio Olympics.
The controversy has divided Rugby Canada, with most of Tait's staff leaving.
It appears Cudmore could not resist taking a shot at the women given their Olympic performance under interim coach Mick Byrne.
"Karma is a bitch! #Survivorsmyass," read a since-deleted Cudmore tweet.
"Rugby Canada stands with our women's 7s athletes," the governing body said in its initial response on social media. "We support the team in their efforts both on and off the rugby pitch and are proud of the way they have represented our country. Rugby Canada is aware of recent social media comments made about the team and worked to ensure they were removed as quickly as possible.
"Our organizational values include solidarity and respect, and everyone on our staff is expected to help create an inclusive environment for all. We condemn any inappropriate comments directed at the team and our leadership will be meeting to address this matter immediately."
Rugby Canada upped the ante hours later, relieving Cudmore of his duties. CEO Allen Vansen said in a series of tweets that the organization had concluded "that immediate action must be taken."
"Rugby Canada's core values, including integrity and respect, must be exemplified in all our rugby programs and we are determined to promote a healthy, inclusive culture now and in future," Rugby Canada board chair Sally Dennis said in the statement.
Cudmore won 43 caps for Canada, playing in both the 2003 and 2007 World Cups. The six-foot-five 257-pound lock forward is one of Canada's most famous exports — a hard man on the rugby pitch who was no stranger to suspensions for taking matters into his own hands on the field.
Several of Cudmore's deleted tweets were captured and posted by sevens player Charity Williams.
"I wanted to take this moment to talk about our performance and how proud I am of this team beyond any result," Williams wrote on Instagram. "Because I am, and what we accomplished this year is far greater than one weekend. What this team stands for and who we have become means that young female athletes across Canada can play their sport and feel safe. I'm proud of that.
"But instead I have to sit here once again and share what we've been going through as a team. The consistent hatred we have received from people in our own organization. I'm only sharing because this is what we have been dealing with for months. From private texts, to public stalking online and in person. The bullying and harassment that we have received for coming forward is outrageous and scary at times. This is the reason we called for an internal investigation because we haven't been safe."
In the wake of that probe, the players said they had been let down by Rugby Canada's harassment and bullying policy — which has since been updated and replaced.
Rugby Canada says it plans a "detailed, independent review of all performance rugby programs starting next month with a goal of positioning teams for success in supportive, inclusive environments."
Captain Ghislaine Landry also took to social media from Tokyo.
"We always knew this was about more than rugby, about more than one tournament, even if it's the Olympics. We knew the last nine months might put our Olympic dream in jeopardy, we had that discussion as a group, and still the decision was clear. We were ready to put our dreams at risk for change.
"This has not been a distraction but it has taken a toll on us. And so, while we are heartbroken not to have been able to play our best, we are proud and united."
In a statement released April 28, the players said their complaint "explained the psychological abuse, harassment and/or bullying these athletes feel they were subjected to in the centralized training environment."
—
Follow @NeilMDavidson on Twitter
This report by The Canadian Press was first published July 30, 2021.
Neil Davidson, The Canadian Press