'Take advantage of this pullback,' says Morgan Stanley executive who sees buying opportunities amid Russia-Ukraine tension – MarketWatch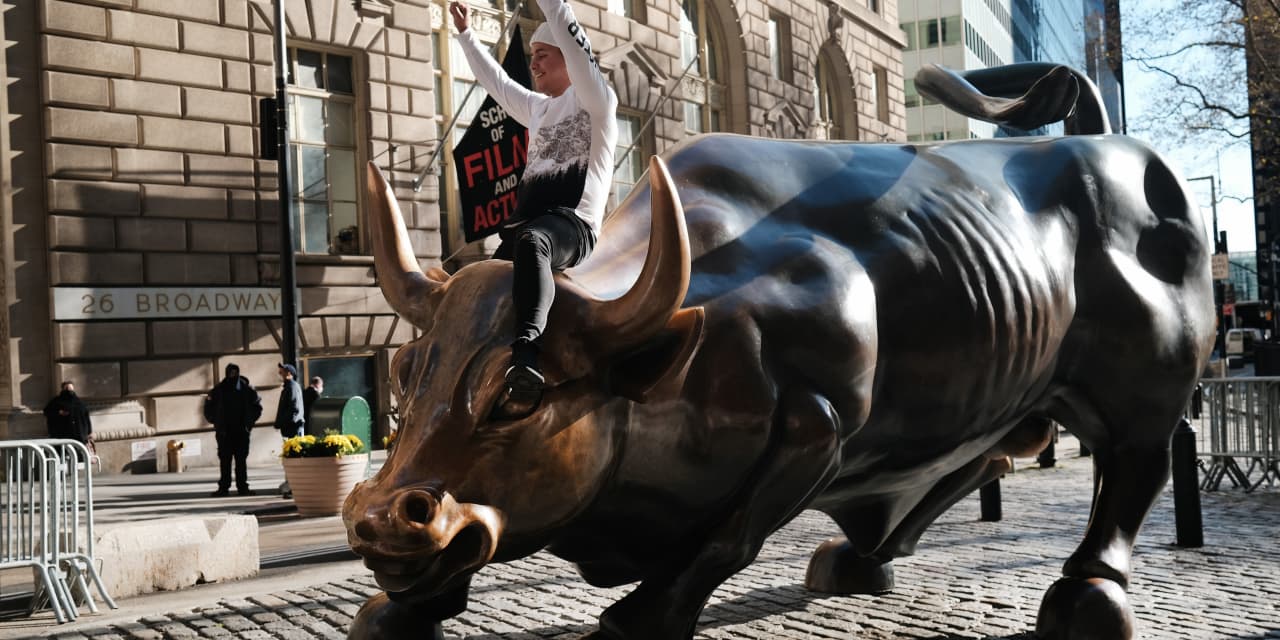 Tension centered on Russia and Ukraine has opened up an opportunity for investors to put cash to work in the stock market, according to Andrew Slimmon, senior portfolio manager for equities at Morgan Stanley Investment Management.
"Take advantage of this pullback," Slimmon said in a phone interview Tuesday. He said he expects the S&P 500 index
SPX,
+1.58%
can rally to around 5,100 this year, though stocks could "retest" lows seen in late January as hot inflation will continue to worry investors that the Federal Reserve may have to "tap the brakes in an aggressive way."
"I think as we get later into the year, the market is going to feel better," Slimmon said. "I am in the camp that believes the Fed is not going to crush the economy and therefore the cyclical, value stocks should be biased in the portfolio over defensive and growth stocks."
Some investors worry the Fed may have to move aggressively this year in raising interest rates to tame surging inflation, with the concern being that hiking rates too much too fast could hurt the economy. But Slimmon is betting the Fed won't "kill" the economic recovery in the pandemic.
Interest rates going up is "good for financials," he said. "The biggest overweight that we have is in financials."
The S&P 500's financials sector
SP500EW.40,
+1.76%
was up 1.5% in Tuesday afternoon trading, according to FactSet. The S&P 500 index was trading 1.4% higher, while the Dow Jones Industrial Average
DJIA,
+1.22%
was up 1.2% and the Nasdaq Composite
COMP,
+2.53%
was showing a sharp 2% gain.
Stocks, which sold off Friday amid concerns that Russia was getting ready to invade Ukraine, were rising Tuesday as those fears eased. The Associated Press reported Tuesday that Russian President Vladimir Putin said Moscow is ready for talks with NATO on limits to missile deployments, a sign of easing tension that followed Russia announcing a pullback of some troops.
So far in 2022, the S&P 500 is down more than 6%, while the Dow is off around 4% and the Nasdaq Composite has fallen around 10%, FactSet data show, at last check.
Historically, when the Fed raises rates, "as long as the yield curve doesn't flatten to zero or invert," value stocks outperform, said Slimmon. Investors are watching the yield curve closely as an inversion tends to signal a recession. At last check, the differential between the 2-year Treasury note
TMUBMUSD02Y,
1.555%
and the benchmark 10-year Treasury
TMUBMUSD10Y,
2.027%,
a common measure of the yield curve, or the spread between yields for shorter maturity and their longer-dated counterparts, stood at under 0.50 percentage points. That represents a historically narrow spread but widening somewhat from previous sessions.
In economic data released Tuesday, the U.S. Bureau of Labor Statistics said that wholesale prices, which reflect what businesses pay for supplies, jumped 1% in January. The surge in the producer-price index, or PPI, exceeded investor expectations and was another sign of high inflation engulfing the U.S. economy.
See: Wholesale prices surge again as hot inflation sears the U.S. economy
While Slimmon described the latest reading of PPI as "ugly," he said inflation should begin to ease later this year as the surge in demand for goods in the pandemic declines. He pointed to "anecdotal evidence" in Morgan Stanley's talks with companies, saying their inventories are building.
Slimmon also said that year-over-year readings of inflation measured by the consumer-price index should begin to subside in the spring as the comparisons will no longer be made from low prints. That should help reduce some "anxiety" surrounding the jump in the cost of living in the pandemic, he said.
Meanwhile, earnings-per-share estimates for the S&P 500 index have risen for this year and 2023, said Slimmon. As a portfolio manager, "what I care about is revisions," he said. "And revisions are going up."
Calling the passionate, the curious, and the creative: Staples Canada launches National Hiring Campaign
More than 1,000 associates to be hired across Canada in seasonal, part-time and full-time positions to help make Back to School simply amazing
Richmond Hill, ON, May 17, 2022 – Staples Canada, The Working and Learning Company, has launched a national hiring campaign to fill more than 1,000 positions in stores, supply chain, contact centres, sales teams, print and tech hubs, as well as corporate roles. All open roles are posted at careers.staples.ca with in-person and virtual interviews available at the different locations.
"The back to school season is the most exciting time of year for Staples associates – it's a time where we get to connect with our customers to enable their success, and inspire them for months to come," said Wanda Walkden, Chief Human Resources and Communications Officer, Staples Canada. "We're invested in bringing in the best and brightest talent to inspire our customers and our communities, while also helping our associates further their own development and growth."
Staples currently employs more than 11,000 associates across Canada within a variety of roles and locations. The company has presence in every province and the Northwest and Yukon territories. All locations are looking to fill a variety of roles.
Joining Staples comes with a number of benefits, which include:
·       Associate support: Staples offers extensive wellness benefits that are designed to support the physical, mental and financial well-being of associates. These include an employee and family assistance program, retirement savings plans with an employer match, performance bonuses, associate discounts, and more.
·       Diversity, Equity and Inclusion: Staples is committed to creating an inclusive and diverse work environment where each associate can bring their whole authentic self to work. Staples associates can join Business Resources Groups; groups that are by associates for associates and focus on various DE&I initiatives through partnerships, awareness and education.
·       Learning and development opportunities: At Staples, learning and development is a priority for all associates, with many opportunities for cross-department training, and leadership development programs in place to aid professional growth.
Educational support:

  Each year, scholarships are awarded through the Staples Canada Annual Academic Scholarship Program to associates or children of associates attending post-secondary education. The company also offers tuition reimbursement for full-time associates to further their education.

Ability to make an impact:

 Each year, Staples associates partner with organizations like 

MAP

, and take on local charitable giving initiatives including the School Supply Drive during back to school, as a continued commitment to communities across Canada.
All 300+ stores and Supply Chain, Contact Centres, Sales Teams, Print and Tech Hubs and, Corporate locations across Canada are participating in the national hiring campaign; visit careers.staples.ca to learn more and find the perfect job near you.
Staples Canada is The Working and Learning Company. With a focus on community, inspiration and services, the privately-owned company is committed to being a dynamic, inspiring partner to customers who visit its 300+ locations and staples.ca. The company has two brands that support business customers, Staples Preferred for small businesses and Staples Professional for medium to large-sized enterprises, as well as six co-working facilities in Toronto, Kelowna, Oakville and Ottawa under the banner Staples Studio. Staples Canada is a proud partner of MAP through its Even the Odds campaign, which aims to tackle inequities in communities across Canada and helps make a future that's fair for everyone. Visit staples.ca for more information or get social with @StaplesCanada on Facebook, Twitter, Instagram and LinkedIn.
– 30 –
Media information:
Kathleen Stelmach, Staples Canada, 905-737-1147 Ext. 578, kathleen.stelmach@staples.ca
Noah Gomberg, Golin, 647-475-4721, NGomberg@golin.com
Gas prices set to drop in the GTA – CP24 Toronto's Breaking News
Drivers are set to get some relief at the pumps as gas prices are set to drop 13 cents per litre by Friday.
Average gas prices hit $209.9 per litre on Wednesday in southern Ontario, marking a new record high and a whopping 12-cent rise since last Friday.
However, President of Canadians for Affordable Energy Dan McTeague says prices are set to drop three cents to 206.9 per litre as of midnight and then 10 another 10 cents to 196.9 per litre by Friday.
McTeague said that the drop in prices is being driven by the unease of global markets over a potential recession.
Prices at the pumps have been elevated since late February due to fuel supply shortages amid Russia's invasion of Ukraine and the international sanctions that have been imposed as a result of the war.
Natural Resources Canada said the average price for regular gasoline in Canada hit $2.06 per litre on Monday, with the most expensive price in Vancouver at $2.34 a litre.
On Wednesday, Statistics Canada reported that the annual inflation rate rose 6.8 per cent year-over year in April. The national agency added that Canadian drivers paid 36.3 per cent more for gas in April compared to a year ago.
-With files from The Canadian Press
Stock markets sell off as inflation fears settle in – CBC News
Stock markets were a sea of red on Wednesday as financial results from major retailers suggested they're having a hard time dealing with stubbornly high inflation.
The S&P 500 was down by more than four per cent, its worst one-day showing since June 2020 as investors reacted to troubling signs that consumers are slowing their spending in the face of high prices.
Shares in Target shed more than 25 per cent of their value after the retailer said its profit was cut in half because of higher costs and supply chain problems. It was the worst day for Target's shares since Black Monday in 1987, and it came a day after rival Walmart painted a similar picture the day before.
Walmart's shares fell by more than 11 per cent on Tuesday and another seven per cent on Wednesday, after the retailer warned of lower profits to come due to higher costs for transportation and wages, as well as supply chain issues. Tuesday's sell-off was also the biggest one-day plunge in Walmart shares since 1987.
That gloom coming from two cost-conscious retailers sparked investor fears that if they are having problems navigating high inflation, many others must be, too.
"The strength of the consumer will be tested as both Walmart and Target signal rising pricing pressures are not easing," analyst Edward Moya with foreign exchange firm Oanda said.
The Dow Jones Industrial Average shed almost 1,200 points or more than three per cent and the technology focused Nasdaq lost more than 500 points or more than four per cent.
Since the start of the year, the Dow is down by 14 per cent, the S&P by 18 per cent and the Nasdaq by 28 per cent, data from Bloomberg shows.
"Stocks are crumbling after Wall Street worries about economic growth after hearing a chorus of concerns of higher prices that won't be easing anytime soon," Moya said.
Statistics Canada reported on Wednesday that the country's inflation rate ticked upwards again last month, to a new 31-year high of 6.8 per cent.
While the Toronto Stock Exchange fared better than its U.S. counterparts, it wasn't immune to the sell-off, losing 389 points, or about two per cent, to close as just over 20,100 points late in the trading day. The benchmark Canadian index has lost about seven per cent of its value since the start of the year, and has been mostly lower of late since topping out at over 22,000 points in April.
"It's a really rough day out there for stock markets," Colin Cieszynski, chief market strategist at SIA Wealth Management, said in an interview with CBC News.
"The retailers in particular are starting to get squeezed between rising costs and softening demand," he said. "We've just been seeing a stampede for the exits across stock markets today."
Tech shares hit hard
Technology shares, which soared earlier in the pandemic as the world went increasingly digital and online due to COVID-19 lockdowns, continue to get hammered.
Apple shares lost six per cent to trade at their lowest level since October. Amazon shares lost seven per cent and the shares are now trading where they were in April 2020. Netflix lost another seven per cent and now trade at their lowest level since 2018.
Canadian tech companies also sold off, with shares in e-commerce firm Shopify, payment processing company Lightspeed and BlackBerry all off by about three per cent.
Cieszynski said the sell-off in technology shares makes sense, because the sector "tends to benefit … when investors are feeling confident and when investors are willing to take on risk."
"At a time when investors are are retrenching, turning away from risk and going more defensive, [technology] tends to underperform," he said.
Bitcoin dips below $30,000
Bitcoin was no exception as the world's largest cryptocurrency continued its plunge, losing another five per cent to trade below $30,000 US for the first time since 2021.
"The speculative cryptocurrency excesses of 2021 may mark a similar fate for risk assets, as when the internet bubble burst in 2000," Bloomberg Intelligence analyst Mike McGlone said.