Talks scheduled to end rail blockades, restore passenger and freight service – CTV News
TORONTO —
Anti-pipeline protests that have derailed vital freight movement in eastern Ontario and passenger rail travel across Canada are continuing Friday, with the added threat of activists planning to shut down government offices in British Columbia's capital.
Meetings are scheduled between Indigenous leaders and federal ministers who are looking to negotiate an end to the rail blockades in eastern Ontario and B.C., while business leaders and opposition are calling for immediate action to end the disruptions, which have already seen dozens of arrests.
The protests began last week after the RCMP enforced a court injunction against Indigenous leaders and their supporters who had been halting construction of the Coastal GasLink pipeline project, a major piece of a $40-billion LNG Canada liquefied natural gas export project on the B.C. coast.
The 670-kilometre pipeline crosses the traditional territories of the Wet'suwet'en First Nation.
Indigenous leaders in B.C.'s northwest have invited federal and B.C. politicians to meetings, while following through on a promise to ensure a blockade of CN Rail tracks near New Hazelton, B.C. would come down during talks.
The blockade had been in place since Saturday, preventing shipments to the Port of Prince Rupert.
Gitxsan hereditary chief Norm Stephens says the blockade could go back up if the province doesn't agree to cancel Coastal GasLink's pipeline permit during the scheduled talks.
Demonstrators who are blocking tracks near Belleville, Ont., a critical corridor linking Montreal and Ottawa with Toronto, say they're standing with those opposed to the pipeline.
A court injunction has been granted in Ontario that gives the OPP authority to clear the protesters, but as yet no enforcement action has been taken.
Canadian National Railway said Thursday it was starting a progressive shutdown in its eastern freight network due to the blockade, while Via Rail cancelled all service on CN tracks in Canada.
Only two northern Via routes – Sudbury-White River and Churchill-The Pas – will remain open.
Passengers with bookings will receive automatic refunds, and the company will not accept any new bookings before Feb. 21.
In addition to being a major inconvenience to passengers, the disruptions will cause a huge economic hit. The shutdown by CN is largely seen as a move to pressure Ottawa to take action.
While Prime Minister Justin Trudeau says the rule of law must be followed and federal Transport Minister Marc Garneau has previously called the blockades "illegal," the federal government has largely taken a hands-off approach, saying enforcing injunctions against protesters is a provincial responsibility.
Garneau is expected to meet Friday with his provincial and territorial counterparts as well as representatives of national Indigenous organizations to discuss a way forward. He is scheduled to speak at a press conference at 10 a.m.
Meanwhile, the B.C. Supreme Court granted an injunction Thursday that authorizes police to arrest and remove people participating in any further blockades at the legislature building in Victoria. Hundreds of people blocked the entrances to the legislature earlier this week in support of pipeline protests.
There are signs the protests are intensifying.
Hundreds of people marched in an anti-pipeline protest late Thursday afternoon through downtown Saskatoon and as the New Hazelton blockade was coming down, another was going up near the Pitt River bridge in Coquitlam. As a result, B.C.'s TransLink announced Friday morning that the West Coast Express service will not run, and will be replaced by buses.
Manitoba Premier Brian Pallister is demanding that Ottawa provide clarity on future resource development applications, saying the rail blockades show there needs to be a better process.
Pallister made the remarks after an anti-pipeline blockade of a major rail line west of Winnipeg came down. Activists have promised that more protests are coming.
As the turmoil continues, TC Energy, which is building the $6.2-billion pipeline that will take liquefied natural gas from northeastern B.C. to an export terminal now under construction in Kitimat, is proceeding with work at more than 30 sites.
The economic impact of the rail disruption has yet to be fully felt.
CN says the halt may lead to temporary layoffs for eastern Canadian staff and the Teamsters Union, which represents 16,000 works in the rail industry, warns that 6,000 works could be affected.
CN moves $250 billion a year in goods and the shutdown will affect a variety of products, including propane, jet fuel and de-icing chemicals, chlorine for drinking water, and aluminum and lumber needed in the construction industry.
Samsung chairman Lee Kun-hee, head of South Korea's biggest conglomerate, dies at 78 – Reuters
SEOUL, Oct 25 (Reuters) – South Korea's Samsung Electronics Chairman Lee Kun-hee died on Sunday, the company said.
Born in 1942, Lee helped grow his father Lee Byung-chull's noodle trading business into South Korea's biggest conglomerate. (Reporting by Cynthia Kim, Joyce Lee; Editing by William Mallard)
Eastern Ontario Health Unit imposes new COVID-19 restrictions on restaurants, gyms, fitness centres – CTV Edmonton
OTTAWA —
The Eastern Ontario Health Unit is imposing new restrictions on food and drink establishments, sports and recreation facilities and personal care services in Alexandria, Cornwall, Casselman, Clarence-Rockland, Hawkesbury and other areas of eastern Ontario.
The new measures to limit the spread of COVID-19 in the community were announced as Public Health Ontario reported 43 new cases of COVID-19 in the Eastern Ontario Health Unit region on Saturday.
Medical Officer of Health Dr. Paul Roumeliotis issued a new Order under Section 22 of the Health Protection and Promotion Act that will come into effect on Monday, and remain in effect for 28 days.
"The last thing I want is for businesses in our community to have to shut their doors again as they did in the spring," said Dr. Roumeliotis.
"By putting these new measures in place, I'm hoping we can stop the rising number of infections and prevent another shutdown that would hurt our economy."
The new COVID-19 measures include limiting the number of people who can be seated at a table in bars and restaurants to a maximum of six people, while the total number of patrons in the indoor and outdoor sections of a food and drink establishment must not exceed 100.
Indoor dining at bars and restaurants in eastern Ontario is still allowed.
For banquet halls, the total number of patrons permitted in the premises is limited to the number that can maintain a physical distance of at least two meters, and in any event cannot exceed 50 indoors or 100 outdoors.
Establishments must also conduct a COVID-19 screening on every patron and record their name and contact information.
"This really mimics what happened on Oct. 2 when Ottawa, Toronto and Peel were put in these enhanced zones, before they were put into the red hot zone," said Dr. Roumeliotis during a media conference late Friday.
"I think this is very fair request and saving closures."
The new measures for indoor sports and recreational facilities include limiting the total number of people permitted in a class, organized program or organized activity to a maximum of 10 people, excluding instructors/trainers/coaches.. The total number of people permitted to be indoors at the facility in areas containing weights or exercise machines cannot exceed 50.
The order applies to gymnasiums, health clubs, community centres, multi-purpose facilities, arenas, exercise studios, yoga studios, dance studios, and other indoor fitness centres.
For personal care settings, including hair salons and barber shops, manicure and pedicure salons, spas and tanning salons, they must conduct a COVID-19 screening for every client and record their name and contact information.
Last Sunday, Dr. Roumeliotis told CTV News Ottawa the region may have to consider moving to a modified Stage 2, like Ottawa, due to rising COVID-19 cases.
On Thursday, the medical officer of health said he was no longer recommending eastern Ontario move into a modified Stage 2, but wanted to impose new restrictions on establishments to help limit the spread of COVID-19.
Ontario introduced new restrictions on bars, restaurants, fitness centres and other recreation complexes in Ottawa on Oct. 2. On Oct. 10, the Ontario Government moved Ottawa into a modified Stage 2, which included prohibiting indoor dining at bars and restaurants, and closed gyms, fitness centres and movie theatres.
6 New Cases Of COVID-19 In Windsor Essex As Of Saturday – windsoriteDOTca News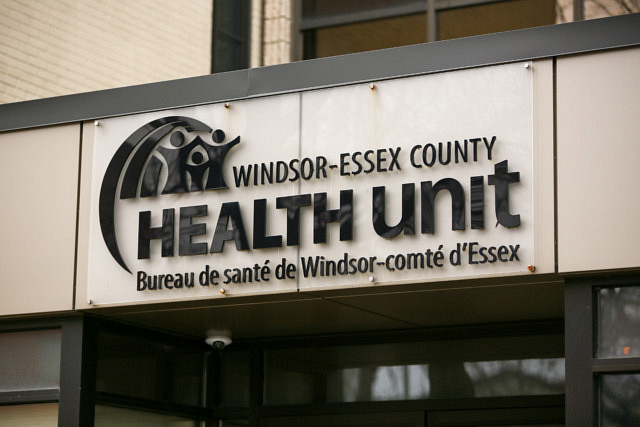 The Windsor Essex County Health Unit has announced 6 new cases of COVID-19 as of Saturday, bringing the local total to 2,787. They say 2,686 people locally have recovered.
Cases increased from 2,781 on Friday October 23rd to 2,787 on Saturday October 24th and 25 cases of COVID-19 are currently active in Windsor-Essex.
The Health Unit says 2 cases are local health care workers, 2 cases are close contacts of confirmed cases, and 2 cases are community acquired.
Article Continues Below Local Sponsor Message
There have been no additional deaths due to COVID-19 as of Saturday and the local death toll stands at 76.
As of Saturday, the Health Unit lists 2 people as hospitalized with confirmed cases of COVID-19 in Windsor Essex, and 1 person in the ICU. One hospitalization is listed at Windsor Regional Hospital.
Workplace Outbreaks
As of Saturday, the Health Unit says the following workplaces are under outbreak:
1 construction company (in Lakeshore)
1 food & beverage services company (in Kingsville)
A workplace outbreak is declared when two or more employees test positive for COVID-19 within a reasonable timeline to suspect transmission in the workplace, according to the Health Unit. Officials with the Health Unit have said a workplace will only be named if a threat to the public exists.