Tate Britain has rehung its art collection: What can we learn?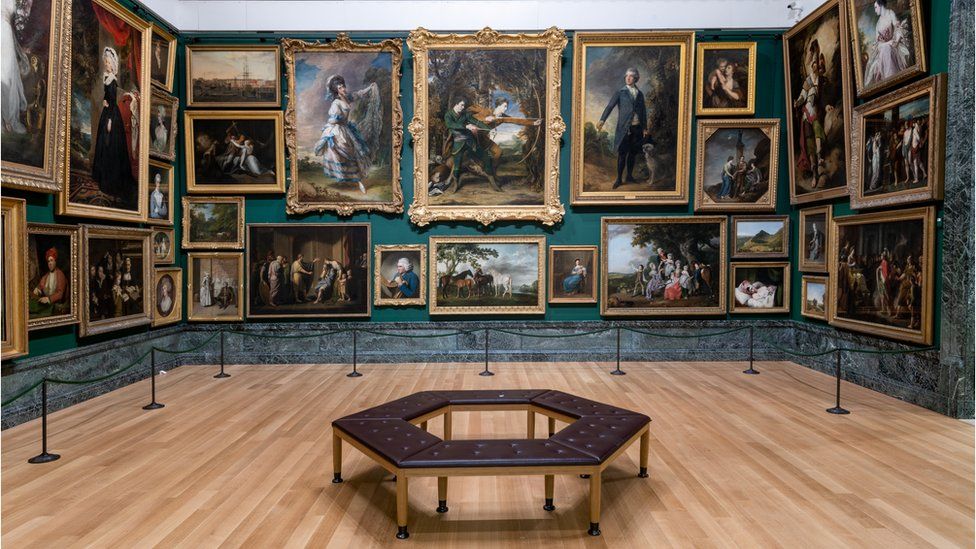 The Tate Britain gallery in London has unveiled a complete rehang of the world's greatest collection of British art.
More than 800 works by over 350 artists span six centuries. Its director, Alex Farquharson, says they "want to show that art isn't made in a vacuum".
So what can the works in one of our national collections tell us about Britain and its history?
The story of British art is the story of Britain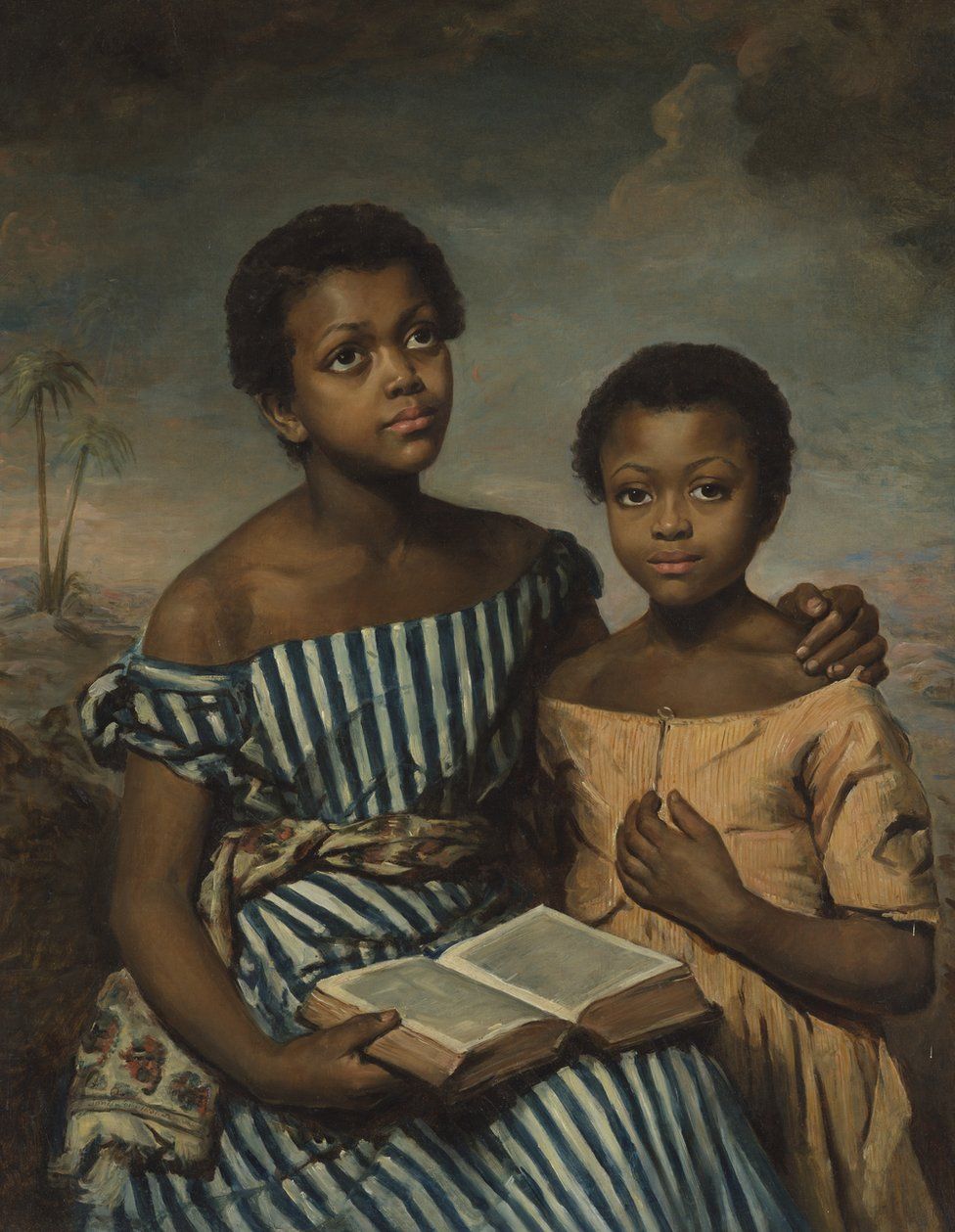 Tate's galleries are still laid out chronologically, from the 1500s to the present day. But the works are now linked to great moments in Britain's social and political history (wars, urbanisation, migration, revolution). We learn in an early room called Court Versus Parliament 1640-1720 that the artists on show were thriving at a time of huge turbulence: civil war, the execution of Charles I and the birth of party politics.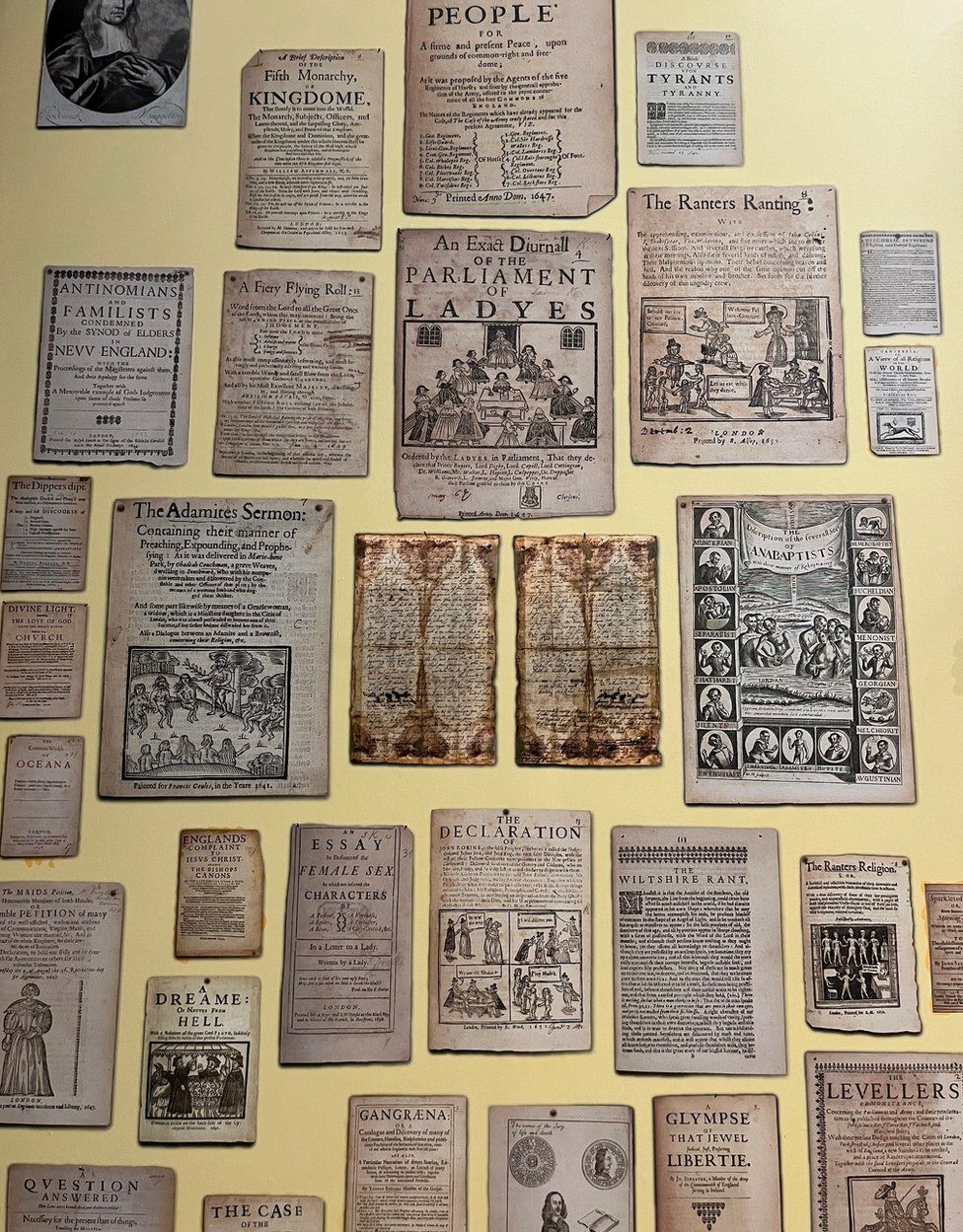 Alongside the portraiture, there's now a new commission by Nils Norman that reflects the birth of protest from that time. You might have heard of the Ranters and Levellers, whose pamphlets adorn a wall – but did you know about the Adamites? Their main demand seems to have been for humans to go naked (to bring them closer to Adam and Eve's pre-fallen state).
Tate Britain has been investing in art by women to redress the balance for modern times. The earliest works on display, by Joan Carlile, Mary Beale and Anne Killigrew, date back to the 17th Century.
Carlile was one of the first British women artists ever to work professionally. Only around 10 portraits by her have been identified. Beale's success as an artist made her the main breadwinner for her family.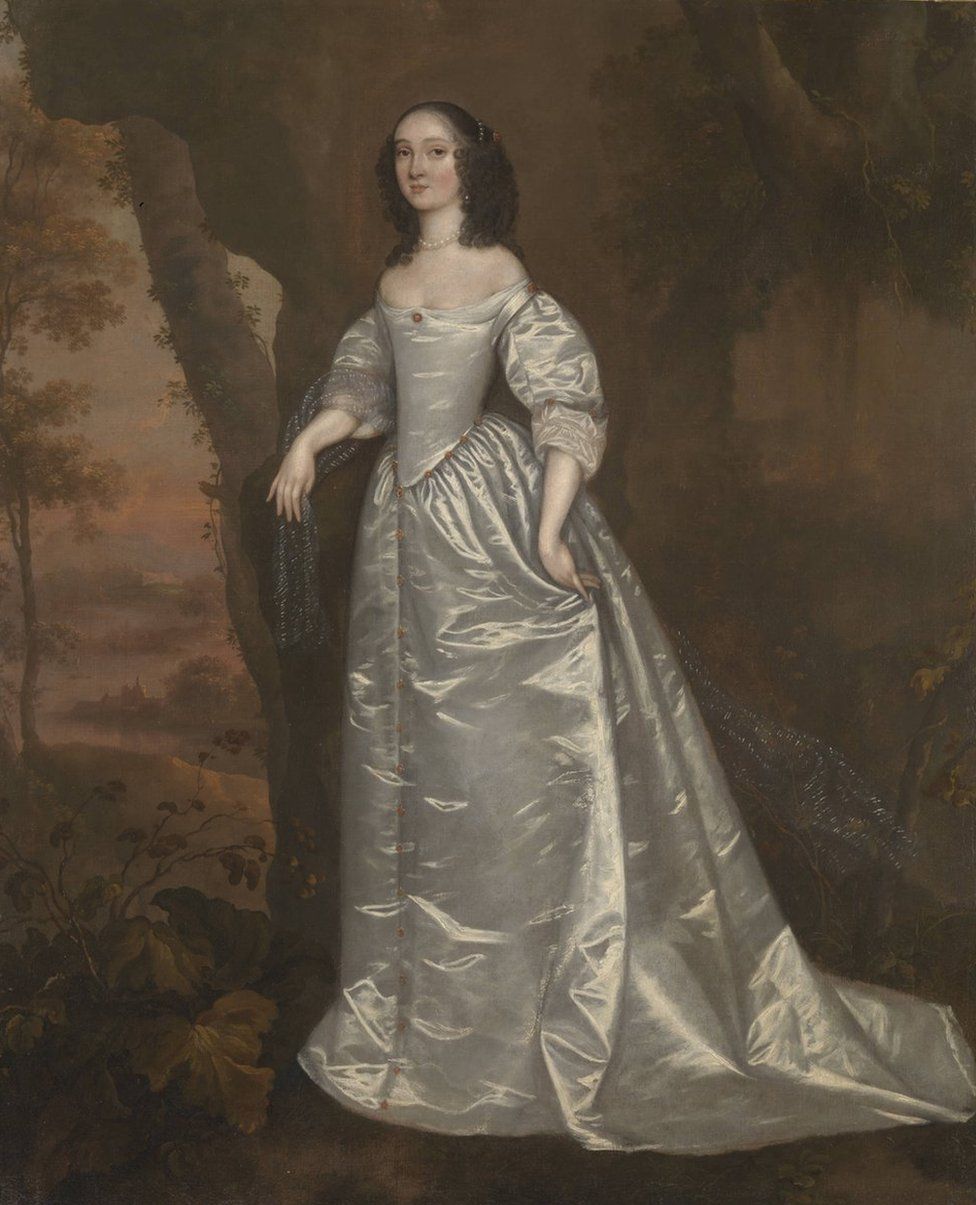 Farquharson says women artists have been "unfairly marginalised". Other notable historic female artists highlighted in the collection include Emily Sargent (who painted alongside her more famous brother John Singer Sargent) and Annie Swynnerton. Half of the living artists on display at Tate Britain are now women, and there are also more works by artists of colour.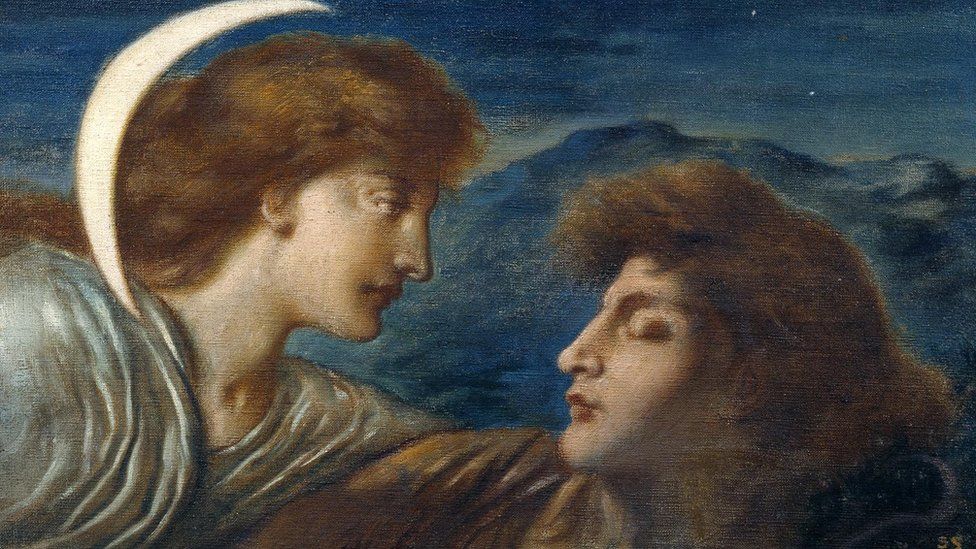 A 'more truthful' account of history?
Tate Britain came in for criticism for its labelling of a Hogarth show in 2021, which Sunday Times critic Waldemar Januszczak described as "wokeish drivel".
The new rehang aims to offer more context to the works to provide "a more truthful account of history", says Farquharson. George Stubbs' Haymakers from 1785 shows a beautiful scene of rural workers. Tate Britain's label now includes a reminder that such idealised images of labour "rarely depict its harsh realities".
A painting depicting Caribbean life in the 18th Century by Agostino Brunias shows enslaved and free women of African descent dancing.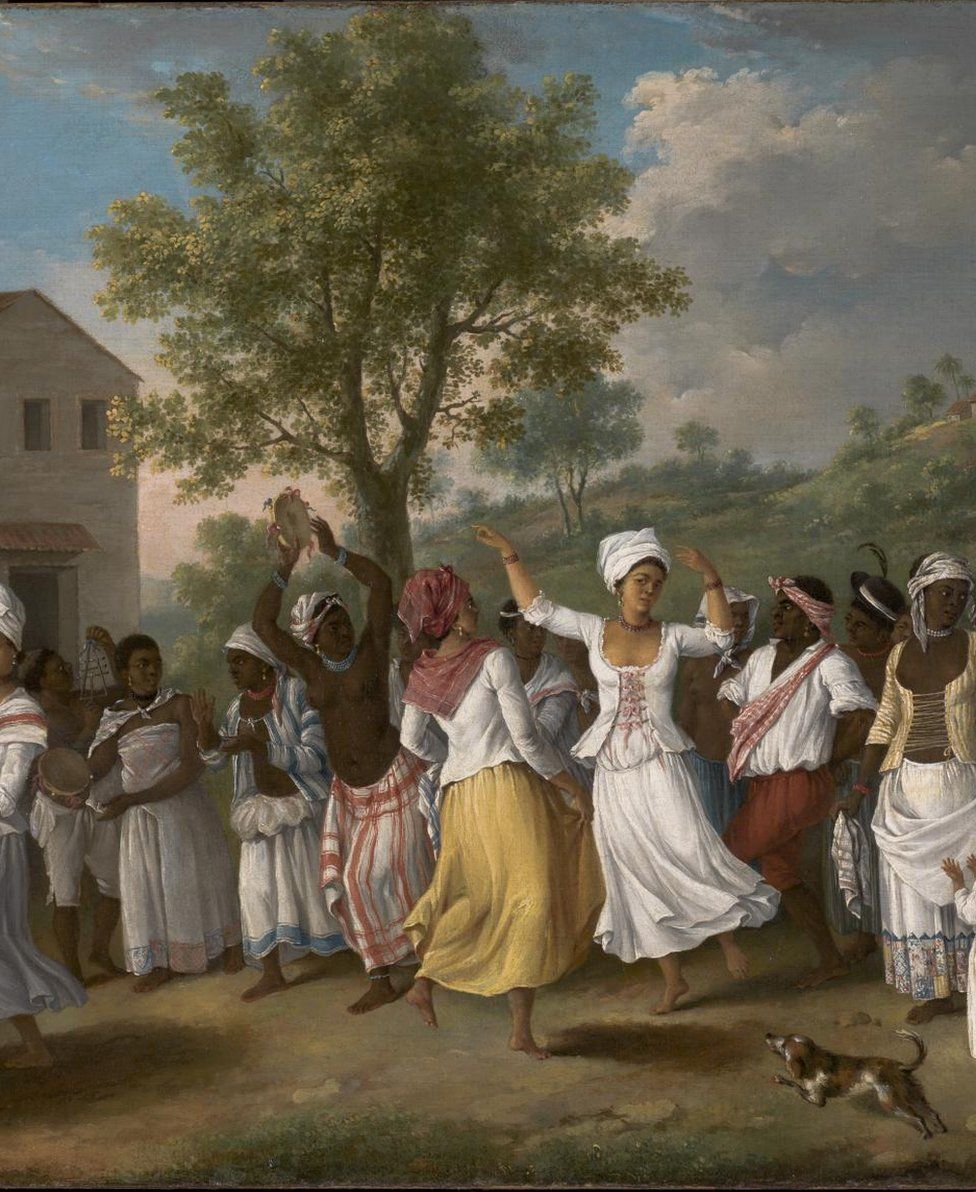 Brunias, says the label, mainly painted appealing images of plantation life for plantation owners. "Any reference to the forced labour and violence underpinning this is erased, as are his patrons' roles in this oppression."
Farquharson says the painting is "deliberately misleading" and meant for propaganda because it presents a "highly idealised picture of slave-owning society".
Do Tate's labels offer greater insights or diminish the art on show? It no doubt depends on your perspective, but to me, they felt like an extra layer of history.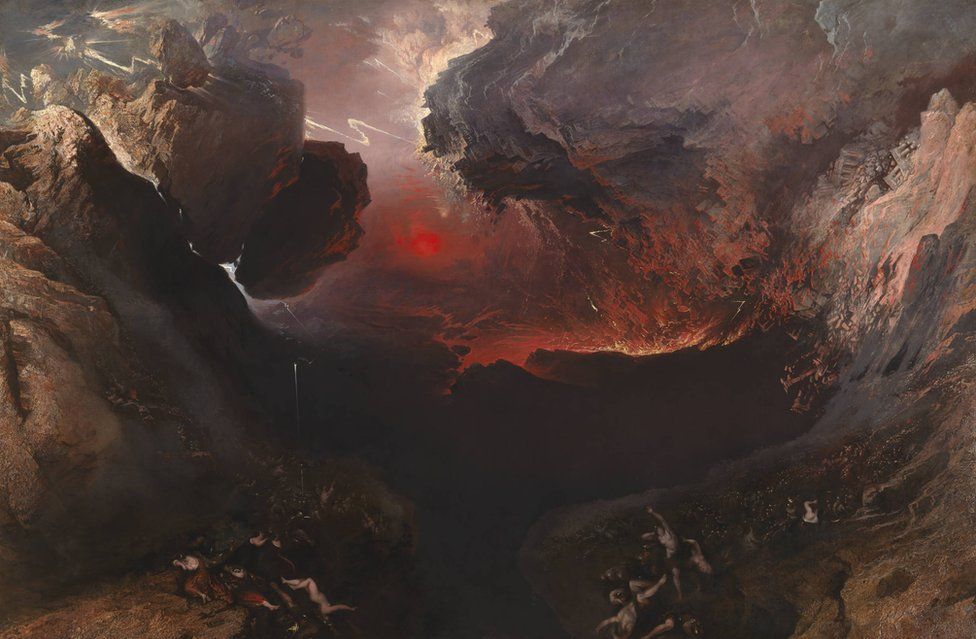 In Victorian Britain, art attracted huge audiences as the emerging middle classes began to have money and leisure time. It was an era when Acts of Parliament and wealthy donors helped open public galleries with free entry. Some paintings became world famous.
These include John Martin's apocalyptic The Great Day of His Wrath. Martin was originally a coach painter from the north-east of England who began creating art to supplement his wages. After his death in 1864, this painting – part of a triptych – travelled around the world, thrilling crowds from New York to Sydney. It was the blockbuster movie of its day.
Technical advances influenced art
Just as technical advances have had an impact on the art of today, we learn how they changed the art being made in the 19th Century. The invention of tubes of paint, as well as faster drying paint and collapsible easels, allowed artists to explore faster, more spontaneous ways of painting, often outdoors 'en plein air'. The expansion of the railway network also made it easier for people to get out into the countryside to paint.
In the 1870s, what was at that point a radical art movement – Impressionism – aimed to capture 'the painting of the moment' by observing the fleeting effects of light and weather.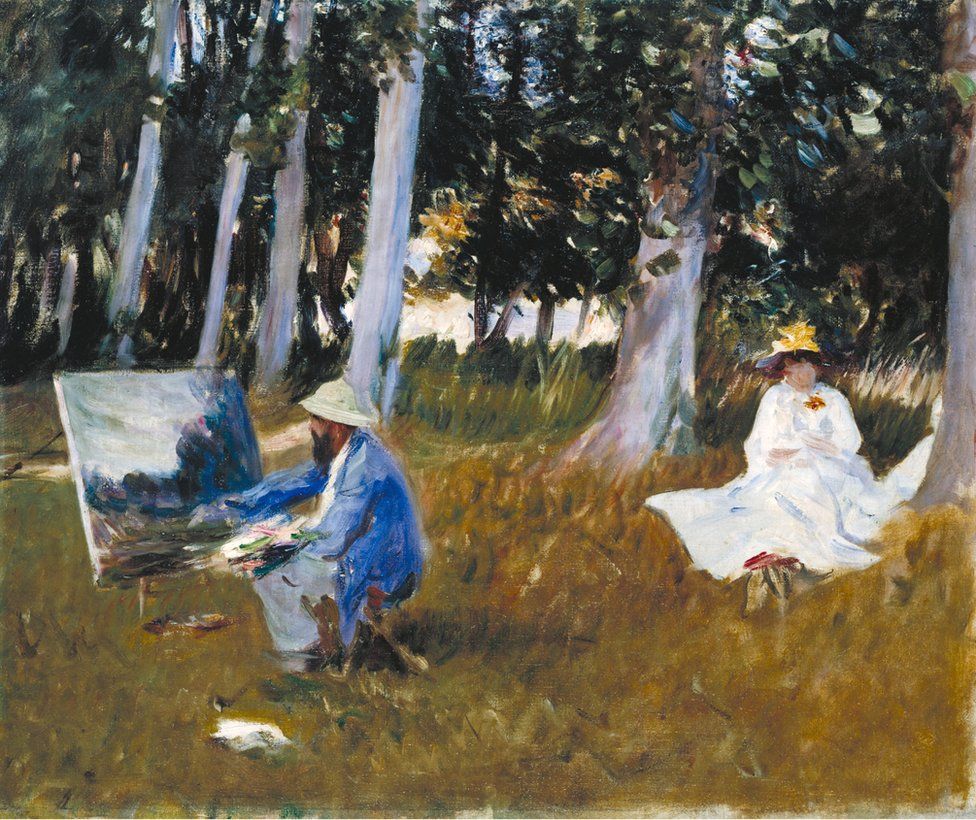 The rooms are still stacked full of favourites, from Van Dyck, Gainsborough, Hogarth and Constable to Hockney, Rego, Bowling and Riley (and if you're missing Waterhouse's Lady of Shalott, it's on loan to Falmouth and will be back on display when it returns).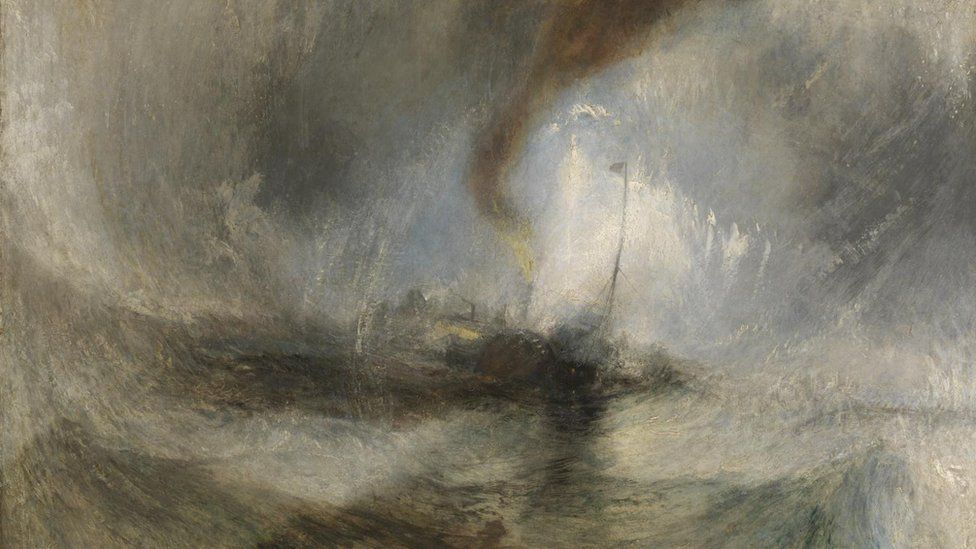 For those who associate Tate Britain with Turner, these rooms remain as awe-inspiring as ever. We learn that, having been picked out by art critics as "one to watch" in his late teens, he became the artist journalists loved to hate. Responding to his hazy landscapes, one explained that "he is the painter not of reflections, but of immediate sensations".
Ever committed to his craft, did you know Turner claimed to have asked sailors to lash him to a mast for four hours so he could observe the power and volatility of a storm for one of his paintings?
The final room – chronologically – is called The State We're In, 2000-Now. Artists of different generations have been working at a time of upheaval, whether Brexit, Covid, a cost of living crisis, the war in Ukraine or the social movements of Black Lives Matter and Me Too.
If Tate Britain is asking us, through its rehang, to reflect on the history of Britain through six centuries of art, what can we take away from these works?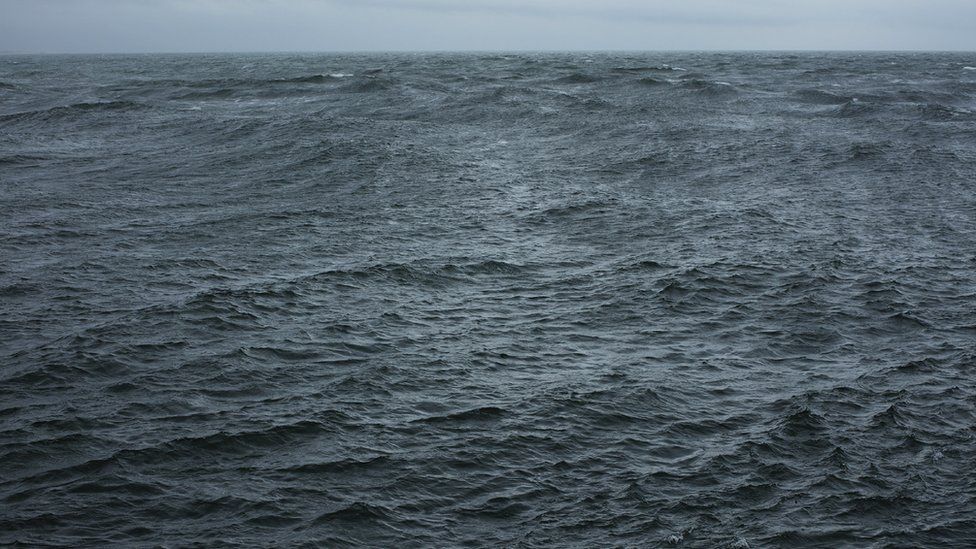 Two vastly different works depict the sea – Wolfgang Tillmans' detailed photograph of the waves and Lubaina Himid's reworking of a James Tissot painting in which she has two black women gazing from the deck of a boat off the Portsmouth coast.
Are these at least a nod to Britain, an island nation, and the choppy waters of our times?
Françoise Gilot, Whose Art Transcended Her Relationship With Picasso, Dies at 101 – Smithsonian Magazine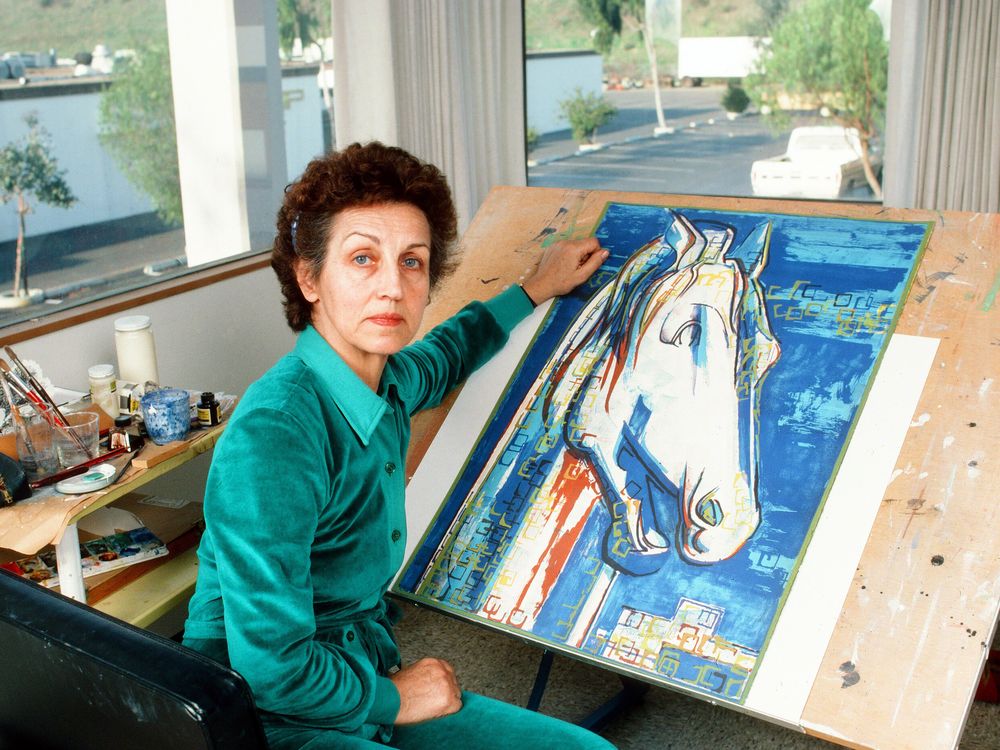 Françoise Gilot, a lauded French artist who wrote candidly about her volatile relationship with Pablo Picasso, died this week at age 101.
"She was an extremely talented artist, and we will be working on her legacy and the incredible paintings and works she is leaving us with," says her daughter, Aurelia Engel, to Jocelyn Noveck of the Associated Press (AP).
New York's Metropolitan Museum of Art and Museum of Modern Art, as well as the Centre Pompidou in Paris, are some of the museums that have displayed Gilot's art. While Picasso may have influenced her work, her artistic career began before the two met, and the unique style she created was hers alone.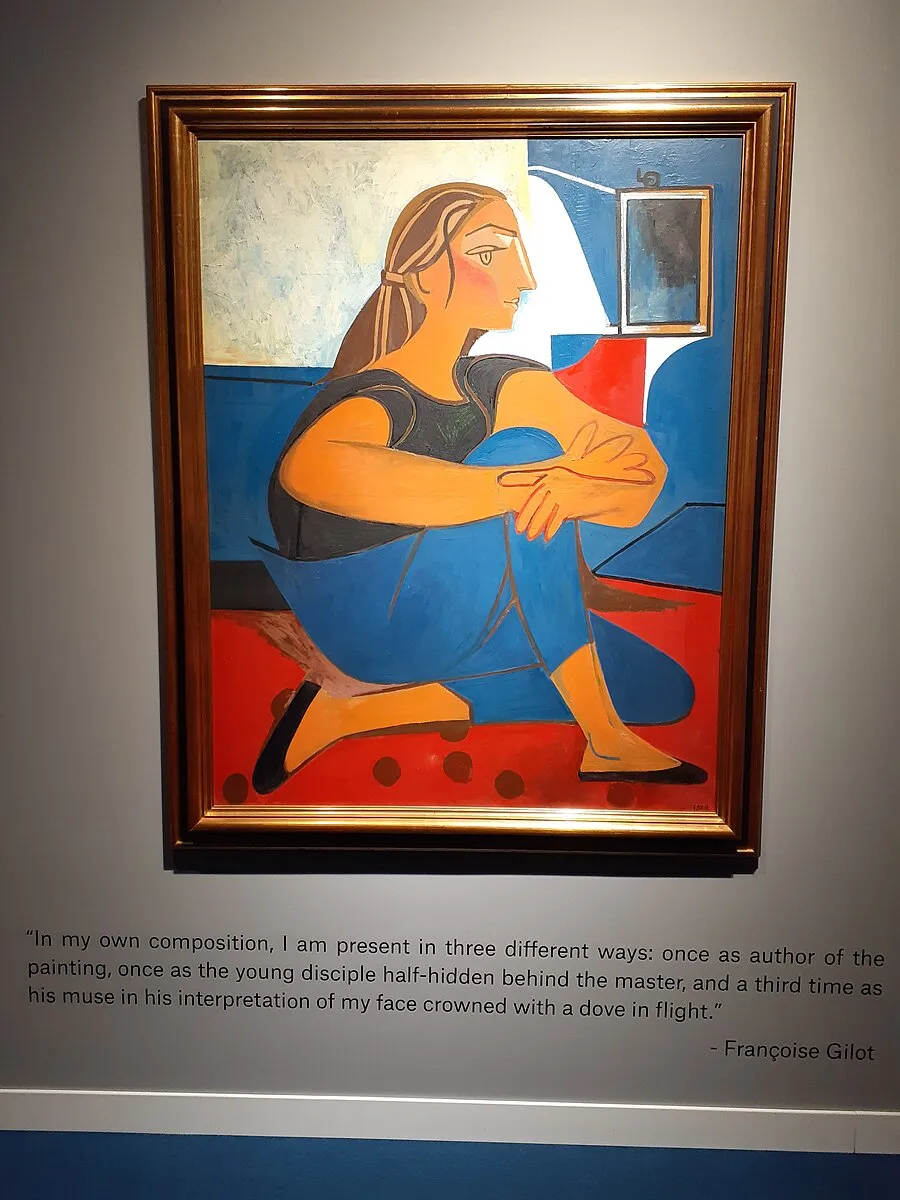 Born in a suburb of Paris in 1921, Gilot developed an interest in painting as a child. Her mother—who had studied art history, ceramics and watercolor painting—was her first tutor, per the New York Times' Alan Riding. Later, she took lessons with the Hungarian-French painter Endre Rozsda. Rozsda was Jewish, and he fled Paris in 1943.
The Guardian's Charles Darwent recounts a prophetic final exchange between the student and her teacher:
"As his train steamed out of the station, the 21-year-old Gilot wailed: 'But what am I to do?' Her teacher, laughing, shouted: 'Don't worry! Who knows? Three months from now, you may meet Picasso!'"
Gilot met Picasso when she was 21; Picasso was 61 and already a famous, established artist. Their relationship began in 1944. Gilot later recalled good memories from this early period, and Picasso's art from this time affirms this.
But Picasso, a notorious adulterer known for his abusive behavior toward women, quickly began mistreating her. Physical violence and blatant extramarital affairs were common during their relationship, even as the couple had two children together.
When Gilot finally left him in 1953, Picasso was shocked. He reportedly told her that she would be nothing without him; she was unmoved. Gilot recounted the harrowing relationship and its end in Life With Picasso, the memoir she published in 1964.
In it, she recalled Picasso claiming that "no woman leaves a man like me." Her response: "I told him maybe that was the way it looked to him, but I was one woman who would, and was about to."
The memoir angered the artist so much that he cut off contact with her and their children. He tried several times—always unsuccessfully—to prevent the memoir's publication in France.
Gilot recounted the relationship with unrelenting honesty, remembering his "extraordinary gentleness" in her memoir while commenting frankly on his abuse. Picasso introduced her to Georges Braque, Marc Chagall and Gertrude Stein, but he disparaged her value as an artist and told her that nobody would care about her when she was no longer connected to him.
Yet Gilot's legacy reaches far beyond Picasso, and in recent years, her work has garnered much more recognition. A 1965 portrait of her daughter sold for $1.3 million at auction in 2021, per the AP.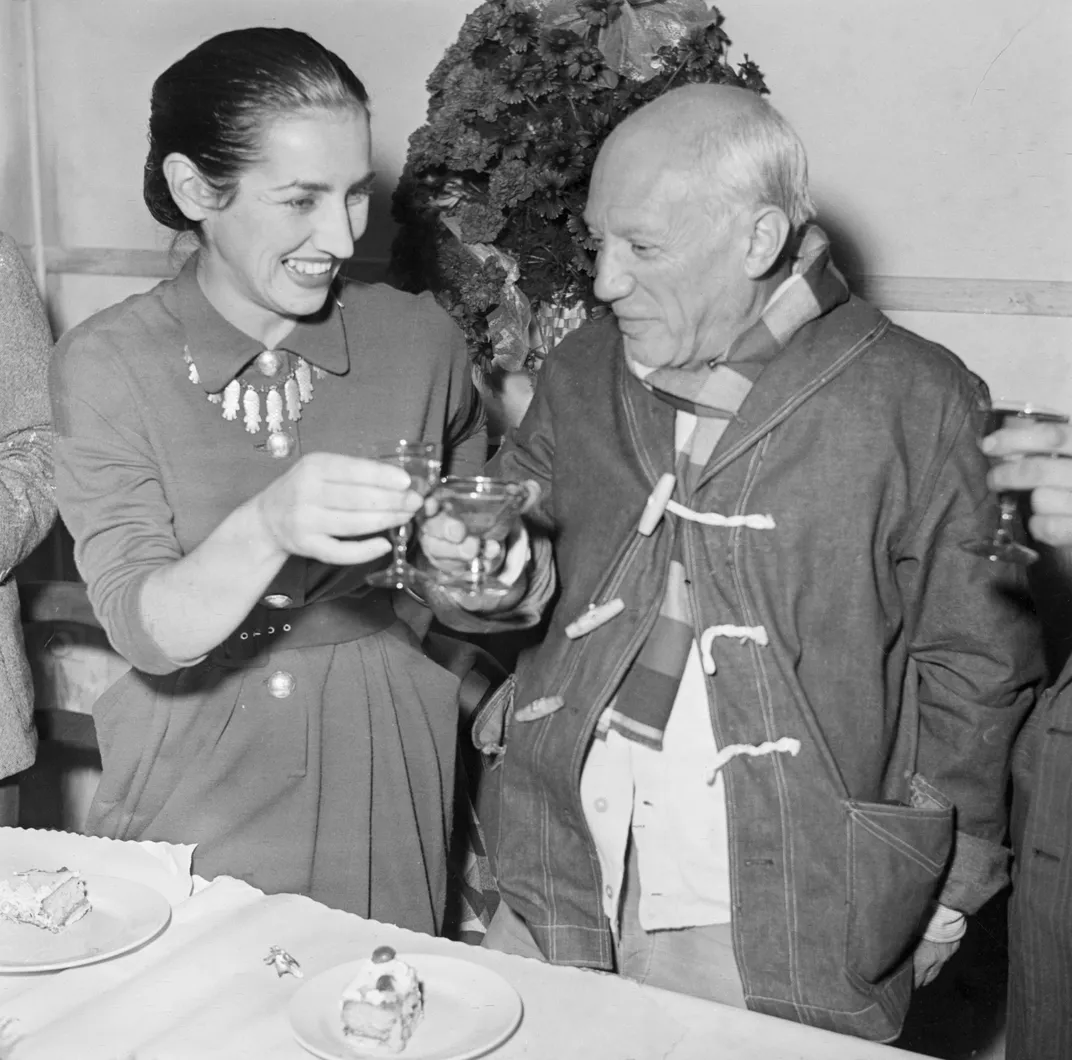 "To see Françoise as a muse (to Picasso) is to miss the point," says Simon Shaw, Sotheby's vice chairman for global fine art, to the AP. "While her work naturally entered into dialogue with his, Françoise pursued a course fiercely her own—her art, like her character, was filled with color, energy and joy."
During her life, Gilot emphasized that she never felt trapped or controlled by Picasso. In fact, in a 2022 interview for her 100th birthday with Ruth La Ferla of the Times, Gilot said that her fierce independence informed the art she created.
"As young women, we were taught to keep silent," she said. "We were taught early that taking second place is easier than first. You tell yourself that's all right, but it's not all right. It is important that we learn to express ourselves, to say what it is that we like, that we want."
A Note to our Readers
Smithsonian magazine participates in affiliate link advertising programs. If you purchase an item through these links, we receive a commission.
Flip-flop boats, 'trashion' and the Bag Monster: the art of discarded plastic – in pictures – The Guardian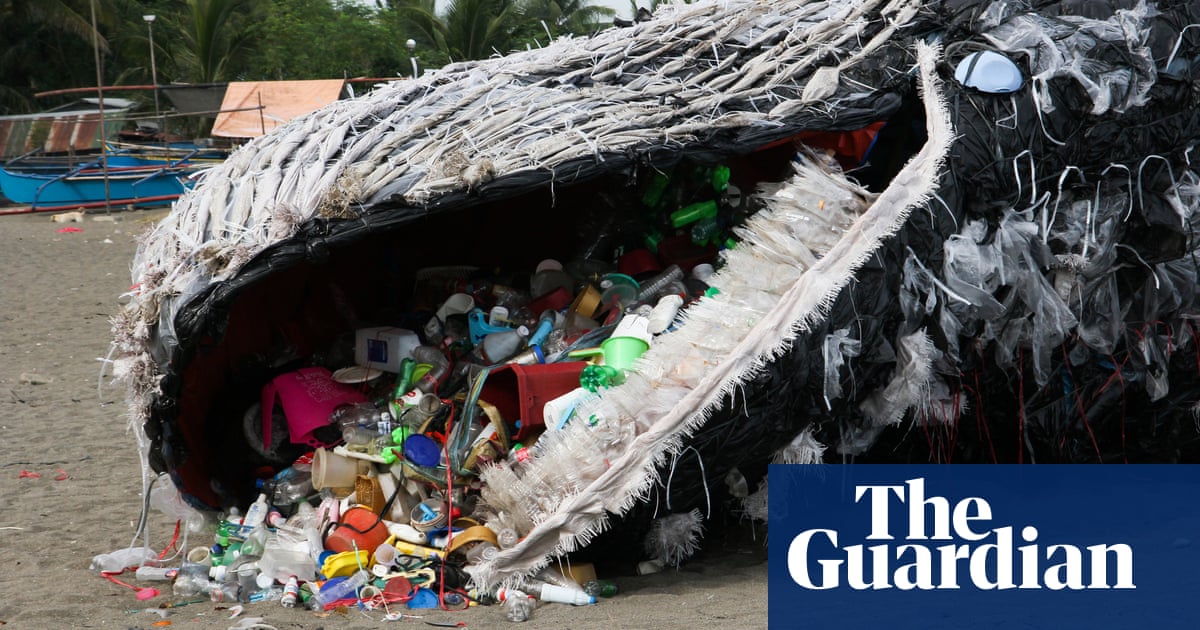 A visitor poses for photographs at the eco-art exhibition Anima Mundi: Soul of the World in Bangkok, Thailand, by Indonesian artist Mulyana, August 2019. Specialising in fabulous seascapes, Mulyana uses discarded metal, fabrics and materials such as rubber and plastic in his work to raise awareness of the environment.
Photograph: Mladen Antonov/AFP/Getty Images
Unveiling the Wonders of the World's Largest Road Art Auction – Yahoo Canada Sports
⚡️ Read the full article on Motorious
Start your collection now!
Introducing the inaugural World's Largest Road Art Auction, a live, in-person celebration of the finest Road Art pieces globally, set to be held at Mecum Auctions' headquarters in Walworth, Wisconsin from June 20-25. This event is the latest addition to Mecum's annual auction schedule and is anticipated to feature over 3,000 lots, ranging from vintage soda-pop signs, classic automobilia, and antique toys to pedal cars, kiddie rides, and jukeboxes.
The picturesque venue at the Wisconsin-Illinois border peaks in its natural splendor around the summer solstice, which this year conveniently falls right after the auction kickoff on June 21. For those who've yet to witness the midwestern United States at this time of year, the event offers a chance to experience the vibrancy of cities, suburbs, and the countryside in full bloom.
Road Art collecting offers an extensive array of genres, presenting a rich diversity of antique treasures to explore. Be it neon signs, framed ads, pedal cars, globes, or petrol-related collectibles, there's an artifact to spark interest for every individual with a keen eye for intriguing antiquities. The joy collectors feel when discovering a long-lost porcelain sign or a 1950s gas pump from childhood memories is truly incomparable.
While nostalgia often drives the fascination for collecting such artifacts, there are countless motivations that draw collectors to engage in this pursuit. It's not merely the pieces collected, but the sense of community fostered through shared passion, appreciation of history, and the common bonds formed among a diverse group of enthusiasts that makes Road Art a beloved hobby.
Whether your urge to collect is to honor personal history, appreciate the style and history of items, or revel in shared interests with fellow enthusiasts, Road Art offers an appeal for all. This year, everyone is invited to participate in the first-ever World's Largest Road Art Auction, set to take place from June 20-25 at Mecum Auctions headquarters.
Sign up for the Motorious Newsletter. For the latest news, follow us on Facebook, Twitter, and Instagram.