TD on deal hunt after BancWest bid as Canadian lenders pursue U.S. growth
Toronto-Dominion Bank is leading the charge of cash-rich Canadian banks seeking to make a foray in the United States and find growth away from their home turf where the Big Six banks already control nearly 90% of the market.
Billions of dollars of excess cash amassed during a nearly two-year moratorium on capital redistributions that was only lifted last month, and share prices close to record highs have given Canadian banks an acquisition currency to bet on the exit and downsizings of several European and international banks.
The sale of BNP Paribas' U.S. unit, Bank of the West (BancWest), is the latest example of pent-up demand, with Toronto-Dominion Bank battling it out with rival Canadian lender Bank of Montreal, two sources familiar with the matter said.
Bank of Montreal said on Monday it will buy BNP Paribas' unit, Bank of the West, for $16.3 billion in its biggest deal ever.
TD, Canada's second-largest bank by market value, had looked at every major asset portfolio that came up for sale, including the U.S. businesses sold by Mitsubishi UFJ (MUFG) in September and BBVA in November 2020, the sources said.
It remains on the hunt for acquisitions in the United States after its narrow loss to BMO.
TD and BMO spokespersons did not comment on the bidding process or future growth plans in the United States. MUFG declined comment on the Canadian banks' interest in their assets and BBVA did not immediately respond to a request for comment.
"Banking is a scale, technology and sophistication game," said Brian Madden, portfolio manager at Goodreid Investment Counsel.
He added that Canadian banks already in the United States are well placed to scale up their U.S. operations since they "happen to be directly adjacent to the largest banking market on the planet."
TD executives said earlier this year that the bank "will not be shy" to do a bank deal in the U.S. Southeast or in any area where it currently has operations, primarily on the East Coast.
Having missed out on some big acquisitions, TD is now likely to turn its attention to smaller banks, one of the sources said.
Along with TD and BMO, Royal Bank of Canada, Canadian Imperial Bank of Commerce (CIBC), Bank of Nova Scotia and National Bank of Canada round out Canada's Big Six banks.
TD is one of the top 10 banks in the United States, and Royal Bank owns City National, the ninth-largest bank in California by deposits.
Royal Bank has also been undergoing U.S. expansion, although Canada's biggest lender is more focused on its wealth management https://www.reuters.com/article/us-rbc-wealth-idUSKBN25U1I6 business in the United States.
And CIBC, which entered the United States in 2017 with its acquisition of PrivateBancorp, has said it is aiming for increased earnings from the country in the coming years.
Royal Bank did not respond to a request for comment. CIBC declined to comment.
BMO'S CHASE
BMO had pursued BancWest after losing out on the U.S. retail business of MUFG, Japan's biggest lender, one of the sources said. MUFG ended up selling its U.S. retail business to U.S. Bancorp for $8 billion.
BMO made a competitive bid for MUFG's assets, and its disappointment at losing out propelled Canada's fourth-largest bank to move fast on the BancWest sale, the source said.
BNP Paribas, advised by Goldman Sachs and JPMorgan, entered parallel discussions with both TD and BMO, raising pressure on both bidders to finalise their offers as it fretted that regulatory headwinds could hamper the sale, the sources said.
BNP Paribas did not respond to a request for comment.
While TD initially made a low bid and subsequently raised it, BMO was more aggressive with its first proposal and was quick at declaring its offer "best and final" in December after offering a final sweetener, one of the sources said.
The deal will make BMO the 16th biggest bank by assets in the United States, up from 19th now, and lifts its assets to nearly $300 billion.
By merging with U.S. rivals, Canadian banks with an existing U.S. presence are expected to extract better returns from these businesses than smaller players, even when they appear to pay a premium as BMO did for BancWest, said Anthony Visano, portfolio manager at Kingwest & Co.
"Sometimes the strategic value trumps the financial consideration," Goodreid Investment's Madden said.
(Reporting by Pamela Barbaglia in London and Nichola Saminather in Toronto; Editing by Megan Davies and Matthew Lewis)
China cuts rates on policy loans for first time since April 2020 – CNBC
A woman walks past the headquarters of the People's Bank of China in Beijing, China.
Jason Lee | Reuters
China's central bank on Monday cut the borrowing costs of its medium-term loans for the first time since April 2020, defying market expectations, to cushion any economic slowdown.
The People's Bank of China (PBOC) said it was lowering the interest rate on 700 billion yuan ($110.19 billion) worth of one-year medium-term lending facility (MLF) loans to some financial institutions by 10 basis points to 2.85% from 2.95% in previous operations.
Thirty-four out of the 48 traders and analysts, or 70% of all participants, polled by Reuters last week predicted no change to the MLF rates, although a rising number of market participants start to forecast a rate cut.
With 500 billion yuan worth of MLF loans maturing on Monday, the operation resulted a net 200 billion yuan of fresh fund injections into the banking system.
The central bank also lowered the borrowing costs of seven-day reverse repurchase agreements, or repos, by the same margin to 2.10% from 2.20%, when it offered another 100 billion yuan worth of reverse repos into the banking system on the day, compared with 10 billion worth of such short-term liquidity tool due on Monday.
Credit Suisse chairman resigns after company probe – BBC News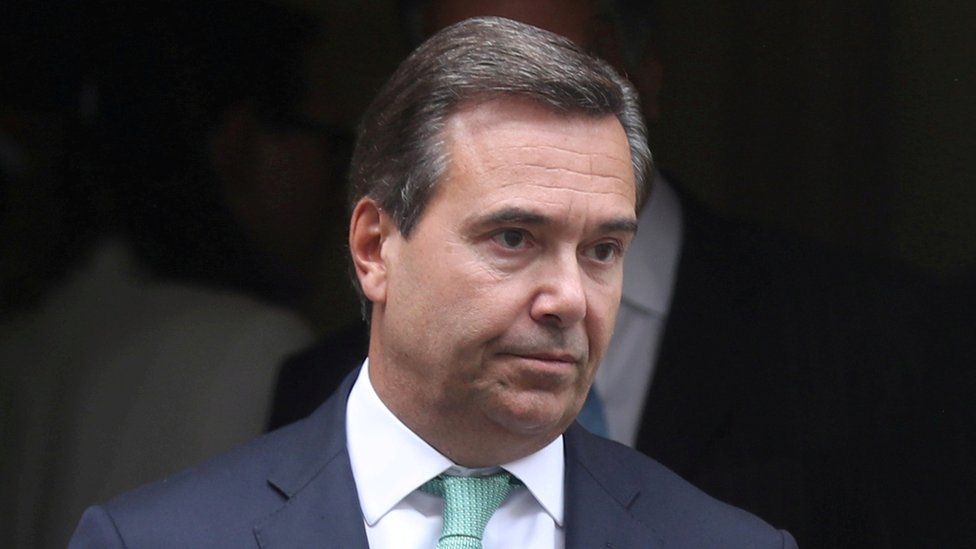 The chairman of global banking giant Credit Suisse, Antonio Horta-Osorio, has resigned with immediate effect after an internal company probe.
He was reportedly found to have broken the UK's Covid-19 quarantine rules.
The former boss of Lloyds Banking Group joined Credit Suisse after a series of scandals at the Swiss bank.
Now, Mr Horta-Osorio, who was the chairman of Credit Suisse for less than a year, has been replaced by board member Axel Lehmann.
"I regret that a number of my personal actions have led to difficulties for the bank and compromised my ability to represent the bank internally and externally," Horta-Osorio said in a statement issued by the bank.
"I therefore believe that my resignation is in the interest of the bank and its stakeholders at this crucial time," he added.
Last month, it was reported by the Reuters news agency that a preliminary investigation by Credit Suisse had found that Mr Horta-Osorio had breached Covid-19 rules.
He reportedly attended the Wimbledon tennis finals in July at a time when the UK's Covid-19 rules required him to be in quarantine.
Speaking to the BBC, a spokesperson for Credit Suisse said that the bank would give no further details on Mr Horta-Osorio's resignation other than those in its statement.
They also said that there were no plans to release the findings of the investigation.
Before joining Credit Suisse Mr Horta-Osorio was chief executive of British lender Lloyds Banking Group.
He was brought in to lead Switzerland's second-largest bank to help clean up a corporate culture marred by its involvement with collapsed investment company Archegos and insolvent supply chain finance firm Greensill Capital.
In February 2020, then-Credit Suisse chief executive Tidjane Thiam resigned after a scandal revealed the bank had spied on senior employees.

You may also be interested in:
UK government to cut funding for BBC – Mail on Sunday report
Britain's government will cut the BBC's funding by ordering a two-year freeze on the fee that people pay to watch the broadcaster, the Mail on Sunday reported.
The future of the licence-payer funded British Broadcasting Corporation is a perpetual topic of political debate, with Prime Minister Boris Johnson's government most recently suggesting its funding needs to be reformed.
Set against an inflation rate expected to reach a 30-year high of 6% or more in April, freezing the licence cost at its current 159 pounds ($217.40) would provide some relief to consumers battling sharply rising costs of living.
But it would also be a large blow to the BBC's finances as it tries to compete with privately funded news outlets and the likes of Netflix and other entertainment streaming services funded by consumer subscriptions.
In November, the government launched negotiations to agree how much the TV licence would cost, part of a five year funding settlement due to begin in April 2022.
The Digital, Media, Culture and Sport department declined to comment when asked about the Mail on Sunday report.
Culture secretary Nadine Dorries said that the licence fee settlement would be the last such agreement and tweeted a link to the Mail on Sunday article.
"Time now to discuss and debate new ways of funding, supporting and selling great British content," she said on Twitter.
The BBC declined to comment on Dorries' tweet or the Mail on Sunday report.
The opposition Labour Party said the funding cut was politically motivated.
"The Prime Minister and the Culture Secretary seem hell-bent on attacking this great British institution because they don't like its journalism," said Lucy Powell, Labour lawmaker and culture policy chief.
The BBC's news output is regularly criticised by UK political parties. Its coverage of Brexit issues – central to Johnson's government – has long been seen as overly critical by supporters of leaving the European Union.
Last week, one Conservative lawmaker said BBC coverage relating to parties in Johnson's Downing Street residence during coronavirus lockdowns amounted to a "coup attempt" against the prime minister.
($1 = 0.7314 pounds)
(Reporting by William James. Editing by Jane Merriman)