Tejashwi Yadav: Bihar's promising new leader in Indian regional politics – BBC News


.css-94m6rd-HeadingWrapperborder-bottom:solid 1px #BABABA;padding-bottom:1.5rem;.css-94m6rd-HeadingWrapper > *:not([hidden]):not(style) ~ *:not([hidden]):not(style)margin-top:1rem;.css-vk3nhx-ComponentWrappermargin:1.5rem 0;
.css-1759m9z-StyledFigurefont-family:ReithSans,Helvetica,Arial,freesans,sans-serif;font-weight:400;font-size:0.875rem;line-height:1.125rem;
.css-uf6wea-RichTextComponentWrappermargin:1rem 0;max-width:36.25rem;
.css-83cqas-RichTextContainercolor:#3F3F42;.css-83cqas-RichTextContainer > *:not([hidden]):not(style) ~ *:not([hidden]):not(style)margin-top:1rem;
.css-14iz86j-BoldTextfont-weight:bold;As a cricketer, Tejashwi Yadav was a flop.
The political dynast had dropped out of school to pursue a career in cricket. He scored a paltry 37 runs in seven first class games and spent four seasons on the Delhi team's bench in the prestigious Indian Premier League. Mr Yadav quit the game in 2012 and plunged into politics in his home state of Bihar.
This time .css-yidnqd-InlineLink:linkcolor:#3F3F42;.css-yidnqd-InlineLink:visitedcolor:#696969;.css-yidnqd-InlineLink:link,.css-yidnqd-InlineLink:visitedfont-weight:bolder;border-bottom:1px solid #BABABA;-webkit-text-decoration:none;text-decoration:none;.css-yidnqd-InlineLink:link:hover,.css-yidnqd-InlineLink:visited:hover,.css-yidnqd-InlineLink:link:focus,.css-yidnqd-InlineLink:visited:focusborder-bottom-color:currentcolor;border-bottom-width:2px;color:#B80000;@supports (text-underline-offset:0.25em).css-yidnqd-InlineLink:link,.css-yidnqd-InlineLink:visitedborder-bottom:none;-webkit-text-decoration:underline #BABABA;text-decoration:underline #BABABA;-webkit-text-decoration-thickness:1px;text-decoration-thickness:1px;-webkit-text-decoration-skip-ink:none;text-decoration-skip-ink:none;text-underline-offset:0.25em;.css-yidnqd-InlineLink:link:hover,.css-yidnqd-InlineLink:visited:hover,.css-yidnqd-InlineLink:link:focus,.css-yidnqd-InlineLink:visited:focus-webkit-text-decoration-color:currentcolor;text-decoration-color:currentcolor;-webkit-text-decoration-thickness:2px;text-decoration-thickness:2px;color:#B80000;exit polls for elections in Bihar predicted his time had come. They said Mr Yadav's regional Rashtriya Janata Dal (RJD)-led alliance would outperform the ruling Janata Dal (United) or JD-U coalition against the run of play. The alliance which has run Bihar for 15 years is helmed by Nitish Kumar, one of India's most influential regional leaders, whose star is on the wane. But the alliance also counted Narendra Modi's BJP as a key partner: the prime minister addressed well-attended campaign meetings in the state to boost his ally's re-election.
Mr Yadav had arrived late to the party. The odds were seemingly stacked against him. His adversaries mocked him as a political lightweight.
More importantly, he had to shed the spotty legacy of his father, Lalu Prasad Yadav, who is serving a prison term for corruption. A colourful and avowedly secular leader, the 72-year-old strongman's 15-year-old rule in Bihar had gained notoriety for misrule and corruption. On the stump, Mr Modi evoked memories of the "law of the jungle" in one of India's poorest states.
But like most political dynasts, Mr Yadav also had a head start. In a state where caste loyalties are unbending, Mr Yadav inherited from his father the allegiance of a third of the voters, largely belonging to his Yadav caste and Muslims. This was a coalition that Lalu Prasad Yadav had painstakingly stitched together: he described his politics as one of "social justice and equality", ranged against the historical tyranny of upper castes in a feudal state.
.css-18mjolk-ComponentWrappermargin:1.5rem 0;max-width:50rem;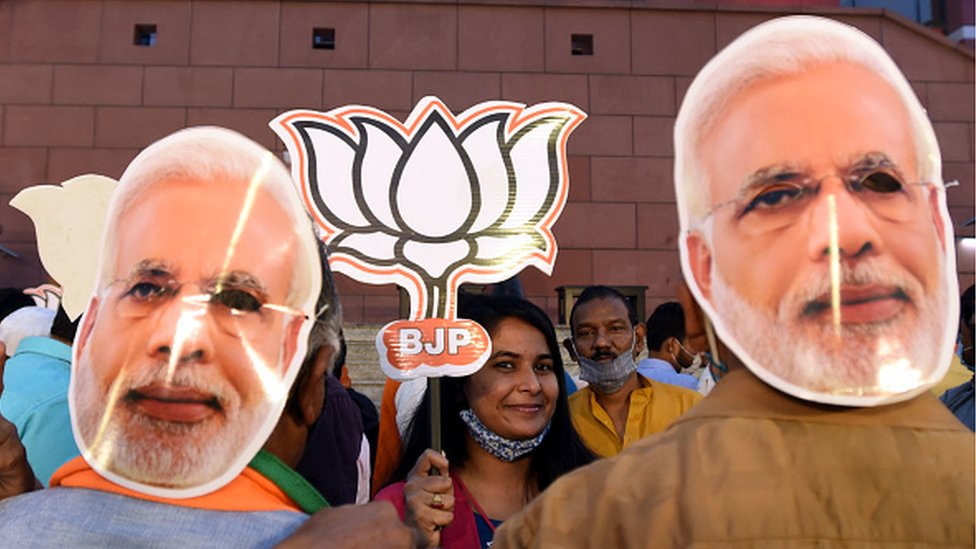 Mr Yadav ran a brisk campaign. He kept his speeches short and crisp, put caste on the backburner and spoke relentlessly about jobs, healthcare and education. He "represents a rebranding of his father's social justice politics and his success and support are inseparable from this legacy", Jeffrey Witsoe, a political anthropologist who has studied caste in Bihar, says.
Mr Yadav kept his family – he is the youngest of his parents' nine children – out of the campaign. Now it was the time for Mr Kumar to face the heat, he said.
Yet, Mr Yadav fell short.
His party won more than half of the seats -75 of 144 – it contested and emerged as the single largest party. But the party's main ally Congress struggled – winning just 19 of the 70 seats it contested – and dragged down the coalition. Mr Kumar's rainbow coalition won the tight fight.
"Tejashwi did a good job. He got his party back in the game. He enthused his voters, but failed to expand his base," says Rahul Verma, a fellow at the Centre for Policy Research, a Delhi-based think tank.
Winning more than half of the seats it contested – 74 out of 110 – the BJP emerged as the senior partner in the winning alliance for the first time. This is significant because Bihar is also the only big state in India's sprawling and politically febrile "Hindi-speaking heartland" that the BJP has not won on its own.
Ruling Bihar on its own is still some distance away. But the BJP has arrived in Bihar, say analysts, on the back of welfarism, religious polarisation, a clear understanding of caste dynamics, a hard-working party organisation, vast resources and support of the large sections of mainstream media.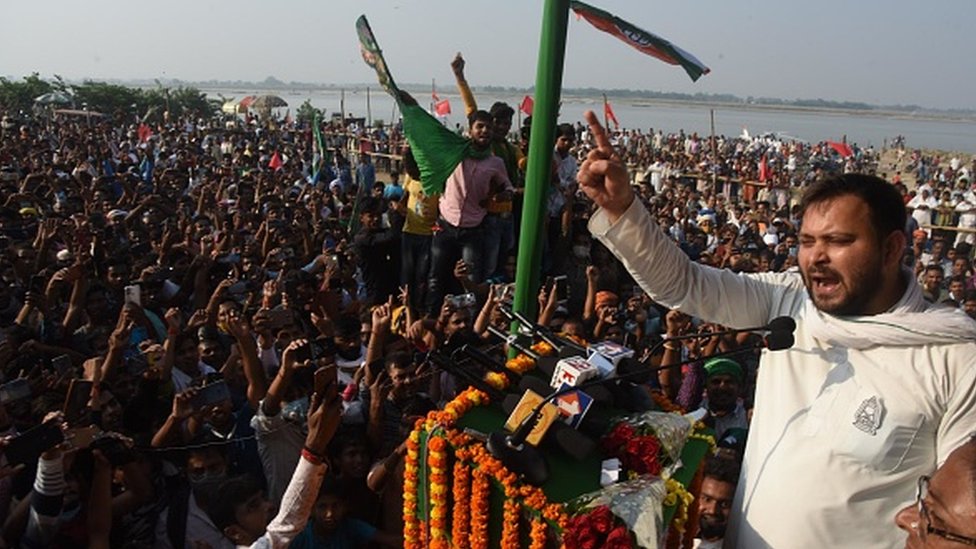 Much of its performance in Bihar can be also attributed to the undiminished popularity of Mr Modi, who has "transformed into a brand", according to Suhas Palshikar, a leading political scientist. "Like a brand it can be used in any state, any context and against any competition," he says.
The Bihar elections clearly show Mr Modi continues to be India's most popular leader. At the same time, Mr Modi's party itself has a mixed record in state elections – the BJP has lost more elections than it has won in the past six years. It has not won a clear majority in any state since polls in Uttar Pradesh four years ago.
Mr Yadav's fighting performance, believe analysts, also demonstrates that there is a new template emerging in India's elections.
"Keep the election local, focus on local issues and field strong local leaders. Don't go national, and don't attack Mr Modi. Match your leader with a rival regional leader," says Mr Verma.
In other words, Mr Modi's BJP will continue to remain the dominant federal party with an expanding pan-Indian footprint in the near future even as regional parties fight to recover from their past debacles.
But the overwhelming dependence on Mr Modi and the failure to win state elections "will begin to stick to Mr Modi sooner or later – not just in the minds of outsiders, but within the BJP", says Mr Palshikar. Mr Yadav, who turned 31 on Monday, has time on his side.

Read more from Soutik Biswas
.css-1pzprxn-BulletListContainermargin-left:1.5rem;.css-1pzprxn-BulletListContainer *:not([hidden]):not(style) ~ *:not([hidden]):not(style)margin-top:1rem;.css-1pzprxn-BulletListContainer ullist-style-type:disc;.css-1pzprxn-BulletListContainer ollist-style-type:decimal;

.css-144ki52-SectionWrappermargin:1.5rem 0;padding-top:1.5rem;
Montreal Mayor Valerie Plante releases graphic novel detailing political journey – EverythingGP
"For me the graphic novel format was always what I wanted," she said in a recent interview at her publisher's offices.
"I think it's accessible, it can be fun, and I love graphic novels myself."
The book is based on Plante's own sketches and anecdotes she began jotting down in 2013, during her first run for a seat on city council. Four years later, she became the first woman elected mayor of Montreal after her surprise defeat of experienced incumbent Denis Coderre.
While the writing and drawings were initially a form of self-care to help her "stay balanced," she said she eventually came to see that her story might inspire others, especially young girls.
"I wanted to show, and maybe tell, people it's OK not to have all the keys and codes to do something you think would be a good thing to do or you believe in," she said.
"Just go for it."
She began working with Cote-Lacroix on evenings and weekends, taking about two years to finalize the story and illustrations.
Plante said that, much like her character in the book, she had been looking for a new challenge before her entry into politics. Then she received a phone call from left-wing municipal party Projet Montreal, which was looking to diversify its slate of candidates.
In the book, Plante doesn't shy away from the challenges faced by women who put themselves in the public eye. At one point, one of her character's posters is defaced by sexist graffiti. In another, her character's husband gets effusive praise for helping to care for the couple's children — something the book points out is a given for female political spouses.
While the book "won't change sexism," Plante said she hopes it will help highlight the double standards women face.
Three years into her mandate, Plante has had a bumpy year, marked by a global pandemic that has devastated the city's economy and criticism over her administration's failure to implement its big visions for affordable housing and transportation. She has also faced anger over what some have described as an anti-car agenda, which includes building bike lanes, eliminating parking spots and temporarily closing some streets to vehicle traffic to create "sanitary corridors."
At times, that criticism has escalated to the level of death threats.
While some criticism is to be expected, Plante attributes much of the public anger directed her way to the anxiety wrought by the pandemic.
"Not to minimize their actions of being very aggressive, violent or doing death threats, but I like to hope in the future, when people are less stressed and in a better position, things will calm down," she said.
She also faced criticism earlier this year over her novel itself, with some high-profile commentators questioning her decision to "draw cartoons" as the city was embroiled in the COVID-19 crisis.
Plante dismissed this as unfounded, especially since she says the writing process wrapped up in late 2019.
"People were just kind of trashing the book (without) even reading it, which I thought was sad, because it wasn't about the content, it was about criticizing the author," she said. However, she did push back the book's publication for a few months when the pandemic's second wave began.
Plante said she would still recommend politics to young people who want to make a difference, even as she acknowledges it's a "tough" career that comes with unusual levels of public exposure.
"But hopefully people see in the book, the love that you get from your volunteers, it's a community, it's people working together," she said.
"It's worth it."
This report by The Canadian Press was first published Nov. 28, 2020.
Morgan Lowrie, The Canadian Press
Politics Briefing: Murray Sinclair to resign from Senate – The Globe and Mail
Hello,
Senator Murray Sinclair says he's ready to retire.
Mr. Sinclair announced this afternoon that he will step down from his position representing Manitoba in the Red Chamber in January, when he turns 70.
Mr. Sinclair is one of Canada's most respected jurists, the second Indigenous judge in Canadian history and the chair of the Truth and Reconciliation Commission, which delivered its landmark report in 2015 that included 94 calls for action to the federal government. Prime Minister Justin Trudeau, who has committed to meet all 94 calls, appointed Mr. Sinclair to the Senate in 2016.
Mr. Sinclair told The Globe he still hopes to be a voice on the national stage, even if he is leaving Parliament Hill.
This is the daily Politics Briefing newsletter, written by Chris Hannay. It is available exclusively to our digital subscribers. If you're reading this on the web, subscribers can sign up for the Politics newsletter and more than 20 others on our newsletter signup page. Have any feedback? Let us know what you think.
TODAY'S HEADLINES
Mr. Trudeau says that even if Canada will not be among the first country to receive vaccines against COVID-19, Canadians should instead focus on the fact that most of the country could be inoculated against the virus by next fall.
The Liberal government will table its fall economic statement on Monday, which will give Canadians some idea of how large the deficit is. A C.D. Howe report suggests the government could dig its way out of debt again if it raised the GST.
Liberal and Conservative MPs shut down the pleas of the Canadian relatives of Boeing 737 Max crash victims for a public inquiry into the plane's safety.
Eric Duncan, the first openly gay Conservative MP, pressed the Liberal government on why they haven't followed through with election promises to end the ban on gay men giving blood.
And Ingenium, the Crown corporation that runs Canada's national science museums, has a new acquisition: a bottle of billion-year-old water, which was discovered at the bottom of a mine near Timmins, Ont. "It's a credit to our spirits that despite these challenging times, we can continue doing science and doing really, really cool things like getting a hold of a water sample that's a billion years old," Heritage Minister Steven Guilbeault said.
Robyn Urback (The Globe and Mail) on vaccine nationalism: "Prime Minister Justin Trudeau's approval rating is more than 14 points higher than it was this time last year, despite a tumultuous summer of scandal and enduring delays by the federal government to deliver programs such as comprehensive rapid COVID-19 testing at airports. That congeniality will run out, however, if and when Canadians are forced to watch peer nations start vaccinating their citizens while this country effectively remains in lockdown."
Andrew Coyne (The Globe and Mail) on the vaccine challenges ahead: "At any rate, hold on – it can only get worse. Even assuming Health Canada parts with the habits of a lifetime and approves the first vaccine more or less simultaneously with its U.S. and European counterparts, and even assuming the vaccines can be shipped to Canada in advance of approval, and stored (in super-cold conditions) until then, that still leaves the ultimate logistical nightmare: getting them into the arms of millions of Canadians, safely and speedily."
John Ibbitson (The Globe and Mail) on why the city of Ottawa has fared better in the pandemic than Toronto: "The capital may be, as the late Allan Fotheringham called it, the town that fun forgot, but it is also a town filled with well-educated people in white-collar jobs who mostly live in suburbs, work from home, and drive cars. That may not be a very exciting description of a city, but in a pandemic, it's the place you want to be."
Fariha Naqvi-Mohamed (Montreal Gazette) on the next few months: "This winter will be like no other. We need to be proactive in combatting isolation, seasonal depression and loneliness, which will only be exacerbated by the long, dark days ahead."
Shachi Kurl (Ottawa Citizen) on battling COVID-19 fatigue: "No longer do we gush over cool scientists who wear Fluevog shoes and periodic table dresses. They've started to sound like mom. I love my mom; she is the best. She reminds me daily to take my vitamins. I confess, I've tuned her out too."
Got a news tip that you'd like us to look into? E-mail us at tips@globeandmail.com. Need to share documents securely? Reach out via SecureDrop
OPINION | The politics behind Jason Kenney's 'tepid' response to COVID-19 – CBC.ca
This column is an opinion from political scientists Duane Bratt, of Mount Royal University, and Lisa Young, of the University of Calgary.
Jason Kenney is a shrewd and experienced politician.
He has years of experience as a cabinet minister in Stephen Harper's government, and was instrumental in helping Harper win a majority in 2011. Returning to Alberta politics, he successfully merged the Progressive Conservative and Wildrose parties and won a resounding victory in the 2019 provincial election.
And yet, in the face of the COVID-19 crisis, he and his government are floundering.
Alberta has the largest absolute number of COVID cases in Canada, despite having the fourth largest population. For 10 days in mid-November, Kenney did not appear in public despite rapidly increasing case counts, hospitalizations and deaths.
Eight months into the pandemic, his cabinet had to meet for eight hours to devise responses that many dismissed as inadequate. And most recently, a public servant has taken the unusual move of leaking information to journalists to highlight the growing divide between the Kenney government and its chief medical officer of health.
Opinion polling shows that the Kenney government is paying a price for its handling of the pandemic.
Even in the early days of COVID-19, it was noticeable that the Kenney government missed out on the "COVID bump" that most other political leaders enjoyed. This was despite the fact that, in many ways, the Alberta government had responded effectively to the first wave.
But unlike other provincial governments, Kenney and his cabinet were engaged in a very public fight with doctors at a time when the public was banging pots and pans in appreciation of front-line workers.
Not taking a lesson from this, the government engaged in a broader dispute with health-care workers through the fall, and its poll numbers continued to drop.
A slide in public support
Last week, Leger reported that only 37 per cent of Albertans believed that their provincial government was handling COVID-19 well; the lowest, by far, of any province. Then, ThinkHQ reported that 81 per cent of Albertans would support a province-wide mask mandate.
It is unlikely that the measures announced on Nov. 24 will reverse, or even halt, this slide in public support.
How did a skilled politician like Kenney end up in this situation? We offer a few hypotheses.
First, Kenney is almost certainly concerned about an electoral split on the right. Public opinion on appropriate responses to COVID is split along partisan lines, with those further to the right more resistant to mandatory measures.
Common Ground Politics survey research conducted in Alberta in August found that UCP voters were more likely than others to think that the reopening was too slow. A national survey conducted by Vox Pop found that Conservative voters were less likely to wear masks.
WATCH | Alberta Premier Jason Kenney announces new COVID-19 restrictions for Alberta
Premier Jason Kenney outlined the new mandatory restrictions coming into effect, including a ban on all indoor social gatherings. 2:35
In his comments on Tuesday, the premier focused a great deal of attention on acknowledging the concerns of those on the right, who argue that restrictions are unconstitutional, for example.
The Alberta separatist (or "Wexit") movement has gained momentum since the 2019 federal election and Justin Trudeau's re-election.
With his experience merging conservative parties at both the federal and provincial level, the premier is presumably concerned about vote splitting on the right. By appeasing conservatives, especially in rural Alberta, Kenney is consolidating his base.
With 41 of the 87 seats in the Alberta legislature outside of Edmonton and Calgary, consolidating that base makes electoral sense.
The restrictions that were announced on Tuesday, and the exemptions that were offered, lend support to this hypothesis.
Certainly, the decision to extend mask mandates only in Calgary and Edmonton (where they were already required through municipal bylaws) speaks to a desire to please conservative rural voters.
Similarly, the decision to permit in-person religious services to continue while junior high and high schools had to close speaks to a desire to keep voters in conservative-leaning faith communities onside.
Response informed by ideology
Second, Kenney and many of his close advisors are strong partisans prone to demonizing their political opponents.
Although Alberta has elected conservative governments for decades, we have to go back to the Social Credit governments of the 1950s and 1960s to find a more ideologically conservative government than the current UCP. Although Ralph Klein's government was driven by fiscal conservatism in its early years, its policies moderated in later years.
The Kenney government's strong ideological conservatism has informed its pandemic response, particularly since the end of the spring lockdown.
The government's approach has been to emphasize personal responsibility rather than implementing restrictions.
Citing the economic cost of the lockdown, Kenney has repeatedly minimized the toll of the pandemic while emphasizing the negative consequences of restrictions on the economy broadly, and small business in particular.
This helps to explain why restaurants, bars, casinos, movie theatres and gyms are permitted to remain open, although with some further restrictions.
While other conservative provincial governments — notably Ontario and Manitoba — are placing greater restrictions on retail, Alberta is not.
WATCH | University of Alberta's Tim Caulfield says the province needs a transparent approach to pandemic policy
Tim Caulfield, an expert in health law at the University of Alberta, says the province needs a co-ordinated and transparent approach when making policy around the coronavirus. 5:40
Third, having been elected on a mandate of "jobs, economy, pipelines," the Kenney government remains focused on economic performance.
Its promise of balanced budgets are, of course, no longer feasible, but the government remains deeply concerned about the province's balance sheet. This helps to explain the decision to push forward on cost savings in the public sector — including health-care — during the pandemic, as well as decisions that prioritize the economy.
These three explanations — electoral considerations, ideology, and a focus on the economy — have resulted in a pandemic response that looks weak when compared to other provinces.
This is a moment that tests political leaders, requiring them to set aside political considerations in favour of the public good. Lives are at stake.
As the death toll continues to rise, the government's tepid response will come under greater public scrutiny, and the political calculations that have informed it will appear increasingly out of touch.
If the Kenney government is unable to adjust to these new realities, it may pay a steep political price in 2023, as the electorate holds it accountable for both the economic and human cost of the pandemic.
---
This column is an opinion. For more information about our commentary section, please read our FAQ.