Testing Apple's New Magic Keyboard for iPad Pro – MacRumors
Apple last week surprised us with the early launch of the new Magic Keyboard designed for the 2018 and 2020 iPad Pro models, and as of this week, orders are arriving to customers. We picked up one of the new Magic Keyboards for the 12.9-inch ‌iPad Pro‌ and tested it out to see how it works and whether it's worth the $350 selling price.
Subscribe to the MacRumors YouTube channel for more videos.
Apple actually sells the Magic Keyboard in 11 and 12.9-inch sizes, and while the 12.9-inch model is $350, the 11-inch version is priced at $299. Though sized to fit the 2020 ‌iPad Pro‌ models, the Magic Keyboards are also compatible with the 2018 ‌iPad Pro‌ models, so 2018 ‌iPad Pro‌ owners won't need to upgrade to take advantage of the keyboard.

Apple has offered an iPad keyboard in the form of the Smart Keyboard (and ‌Smart Keyboard‌ Folio) for quite some time, but this is the first time that Apple has developed an ‌iPad‌ keyboard with a trackpad with the intention of turning the ‌iPad‌ into something more akin to a MacBook.
Design wise, coming out of the box, the Magic Keyboard looks similar to the ‌Smart Keyboard‌ that was previously sold, but it's a lot thicker and a lot heavier.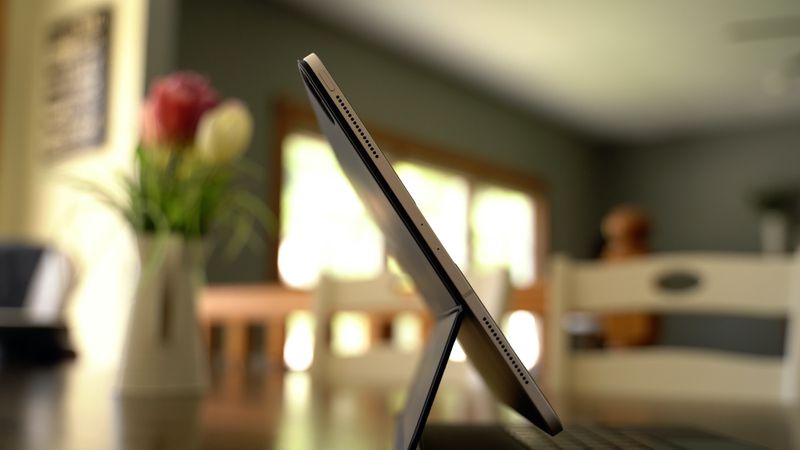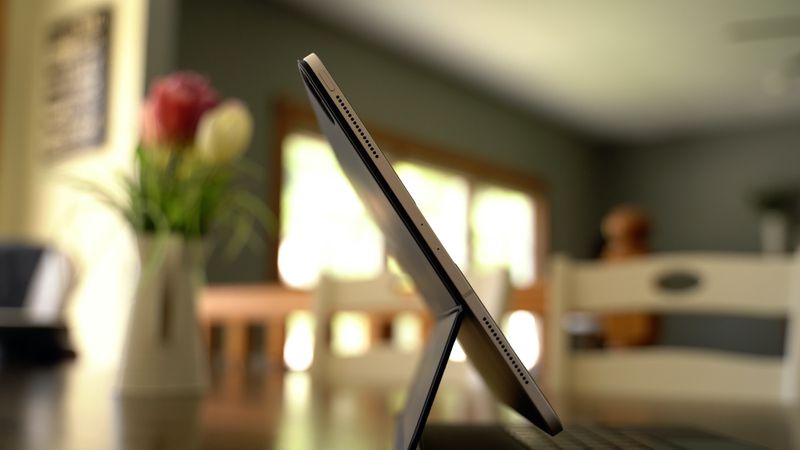 The Magic Keyboard for the 12.9-inch ‌iPad Pro‌ weighs more than the ‌iPad Pro‌ itself, in fact, at 1.6 pounds (the ‌iPad Pro‌ weighs 1.4 pounds). When you put the keyboard on the ‌iPad Pro‌, that's a combined weight of three pounds, which is heavier than a MacBook Air and close to the weight of a MacBook Pro.
It is a hefty keyboard that absolutely adds a lot of bulk to the sleek and slim ‌iPad Pro‌. The 11-inch Magic Keyboard is smaller and not quite as heavy, but you're still doubling the weight of the ‌iPad‌.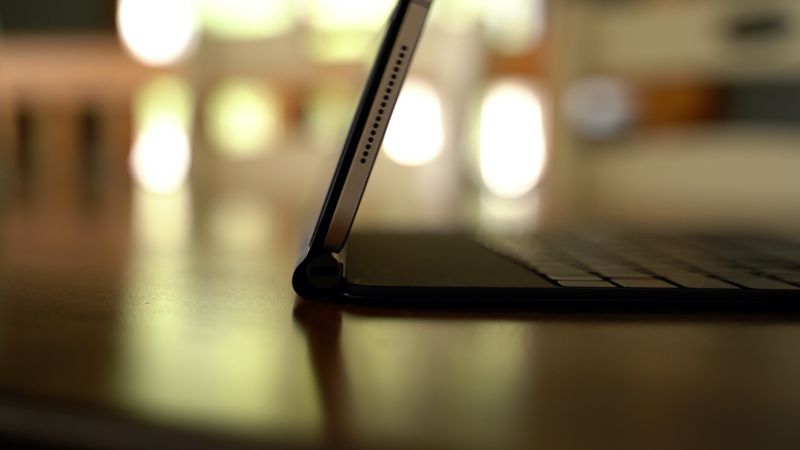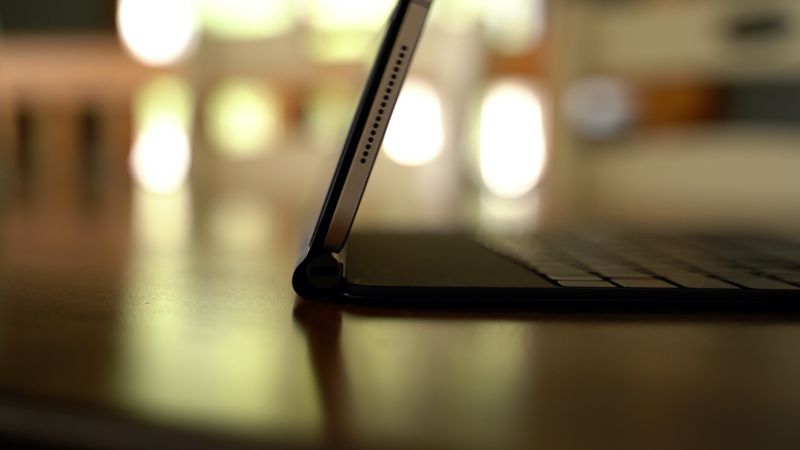 The Magic Keyboard is made from the same polyurethane material that Apple's ‌Smart Keyboard‌ Folio was made from, and design wise, what sets it apart is a hinge that enables a "floating" design. The case attaches magnetically but pulls away at the bottom when the keyboard is in use, with lower part of the ‌iPad‌ kind of floating in space to allow for adjustable viewing angles with the hinge.

The magnetic attachment is strong enough that you don't need to worry about the ‌iPad Pro‌ shifting or being shaken loose if you move it, and the case itself provides a minimal amount of protection, similar to the ‌Smart Keyboard‌ case.
The hinge at the bottom of the case is made from aluminum and it has a built-in USB-C port for passthrough charging so you can charge your ‌iPad Pro‌ while the Magic Keyboard is connected. The USB-C port on the ‌iPad Pro‌ isn't obscured by the Magic Keyboard, but a cable from the side of the keyboard itself and out of the way looks nicer than one coming out of the middle of the ‌iPad‌ while it's used in landscape mode.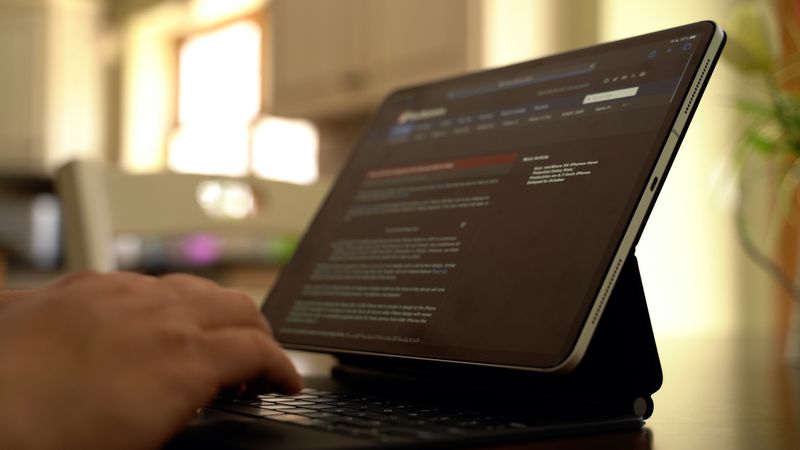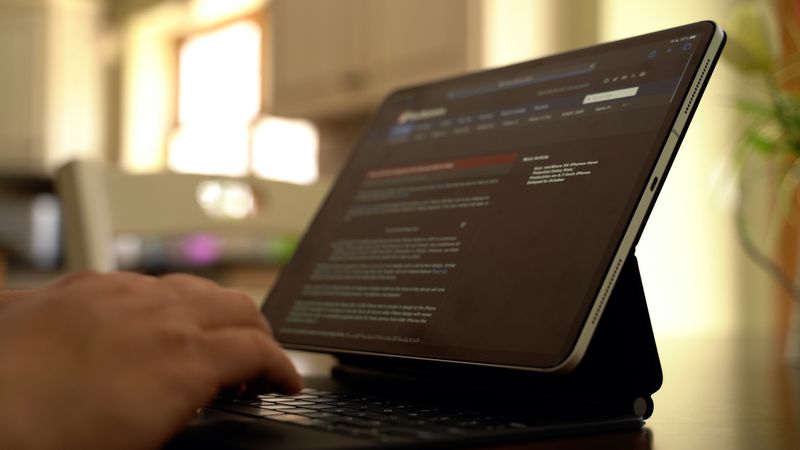 The USB-C port is limited to passthrough charging and it does not support data transfer, so you'll still need adapters for doing things like connecting the ‌iPad Pro‌ to an external display. Charging is also not quite as fast as it is when plugging a USB-C cable directly into the ‌iPad Pro‌.
When it comes to the hinge, it's sturdy and strong, and when the Magic Keyboard is opened, it locks right into place and is in an upright position, but then you can make adjustments to the viewing angle. Apple's ‌Smart Keyboard‌ Folio only had two viewing angles, but the hinge can be fine tuned and set at more angles, though the range of motion is similar to the ‌Smart Keyboard‌ Folio.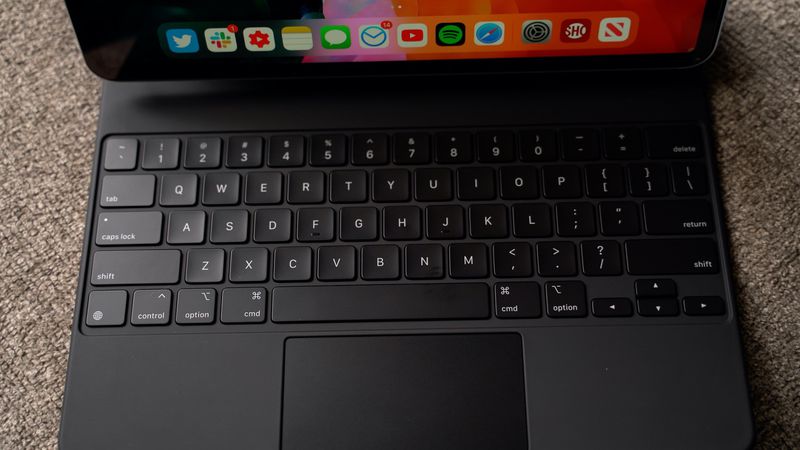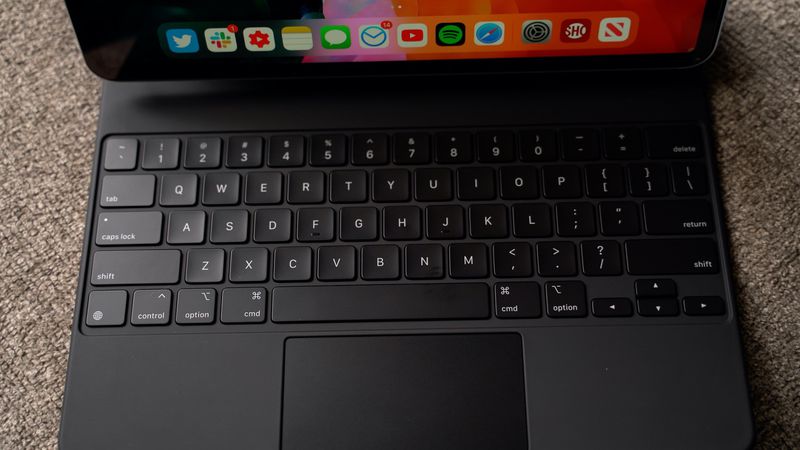 There is no way to fold the Magic Keyboard back behind the ‌iPad Pro‌ to get to an ideal sketching angle for the ‌iPad Pro‌, but flipping the whole thing backwards kind of works. The best solution for drawing is probably to pop the Magic Keyboard off of the ‌iPad Pro‌, but it's definitely a disappointment that there's no built-in drawing angle.
The keyboard itself feels great, and it's nothing like Apple's previous Smart Keyboards. The keys have a good amount of travel and feel nice under the fingers, plus there's backlighting for the keys. Unfortunately Apple did not include a row of function keys so there's no quick way to adjust backlighting, change brightness, or access media playback controls from the keyboard itself.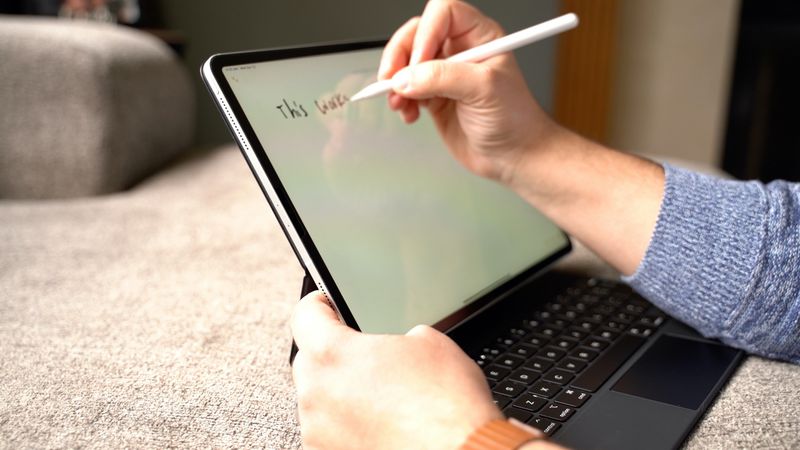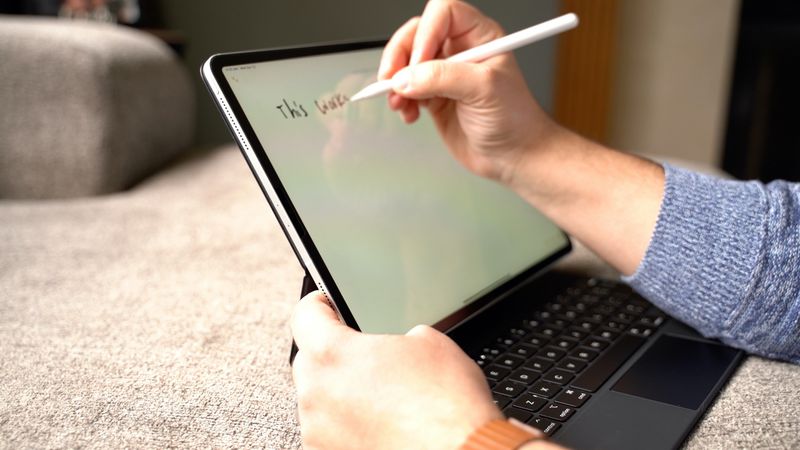 The backlighting changes based on the ambient lighting in the room so users shouldn't need too much manual adjustment, but it's still a disappointment not to have the function keys, including an escape key. Command + the period key typically serves as an alternative to an escape key or another key can be remapped to that function, but it would have been nice to have a dedicated escape key.
Apple's main selling point for the new Magic Keyboard is, of course, the trackpad, and it works great. It's similar to using a trackpad with a Mac, though much smaller of course. Many gestures are supported, such as swiping down with three fingers to access the Home screen, swiping up with three fingers to get to the multitasking view, and more. We have a list of gestures in our Magic Keyboard guide, if you're looking for more comprehensive gesture info.
Having a trackpad to use with the keyboard and the touch screen makes the ‌iPad Pro‌ experience much more similar to a traditional laptop, but you are, of course, still limited to iPadOS rather than macOS, which is still a major factor when it comes to multitasking, app selection, and more.
The Magic Keyboard is heavy and it definitely reduces the portability of the ‌iPad Pro‌, but for those who plan to use the ‌iPad Pro‌ as a full computer replacement, it adds so much utility that it's most likely worth the weight and the price tag. If the ‌iPad Pro‌ is a secondary machine and you already have a Mac, the Magic Keyboard might not be as worthwhile, but it certainly provides the most Mac-like experience on an ‌iPad‌ to date.
What do you think of the Magic Keyboard? Are you getting one? Let us know in the comments.
Cyberattack exposes lack of required defenses on U.S. pipelines
The shutdown of the biggest U.S. fuel pipeline by a ransomware attack highlights a systemic vulnerability: Pipeline operators have no requirement to implement cyber defenses.
The U.S. government has had robust, compulsory cybersecurity protocols for most of the power grid for about 10 years to prevent debilitating hacks by criminals or state actors.
But the country's 2.7 million miles (4.3 million km) of oil, natural gas and hazardous liquid pipelines have only voluntary measures, which leaves security up to the individual operators, experts said.
"Simply encouraging pipelines to voluntarily adopt best practices is an inadequate response to the ever-increasing number and sophistication of malevolent cyber actors," Richard Glick, the chairman of the Federal Energy Regulatory Commission (FERC), said.
Protections could include requirements for encryption, multifactor authentication, backup systems, personnel training and segmenting networks so access to the most sensitive elements can be restricted.
FERC's authority to impose cyber standards on the electric grid came from a 2005 law but it does not extend to pipelines.
Colonial Pipeline, the largest U.S. oil products pipeline and source of nearly half the supply on the East Coast, has been shut since Friday after a ransomware attack the FBI attributed to DarkSide, a group cyber experts believe is based in Russia or Eastern Europe.
The outage has led to higher gasoline prices in the U.S. South and worries about wider shortages and potential price gouging ahead of the Memorial Day holiday.
Colonial did not immediately respond to a query about whether cybersecurity standards should be mandatory.
The American Petroleum Institute lobbying group said it was talking with the Transportation Security Administration (TSA), the Energy Department and others to understand the threat and mitigate risk.
THIN STAFFING
Cyber oversight of pipelines falls to the TSA, an office of the Department of Homeland Security (DHS), which has provided voluntary security guidelines to pipeline companies.
The General Accountability Office, the congressional watchdog, said in a 2019 report that the TSA only had six full-time employees in its pipeline security branch through 2018, which limited the office's reviews of cybersecurity practices.
The TSA said it has since expanded staff to 34 positions on pipeline and cybersecurity. It did not immediately respond to a request for comment on whether it supports mandatory protections.
When asked by reporters whether the Biden administration would put in place rules, DHS Secretary Alejandro Mayorkas said it was discussing administrative and legislative options to "raise the cyber hygiene across the country."
President Joe Biden is hoping Congress will pass a $2.3 billion infrastructure package, and pipeline requirements could be put into that legislation. But experts said there was no quick fix.
"The hard part is who do you tell what to do and what do you tell them to do," Christi Tezak, an analyst at ClearView Energy Partners, said.
U.S. Representatives Fred Upton, a Republican, and Bobby Rush, a Democrat, said on Wednesday they have reintroduced legislation requiring the Department of Energy to ensure the security of natural gas and hazardous liquid pipelines. Such legislation could get folded into a wider bill.
The power grid is regulated by FERC, and mostly organized into nonprofit regional organizations. That made it relatively easy for legislators to put forward the 2005 law that allows FERC to approve mandatory cyber measures.
A range of public and private companies own pipelines. They mostly operate independently and lack a robust federal regulator.
Their oversight falls under different laws depending on what they carry. Products include crude oil, fuels, water, hazardous liquids and – potentially – carbon dioxide for burial underground to control climate change. This diversity could make it harder for legislators to impose a unified requirement.
Tristan Abbey, a former aide to Republican Senator Lisa Murkowski who worked at the White House national security council under former President Donald Trump, said Congress is both the best and worst way to tackle the problem.
"Legislation may be necessary when jurisdiction is ambiguous and agencies lack resources," said Abbey, now president of Comarus Analytics LLC.
But a bill should not be seen as a magic wand, he said.
"Standards may be part of the answer, but federal regulations need to mesh with state requirements without stifling innovation."
(Reporting by Timothy Gardner; Editing by Cynthia Osterman and Marguerita Choy)
U.S. senator asks firms about sales of hard disk drives to Huawei
A senior Republican U.S. senator on Tuesday asked the chief executives of Toshiba America Electronic Components, Seagate Technology, and Western Digital Corp if the companies are improperly supplying Huawei with foreign-produced hard disk drives.
Senator Roger Wicker, the ranking member of the Commerce Committee, said a 2020 U.S. Commerce Department regulation sought to "tighten Huawei's ability to procure items that are the direct product of specified U.S. technology or software, such as hard disk drives."
He said he was engaged "in a fact-finding process… about whether leading global suppliers of hard disk drives are complying" with the regulation.
(Reporting by David Shepardson, Editing by Rosalba O'Brien)
Colonial Pipeline hackers stole data on Thursday
The hackers who caused Colonial Pipeline to shut down on Friday began their cyberattack against the top U.S. fuel pipeline operator a day earlier and stole a large amount of data, Bloomberg News reported citing people familiar with the matter.
The attackers are part of a cybercrime group called DarkSide and took nearly 100 gigabytes of data out of Colonial's network in just two hours on Thursday, Bloomberg reported late Saturday, citing two people involved in the company's investigation.
Colonial did not immediately reply to an email from Reuters seeking comment outside usual U.S. business hours.
Colonial Pipeline shut its entire network, the source of nearly half of the U.S. East Coast's fuel supply, after a cyber attack that involved ransomware.
(Reporting by Aakriti Bhalla in Bengaluru; Editing by Himani Sarkar)