Texas Oil at $2 a Barrel Raises Specter of Negative Prices – Yahoo Canada Finance
(Bloomberg) — Crude prices in America's oil capital are getting dangerously close to zero.
Buyers bidding for crude in Texas, the birthplace of the shale revolution, are offering as little as $2 a barrel for some oil streams, a precipitous markdown from a month ago. The slumping value of physical barrels is raising the possibility that Texas producers may soon have to pay customers to take crude off their hands.
Negative prices have already hit more obscure corners of the American oil market amid a bearish trifecta of collapsing demand, swelling supplies and limited storage capacity. The first U.S. grade to bid under zero was a small landlocked crude stream known as Wyoming Asphalt Sour, which went for negative 19 cents a barrel last month.
In Texas, prices are heading in that direction. A subsidiary of Plains All American Pipeline bid just $2 a barrel for South Texas Sour on Friday, while Enterprise Products Partners LP offered $4.12 for Upper Texas Gulf Coast crude this week, according to pricing bulletins.
Offers could fall further if benchmark West Texas Intermediate crude futures — which have lost three-quarters of their value this year — continue to tumble. WTI closed below $20 a barrel this week for the first time since 2002. That bodes ill for producers locked into contracts with suppliers, as the daily price they earn for their crude moves with the broader market.
"I've never seen Texas crude oil transition to negative price" but it's possible, said Andy Lipow, president of Lipow Oil Associates LLC in Houston. "It's happened in the natural gas market at the Waha hub in west Texas," Lipow added.
Fast depleting storage is still a major issue against a backdrop of unprecedented demand destruction from the coronavirus pandemic, and these could pressure prices below zero fast, Lipow added.
There is still at least 150 million barrels of available capacity. "But it's the fill rate that is likely alarming the market, said Reid I'Anson, a global energy economist at Kpler, an industry research firm. Stocks at the key storage hub at Cushing, Oklahoma, have risen 18 million barrels in three weeks, which is 20% of shell capacity, he added.
The good news is that negative prices — if they do occur — will probably be "extremely temporary," said John Auers, executive vice president at energy consultant Turner Mason & Co. Under those circumstances, ultimately, supply will be forced to shut in, he added.
<p class="canvas-atom canvas-text Mb(1.0em) Mb(0)–sm Mt(0.8em)–sm" type="text" content="For more articles like this, please visit us at bloomberg.com" data-reactid="37″>For more articles like this, please visit us at bloomberg.com
<p class="canvas-atom canvas-text Mb(1.0em) Mb(0)–sm Mt(0.8em)–sm" type="text" content="Subscribe now to stay ahead with the most trusted business news source." data-reactid="38″>Subscribe now to stay ahead with the most trusted business news source.
©2020 Bloomberg L.P.
Canadian Dollar Price Outlook: USD/CAD Grinds Around Big Fig Support – DailyFX
Canadian Dollar, CAD, USD/CAD Price Analysis
This morning brought a Bank of Canada rate decision, this Friday's

economic calendar

brings Canadian jobs numbers to be released at the same time as US Non-Farm Payrolls.

The bank held rates, and given the change in leadership the big question is forward-looking strategy at the bank.

USD/CAD broke down from

a descending triangle formation

, and is now finding support around the 1.3500 big figure. But sellers haven't yet been able to establish any significant trends around that support, leading to the prospect of short-term pullback.
BoC Leaves Rates Flat, USD/CAD Remains Around 1.3500
Earlier this morning we heard from the Bank of Canada as the BoC left rates flat; but the prospect of change in leadership atop the BoC does highlight potential changes in the future after outgoing Bank of Canada Governor Stephen Poloz had previously stated that rates were as low as they could go. Taking over at the bank this week is Tiff Macklem, and as noted by our own Thomas Westwater earlier today, this morning's statement likely had little input from the newly-installed BoC Governor. This does, however, point to the possibility of change on the horizon given how aggressively the coronavirus slowdown has hit global economies.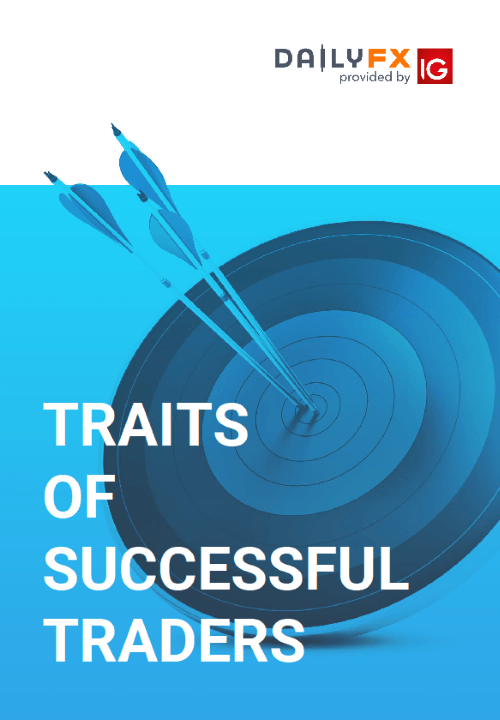 Recommended by James Stanley
Traits of Successful Traders
In USD/CAD, the pair has largely clung on to support around this rate decision, temporarily testing below the big figure of 1.3500 but, so far, failing to establish any continued bearish trends below that level. And this comes on the heels of an earlier-week breakdown, as USD/CAD had built into a descending triangle formation, with a series of lower-highs from late-March into mid-May, combined with horizontal support around the 1.3850 area on the chart.
USD/CAD Four-Hour Price Chart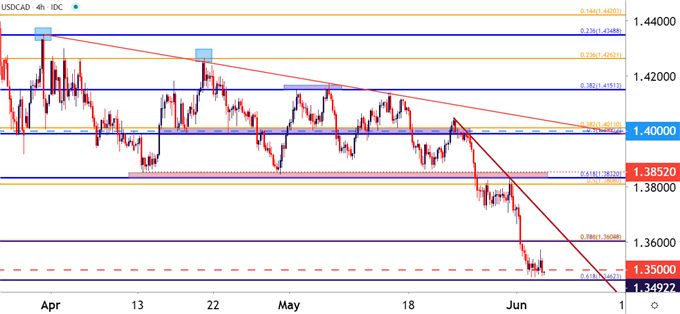 Chart prepared by James Stanley; USDCAD on Tradingview
Can USD/CAD Bears Drive Through Psychological Support?
Of recent, commodity currencies have been on a tear against the US Dollar, USD/CAD included. AUD/USD has been on a similar display of recent and the same can be said for NZD/USD.
The trouble at this point for USD/CAD bears is the fact that the short-side move is already fairly well-developed; and prices are showing continued support around the 1.3500 big figure. Can USD/CAD bring sellers in at sub-1.3500 prices to continue pushing lower? Or, will the pair need a retracement first before continuing that bearish trend?
USD/CAD
BEARISH
Data provided by



of clients are net long.


of clients are net short.
| | | | |
| --- | --- | --- | --- |
| Change in | Longs | Shorts | OI |
| Daily | -2% | -5% | -3% |
| Weekly | -9% | -13% | -10% |
On the chart is a nearby area of interest for resistance potential. As looked at in yesterday's webinar, the space around the 1.3600 area seems especially interesting, as there are two very recent Fibonacci levels within close proximity of each other. This is the 61.8% retracement of the 2020 major move, and the 78.6% retracement of the March major move. At this point, that zone hasn't yet been tested for resistance and a show of sellers here could re-open the door for bearish continuation strategies in the pair.
USD/CAD Hourly Price Chart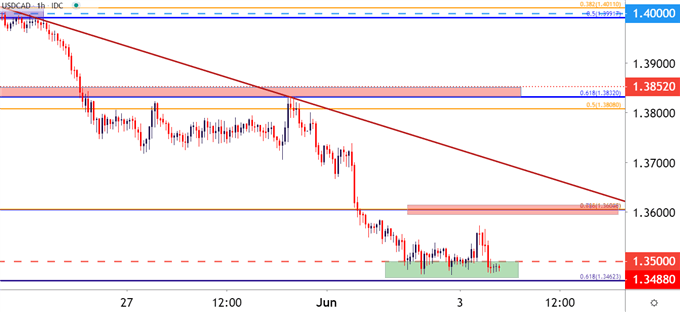 Chart prepared by James Stanley; USDCAD on Tradingview
— Written by James Stanley, Strategist for DailyFX.com
Contact and follow James on Twitter: @JStanleyFX
Canadian trade plummets amid global shutdowns – BNNBloomberg.ca
Canadian exports and imports plunged by the most ever in April amid a shutdown of global trade.
Exports plunged 30 per cent during the month, more than offsetting a 25 per cent drop in imports. The nation's trade deficit widened to $3.3 billion ($2.4 billion), from $1.5 billion in March. The median estimate of economists surveyed by Bloomberg had called for a $3 billion shortfall.
The report illustrates the extent to which global trade has collapsed amid pandemic-related lockdowns and travel restrictions. In Canada's case, the economy is facing a double whammy from the pandemic and tanking oil prices. Combined imports and exports at $68.6 billion were the lowest since 2010.
Energy exports dropped 44 per cent in April, as the value of crude oil shipments fell 55 per cent on lower prices and lower volumes due to weaker global demand.
In volume terms, total exports were down 20 per cent in April, with imports falling 25 per cent.
–-With assistance from Erik Hertzberg.
The biggest banks in Canada are seeing a surge in energy loans – BNNBloomberg.ca
Canadian banks' exposure to oil-and-gas loans has surged to a record as energy firms tapped credit lines to combat plunging oil prices.
Energy loans at the country's six largest lenders jumped 23 per cent to $71.6 billion (US$52.9 billion) in their fiscal second quarter from the prior period, disclosures show. Toronto-Dominion Bank had the largest increase at 29 per cent, while Bank of Nova Scotia remained the biggest lender with $21.6 billion in loans.
The banks' rising exposure comes as impaired energy loans almost doubled, topping $2 billion. Energy firms have been hard hit this year as global oil prices plummeted, with some grades even briefly turning negative in April as measures to combat the spread of the coronavirus hammered worldwide demand.
"We're clearly seeing the impact of price wars and supply-demand considerations, storage considerations beginning to play havoc on some producers," Toronto-Dominion Chief Financial Officer Riaz Ahmed said in a May 28 interview. "In the last few weeks we're watching prices recover with some degree of hope that things will continue to get better here."
Royal Bank of Canada
$9.4 billion
1.30%
Toronto-Dominion Bank
$12.2 billion
1.60%
Bank of Nova Scotia
$21.6 billion
3.30%
Bank of Montreal
$15.0 billion
3.00%
Canadian Imperial Bank of Commerce
$10.5 billion
2.50%
National Bank of Canada
$2.9 billion
1.80%
With the price plunge making much of their output unprofitable, Canadian oil and gas producers have taken steps to conserve cash. They've reduced production, cut operating costs, slashed at least $8.5 billion in planned capital spending and tapped credit lines to help them weather the downturn.
Those drawdowns were the main reason for the 22 per cent increase in energy lending at Royal Bank of Canada, according to CFO Rod Bolger.
"The growth was driven by higher draws on existing facilities and we did make select new lending facilities to existing investment-grade clients where the risk-return was appropriate given the low oil prices," Bolger said in a May 27 interview.
Signs of Stress
Most of Royal Bank's exposure is to exploration and production companies and loans are secured by the value of proven and producing reserves, Bolger said. Still, the Toronto-based lender had the highest gross impaired loans among the Canadian banks, at $664 million.
Bank of Montreal posted the second-highest total for impaired energy loans, at $616 million.
"In our oil and gas portfolio we do have some signs of stress just given the weaker price of oil that we've seen over the last few months — it's not totally new and we're managing through it," CFO Tom Flynn said in an interview. "We've done this before as a bank and we're confident in our ability to manage through this stress that the industry is in."
Canadian Imperial Bank of Commerce CFO Hratch Panossian said he is seeing more downgrades and impairments in the oil-and-gas sector, reflecting price weakness, but called the bank's energy portfolio "relatively stable".
"Only about half of it is in the exploration and production space and our clients do have some hedging as well that protects them in the short term," Panossian said in a May 28 interview. "We remain comfortable with the space. Our clients are strong and managing through this and we're committed to continuing to support them."
Scotiabank's Chief Risk Officer Daniel Moore said on a May 26 earnings call that exploration and production and oilfield services — which are most sensitive to weakness in oil prices — account for 1.7 per cent of total loans. More than 40 per cent of those energy loans are investment grade and the majority of non-investment grade exposure is to secure reserve-based loans or sovereign-controlled entities, he said.
While bank figures show increased borrowing, many producers are seeing the total amount of credit available reduced. That's particularly true of producers' reserve-based credit lines, which are tied to the value of their oil-and-gas reserves and are adjusted regularly to account for current prices.
This year's first adjustment period, known as redetermination, is going on now, and early results show banks have been shrinking those credit lines in response to falling prices.
At least five Canadian oil-and-gas producers have announced results of their redeterminations, and all have had their credit lines cut. Notably, oil-sands producer Athabasca Oil Corp. had its credit facility reduced by 65 per cent to $42 million, while natural gas driller NuVista Energy Ltd. saw its line cut by 14 per cent to $475 million.
At least seven producers have extended the date on their redetermination processes to June 30 because of volatile prices. Five of those have had their available credit reduced on an interim basis before the final evaluation is competed.
"The best-case scenario for our junior E&P companies this year is likely a small reduction in credit capacity, a slightly higher cost to borrow, and the ability to continue to act autonomously from the influence of its banks," Stifel FirstEnergy analyst Cody Kwong said in a note.