Thailand Skips Lockdown to Save Economy, But GDP to Take Hit – Yahoo Canada Finance
Bloomberg
(Bloomberg) — A Chinese city of 11 million people near Beijing has been locked down and its residents tested en-masse amid the worst outbreak in about two months. In the U.S., states of Connecticut, Texas and Pennsylvania reported their first cases of the virus variant that helped trigger a U.K. lockdown amid concern that Covid-19 deaths are likely to maintain a near-record pace through January.All international travelers will be tested for Covid-19 before they can board a flight to Australia under tightened border controls aimed at stopping the U.K. strain of the coronavirus from spreading.Pfizer and BioNTech's Covid-19 vaccine possibly works against a key mutation of the highly transmissible variants of the coronavirus discovered in the U.K. and South Africa, Reuters reported, citing a study by Pfizer and the University of Texas Medical Branch.The vaccine developed by China's Sinovac Biotech Ltd. was shown to be 78% effective against Covid-19 in late-stage Brazil trials, newspaper Folha de Sao Paulo reported.Key Developments:Global Tracker: Cases pass 88 million; deaths approach 1.9 millionU.S. Covid deaths to maintain a near-record pace for the monthVaccine Tracker: More than 15.9 million shots given worldwideU.S. vaccine rollout hindered by faulty coordination, messagingChina health expert defends delay in confirming Covid-19 threatAirlines try ultra-cheap fares to get the world flying againWhat to know about allergic reactions to the vaccine: QuickTakeSuga's Bet on Softer Tokyo Emergency Risks Worse Economic PainSubscribe to a daily update on the virus from Bloomberg's Prognosis team here. Click CVID on the terminal for global data on coronavirus cases and deaths.Australia Tightens Border Controls on New Strain Threat (11:40 a.m. HK)All international travelers will be tested for Covid-19 before they can board a flight to Australia under tightened border controls aimed at stopping the U.K. strain of the coronavirus from spreading.Passengers must wear masks on all international flights to Australia and on domestic routes, and international air crew will be tested on arrival in the country, Prime Minister Scott Morrison told reporters Friday after an emergency meeting of the National Cabinet."This virus continues to write its own rules, and that means that we must continue to be adaptable in how we continue to fight it," he said.Malaysia Exchange Says Two Staff Test Positive (11:50 a.m. HK)Bursa Malaysia Bhd. said two staff members have tested positive for the coronavirus, according to a media statement Friday.The stock exchange has carried out contact tracing and established the movements of the infected staff members, the company said. Staff who had close contact with the affected employees will be sent for testing and work from home, it said. The bourse remains open.NIH Scientists Study Vaccine Effectiveness Against New Strain (10:20 a.m. HK)Scientists at the U.S. National Institute of Health are studying whether Covid-19 vaccines will provide the same level of protection against new strains of the virus as they do against earlier strains, the agency's lead scientist on coronavirus said.At the same time, Kizzmekia S. Corbett, scientific lead for the coronavirus vaccines team at the National Institute of Allergy and Infectious Diseases, said she's "not as alarmed as the media would have us think" by the emergence of the new strains.China Reports 33 Cases in Hebei (8:15 a.m. HK)China reported 37 local confirmed coronavirus infections, including 33 in the northern province of Hebei near Beijing.A city of 11 million people near China's capital has been locked down after the emergence of new cases in the worst outbreak in about two months in the country that has largely contained Covid-19.Authorities in Shijiazhuang banned people and vehicles from leaving the city in Hebei, CCTV reported late Thursday. Nucleic acid testing will be rolled out city-wide, and five hospitals have been emptied to treat Covid patients, the state broadcaster said, citing Deputy Mayor Meng Xianghong.U.K. Imposes Mandatory Tests on Travelers (8:05 a.m. HK)All passengers arriving in the U.K. will be required to prove they do not have coronavirus, showing a negative test result taken within 72 hours of the start of their journey.Under new rules announced by the British government, anyone failing to produce the evidence of a negative test will be hit with an immediate fine of 500 pounds ($678). Travelers arriving from countries that are not on the government's open travel corridor list will be required to isolate at home for 10 days, regardless of their test results.U.S. Governors Demand Release of Vaccine Reserves (8 a.m. HK)Eight governors are demanding the federal government start distributing Covid-19 vaccines in reserve immediately.The leaders of California, Illinois, Kansas, Michigan, Minnesota, Washington and Wisconsin called on federal officials to release more doses held by the government to states."The failure to distribute these doses to states who request them is unconscionable and unacceptable," the governors said in a letter dated Jan. 8.New York's Frontline to Lose Place in Line If They Miss Shot (5:48 p.m. NY)New York Governor Andrew Cuomo warned hospitals and health-care workers on Thursday that if they don't take Covid-19 vaccines while it's offered exclusively to them in the early days of the state's inoculation drive, they will lose their priority status when the vaccine rolls out to the general public.Cuomo said that's why he is pushing back on requests by New York City and other local officials who've asked the state to expand the group of people eligible for the vaccine in a bid to speed up vaccinations in the state. New York has administered only 430,000 of the 900,000 doses it has received.Australian City Locked Down After U.K. Strain Detected (5:25 p.m. NY)Australia's Queensland state imposed a three-day lockdown of its capital, Brisbane, after the U.K. variant of the coronavirus was detected in the city.Residents across the metropolitan area will have to stay home except for essential work, services and exercise and wear masks if they do go out, state Premier Annastacia Pałaszczuk told reporters Friday.Brazil Deaths Pass 200,000 With Vaccinations Still on Hold (4:32 p.m. NY)Brazil's coronavirus death toll passed 200,000 as the respiratory disease again pummels the Latin American country and a nationwide vaccination plan remains weeks away at best. Another 1,524 people died, while new cases rose to a daily record of 87,843.Much like in Europe and the U.S., the virus has resurfaced across the sprawling country in the past few weeks. Year-end festivities which saw large gatherings, and the detection of the new, more contagious variant of the virus in Sao Paulo, have added to concerns about the strength of a second wave.France to Keep Curbs Through at Least Jan. 20 (2:50 p.m. NY)France will keep gyms, theaters and ski lifts closed until at least the end of January, and bars and restaurants until mid-February, Prime Minister Jean Castex said. New infections rose by 21,703 on Thursday while deaths increased by 276 to 66,841. Curfew measures will remain in place across France until at least Jan. 20, Castex said.The country said it has found 19 confirmed cases of the more-transmissible U.K. Covid-19 variant and 3 cases of the South African variant. Health authorities are investigating two probable clusters of infection with the U.K. variant in the western region of Brittany and the Paris region. Authorities found a confirmed case of the U.K. variant in Paris region that they haven't been able to link to any travel history.New York, New Jersey Report Record Daily Cases (2:30 p.m. NY)New York reported 17,636 positive tests and and 197 fatalities, while New Jersey had a record 6,314 new cases and 123 fatalities, a third straight day of more than 100.Both states had warned of a post-New Year's Eve celebration surge. New York Governor Andrew Cuomo and New Jersey Governor Phil Murphy have been battling a second wave as colder weather nudged people indoors and holidays increased social gatherings.Hospitalizations in New Jersey for Covid-19 dipped slightly to 3,711 on Thursday, while those in New York also fell slightly to 8,548. At the height of the first wave of the pandemic, New York had more than 18,000 hospitalized at one time.Still, New York City's Covid-19 hospitalizations rose to their highest rate since May at 3,107 as of Jan. 5, according to state data. Hospitals admitted 273 people on Tuesday, and the rate of admissions has climbed to 4.28 per 100,000 residents, well above the city's goal of keeping that rate below 2 per 100,000.California Deaths Jump, Near Record (2:20 p.m. NY)California reported 583 new deaths, just two fewer than the record set at the end of the year, raising the toll to 28,045 since the Covid-19 pandemic began. The state added 36,385 new cases, bringing the total to 2.5 million.The Golden State has been a focal point of the latest outbreak as a growing number of regions across the state, particularly in Southern California, run out of ICU beds. Statewide, the number of ICU beds have fallen to the lowest level based on data going back to early April, as hospitalizations climb to the highest during that time.Spain Surpasses 2 Million Cases (1:49 p.m. NY)Spain's total cases rose by 6,498 to surpass 2 million, according to the Health Ministry on Thursday. The total number of fatalities reached 51,675. The country will start receiving 600,000 doses of Moderna Inc.'s Covid-19 vaccine in the coming days, Health Minister Salvador Illa said.Illinois Surpasses 1 Million Infections (1:45 p.m. NY)Illinois passed another "tragic" milestone by logging more than 1 million coronavirus cases, Governor J.B. Pritzker said in a statement.On Thursday, the state reported 8,757 cases and 177 deaths. That pushed the total to 1,008,045 confirmed and probable cases, and 17,272 deaths since the start of the pandemic, according to the Illinois Department of Public Health.Texas, Pennsylvania Report New Virus Variant (1:29 p.m. NY)Texas and Pennsylvania became the latest states to report cases of the more-transmissible variant of the coronavirus.In Texas, the variant was detected in an adult man from Harris County, home to the country's fourth largest city of Houston, who has no history of travel, according to the Texas Department of State Health Services."The fact that this person had no travel history suggests this variant is already circulating in Texas," said Dr. John Hellerstedt, DSHS commissioner.In Pennsylvania, a person in Dauphin County tested positive after "known international exposure," Secretary of Health Rachel Levine said. The person had mild symptoms that were resolved while isolated at home.At least five other U.S. states have reported cases of the variant.U.K. Aims to Vaccinate at Least 200,000 People a Day (12:39 p.m. NY)British medics will be able to give Covid-19 shots to hundreds of thousands of people everyday by Jan. 15, Prime Minister Boris Johnson said."We are in a race against time, but we are doing everything we can to vaccinate as many people as possible across the U.K.," Johnson said at a televised press conference.Italy Cases, Deaths Slow (11:35 a.m. NY)Italy registered 18,020 new virus cases on Thursday, from 20,331 the day before. Daily deaths declined too, with 414 fatalities reported, compared with 548 on Wednesday, while the positivity rate rose to 14.9% as fewer tests were carried out.Italy has extended through mid-January some curbs imposed during the holiday season, including a limit of two guests per household.Arthritis Drugs Reduced Covid-19 Deaths, ICU Time in Study (11:06 a.m. NY)A pair of arthritis medicines, including Roche Holding AG's Actemra, reduced mortality and shortened recovery times in intensive care for Covid-19 patients in a study, opening the possibility for another treatment option for the severely ill.Some 27% of critically ill patients who got the arthritis drugs in the study died in the hospital, compared with about 36% of those who didn't get the drugs, an Imperial College London research team said.Sinovac Covid Shot 78% Effective in Brazil Trial (9:19 a.m. NY)The vaccine developed by China's Sinovac Biotech Ltd. was shown to be 78% effective against Covid-19 in late-stage Brazil trials, newspaper Folha de Sao Paulo reported, citing data presented to the country's health regulator.Conflicting and incomplete information from Sinovac's trials last month created confusion over how effective the shot is. Researchers in Brazil delayed releasing complete data on the so-called CoronaVac shot in late December, saying only that it was found to be more than 50% effective.The release of more definitive data was delayed because the company needed to reconcile results from different trials using varying protocols, according to a person familiar with the matter.S. Africa Virus Strain More Transmissible (9:18 a.m. NY)The new coronavirus strain identified in South Africa appears to be more transmissible than earlier variants and has accelerated the onset of a second wave of infections, according to a scientist advising the country's health minister.Yet there's no evidence that it causes a more severe or different form of the disease, and hospitalization and mortality rates as a proportion of the number of infections are lower than during the first wave in July and August, said Ian Sanne, an infectious diseases doctor and head of Right to Care, a non-profit that provides treatment to people with HIV and associated diseases.For more articles like this, please visit us at bloomberg.comSubscribe now to stay ahead with the most trusted business news source.©2021 Bloomberg L.P.
Biden's first 100 days: What to expect on Covid-19, the economy and immigration – FRANCE 24 English
Issued on: 19/01/2021 – 11:55
US President-elect Joe Biden is set to issue a flurry of executive orders following his inauguration at noon on Wednesday as well as legislation that will quickly begin working its way through Congress on pandemic relief, immigration and much more.
Biden, 78, has vowed to hit the ground running as he aims to tackle a worsening Covid-19 crisis, revive a pandemic-stricken economy and reverse many of his predecessor's more controversial policies.
A top priority for the 46th US president will be securing congressional approval for his $1.9 trillion stimulus plan to revive the economy and administer 100 million vaccines by his 100th day in office.
Biden has promised on Day One to extend a pause on evictions and foreclosures, as well as federal student loan payments; move to have the US rejoin the World Health Organization and Paris climate accord; overturn a travel ban on those from several Muslim-majority countries; order agencies to begin reuniting families separated at the border; and mandate mask-wearing on federal property.
According to a memo released by incoming chief of staff Ron Klain, the new president will also take quick action on what the Biden administration sees as the four main challenges the United States is facing. "We face four overlapping and compounding crises: the Covid-19 crisis, the resulting economic crisis, the climate crisis, and a racial equity crisis," Klain wrote.
"In his first ten days in office, President-elect Biden will take decisive action to address these four crises, prevent other urgent and irreversible harms, and restore America's place in the world," Klain added.
Here's what to expect from his first 100 days at the White House.
Biden has described America's Covid-19 vaccine rollout as "a dismal failure thus far" and vowed to "move heaven and earth to get more people vaccinated". He has set his administration a goal of 100 million shots by the end of his first 100 days as president.
Biden has pledged to have 100 vaccination centres supported by federal emergency management personnel up and running during his first month in the White House. He will also ask Americans to commit to 100 days of mask-wearing from his first day on the job.
The incoming president has said he will use the Defense Production Act to increase vaccine supplies and ensure the pandemic is under control for most public schools to reopen nationwide by his 100th day in office.
'Our plan is as clear as it is bold: get more people vaccinated for free'
The Democrat's $1.9 trillion stimulus proposal involves providing $1,400 direct payments to Americans to prop up the virus-hammered economy. Touting his plan, Biden said "the return on these investment in jobs, racial equity will prevent long-term economic damage, and the benefits will far surpass the cost".
'We cannot afford inaction' on economy: Biden unveils plan to support pandemic-hit economy
Biden has also pledged to wipe out corporate tax cuts where possible, while doubling the levies US firms pay on foreign profits. Another flagship policy includes hiking the hourly minimum wage to $15, double the current amount.
Biden announces national minimum wage hike
WHO, Paris accord and Iran
Other Day One pledges include moving to rejoin the World Health Organization and the Paris climate accord, which Trump withdrew from. Biden is also expected to begin the process of rejoining a landmark international agreement designed to curtail Iran's nuclear programme.
US presidential transition: How will Biden change America's foreign policy?
Climate and the environment
Biden has announced executive action on his first day in office to formulate a plan to achieve 100% clean energy economy and net-zero emissions by 2050. He will also enact an executive order "to conserve 30% of America's lands and waters by 2030" in line with other "30% by 2030" pledges made by 50 countries at a One Planet Summit in Paris earlier this month.
Biden is also expected to reverse President Donald Trump's rollback of some 100 public health and environmental rules that the Obama administration instituted.
Biden's busy Day One schedule includes the creation of task forces on homelessness and reuniting immigrant parents with children separated at the US-Mexico border. The incoming president has pledged to provide a pathway to citizenship for 11 million immigrants who came to the US illegally as children. He has also vowed to overturn the Trump administration's travel ban on those from several majority-Muslim countries.
Dreamers: Hopes high that Biden administration will bring immigration reform
Discrimination, gun control
Biden has vowed to repeal a transgender military ban enacted by his predecessor and restore Obama-era guidance for transgender students in schools, saying this will protect "students' access to sports, bathrooms, and locker rooms in accordance with their gender identity".
He has also pledged to create a police oversight commission to combat institutional racism by the end of his first 100 days.
The incoming administration also plans to send bills to Congress seeking to mandate stricter background checks for gun buyers and scrap liability protections for firearm manufacturers.
(FRANCE 24 with AP)
The Back Rent Problem Won't Hurt The Economy – Forbes
Ten million renters are behind on their payments, according to the Census Bureau's Housing Pulse Survey. The total back rent owed could be $70 billion, though nobody has a precise figure. John Kilpatrick has a good summary of the bank rent problem, presenting a variety of estimates. Renter assistance was included in the December 2020 stimulus bill to the extent of $25 billion, with another $30 billion proposed by President-elect Biden.
Being behind on rent is certainly a big problem for tenants when evictions resume. And not receiving rent is a big problem for landlords, especially those with mortgage payments due on the properties. But it's not a big problem for the economy as a whole, despite the scary numbers.
Over ten percent of apartment renters failed to pay rent in December 2020, which sounds bad. But the prior December, before the pandemic and during a great job market, nearly eight percent didn't pay rent. What's different this time around: Bans on eviction have enabled people to continually not pay rent without having to move out. The arrears grow and grow.
For perspective, remember that the U.S. economy totals $21 trillion of GDP. If back rent totals $70 billion, that's about one-third of one percent. So the back rent problem is only a little larger than a rounding error for the entire economy.
Small problems can sometimes snowball into big problems. The landlords who are not receiving rent have their own bills to pay, which frequently include mortgages and always include property taxes and maintenance. Property owners with much more debt than equity may default on their mortgages. The mortgage holder, which could be a bank, insurance company or an investment fund, might have insufficient equity to survive the loss of regular payments. That would be unusual, however. Banks and insurance companies are generally well enough capitalized that they would survive, and investment funds often have no debt themselves. So the lack of rent is unlikely to trigger many failures in the capital markets. That's not to say that lenders won't be damaged, just that a chain reaction of bankruptcies is unlikely.
The chain of finance illustrates, however, the economic costs of rent deferral. Real people are hurt by it. Some may be landlords directly, while others have real estate investments in IRAs or 401(k) accounts, sometimes without even knowing it. Nonetheless, these losses won't be enough to hurt the overall economy.
Evictions will eventually resume. Some of the people—probably most of them—won't have the means to make back payments. Some may offer to resume payments if the back rent is forgiven. Because that back rent is uncollectable, some landlords will go for it. Others will accept partial payment of the arrears if the current rent is paid on time. Still other landlords will want to rid their properties of those tenants.
The evictees will have difficulty finding new landlords. Many apartment owners believe that an empty unit is better than a deadbeat tenant. That's why credit checks are common. Although tough standards by landlords could trigger some increase in homelessness, most people will be able to make do, either by paying high rent to a landlord willing to accept some credit risk, or by sharing an apartment with someone who has good credit.
Evictions will certainly trigger more problems, but again the magnitude will be small relative to the overall economy.
The back rent problem is real but not huge. Various individuals will have genuine difficulty, but the overall economy will roll along nearly as if there were no back rent problem at all.
Investor Optimism Over German Economy Rises Despite Restrictions – Bloomberg

Germany risks severe economic consequences if it fails to contain the pandemic, according to one of the country's leading economists.
"I believe we massively underestimate the economic risks of the second wave," Marcel Fratzscher, president of the German Institute for Economic Research, or DIW, told journalists. "Many companies are over-indebted and have exhausted their reserves. I'm afraid we're too optimistic about getting out of this crisis quickly."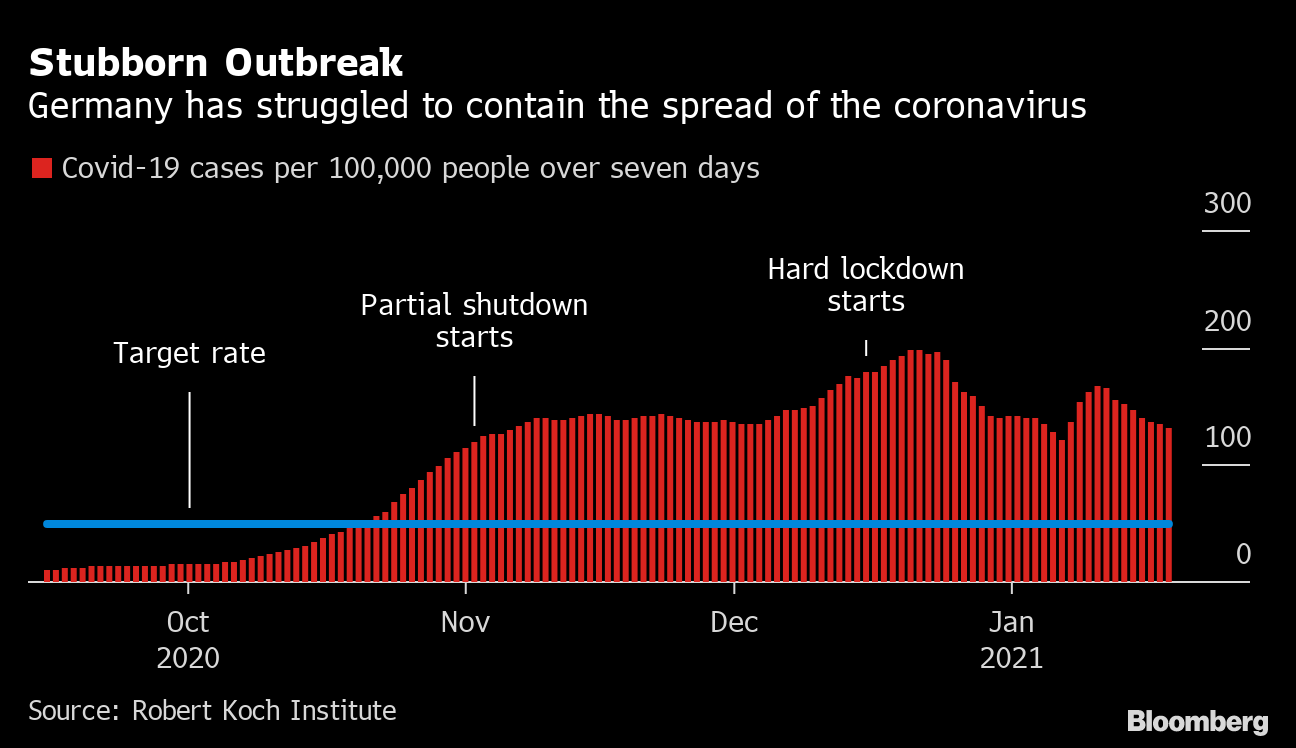 Fratzscher's warnings sharply contrast with a report published earlier on Tuesday showing investors grew more confident in Germany's outlook at the start of the year, betting that a nascent global recovery would bolster exports.
The German economy probably avoided a contraction in the fourth quarter, thanks in part to generous government support and a strong manufacturing sector that isn't as directly affected by virus curbs that have hit restaurants and the travel sector.
Prospects for the first quarter are dire though. Chancellor Angela Merkel and state premiers are likely to extend already tough restrictions until at least mid-February and may impose yet more stringent contact rules as well as nighttime curfews and curbs on the number of people going to the office.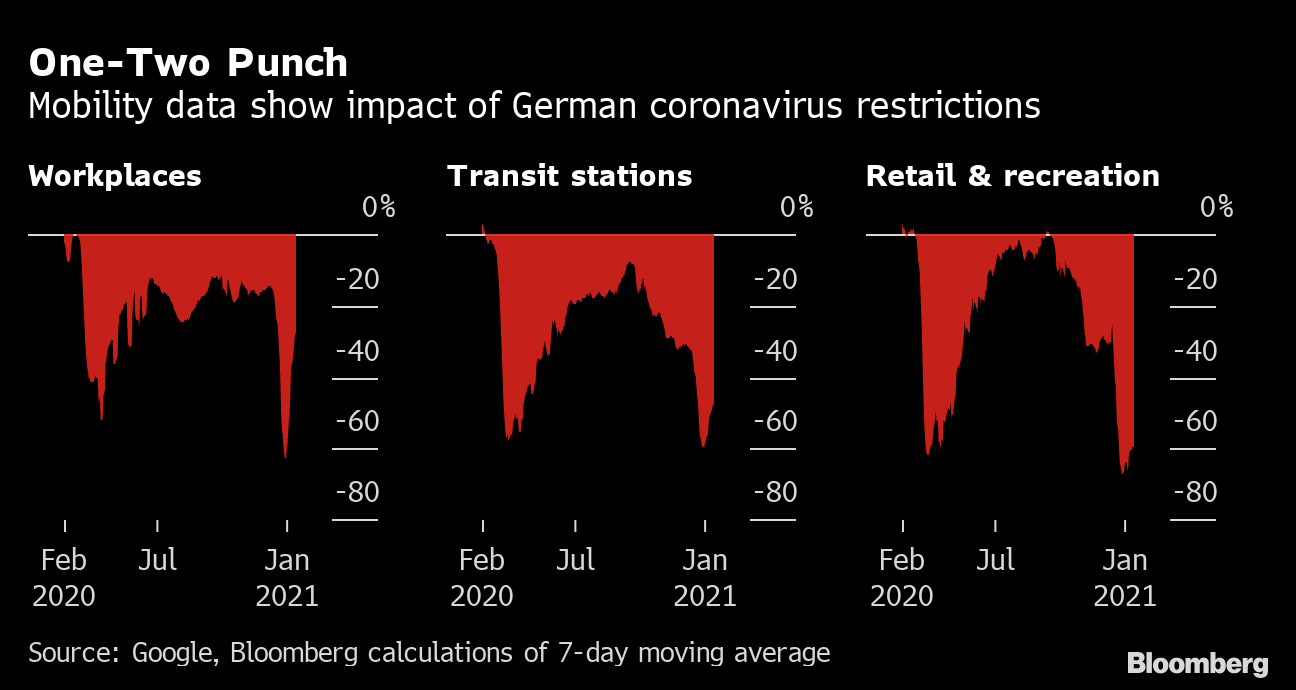 Even if the lockdown ended at the end of January as currently planned, output in the first quarter would shrink some 2%, Fratzscher said.
The country won't see an "economic reboot" until the third quarter at the earliest, he added — contingent on completing vaccinations and reaching herd immunity.
"Politicians must be prepared for and make people aware that if the second wave can't be contained, the consequences will be enormous," Fratzscher said.
The economy contracted 5% in 2020, the most since the global financial crisis, and most forecasts indicate it will take until 2022 to recover the ground lost.
— With assistance by Harumi Ichikura, and Kristian Siedenburg