Thatcher Demko leads way in 1st career playoff start as Canucks edge Golden Knights – CBC.ca
Vancouver goalie Thatcher Demko sat on the bench for a month, waiting 14 games for his first ever start in the NHL playoffs.
On Tuesday he got it, and made the most of it.
Demko made 42 saves as the Vancouver Canucks edged the Vegas Golden Knights 2-1 at Rogers Place to stay alive in the post-season.
The Golden Knights still lead the best-of-seven series 3-2. Game 6 goes Thursday.
Demko got the nod after Jacob Markstrom, the Canucks' regular starter, was deemed unable to play and didn't dress. Demko battled a fierce Vegas attack all night long and an avalanche of shots: redirects, one-timers, odd-man rushes and goalmouth scrambles.
WATCH | Demko guides Canucks past Golden Knights:
Prior to Tuesday, the 24-year-old had seen 8:26 of playoff action in 2020, mopping up for Markstrom in the third period of a 5-0 Vegas blowout in Game 1.
Demko said he has been preparing for it, putting in extra ice time to work on aspects of his game.
"You never know when you have to go in. I just wanted to stay sharp through the whole process of training camp and getting into the bubble," said Demko.
"When these guys have days off, I'll go skate and make sure I'm staying sharp.
"I know I've been doing my thing in practice, making sure my details are where they needed to be. Obviously, it's a little bit different than a game, but everything that you see in a game, you've seen at some point in practice and you just have to rely on that kind of thing."
Elias Pettersson, who scored the winning goal, said Demko was the difference.
"The first two periods were not good for our side. Thatcher played unbelievable all game," he said.
The game was also a redemption of sorts for Vancouver winger Brock Boeser, with a goal and an assist. He had been facing criticism as a top-six forward getting top-six minutes but, heading into Tuesday, racking up only 20 shots on net and three goals in the post-season.
The Canucks won despite getting just 17 shots on Vegas goalie Robin Lehner.
Vegas scored early in the second period to take a 1-0 lead on a goal by Shea Theodore but Boeser and J.T. Miller responded just 24 seconds later. Boeser, playing give-and-go with Miller on a 2-on-1, redirected a Miller pass on the backhand past Lehner.
Boeser then set up the winner early in the third, firing a wrist shot from the point that Pettersson redirected for his seventh goal of the playoffs.
"I know I haven't been scoring and I know I need to score goals, but I've been trying to bring my work ethic each and every game and contribute," said Boeser.
"It was nice to get one. It think it will definitely help the confidence."
Vegas coach Peter DeBoer said, "[Demko] was really good and they were opportunistic. We've got to make it a little more difficult on him with a little more traffic [in front of the net].
"When you get down to the last eight teams, it's never easy to close anybody out, and they found a way to win."
WATCH | CBC Sports' Rob Pizzo recaps Monday in the NHL playoffs:
Demko, drafted by Vancouver in 2014, is in his first full season with the team, taking over for a while in February and March when Markstrom went down with a knee injury.
Tuesday was Demko's first start in almost six months. His last start was March 10, two days before the NHL's regular season was halted, and ultimately cancelled, due to COVID-19.
He made 25 starts in the regular season, compiling a 13-10-2 record (3.06 goals-against average, .905 save percentage).
Markstrom's status is not known. The NHL does not release injury information.
Markstrom, also in his first NHL playoffs, has been the workhorse for Vancouver, starting 14 games in 29 days, with an 8-6 record, stopping 451 shots (2.85 GAA, .919 save percentage) and recording his first playoff shutout by beating the Minnesota Wild 3-0.
He has often kept Vancouver in games, facing more than 30 shots a night. In 15 playoff games, the Canucks have been outshot by their opponent 13 times (they registered more shots twice in the Minnesota series).
Dana White reveals who's next for Israel Adesanya and Jan Blachowicz – MMA Fighting
Israel Adesanya was dazzling in his title defense and Jan Blachowicz cemented himself as the new light heavyweight champion as the UFC 253 main and co-main events both ended in dramatic fashion.
While Adesanya and Blachowicz will undoubtedly enjoy their victories with a well-deserved post-fight celebration, it didn't take long for the subject of their next fight to be raised on Saturday night.
In fact, it was Adesanya himself who made the call about the top contender in the middleweight division. He immediately turned his attention to Jared Cannonier, who's been on his radar for the past year.
Cannonier is currently preparing for a showdown with former champion Robert Whittaker at UFC 254 in October. If he's victorious, Cannonier should expect his next fight to come against Adesanya with the middleweight title up for grabs.
"That's the fight if Cannonier wins," UFC president Dana White confirmed at the UFC 253 post fight press conference. "And I love that about Israel. He's ready for who's next, who else thinks they can beat me. The kid is an absolute stud."
Adesanya will undoubtedly be keeping a close eye on Cannonier's fight in just a few weeks to see if his next opponent is secured or not.
Things aren't quite as clear cut at light heavyweight, but there are only a few options that make sense for Blachowicz after he dispatched Dominick Reyes in impressive fashion to claim the vacant title.
The Polish veteran made it clear just after the belt was wrapped around his waist that he would like to cement his championship status by facing Jon Jones, who vacated the belt just recently with the intention of moving up to the heavyweight division.
Jones even went as far as hinting on Twitter that perhaps he could return to 205 pounds now that a challenger like Blachowicz exists for him but obviously nothing is set in stone at this point.
The other fight that could determine the next contender for the light heavyweight title will take place on Nov. 7 when Thiago Santos goes to battle with Glover Teixeira.
White confirmed the winner of that fight would earn the next crack at the new 205-pound champion unless Jones really did decide he wanted to return to his old stomping grounds.
"Those are the guys that are fighting for the next shot," White said about Santos vs. Teixeira. "But obviously if Jon Jones wanted that fight, we wouldn't deny Jon Jones the opportunity."
Stamkos out for remainder of playoffs – TSN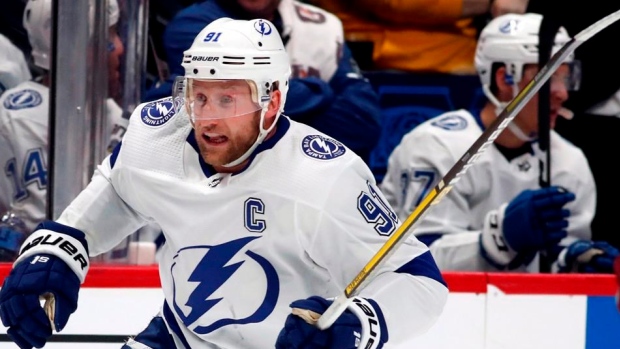 Tampa Bay Lightning head coach Jon Cooper said forward Steven Stamkos will not return in the Stanley Cup Playoffs. "Hopefully next time we see him on the ice is during the trophy presentation," Cooper said.
The 30-year-old returned to the Lightning lineup for the first time since February in Game 3 and scored a goal, but only had five shifts, playing just 2:47.
Stamkos skated off gingerly at the end of his final shift in the first period and was not on the bench for the start of the second. He returned to the bench and took a few twirls to test out the injury but did not return and was deemed "unfit to play" for Game 4.
Stamkos, who last played Feb. 25, had surgery in early March and aggravated the injury at least once over the summer.
Tampa Bay leads the series 3-2.
French Open begins as top players grumble over cold weather – CNN International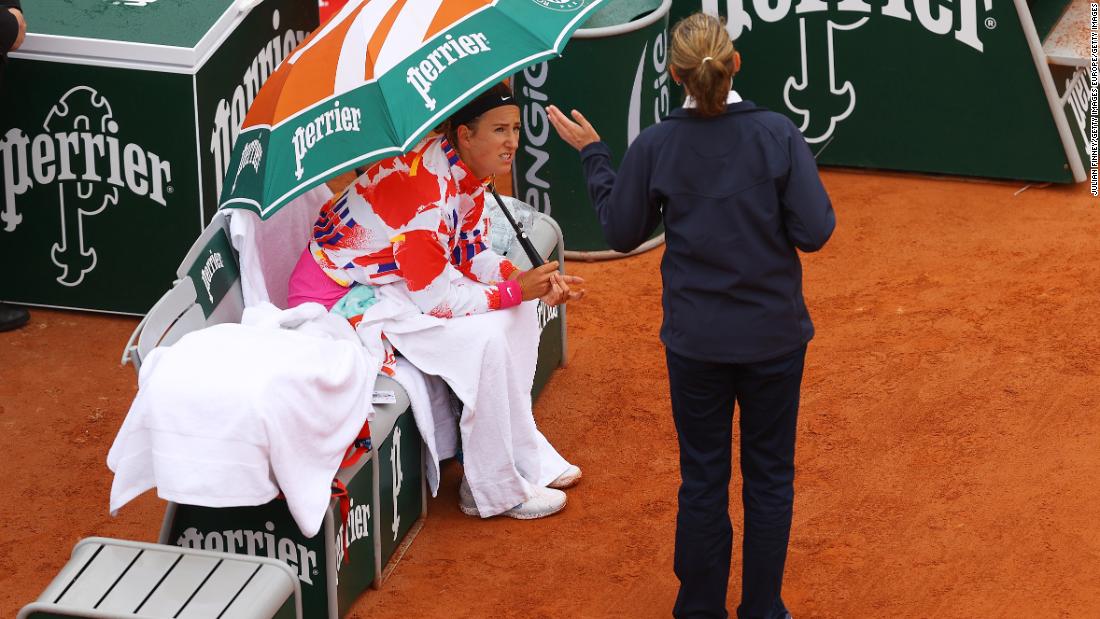 The tournament's 10th seed was 2-1 up against Montenegro's Danka Kovinic in the first round when she took matters into her own hands after light rain paused the match.
When she was asked to remain on court by a match official while a decision was taken about whether play should continue, the Belarusian tennis player said she would not carry on waiting outside.
"I'm not going to sit here because I'm going to get frozen," she told the supervisor.
After complaining that it was only 8 degrees Celsius (46.4 degrees Fahrenheit), the two-time grand slam winner said she lived in Florida and was "used to hot weather."
"It's ridiculous, it's too cold. What's the point? Sitting here like ducks," Azarenka added.
When the match resumed 50 minutes later, the Belarusian quickly took control of the game, beating her opponent 6-1 6-2 in just over an hour. Her victory was watched by just nine spectators,
according
to Reuters.
Speaking about the interruption, Azarenka said: "I think it's very tricky at the moment to have these conditions. So definitely not going to sit here and complain, but sometimes I think there are smarter ways to handle situations."
Over in the men's draw, Spain's Rafael Nadal, who is hoping to win his 13th French Open title, has also stressed that conditions are different this year, after the clay tournament was delayed from May to late September because of the coronavirus pandemic.
"The ball is super slow, heavy. It's very cold. Slow conditions," Nadal said.
The Spaniard also said that he has "always" been "beatable" on clay, commenting that Novak Djokovic has defeated him "a lot of times" on the surface.
Nadal's opening match against the Belarusian Egor Gerasimov is scheduled for Monday.