The 100 most popular art museums in the world—who has recovered and who is still struggling?
After two years of lockdowns and uncertainty, personal loss and public turmoil, 2022 was the year when most people could once again go and visit their favourite art or travel somewhere new, with, in most cases, relatively few restrictions. The result was that 141 million visits were paid to the top 100 art museums in our survey.
Are things back to normal? Not quite yet. That 141 million is double the number we recorded last year, and nearly three times that of 2020. But there is still some way to go before we regain the high watermark of 230 million visits in 2019, the last full year before the pandemic.
7.7m visitors to Musée du Louvre in Paris—down just 20% on 2019
And, as our analysis reveals, the recovery is uneven. China's zero-Covid strategy has meant that its museum-goers had to negotiate regular lockdowns and draconian rules. Russian museums have had to contend with their country becoming an international pariah following its invasion of Ukraine, and tourism to and from many places becoming restricted. Visitor numbers in both countries have been similar to 2021, at best.
Elsewhere, some major museums have bounced back strongly—the Musée du Louvre in Paris is planning to restrict visitor numbers due to overcrowding but still managed to top our poll with an extraordinary 7.7 million visitors in 2022, beating the second-placed Vatican Museums by more than two and half million. London's British Museum and Tate Modern regain their places in our top five, but their recoveries have been more sluggish than some of their international rivals, reflecting a slow bounceback by UK museums as a whole.
Taken together, the top ten accounted for almost 40 million visits. Now that the pandemic is largely over, people seem to going back to much the same cities as they did before: Paris and London, Rome and New York. For all the efforts to get domestic audiences to visit more, either virtually or physically, it seems that people couldn't wait to travel to see the Mona Lisa, the Parthenon marbles and the Laocoön. These icons still draw the crowds.
UK not so OK
Elsewhere in this supplement we report on the relatively slow recovery of London's major museums. Sadly, this is reflected across the rest of the UK. The National Gallery in London has the dubious distinction of having lost more visitors than any other museum we surveyed, with nearly 3.3 million fewer visitors in 2022 than in 2019, the last year before Covid-19 hit. In percentage terms, however, three other UK institutions did worse: Kettle's Yard in Cambridge was down 57% on its 2019 visitors, while V&A Dundee and the Wellcome Collection in London were both down 55%.
None of these museums was impacted by Covid-related closures in 2022, though Kettle's Yard, located in a former residential building, still had restricted capacity. The UK had one of the earliest and fastest roll-outs of Covid vaccines in the world and prided itself on getting back to normal as soon as possible—face masks are now a rare sight. So the reason for the slow recovery of its museum visitor numbers is hard to pinpoint, especially for those smaller museums that were less reliant on international tourists. It is true, however, that most UK museums saw strong year-on-year growth in 2022, many tripling their attendance over the lockdown-affected 2021, so perhaps next year will see a return to form.
Many UK museums tripled attendance over the lockdown-affected 2021, so next year may see a return to form
Where were the brightest spots in the UK? Mostly north of the border. The Burrell Collection in Glasgow reopened in March 2022 to much higher visitor figures than previously, welcoming an impressive 483,000 visitors. (Perhaps people skipped a visit to the city's Kelvingrove museum, which got half of its 2019 figure.) Edinburgh museums did well, too, with the National Museum of Scotland receiving nearly two million visitors and the Scottish National Gallery 1.3 million, both similar to pre-pandemic times.
The UK's most successful paid-for exhibition of 2022 was not a blockbuster solo artist show, but Fashioning Masculinities: The Art of Menswear at the Victoria and Albert Museum (V&A), followed by shows at Tate Modern (Surrealism Beyond Borders on 158,843) and the Royal Academy of Arts (Francis Bacon: Man and Beast, 146,694). Meanwhile, David Hockney brought 221,950 free visitors to the Fitzwilliam in Cambridge for Hockney's Eye: The Art and Technology of Depiction—a notable success for the medium-sized university gallery.
America still dreaming
Of New York's major museums, the Solomon R. Guggenheim Museum had the biggest percentage drop in visitors, at 42% (with 750,000 in 2022 compared to 1.3 million in 2019), while the Metropolitan Museum of Art on Fifth Avenue saw the biggest fall in actual numbers, with 1.7 million fewer visitors than in 2019 (a 34% drop). It should be noted that the Met has changed its counting methodology, introducing "a new, digital programme that we believe is more accurate", says a spokesperson, meaning a 20% decrease to its previously reported figure in 2019.
New York was not alone in its slow recovery, with institutions across the country still considerably down compared to 2019, from the National Museum of African American History and Culture in Washington, DC (down by 45%) to Denver Art Museum (34%) and the Getty Center in Los Angeles (31%).
The most visited museum in the US was the National Gallery of Art in Washington, DC, with almost 3.3 million visitors in 2022.
Despite no widespread lockdowns in the US in 2022, the pandemic's aftershocks still affected many museums
Despite there being no widespread lockdowns in the US in 2022, the pandemic's aftershocks still affected many museums. A spokesperson for the National Portrait Gallery (NPG) in Washington, DC (which shares a building with the Smithsonian American Art Museum (SAAM) and therefore has the same figures), says that it only returned to its full opening schedule of seven days a week at the end of May, having been open for four days a week for the first quarter of the year. Despite nearly tripling its 2021 figure, with 954,000 visitors last year, the NPG and SAAM were still down 44% on pre-pandemic levels.
Similarly, the Frist Art Museum in Nashville used to be open seven days a week before the pandemic, which helped it achieve its all-time record attendance of 359,000 in 2019. But since reopening in July 2020, its change to five days a week has contributed to a 60% fall.
However, a handful of institutions reported figures that surpassed their pre-pandemic levels. Two of these, the Huntington Library, Art Museum and Botanical Gardens in Los Angeles (up by 26%) and the Frederik Meijer Gardens & Sculpture Park in Grand Rapids (up 3%), offered outdoor experiences as part of the museum visit. (The Museum of Modern Art in New York was also up 10%, but in 2019 it was closed for four months during renovations.)
Euro millions?
Around Europe the picture was mixed. While some big museums had sluggish recoveries, such as the Musées Royaux des Beaux-Arts de Belgique in Brussels (down 40% compared to 2019), the Neues Museum in Berlin (down 36%), the Rijksmuseum in Amsterdam (down 35%) and the Museo Archeologico Nazionale in Naples (down 34%), on the whole, visitors appear to be returning to museums.
The fall in foreign tourism has been a factor in many cities—Vienna's Albertina identified the drop by a quarter in the number of tourists to the Austrian capital as a major factor in its visitor numbers being down 26% compared to 2019. However, other tourist honeypots were almost back to normal—for example, Musée d'Orsay in Paris, was within 10% of its 2019 figure, while the Petit Palais was up 14%.
Fondation Louis Vuitton's blockbuster exhibition of the Morozov Collection had a staggering 1.2 million visitors
Indeed, there were some significant jumps in attendance. In Paris, the Fondation Louis Vuitton saw its figures rise by a third, from just over a million in 2019 to almost 1.4 million last year, helped by its blockbuster exhibition of the Morozov Collection, which had a staggering 1.2 million visitors. An exhibition about Matisse's The Red Studio painting helped the National Gallery of Denmark in Copenhagen achieve its highest ever attendance, as it welcomed more than 492,000 visitors, while the Museum of Fine Arts in Budapest saw an increase of 47% on 2019, helped by a Hieronymus Bosch blockbuster, the second most popular exhibition in the museum's history.
Another way of boosting attendance is to create more space. The Kunsthaus Zürich opened a new extension in October 2021, helping it double its 2019 tally of visitors to more than 555,000. The Munchmuseet in Oslo, which moved to a new building in autumn 2021, welcomed almost 852,000 people last year, getting "significantly higher visitor numbers than the old museum", according to a spokesperson.
Several museums, such as the Centro Botín in Santander and Galleria dell'Accademia in Florence—home to Michelangelo's David— have reported numbers in the final months of 2022 picking up and surpassing pre-pandemic levels, pointing further towards a healthy recovery.
Zero to here we go
China's zero-Covid strategy heavily impacted on its museum visitor numbers in 2022. And while Taiwan dropped its zero-Covid policy in March 2022, a continuted lack of Chinese tourists meant that visitor numbers to the National Palace Museum in Taipei remained low. The total of 553,000 was just 33% up on the previous year, and 86% down on the 2019 total of almost four million.
One Chinese museum that defied the trend was M+. The Hong Kong museum opened in November 2021, before having to shut again from 5 January until 21 April 2022 due to Covid restrictions. Despite this, it managed to attract more than two million visitors in the remainder of the year, launching itself into our top 20.
Australia and New Zealand had some of the strictest Covid-19 rules, which delayed their reopening compared to other parts of the world. In Australia, rules were complex and varied by state; the country did not reopen to international travellers until 21 February 2022. Despite this, visitor numbers continued to recover steadily, with many venues regaining around two-thirds of their previous numbers. The Art Gallery of South Australia in Adelaide actually did better than pre-pandemic, with 539,000 visitors. In Sydney, the Art Gallery of New South Wales saw a boost to numbers as people flocked to see its new expanded building.
The National Museum of Korea cemented its high position in our list: its 3.4 million visitors earned it fifth place
A stand-out in Asia was South Korea. A Frieze art fair was held in its capital Seoul for the first time, boosting visitor numbers at the city's museums. The National Museum of Korea cemented its high position in our list: its 3.4 million visitors earned it fifth place. This is around the same number of people who visited before Covid. The four outposts of the National Museum of Modern and Contemporary Art also did well, with its Seoul branch receiving 1.8 million visits—400,000 more than in 2019.
With most lockdowns hopefully behind us, we expect 2023 visitor figures to be buoyant. But while some museums are settling back into their old groove, for others it seems like the damage caused by the pandemic and the political responses to the crisis might be long lasting.
• Venues marked with a dagger (†) indicate institutions with more than one museum building. We have separated the venues to give a more accurate reflection of footfall. The institutions' additional venues and combined totals are: Metropolitan Museum of Art (Met Cloisters: 196,247; total for the Met: 3,405,079); NGV International (Ian Potter Centre: NGV Australia: 331,488; total for National Gallery of Victoria: 1,911,791); Scottish National Gallery (Scottish National Gallery of Modern Art: 303,678; Scottish National Portrait Gallery: 222,977; total for National Galleries of Scotland: 1,803,855); Reina Sofia (Palacio de Velázquez: 491,086; total all three sites: 3,063,092); Getty Center (Getty Villa: 405,883; total for both: 1,395,185); Smithsonian American Art Museum (total SAAM and Renwick Gallery: 1,149,245); Upper Belvedere (Lower Belvedere: 279,648; Belvedere 21: 82,279; total for Galerie Belvedere: 1,241,567). De Young Museum (Legion of Honor: 360,820; total for Fine Arts Museums of San Francisco: 1,158,264). *The Met revised its 2019 visitor number to 4,898,474 due to a changed counting methodology **We have previously reported Reina Sofia venues as a combined figure, but we have split them this year to be consistent with other venues. ***NPG, Washington, DC, and SAAM share a building, hence report the same figure. We have therefore ranked them equally and counted these visitors only once in our overall totals.
Arts in the Garden brings a visual feast to the North Shore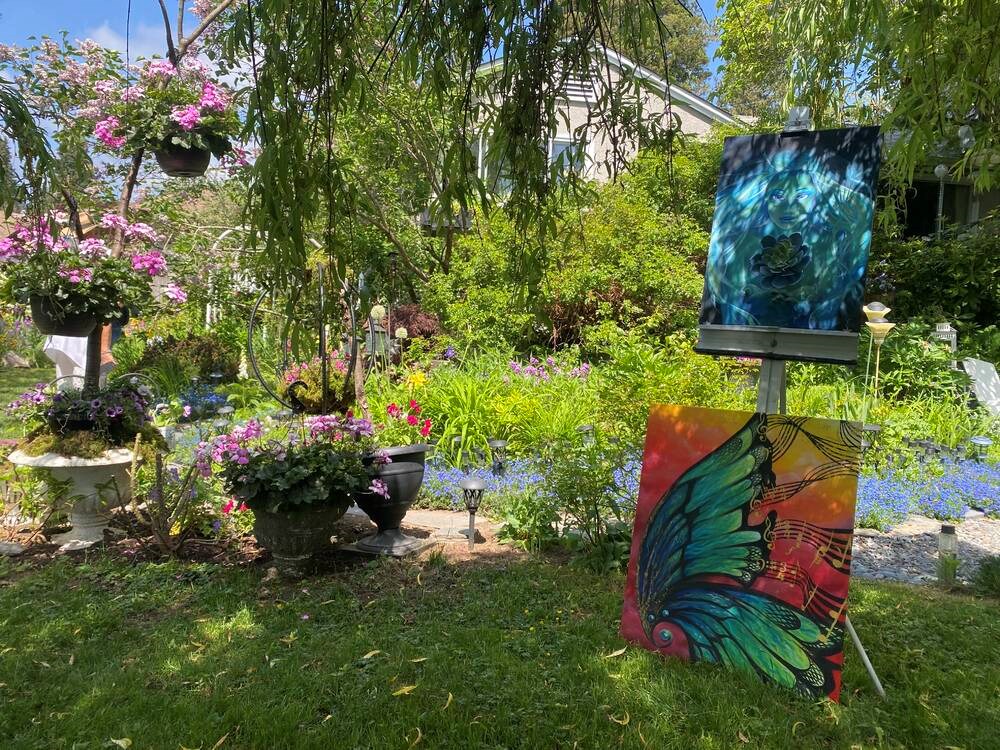 Ask any creative what qualifies as art and they will tell you that art is multifaceted, spanning everything from music and performance to paintings, sculpture, sketch and – to some especially green-thumbed creatives – a meticulously curated garden.
This weekend gardens across the North Shore celebrated all things aesthetically pleasing for Arts in the Garden, a community event that fuses all facets of artistic creation by putting together visual artists, musicians and live performers in the same space.
The annual event, presented by North Van Arts, comprised 13 blooming gardens that traversed themes from 'engaging' – a garden with thought-provoking artwork and an active garden with bubbling ponds – to 'connected' – another filled with interconnected, meandering trails and musicians who sang on the on the healing power of trees.
"This natural environment lends itself so well to art. Galleries are very restrictive, you're in a very sterile environment, but this inspires creativity, more authentic conversation," said Garrett Andrew Chong, a photographer whose images had poked out from flourishing flower beds in a garden on West Vancouver's Marine Drive.
For the artists participating, the event gave them the opportunity to get out of the stuffy confines of gallery and workspace, and allowed their wares to be viewed and appreciated by a wider audience.
"This is a really, really nice opportunity, this is a very different demographic to where I live, a much different crowd, and it means I can showcase all the different things that I work on," said artist Emily Picard, an artist from the Sunshine Coast.
Like many of the artists participating, Picard's creations complemented the space it inhabited. The eclectic nature of her work – Picard's mediums span acrylic paint, spray paint, watercolour and marker pens – slotted in seamlessly to a garden that was anything but minimalistic.
Aptly categorised under "Ethereal" the North Vancouver garden, number 7 on the tour, had been like a scene from Alice's Wonderland, complete with chandeliers hanging from the trees – 75 in total – birdcages protruding from flower beds and crystal dinnerware scattered large silvered tables.
Gardener Susan Bath, who has spent 27 years putting the outdoor scene together, said she hopes her mystical greenspace will inspire creativity within all who enter, and will encourage them to embrace whimsy in all its forms.
"I hope this shows that you don't necessarily have to hire a professional, or be a professional, to create in this way. You don't need a landscape artist, you don't need money or a large garden, you just need time and a sense of playfulness," she said, adding how most pieces had been gifted, bought from charity stores, or picked up from the side of the road.
While some gardens transported guests to Lewis Carroll lands, others set the scene for education. At Garden number 9, dubbed 'Energized', the LifeSpace Gardens hosted fellow green thumbs and offered tips and information on urban farming and vegetable growing.
At "Harmony", garden number 4 on West Vancouver's Whonoak Road, a fourteen year old food forest on Sḵwx̱wú7mesh Úxwumixw (Squamish Nation) land invited guests to learn about Indigenous plants and healing.
"This is an educational space, where people can come and pick different things that they need from our community, anytime of the year," said Senaqwila Wyss, the garden's host, adding how the garden is open to all who want to learn.
Wyss said the event provided the opportunity for guests to learn the names of herbs and plants in the Sḵwx̱wú7mesh Sníchim (Squamish language), to learn of Indigenous foods themselves – like the Indigenous wild potato wapato that has been making a comeback in local soil – and to immerse themselves in Squamish culture. Within the garden, musician Rennie Nahanee had delivered song and Squamish storytelling, talking of Elders and canoe experiences.
Whether hosting Indigenous storytelling or abstract art, each garden, said Tary Majidi, artist and host of Marine Drive's offering, should provoke some sort of response from guests. It should inspire them to create or to engage, to connect with other people more or to just appreciate the smaller, more natural, everyday things in life.
"We could all do with getting off the internet, off social media, and going back to art and going back to the natural world, enjoying nature or clay or paint," she said.
"If there is one thing that people should take away from this event, it's that art can heal and that should not be overlooked," she said.
Mina Kerr-Lazenby is the North Shore News' Indigenous and civic affairs reporter. This reporting beat is made possible by the Local Journalism Initiative.
Bigger Art in the Park returns this weekend
'Art in the Park Rain or Shine' part of the new marketing campaign for the 38th annual festival, April 28, 2016. (Photo by Maureen Revait)
Last year's event in Windsor's Willistead Park broke attendance records. About 40,000 people came through the gate, and sales surpassed years in the past. Event Chair Allan Kidd said one vendor had to drive home for more inventory when they sold out.
More than 250 vendors from Ontario and Quebec registered for this year's festival. Another 20 food vendors signed up, including local beer, wine, and spirits makers.
A complimentary bike valet is new this year. Those who go will find it at the Chilver Road entrance.
Kids Zone is back with four giant inflatables, face painting, and the chance to meet some of their favourite characters.
A free shuttle service will carry festival-goers to Willistead Park from 1591 Kildare Road and the Hiram Walker parking lot on Riverside Drive at Montreuil Avenue.
Admission is $8 at the gate, but guests can buy a ticket online for $7. There is no charge for children aged 12 and under.
Art in the Park has raised $1.3-million for the Rotary Club of Windsor 1918's restoration efforts at Willistead Manor and $2-million for local and global projects.
"Much of our community doesn't know that Art in the Park is a fundraising event. The people who attend help us raise the funds to build schools, drill wells, and deliver books, medicine and wheelchairs at home and around the world," said Kidd.
Art in the Park on Saturday is from 10 a.m. to 7 p.m. and Sunday from 10 a.m. to 5 p.m.
Masha Titova's "The Music of Art"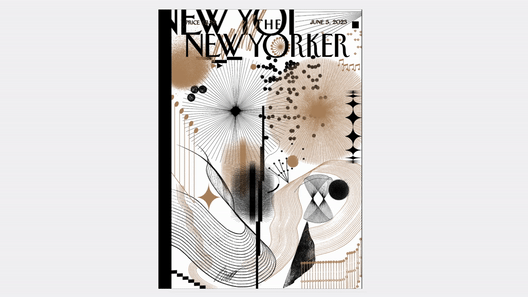 It's not often that the cover of The New Yorker, traditionally a storytelling image signed by the artist, reflects what goes on behind the scenes at the magazine—but that is what the black and copper shapes designed by Masha Titova for the cover of the June 5, 2023, Music Issue, available to read in its entirety here, manage to do.
The first step was connecting with Titova, a Russian artist who relocated to Montenegro last year, after the Russian invasion of Ukraine. I asked Titova to use her sense of design to orchestrate a portrayal of a variety of sounds. Titova says, "I don't play an instrument, but I love music, especially its rhythms, which often inspire me. And when I design, I try to harmonize the various visual shapes as if they were part of a musical composition."
Once we settled upon the image, we recorded the aural elements that make up the cover's malleable melody. Some of our more musically adept staffers—including Nick Trautwein, a senior editor who moonlights as a saxophonist, and David Remnick, the editor, on guitar—gathered to interpret Titova's shapes, selecting the ones they wished to play. Julia Rothchild, a managing editor, who contributed piano, viola, and voice, described the process as "an exercise in synesthesia. What sound would that square make, or those triangles? A thud, or a flutter?"
Impromptu chamber groups formed: a viola-cello duo, a vocal quintet. The musical respite in the middle of the day presented the opportunity to exercise a different kind of focus from that of closing pieces, or making fact-checking calls. The associate research director Hélène Werner, who has played the cello since she was eight years old, said, "Music set me on my way. It was the organizing principle of my childhood. . . . It demands, of those who play it and listen to it, intellectual commitment and emotional honesty. It is generous in return. There is no better teacher." Rina Kushnir, the art director, also appreciates music for its emotive qualities, for its ability to communicate what is "not possible to express otherwise." Liz Maynes-Aminzade, the puzzles-and-games editor, says that "drumming and writing (puzzles or otherwise) light up some of the same parts of my brain." A unifying factor in everyone's performance was how seriously each performer took their music. One after the other, when their turn came, they paused their casual banter, took a deep breath, played their bit, and only then rejoined the playful green-room atmosphere. It was an unplanned but perfect demonstration of all our colleagues' marvellous dedication to all they do.
The making of a weekly magazine (or of a Web site, a radio show, a festival, any of our many undertakings) is always a concerted endeavor, but that collaboration happens behind the scenes. This multimedia project, programmed by David Kofahl, the head of the interactives department, with the help of the features editor Sam Wolson, gives a glimpse of the way the efforts of many talented individuals and departments combine to insure that The New Yorker appears on your doorstep (or in your in-box), week after week, as good as we can make it.