The 45th Weather Squadron keeps an eye on the sky ahead of historic SpaceX launch – Fox News
CAPE CANAVERAL, Fla. — After unfavorable weather conditions scrubbed SpaceX and NASA's historic launch plans Wednesday, the eyes of space fanatics will return to Cape Canaveral, Fla. Saturday at 3:22 P.M. EDT.
Wednesday's launch would have been the first time a private company sent astronauts into orbit. It would also have been the first time that astronauts have launched from U.S. soil since the final Space Shuttle mission in 2011.
But Mother Nature had other plans, and astronauts Robert Behnken and Doug Hurley must wait a little longer before beginning their 19-hour journey to the International Space Station.
"We had simply too much electricity in the atmosphere," NASA Administrator Jim Bridenstine said Wednesday in a video message posted on Twitter.
"There wasn't really a lightning storm or anything like that, but there was a concern that if we did launch it could actually trigger lightning," he added.
The decision to scrub Wednesday's launch was made with 16 minutes and 54 seconds left before liftoff.
SPACE ALLIANCE: ELON MUSK AND PRESIDENT TRUMP SET FOR HISTORIC DEMO-2 LAUNCH
The 45th Weather Squadron, located at Patrick Air Force Base, plays a large role in making decisions like these. A whole room full of military and civilian personnel closely monitors and tracks global weather to assure the conditions are safe enough to launch.
"We're looking at all kinds of information. We're not just looking at, 'Is it sunny? Is it cloudy? Is it rainy?'" Major Jeremy Rhomsco told Fox News. "Our big concern is the potential for a triggered lightning strike."
Rhomsco says lightning does not have to be visible for his team to get concerned, and sometimes the most harmless-looking of clouds carry great danger.
"Even cumulus clouds can have electric fields built up inside them," said Rhomsco. "You launch a rocket through that, with all kinds of exhaust coming out of the rocket, and the speed of the rocket, you can actually have a discharge — a lightning strike from the cloud to the rocket."
Major Emily Graves, who works alongside Rhomsco, told Fox News that when it comes to clouds and lightning, there are ten different "weather rules" that must be met in order to launch. While each one has its own unique set of criteria, Wednesday's attempted launch violated three.
She added that it's quite possible that rules will be violated again this weekend.
NASA ASTRONAUT ON SCRUBBED LAUNCH: 'YOU NEVER KNOW WHAT DAY YOU"RE REALLY GOING TO LAUNCH'
"Some of the more common [rule violations] that we are looking at for this weekend are our 'cumulus cloud rule,'" explained Graves. "That's kind of a big one this time of year. We're getting into our unstable season where we'll see a lot of thunderstorms."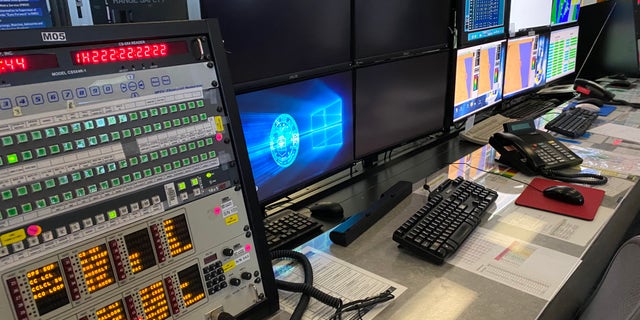 Graves says that 49 percent of scrubbed launches can be chalked up to weather, and 24 percent of all countdowns are affected by it as well.
Rhomsco points out that while the weather systems surrounding the launch site are of great importance, the weather must also be suitable beyond the Sunshine State.
"All the way along the East Coast," said Rhomsco, explaining that the Falcon 9 Rocket and Crew Dragon Capsule will travel along this path upon launching. "Anywhere along that ascent corridor up through the Northern Atlantic where the capsule reaches orbital insertion."
If something should go wrong and the capsule needs to return to Earth prematurely, rescue and recovery areas must be clear as well — which puts much of the globe into play.
CLICK HERE TO GET THE FOX NEWS APP
With so many variables, both Rhomsco and Graves admit that the process can become hectic and even intense in the moments leading up to a launch — in part because decisions can be made with less than a minute to go.
"Sometimes we can go up to 30 seconds until the launch time," said Graves. "And then, when we're evaluating for our launch commit criteria when it comes to lightning, we can make that call up to 5 seconds before as to whether we're gonna be a go or no go."
As of Friday evening, there is a 50 percent chance of a weather violation for Saturday's scheduled launch.
Just like Wednesday's attempt, the general feeling inside the 45th Weather Squadron is that Saturday will come right down to the wire.
"It's a late afternoon launch. That's when the storms normally pick up," said Rhomsco. "So, it will probably be right down to the last minute again."
Comet NEOWISE Has Suddenly Become Visible to the Unaided Eye – SciTechDaily
A comet has suddenly become visible to the unaided eye. Comet C/2020 F3 (NEOWISE) was discovered in late March and brightened as it reached its closest approach to the Sun, inside the orbit of Mercury, late last week.
The interplanetary iceberg survived solar heating, so far, and is now becoming closer to the Earth as it starts its long trek back to the outer Solar System. As Comet NEOWISE became one of the few naked-eye comets of the 21st Century, word spread quickly, and the comet has already been photographed behind many famous sites and cities around the globe.
Featured, Comet NEOWISE was captured over Lebanon two days ago just before sunrise. The future brightness of Comet NEOWISE remains somewhat uncertain but the comet will likely continue to be findable not only in the early morning sky, but also next week in the early evening sky.
Related: Skywatching Tip for July 2020 from NASA
Grizzly bears in the dark as they try to share living space with humans: study – Medicine Hat News
By Bob Weber, The Canadian Press on July 7, 2020.
A grizzly bear roams an exhibit at the Woodland Park Zoo, closed for nearly three months because of the coronavirus outbreak, Tuesday, May 26, 2020, in Seattle. Grizzly bears are doing their best to get along with people, but it still isn't enough. Newly published research assessing more than 40 years of data concludes that without large wilderness areas to replenish their numbers, the bears would disappear from landscapes they share with humans. THE CANADIAN PRESS/AP/Elaine Thompson
EDMONTON – Grizzly bears are doing their best to get along with people, but it still isn't enough.
Newly published research concludes that without large wilderness areas to replenish their numbers, grizzlies would disappear from landscapes they share with humans.
"The persistence of bears near people, when we see them along highways or near towns, they're really propped up by the fact they exist near some sort of secure wilderness," said Clayton Lamb, a University of Alberta biologist and lead author of a paper published in the Proceedings of the National Academy of Sciences.
Researchers found bears in populated areas in Alberta and British Columbia have even changed how they hunt in an attempt to share living space with humans.
"The bears are doing what they can," Lamb said. "The difference might have to be made up by us."
The study set out to examine an emerging phenomenon in wildlife conservation – large carnivores re-establishing themselves on mixed landscapes including cities, highways, rural communities and patchworks of natural habitat.
It digested 41 years worth of mortality, movement and demography among 2,669 grizzlies over nearly 400,000 square kilometres of British Columbia.
It found mortality has increased steeply with the amount of human impact measured through an index that includes human population, land use, infrastructure, coastlines, roads, railroads and navigable rivers.
Deaths have outnumbered births and the difference is being made up through emigration of young grizzlies from nearby wilderness. For every point the index increases, a local bear population must increase the number of individuals it draws by about two per cent.
"Grizzly bear range is quite tied to the distance from some secure piece of wilderness," said Lamb.
That's despite the grizzlies' efforts to adapt to humans. The study found young, newly arrived bears gradually learned ways to avoid contact, such as hunting and gathering at night.
Adolescent bears in areas dominated by humans have increased their nocturnal time by up to three per cent annually, which has led to corresponding increases in survival. The cost, however, is steep.
The scientists found it takes 14 years for a grizzly to learn how to co-exist with humans. For every bear that makes it, 29 don't.
"A lot of those bears would have been born on a mountaintop 10 kilometres away and lived with mom in an avalanche chute and lived a normal bear life," Lamb said.
"Then they find a home near town and get lured in by an apple tree. The gauntlet they have to run is very difficult."
The study shows that high mortality has impacts far from where the deaths take place. Bears dying in mixed-used areas draws more grizzlies from the wilderness to take their place.
"Conflicts with people have rippling effects on (bear) populations far removed," Lamb said.
Highway overpasses are one good way to reduce deaths, he suggests. But humans living with bears have to get better at removing attractants such as roadkill or fruit trees to end the bears' constant, often fatal, migration from the wilderness.
"We're not quite there," said Lamb. "The system relies quite heavily on adjacent wilderness."
This report by The Canadian Press was first published July 7, 2020
– Follow @row1960 on Twitter
Leave a Reply
You must be logged in to post a comment.
Odd pink snow in the Alps is pretty, but it might also be a red flag – CNET
Pink snow, also called "watermelon snow," has appeared at the Presena glacier in northern Italy, according to researcher Biagio Di Mauro of the Institute of Polar Sciences at Italy's National Research Council. While it's not uncommon for the Italian alps to be "pretty in pink" in spring and summer, scientists become cautious when the phenomenon, which is caused by algae, starts happening more frequently.
Di Mauro told CNN that 2020's lack of snowfall and higher temperatures have nurtured the algae's growth. More algae could lead to ice melting faster.
When Di Mauro tweeted clarification for an article from The Guardian, he said the algae was probably Chlamydomonas nivalis, a snow algae. He also said the algae's relationship with climate change hasn't been proven yet.
Di Mauro tweeted photos of the pink snow on Monday.
Across the ocean, in late May, Antarctica reported green snow, caused by microscopic algae. Though microscopic, the green blooms could be spotted by satellites. The color might also have connections with the impact of warming climates, researchers said.