The AGO is showcasing 150 years of Canadian queer art, from the 1800s to today
Queeries is a weekly column by CBC Arts producer Peter Knegt that queries LGBTQ art, culture and/or identity through a personal lens. 
Summer may be winding down, but there's still plenty of time to experience one of its most notable queer art offerings: Blurred Boundaries: Queer Visions in Canadian Art, which runs through September 25th at the Art Gallery of Ontario. Featuring installations spanning 150 years, the Blurred Boundaries exhibit is a powerful illustration of the various ways queerness can be conceptualized in Canadian art.
"Exhibiting historic works is invaluable, as it shows that queer relationships have always existed and are far from being a contemporary manifestation," says Renata Azevedo Moreira, AGO Assistant Curator of Canadian Art, who put together the exhibit.
Take, for example, the photographer Edith S. Watson, whose work was predominantly created well over a century ago.
"Everyone should see her album, 'Happy Voyages with Queenie in Canada,'" Moreira says. "It features photos of Watson and her companion 'Queenie' (the journalist Victoria Hayward) as they travelled around Canada at the end of the 1800s and beginning of 1900s."
Moreira also points to Toronto-born, Montreal-raised artist Cassils, whose 2011 archival pigment print "Advertisement: Homage to Benglis" pays tribute to Linda Benglis's historic 1974 feminist artwork "Advertisment." In collaboration with photographer and makeup artist Robin Black, Cassils appears in the work in all their ripped, transmasculine glory.
"I think that no work in this grouping symbolizes resistance more than Cassils' 'Advertisement,'" she says. "It is a direct confrontation on the very definition of what a feminine or masculine body is supposed to look like, and if these concepts even make sense nowadays."
"The artist's choice to present it over wheat-pasted press releases denouncing the photographs' ban from German subway stations as an act of transphobia brings a necessary layer of activism to the exhibition."
Cassils and Watson's work is displayed alongside the mighty likes of General Idea, Will Munro, Zachari Logan, Frances Norma Loring, David Buchan and Robert Flack. Collectively, their work makes up the 13 installations of the exhibit — which, while by no means massive, is a towering presence in one of North America's largest art museums.
"I think [queer art] has been embraced by segments of the art world, especially university galleries, artist-run centres, and experimental art spaces which stimulate the production of works that question pre-established concepts and the status quo in general," says Moreira. "Queer theory has had a huge impact in new media art, bioart, nanoart, and every practice that questions the limits between art, science, and technology."
However, queerness has been less present in traditional public institutions — "especially when it comes to openly stating that a show or an artist is queer in a title or on the label," says Moreira.
"There seems to be a fear that this can alienate or even offend part of the audience, or that queer art will only interest a queer audience — which is untrue and ignores one of art institutions' main functions, that is, to reflect the world through art. We need more curators interested in queering and decolonizing exhibitions and collections working inside all institutions."
Going forward, Moreira says she is excited about seeing more spaces and artists that "resist rigid classification and definitions, reflecting, as it does, a new generation brought up to see identity as not fixed or stable, but transient."
She names Concordia University's Milieux Institute for Arts, Culture and Technology, Brooklin's Eyebeam and The University of Western Australia's SymbioticA lab as some examples of the world's more "fruitful spaces" in this regard.
"Among many others, these institutions centre queer definitions of what art is by proposing new terminology and providing inspiring environments for talented artists to create groundbreaking art," she says.
Moreira also heralds the queer-focused Leslie-Lohman Museum of Art in New York City.
"It is a necessary stop for any queer art lover who has the opportunity to travel there," she says. "The National Gallery of Canada also has a show right now presenting contemporary queer art called Over the Rainbow: Works by LGBTQ2S+ artists that I am excited to see soon, together with the General Idea exhibition, whose work is also present in Blurred Boundaries."
"My next show at the AGO is opening on October 8th and will be called Her Flesh and bring works by womxn artists including Alma Duncan, Nina Levitt, and Jess Dobkin, who all created and/or continue to create works that centre lesbian perspectives."
But moreover, Moreira encourages people to do research about artists "they find particularly unconventional in a museum, even if not openly declared."
"They might bathe in queer perspectives that will definitely surprise you," she says. "It is much more common than one may think."
Blurred Boundaries: Queer Visions in Canadian Art continues at the AGO through September 25th.
Rubbish fashion: street art costumes of Kinshasa – in pictures – The Guardian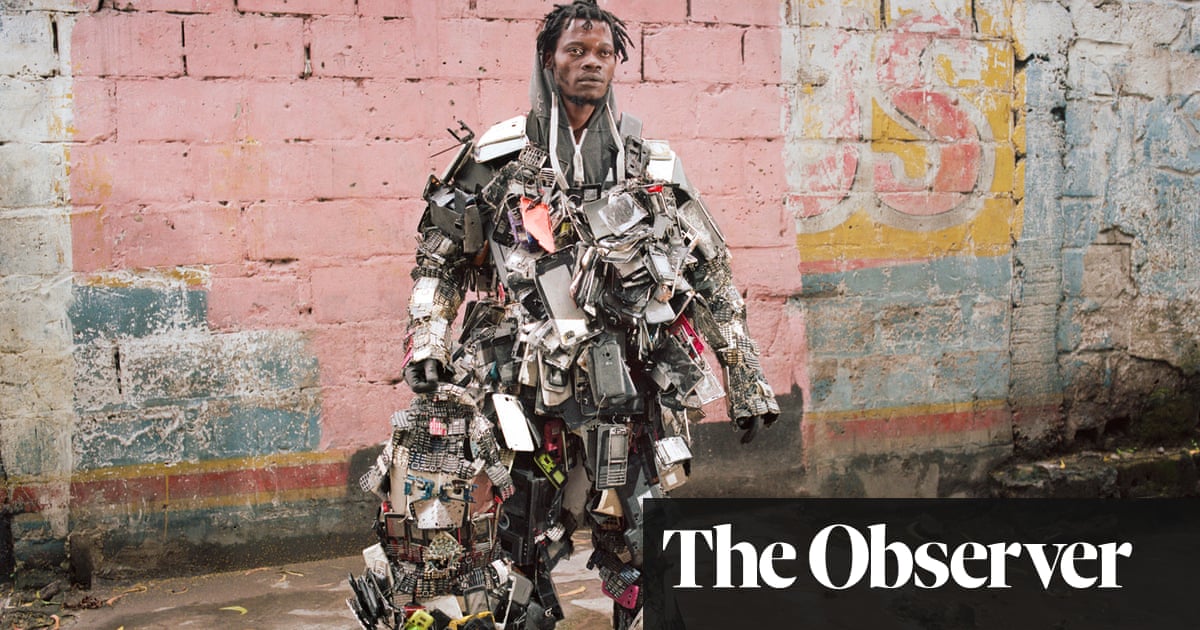 Falonne Mambu posing in her electric wires costume in Limete district, Kinshasa. As a performing artist, she raises issues about social development in her own country. The Democratic Republic of the Congo is potentially the biggest electricity provider in sub-Saharan Africa. Unfortunately, decay and corruption have crippled the national Inga dam, which only works to the minimum of its capacity. Nowadays, only 19% of Congolese people have access to electricity.
Montreal artist won't change puppet that community groups say looks like blackface
MONTREAL — A theatre performance for children featuring a puppet that has been described as racist is continuing in the Montreal area.
Several Black community organizations have criticized the puppet as being reminiscent of blackface minstrel shows — racist performances during which white people portrayed exaggerated stereotypes of Black people for laughs.
But the show's creator — Franck Sylvestre, who is Black — has no plans to change the puppet, which he said is a caricature of his own features. Sylvestre said in an interview he can't accept the idea that he's not allowed to create a caricature of someone who is Black because racists created caricatures of Black people in the past.
"That's unheard of for an artist," he said.
The play, called L'incroyable secret de barbe noire — French for The Incredible Secret of Blackbeard — first drew controversy in February.
A performance at a municipal theatre in the Montreal suburb of Beaconsfield, Que., was cancelled after complaints by Black community organizations. The neighbouring community of Pointe-Claire, meanwhile, removed the play from its official Black History Month programming but allowed the performance to go ahead.
Sylvestre, who wrote the one-man show in 2009 aimed at kids aged five to nine years old, said he had never received a complaint about his show before February.
A series of performances of the play, which combines theatre, storytelling, masks and puppetry, begins Sunday in Laval, Que., he said, before he takes it to France for 30 performances.
Sylvestre said the play tells the story of a young man who travels from Montreal to Martinique — the Caribbean island where Sylvestre's parents are from — at the request of his dying grandfather, who is haunted by his discovery of a mysterious wooden chest with a connection to the pirate Blackbeard.
Max Stanley Bazin, president of the Black Coalition of Quebec, describes the puppet's appearance as "very, very, very ugly" and said he worries that seeing a Black person presented in such a way could cause emotional damage to young audiences.
"It will have an impact on them, it will have an impact on the mind of the young people who see this puppet, and that's what we should think about," he said in an interview.
People are more likely to speak out about racism now than they were in 2009, Bazin said, adding that he thinks Sylvestre should listen to community members and replace the puppet with a less controversial creation.
"If there are people in society who have said this isn't right, you have to react," he said.
Philip Howard, a professor in the department of integrated studies in education at McGill University, said he's not sure the puppet is an example of blackface — but he said that's beside the point.
"There is still very much the matter of representation and the potential use of monstrous and grotesque representations of Black people as a source of entertainment and even humour," said Howard, who has studied contemporary blackface.
Howard said the intentions of the artist are less important than the impact of the performance on an audience.
"Here we have, in this particular instance, a whole community of folks that are responding and saying, 'Wait a minute, we don't love this, we don't think this is OK and we're particularly disturbed about it during Black History Month,'" he said.
Dismissing the opinions of Black people who have a problem with the performance demonstrates anti-Black racism, he said.
Sylvestre said he thinks much of the criticism comes from people who haven't seen the play.
"It's the job of the community to see what purpose these caricatures serve; are they, like blackface, denigrating Black people, or, as in my case, are they being elevated?" he said. "This character, he's a strong character for me personally, and when I made it, I was inspired by myself."
He said the puppet, named Max, is "like a great sage," whose interventions lead to the play's happy ending.
"Max, he was the voice of reason, he was the one who advised us, who mocked me when I made a bad decision, who was above me," he said.
Prof. Cheryl Thompson, who teaches performance at Toronto Metropolitan University, said she didn't like the puppet when she viewed a trailer for the play.
"I was extremely shocked," she said. "I just couldn't believe what I was seeing."
While blackface minstrel shows are primarily associated with the United States, Thompson's research has shown that blackface performances took place in Canada, with shows in Montreal as recently as the 1950s.
Even though blackface originated with white performers, Black actors in the 1800s would also don the exaggerated makeup and participate in the racist performances for white audiences.
"It actually didn't matter if it was a white actor in blackface or a Black actor in blackface, it was the caricature that audiences thought was funny," she said.
Thompson said there's room for theatre performances to be provocative. But performers, she said, need to engage with audiences and be willing to discuss artistic choices — especially when artists are performing for audiences whose histories might be different than their own.
"Why wouldn't this person at least try to hear the voices of people who maybe have a different experience to him?" she said.
She said she wouldn't take a child to see the show, especially during Black History Month.
"I just don't see the uplifting messaging," Thompson said. "I don't see the messaging of 'you matter,' I just don't see that celebration of life. I just see something that is steeped in a history of racial caricature and mimicry."
This report by The Canadian Press was first published March 25, 2023.
Jacob Serebrin, The Canadian Press
Vancouver to remove unsanctioned spider art creeping-out transit riders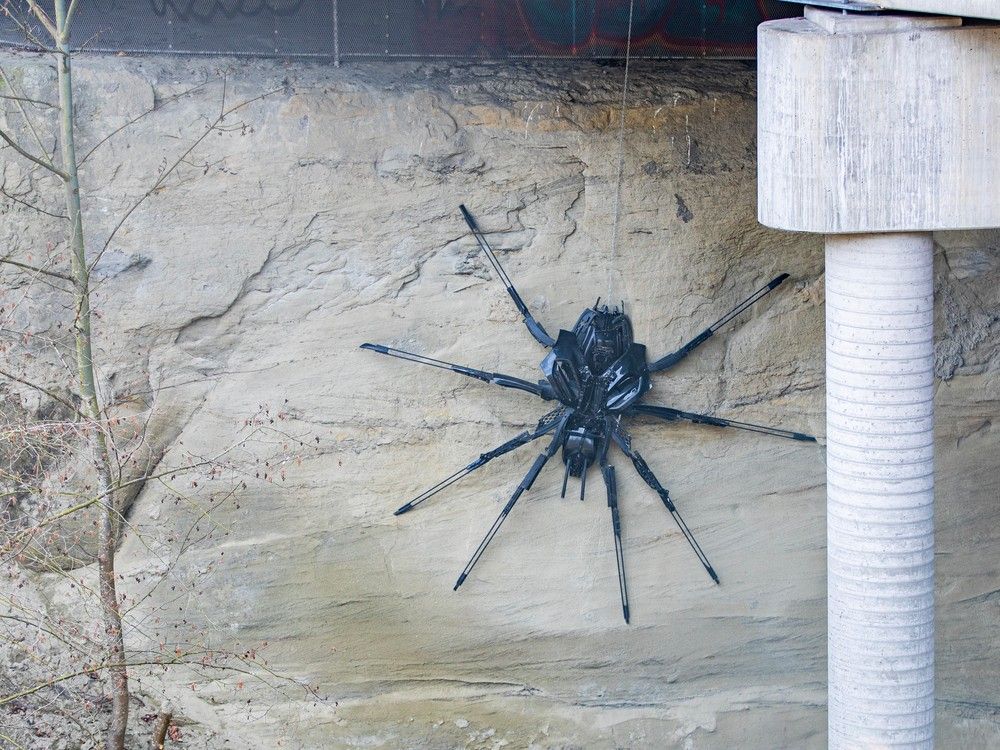 City staff are looking into how to remove a large metallic spider from under a high-traffic bridge on Commercial Drive in Vancouver.
The artwork, which startled some arachnophobic SkyTrain riders when it was installed earlier this month, was created by pop artist Junko Playtime.
In an email to Postmedia News on Friday, city staff say they were made aware of the unsanctioned spider artwork located in a corridor for SkyTrain and CN/BNSF Rail.
The installation wasn't done in consultation with the city or the rail corridor partners, city staff said. They're trying to figure out the best way to remove the artwork so there is no damage to the bridge structure or rail lines.
Staff said the artist will have the ability to claim the work through the city's impoundment process.
According to Playtime's Instagram page, the eight-foot-diameter spider was installed at night recently on the north bank below the bridge between North Grandview Highway and Broadway.
Playtime, from Montreal, has gained a reputation over the past two years for installing very large and far-out insect like futuristic sculptures from scrap metal and household items.
The artist called this latest spider creation "Phobia 2023. Time to face our fears."
— With files from David Carrigg