The Art of Communicating Risk – Harvard Business Review
Executive Summary
Sometimes during a crisis we don't know how bad the situation really is. Consider the following scenario involving a data privacy violations: A company discovers that sensitive data about a user is exposed in an unencrypted database for 24 hours. Has anyone accessed it? If so, what, if anything, can they glean from it? Firms facing the question of whether and how to communicate risk often err too far in either direction. When organizations alert their customers to every potential risk, they create notification fatigue. When firms wait too long to communicate in an effort to shield users from unnecessary worry customers interpret time lags as incompetence, or worse, as obfuscation. The answer is to trust that customers can process uncertainty, as long as it's framed in the right way. Using techniques from behavioral science, the authors suggest better ways to communicate uncertain risks in way that will protect customers and foster trust.
Most organizations can cope with straightforward bad news, and so can most people. We absorb the shock, and move on. But what happens when we don't know how bad the news actually is?
When it comes to crises, the news companies must deliver is often potential bad news. How should a technology company react when it learns that it might have suffered a breach of your data, or a supermarket discovers it might have sold you contaminated lettuce, or a medical device maker learns that patients may have a defective hip replacement? Communicating about uncertainty — what people call 'risk communications' in practice — has become one of the most important challenges faced by anyone who needs to convey or consume information.
Risk communications are more important than ever during the current pandemic. Scientists, policy-makers, and companies alike are uncertain of many basic facts about Covid-19 with crucial implications for personal and societal decisions. How infectious is this new virus? How likely is it to kill people? What will be its long-term economic, social, and cultural consequences?
Even before Covid-19 hit, communications were increasingly becoming an important part of corporate and organizational management. Consider the following scenario involving a data privacy violations: A company discovers that sensitive data about a user is exposed in an unencrypted database for 24 hours. Has anyone accessed it? If so, what can they do with it right now? What will they be able to do with it five years from now, with machine learning techniques that will be available at that time? The answers are typically, we don't really know. That is not an assessment that most organizations or individuals know how to deliver in an effective way. This has major consequences for individual firms and for firms collectively. The tech sector, in particular, has suffered a large and growing trust deficit with users, customers, and regulators, in part because tech companies struggle to communicate what they do and do not know about the side effects of their products in ways that are transparent and meaningful.
When we talked to experts across eight industry sectors, we uncovered a common dilemma: firms facing the question of whether and how to communicate risk often err too far in either direction. When organizations alert their customers to every potential risk, they create notification fatigue. Customers tend to tune out after a short while, and firms lose an opportunity to strengthen a trust relationship with the subset of customers who really might have been at most risk.
When firms do the opposite — for example by waiting too long to communicate in an effort to shield users from unnecessary worry — there is also a price. Customers interpret time lags as incompetence, or worse, as obfuscation and protection of corporate reputations at the expense of protecting customers. The more mis-steps firms make in either direction, the greater the trust deficit becomes, and the harder it is to thread the needle and get the communications right.
To make matters worse, individual firms have a collective effect when they communicate about uncertainty with customers and other stakeholders. The average citizen and customer is the target of many such communications coming from a variety of sources – with a cumulative impact on notification fatigue and ultimately the level of ambient trust between firms and the public. It's an ugly bundle of negative externalities that compound an already difficult problem.
We believe it doesn't have to continue this way. Decision science and cognitive psychology have produced some reliable insights about how people on both sides of an uncertainty communication can do better.
The inherent challenge for risk communicators is people's natural desire for certainty and closure. An experimental Russian roulette game illustrates this most poignantly: forced to play Russian roulette with a 6-chamber revolver containing either 1 bullet or 4 bullets, most people would pay a lot more to remove the single bullet in the first instance than to remove a single bullet in the second instance (even though the risk reduction is the same). Kahneman and Tversky called this "the certainty effect," and it explains why zero-deductible insurance policies are over-priced and yet people still buy them.
But while they don't like it, people can process uncertainty, especially if they are armed with some standard tools for decision making. Consider the "Drug Facts Box," developed by researchers at Dartmouth.
As far back as the late 1970s, behavioral scientists criticized the patient package inserts that were included with prescription drugs as absurdly dense and full of jargon. The drug facts box (developed in the 1990s) reversed the script. It built on a familiar template from people's common experience (the nutrition fact box that appears on food packaging) and was designed to focus attention on the information that would directly inform decision-making under uncertainty. It uses numbers, rather than adjectives like 'rare,' 'common,' or 'positive results.' It addresses risks and benefits, and in many cases compares a particular drug to known alternatives. Importantly, it also indicates the quality of the evidence to-date. It's not perfect, but research suggests that it works pretty well, both in extensive testing with potential users through randomized trials and in practice where it has been shown to improve decision making by patients.
So why aren't basic principles from the science of risk communications being applied more widely in technology, finance, transportation, and other sectors? Imagine an "Equifax data breach fact box" created to situate the 2017 data-breach incident and the risks for customers. The fact box could indicate whether the Equifax breach was among the 10 largest breaches of the last 5 years. It would provide a quantitative assessment of the consequences that follow from such breaches, helping people assess what to expect in this case. For example: "In the last five data breaches of over 100 million records, on average 3% of people whose records were stolen reported identity theft within a year."
Or, imagine a "Deepwater Horizon fact box," that listed for the public the most important potential side effects of oil spills on marine and land ecosystems, and a range for estimating their severity. We've come to the view that these two examples and countless others didn't happen that way, largely because most people working in communications functions don't believe that users and customers can deal reasonably with uncertainty and risk.
Of course, the Equifax breach and Deepwater Horizon oil spills are extreme examples of crisis-level incidents, and in the Equifax case, disclosure was legally mandated. But firms make decisions everyday about whether and how to communicate about less severe incidents, many of which do not have mandated disclosure requirements. In the moment, it's easy for companies to default to a narrow response of damage control, instead of understanding risk communications as a collective problem, which, when done well, can enhance trust with stakeholders.
To start to repair the trust deficit will require a significant retrofit of existing communications practices. Here are three places to start.
Stop improvising. Firms will never be able to reduce uncertainty to zero, but they can commit to engaging with customers around uncertainty in systematic, predictable ways. A standard framework would provide an empirically proven, field-tested playbook for the next incident or crisis. Over time, it would set reasonable expectations among users and customers for what meaningful and transparent communication looks like under uncertainty, help increase the public's risk fluency, and limit the damage inflicted by nefarious actors who prey on the public's anxieties about risk. Ideally, this standard would be created by a consortium of firms across different sectors. Widespread adoption by organizations would level the playing field for all firms, and raise the bar for smaller firms that lack the required competencies in-house.
Change the metric for success, and measure results. Avoiding negative press should not be the primary objective for firms that are faced with communicating uncertainty. In the short term, the primary goal should be to equip customers with the information they need to interpret uncertainty and act to manage their risk. In the long term, the goal should be to increase levels of ambient trust and to reduce risks where possible. Communicators need to demonstrate that what they are doing is working, by creating yardsticks that rigorously measure the effectiveness of communications against both these short and long term goals.
Design for risk communications from the beginning. Consider what it would mean if every product were built from the start with the need to communicate uncertainty about how it will perform when released into the wild — that is, "risk communication by design." If risk communications were pushed down through organizations into product development, we'd see innovation in user experience and user interface design for communicating about uncertainty with customers. We'd see cognitive psychology and decision science skills integrated into product teams. And we'd see feedback loops built directly into products as part of the design process, telling firms whether they are meaningfully improving customers' ability to make informed choices.
People are naturally inclined to prefer certainty and closure, but in a world where both are in short supply, trust deficits aren't an inevitable fact of nature. We're optimistic that organizations can do better collectively by making disciplined use of the existing science.
Winnipeg Art Gallery renames its Inuit Art Centre as Qaumajuq – The Globe and Mail
The Inuit Art Centre at the Winnipeg Art Gallery is now Qaumajuq.
The WAG announced Wednesday that a circle of language keepers have given an Inuktitut name to the centre. Qaumajuq (pronounced HOW-ma-yourq) means "It is bright, it is lit," a reference to the light that flows into the new building through its glass front.
The centre, which was set to open next month, is now expected to launch in February, 2021. It will house the largest public collection of Inuit art in the world, holdings that include more than 7,000 pieces on long-term loan from the government of Nunavut.
The art includes contemporary prints, drawings and sculptures, and rare historic pieces, most of which will be on public display for the first time. The centre, which will launch with free admission for all Indigenous visitors, will feature a glass vault, a system of open storage letting people see a larger number of works.
The renaming of Qaumajuq, which the WAG says is the first of its kind at a major art institution in Canada, is an initiative that responds to the United Nations Declaration on the Rights of Indigenous Peoples and Canada's Truth and Reconciliation Commission, both of which include articles stressing the importance of Indigenous languages.
The language keepers representing both Inuit communities and Indigenous peoples in the Treaty 1 territory where the WAG stands have also given the original gallery building an Anishinaabemowin name: Biindigin Biwaasaeyaah, meaning "Come on in, the dawn of light is here." The gallery will continue to be known as the Winnipeg Art Gallery, but the Biindigin Biwaasaeyaah name is intended to signify the presence of Indigenous languages at the institution.
The names were arrived at by virtual consultations lead by Dr. Julie Nagam and Dr. Heather Igloliorte, co-chairs of the WAG Indigenous advisory circle, and joined by a group of fluent Indigenous language keepers and elders. The group included both the Inuit, and First Nations and Metis from the Winnipeg area. The languages represented are Inuktitut (Inuit), Inuvialuktun (Inuit), Anishinaabemowin (Anishinaabe/Ojibway), Nêhiyawêwin (Ininiwak/Cree), Dakota (Dakota), and Michif (Metis), and the names can be heard at wag.ca.
SMALL//works art show at KAC looking for submissions – The Omega
Once again, the Kamloops Arts Council will be hosting their small works art show, an annual event where artists can sell smaller works of art to buyers for a more affordable price.
Terri Hadwin, Executive Director at the Kamloops Arts Council, said, "We host around three to four hundred different pieces of artwork, and all of those pieces are within a certain size limit."
Hadwin added that "when people are looking to purchase something unique [or] something locally produced, they can come into the old courthouse and know that they're not going to break the bank and they will be able to meet those objectives and find that one of a kind awesome present to give to their loved one or hopefully keep for themselves even."
The SMALL/works art show is also more than an event to showcase smaller art and a fundraiser to help the KAC. Instead of the artists donating their art and the KAC keeping all the funds, the KAC splits the funds made from art sales between the artists and the KAC.
Hadwin said, "the reason why we do that is we found that other fundraisers typically ask artists to donate their artwork altogether, and we felt that this [we] really help our artists at the same time as helping our organization raise a few funds that go towards our ongoing programs."
The KAC is currently receiving submissions for the annual event and is accepting any work, including 2D or 3D art, and work under 200 inches. The work should also be priced under 300 dollars to help with the art show's affordability. Anyone submitting artwork must also be a Kamloops Arts Council member.
"Right now, we have 91 pieces, and that's quite a lot because we typically don't see any applications until the deadline day," Hadwin said. "Everybody waits until the very last moment, so this has been an uptake on early submissions, so that's really nice to see."
She also added that this art show is not juried, as they can host many pieces of artwork due to the smaller size. "It's pretty much a free for all because the pieces are so small we can fit a lot in here."
Due to the COVID-19 pandemic, this year is different from last, but the KAC can continue the annual event with a few changes to help keep attendees safe.
"COVID does adjust things quite a bit. We will encourage people to go online and book timeslots when they would like to come and view the artwork. It's not necessary, but if they go and do that, then they know for certain that they're not going to have to wait outside," Hadwin said.
"We are only going to be seeing 20 guests within the entire building during that time, so people know it's not going to be crowded," Hadwin said. "We are going to have volunteers walking throughout the building and sanitizing throughout the day so they know it's going to be a safe place to come."
The deadline for submissions to the SMALL//works art show is November 1, and anyone wishing to submit up to ten pieces can easily do so on the KAC website. The great big teeny-tiny art show will be available to view, and work will be able to be purchased from November 20 to December 19 at the Kamloops Arts Council
Culture Days celebration of all art forms was a virtual blockbuster – OrilliaMatters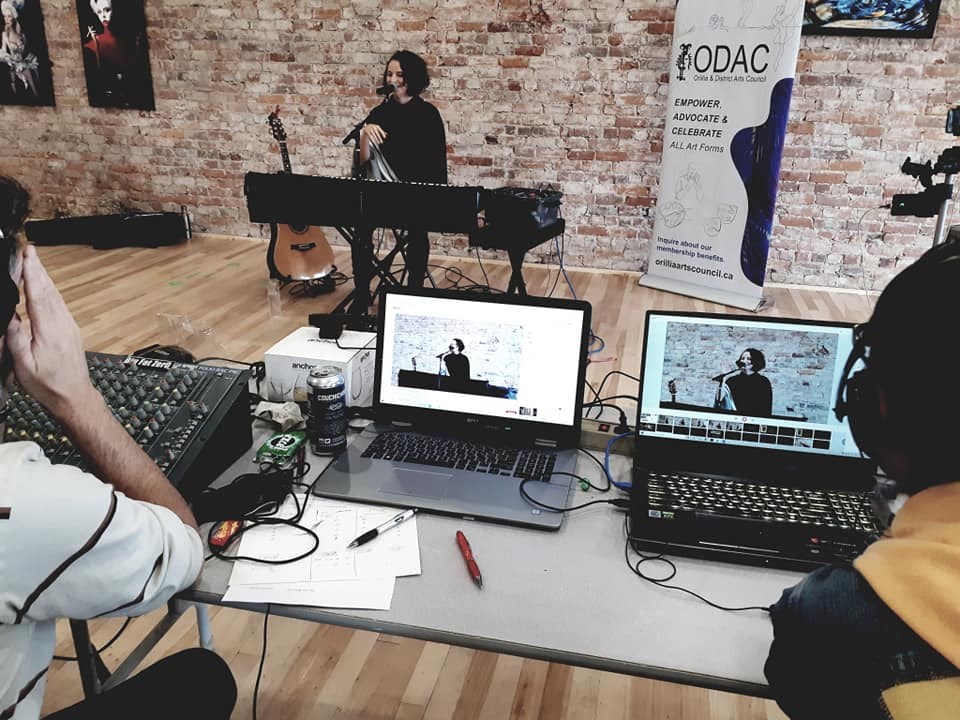 I want to start off this week by congratulating the Orillia District Arts Council, the City of Orillia Community Services Department (formerly the Parks Recreation and Culture Dept.), and Creative Nomad Studios on a very entertaining and successful virtual Culture Days event last Saturday.
My partner and I tuned in a few times during the day and it was hard to tear ourselves away.
The curation of all the different events, as well as the "fillers" in between, was topnotch, and the live streaming was excellent. It's not easy to pull off a full day of livestreaming with multiple people, places, and things, and it was pulled off impeccably. Kudos to Michael Martyn and Anitta Hamming for doing just that!
I really enjoyed the emphasis on all the different kinds of arts that there was in the programming. ODAC has, over the past several years, looked like more of a place for visual artists, but every arts form was embraced and supported in this event: performing arts, storytelling, special FX makeup, acting, videography, music, history, visual art and more.
It really went with ODAC's new tagline, displayed on the banner in many of the features: Educate, Advocate, Celebrate, All art forms. Congratulations ODAC and everyone else, you did exactly that on Saturday. The day's events will be available to be re-watched shortly, I will let you know the link when it's available.
Speaking of ODAC, it has partnered with Orillia Museum of Art and History and the City of Orillia Community Services Department for the annual Orillia Regional Arts and Heritage Awards again this year. All the nominees have been announced, and there are many, across five categories:
In Education: Stacey Schat and Doug Ironside; Otter Art Club.
In Emerging Artist: Chief Lady Bird; Marta Solek; MJ Pollak; Norman Robert Catchpole.
In Events: The Essential Concert Series; Kevin Jon Gangloff and Roots North Revisited and Orillia Youth Centre events; Dick Johnston and the Take a Vet to Dinner event.
In Heritage: Carolyn Leclair and Elite Printing: Sarah Pickard and the Sawbones Society; Marcel Rousseau; Ron and Ann Harrison; and David Town.
Qennefer Browne Award: Rusty Draper; Molly Farquharson; Roy Menagh; Phil Jackman; Gaia Orion; Will McGarvey.
Among such a wealth of talented people, who will the lucky recipients be? Find out at the virtual awards night on Nov. 25 at 7 p.m. on the Orillia Museum of Art and History's YouTube channel, here.
Congratulations to all the nominees, we really have an arts and heritage sector to be proud of, in this small town.
There are actually quite a few events coming up, both virtual and in-person, as we all learn to navigate these strange pandemic times in a safe and responsible manner.
Of course, Halloween is this weekend, and the good news is, trick or treating isn't cancelled, according to the Simcoe Muskoka District Health Unit. The unit does advise however, to include a face mask in your costume, stay six-feet apart, only trick or treat outside and with members of your own household, and perhaps use tongs to hand out candy. So, stay safe if you are going that route.
Alternatively, you may have pre-registered for the Trunk or Treat event at ODAS Park, or are thinking of going to the Quarentine-O-Ween event at It Happens Tech Repair. Trunk or Treat is full up, but the later event is going on Oct. 31 from 5 to 9 p.m. at 1-222 James St. W. where you can pop by for a safe Halloween treat.
Or maybe you are opting to have a safe event at home with members of your household. If you are staying home, you can have an amazing soundtrack to your night with the Dylan Lock Halloween Driveway Concert, Live on Facebook, starting Oct. 31 at 5:30 p.m. at Dylan Lock's Facebook page, here. So far this year, the driveway concert series has raised over $55,000 for local charities. Check out this event and have a rock 'n' roll Halloween.
Another option is to check out the drive-in movie at Orillia Square Mall on Oct. 30 at 7 p.m. The movie is the family-friendly Gnomeo and Juliet and cost is $20 a carload, with proceeds going to Building Hope. There are also giveaway goodie bags to the first 50 cars! To register your car, please contact the mall administration office at 705-325-2366.
And Jakob Pearce is playing at Fionn MacCool's in Orillia on Oct. 31 starting at 8 p.m. They have a heated patio! Enjoy!
Coming up, OMAH is hosting a plein air watercolour workshop with local artist Julianna Hawke. It's happening Nov. 3 from 11 a.m. to 3 p.m. at the beautiful Stephen Leacock Museum. For more details and to register, go here.
I don't usually mention activities outside of the Orillia area, but this new virtual world does change things up a bit, and there is a virtual event nearby that I want to tell you about. The Culture Alliance of Georgian Bay, which encompasses Beausoleil First Nation, Midland, Penetang, and Tiny and Tay townships, is putting on a huge virtual cultural conference, starting on Nov. 3 and running throughout the month.
Your $25 ticket gives you access to all eight sessions and the breakout discussions and the speakers are amazing, including keynote speaker Katherine Nicholls. Katherine is a New York-based business exec who is chair of the New York State Council on the Arts.
The theme of the conference is Obstacles and Opportunities, and there have been plenty of both and will continue to be, for the cultural sector. If you are involved in the cultural world and community in any way, I urge you to check this out, there is a lot of good information to be found here.
On Nov. 7, the annual Kiwanis Club of Orillia auction is going online, lots more details on that next week!
Just announced, Jerry Leger will be performing live in an online fundraiser for Dress for Success Orillia and Barrie, on Dec. 1 at 8 p.m. Admission will be by donation and the event celebrates Giving Tuesday, the antidote to Black Friday. Will be a fun evening of great music by this amazing Canadian musician.
Mariposa Folk Festival is having another online mini concert, this one featuring Buffy Sainte-Marie, at some point in November. We will let you know as soon as we know!
Also in November, Craig Mainprize is having a solo show, at the newly renovated Creative Nomad Studios. The opening reception will be November 12, with an artist's talk happening November 21. We will let you know more when we know!
Speaking of Creative Nomad, membership categories are now available for purchase and tours of the building can be booked! Check out lots more information on this hotly anticipated cultural centre, through the website here.
Have a safe and careful Halloween and see you next week! If you have arts news, send it to annaproctor111@gmail.com by Tuesday at noon.