The Art of Crafting, Especially When You're Sheltering in Place – Bowdoin News
When Seneca Ellis '22 is stressed or needs a break from people or her studies, she gets working on cross-stitching, needlepointing, or painting. She's been embroidering since she was twelve years old.
While crafting has always been an important part of her life, she's been turning to it more than usual during the pandemic. "I have been plowing through projects!" the neuroscience major said. "It's very therapeutic. I don't have to think about anything going on around me."
Ellis also thinks crafting in general is having its moment, as people spend more time at home and look for things to do—especially activities that are distracting. Some friends of hers are picking up cross-stitching and needlepoint. At least one is getting wildly ambitious and is cross-stitching a map of the United States.
Eugen Cotei '21, another Craft Center manager, has been knitting, crocheting, sewing, spinning wool, and baking since his grandmother taught him these skills as a little boy. He pursued these pastimes even though they weren't encouraged. "I am from Romania, and in Romania, a guy cannot have a sewing needle in his hand and he can't be in the kitchen. But I never followed those rules," he said.
Some of the objects Cotei, an earth and oceanographic science and Hispanic studies major, often creates are terrariums—glass-enclosed habitats that mimic the natural environments of plants and that in the right conditions can last decades.
Even in the desert climate where he lives (he's based right now in Las Vegas with his family), he finds enough plants—as well lustrous volcanic rocks—to make his mini-ecosystems." When I started really exploring these mountain valleys, the more upstream areas with creeks and rivers, I found a lot of different species of moss," he said.
In the past few weeks since she headed home to Idaho, Madisen Miller '22—who manages the Craft Center's pottery studio—has been working on painting projects. She and her friends are finding old record album covers and giving them new meanings by painting them.
"Art keeps me sane," said Miller, a government and history major. "Art is my only hobby that I do for the sake of pure enjoyment. Other things I do, like community service, I do for others, or I work on something to advance my career. But art is just for me, and it's meditative—you don't think of anything else; it's a good de-stresser."
The Bowdoin Craft Center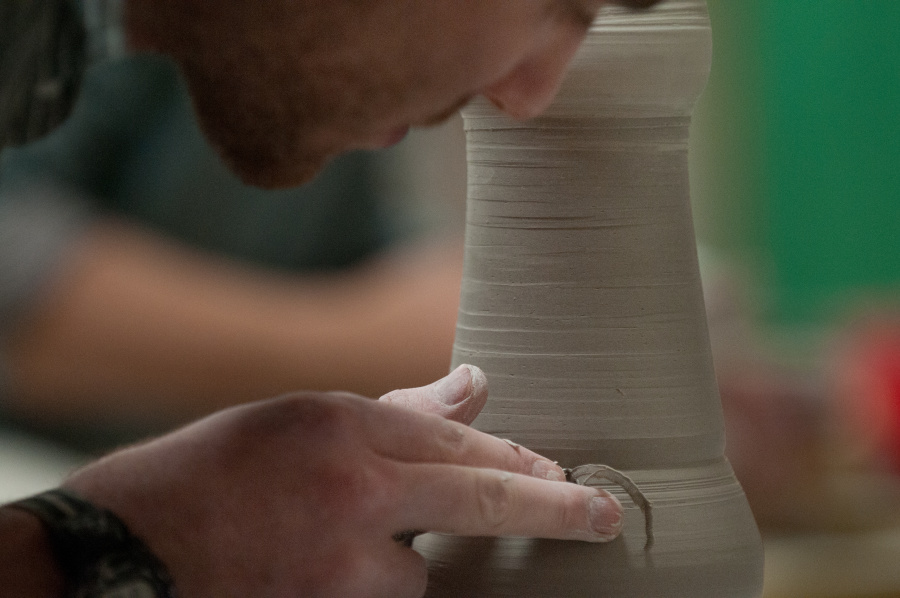 Even before the novel coronavirus forced most people into their homes and afforded more free time for many, more students were crafting.
Membership increased from 132 in the fall of 2018 to 270 last fall.
Miriam Fraga, assistant director of student activities, said this may have to do in part with the Craft Center waiving the fee for students with financial hardship.
And part of the growing interest may have to do with the managers' efforts to make it easier for crafters to drop in to the center and get help with their projects.
The managing team of students established "office hours," where they would be available to lend their expertise with throwing pots, stitching, using the sewing machine, knitting, or whatever creations students had in mind. "We took on a bigger role," Ellis said. "If people are there, we help them with whatever they're working on."
Vancouver museums and art galleries start reopening next week – Vancouver Sun
Article content continued
The VAG will have security guards and volunteers to monitor visitors.
"If there's a bit of a jam happening, that's where our volunteers and guards will maybe ask people to move along, and maybe go to another floor," said Augatis.
Staff at both institutions will be wearing masks in public areas, and it is "highly recommended" that visitors wear masks as well. But is not mandatory.
The Maritime Museum will reopen with a new show, On The Shore, featuring 44 paintings of the B.C. coast from the Bill and Mary Everett Collection, including two by works by Emily Carr and one by E.J. Hughes.
The VAG has a new exhibition culled from works in its collection, The Tin Man Was a Dreamer: Allegories, Poetics and Performances of Power. It was supposed to open in March but was delayed, as was another a new video and photographic installation, Matilda Aslizadeh's Moly and Kassandra.
The VAG's big summer show, Modern in the Making: Post-War Craft and Design in British Columbia, is being installed and will be opening July 18.
The Maritime Museum will be opening Thursday through Sunday, while the VAG will be open seven days a week.
"We would love to see the numbers come back to the museum, but we also anticipate that for the first few days or even weeks it might be a bit difficult," said Schokkenbroek.
"People will be apprehensive, people will be anxious, maybe reluctant, and wait and see how things are being done."
Vancouver marathoner inspires community through Strava art – CityNews Vancouver
VANCOUVER (NEWS 1130) — Vancouver-based runner and coach Tony Tomsich has found a way to keep running interesting during the coronavirus pandemic—Strava art.
After fulfilling a lifelong dream of running in the U.S. Olympic Marathon Trials earlier this spring, the Alaska native has been mapping his Sunday routes into complex works of art. Tomsich runs the routes turn-by-turn with his GPS watch and posts them to the Strava—a social media platform for athletes.
"It's always kind of been on my radar," Tomsich says of the idea. After years of training to qualify for the marathon trials, he didn't have a big plan going forward.
"As the pandemic hit, it became clear that running was going to look a bit different," adds Tomsich. "We were going to have to do this by ourselves and so forth. I definitely looked at different ways to enjoy the sport."
Tomsich attempted an Easter bunny on Sunday, April 12th, and said his Strava feed exploded with comments after the run.
"I was just floored by the response that I got," he says. "People absolutely loved it."
Tomsich knew he had to keep going.
He has since drawn a boat sailing by a lighthouse, a thunderbird at UBC (the university's mascot), and an orca. Tomsich wished people a happy Mother's Day with a 25-kilometre-long vase of flowers.
However, the most difficult drawing was a finish line, complete with two triumphant stick-runners, which he says was meant to inspire people even as official spring races were cancelled.
"It is a way to engage and to get people excited and share what is possible when we can't have races right now or can't have big group gatherings."
Tomsich uses Strava's "Route Builder" function to map out the run. His wife, Kate, has been following him on her bike and posting Instagram video updates to build suspense around what the picture will be. Tomsich's drawings vary from 24km to 35km, a typical Sunday run for an avid marathon.
"I asked my wife Kate to join," he says. "It's our time to spend together to disconnect and just be out."
Tomsich coaches with Mile2Marathon, a running group founded by Canadian Olympian Dylan Wykes to help beginner, intermediate, and advanced runners improve their race times while engaging in the social aspects of the running.
Mile2Marathon's motto is #bettertogether and while many of its athletes are disappointed that they can't run in groups, Tomsich hopes to inspire runners to keep going.
"I think the bigger message that I want to be able to portray to people with all this is that if you can identify what it is that you're passionate about or what you love, there's always ways to share that with other people."
New West students recreate famous works of art using their toys, household items – CTV News
VANCOUVER —
A New Westminster elementary school teacher is asking her students to tap into their inner Renoirs and Emily Carrs—but instead of paint and brushes, their materials include stuffed animals, Lego and dolls.
Sara Fox, a Grade 3 and 4 Montesorri teacher at Connaught Heights Elementary School, has assigned her students to recreate famous works of art using their toys.
Fox was forced to take her instruction online because of the COVID-19 pandemic, but her students' regular art teacher was not able to continue their lessons as they'd been asked to instruct the children of essential workers. So Fox tapped into her own creativity to keep the instruction going, assigning her students to use their imaginations to put their own spins on classic works of art.
Leonardo da Vinci's The Last Supper was reimagined by Fox's student Audrey, who replaced the glasses of wine, plates and apostles in the original with plastic cupcakes, bananas and chubby stuffed animals, including a rotund raccoon and giraffe. She titled her creation, The Squishmallow Supper.
Student Angelica recreated the iconic 1930 Grant Wood painting American Gothic using purple and grey stuffed animals. In her version, which she named Stuffie Gothic, a fork replaced the ubiquitous pitchfork from the original.
In Kai's version of Dogs Playing Poker, the poker chips from the original painting were replaced with potato chips, and the dogs playing cards around the table are plush. Bottles of mini-yogurts stand in place of beer and whiskey, and a clock on the wall hangs in the same place as the grandfather clock from the original.
To see more of the students' artwork, click through the images below this story.