The art of Indigenous truth and joy
Marie-Anne Redhead is wearing the most sensational earrings.
We're in Ikavut, the sun-soaked entrance hall at Qaumajuq, and the light is catching the discs, iridescent like the surface of a bubble. Upon further inspection: they are tiny caribou being abducted by candy-coloured UFOs.
"They're by The Littlest Inuksuk," she says, leaning in so I can get a closer look at the miniature artworks dangling from her earlobes. "You can find her on Instagram, but I think we also sell them in the gift shop."
Something is made clear in that moment: Redhead is passionate about supporting Indigenous artists, and about sharing their work, too. Important qualities to have in her new role.
Redhead, 31, is the new assistant curator of Indigenous and contemporary art at WAG-Qaumajuq, a post she assumed on Feb. 1. "I was really excited and a little scared," she says of getting the job. "It's a pretty visible position, and it's probably the first one I've had like that."
What Redhead likes best about curation is that most of it, newspaper profiles notwithstanding, happens out of view.
"It's research and thinking and writing, which is what I really enjoy — the scarier part is when I actually have to speak to people," she says with a laugh. "I am also very excited and grateful that the curatorial team here wanted to have me join them."
"It is always exciting to welcome a new member to the curatorial team," said Riva Symko, WAG-Qaumajuq's head of collections & exhibitions and curator of Canadian art, in a media release announcing Redhead's hiring. "Marie-Anne will be bringing new perspectives, new ideas, and a thoughtful approach to the work we do."
While she's new to the curatorial team, Redhead, who holds a bachelor of arts (honours) in English from the University of Winnipeg, is not new to WAG-Qaumajuq. In June 2021, she began work on the Artworks Renaming Initiative, a project in which artworks with offensive or culturally insensitive titles are renamed by Indigenous Elders and Knowledge Keepers.
When Serena Keshavjee, one of her professors at U of W, approached Redhead about the initiative, she was immediately interested. "I was like, 'Wow, I'm impressed that this work is being done and there's actually a move towards decolonizing the collection.' That gave me hope."
"I was like, 'Wow, I'm impressed that this work is being done and there's actually a move towards decolonizing the collection.' That gave me hope."–Anne-Marie Redhead
Getting involved with a project that had a tangible goal also appealed to Redhead.
"I feel like a lot of times in institutions you hear things like 'decolonization,' and it's like, what does that mean? What's it going to look like? And everything in this project was, to me, such a firm example of what that looks like."
Redhead is succeeding Jaimie Isaac, WAG-Qaumajuq's first curator of Indigenous and contemporary art. "Those are some really huge shoes to fill," she says. "I'm up for the challenge, but it is intimidating, for sure."
Her curatorial vision, honed while working on previous projects at Gallery 1C03 and windowwinnipeg, is clear. She wants to continue to expand people's understanding of what Indigenous art is. "It's photography, its installation, it's everything," she says. "And actually, so much of what Indigenous people just create is art, and that's how they view what they do. So anything that is created by an Indigenous person could be art."
Redhead also wants to continue challenging a narrative often embedded in colonial museums and galleries. "It's The Vanishing Race trope, or artifacts from a race of people who aren't going to exist into the future," she says.
"It kind of gives us space to just be able to imagine that future, and just be present without having to be present in ways that are also still kind of harmful to us."–Anne-Marie Redhead
To that end, she'd like to explore the idea of Indigenous futurity. "I would love to engage Indigenous artists who are working with digital media and augmented reality and things like that, because it's artwork that is just so untethered from our current colonial reality," she says. "And it kind of gives us space to just be able to imagine that future, and just be present without having to be present in ways that are also still kind of harmful to us."
Redhead believes in showcasing Indigenous joy, too.
"Of course, I think it's really important to talk about the TRC and truth and bringing to light the things that have happened — and that are still happening," she says. "But it's also nice to make room for joy and looking forward to the future."
---
Redhead is a member of Fox Lake Cree Nation (Treaty 5) in Northern Manitoba and is of mixed heritage. Her father is Cree; her mother is descended from French settlers and is from St. Jean Baptiste.
Redhead spent her earliest childhood years in Churchill, before moving to Treaty 1. "I feel very much connected to Gillam and Churchill, that area around Hudson Bay, because I know that's where my ancestors are from," she says.
As a high school student in Île des Chênes, Man., Redhead, unsurprisingly, gravitated towards the arts. But she also felt deeply disconnected from the Cree part of herself.
"There were definitely times where kids would say really nasty things to me, and it was hard for me to be proud," she says. "Because I wasn't around them as much at that time in my life, my Cree family. And they weren't able to be like, 'Hey, you're one of us, you should be proud of yourself and be proud of everything that we've overcome — like, you have ancestors that would just be so happy to see you here and know that you're thriving,' but I didn't have that."
But she would have that as an adult. When Redhead was 19 or 20, she reconnected with her Cree family. "I was like, 'Oh my gosh, this is my family. I look like them. I have their nose.' It's just been so affirming."
Redhead's father is a fluent Cree speaker and is teaching her the language. "He sends me little voice messages every so often, and then I try to send voice messages back, and I feel like I never get it right," she says. "But it's so great. I just love hearing his stories."
---
Redhead herself is an artist, though perhaps a reluctant one. She enjoys the quiet, often solitary process of creating more than seeing a finished piece out in the world.
"I feel like maybe one of the reasons why I like art so much and highlighting the work of other artists is because I just admire so much that they put it out there," she says.
"One of my reservations is always like, I'm so scared of how people are going to perceive it. I have a hard time just putting it out there. So, it's so funny that I'm a curator who can't even imagine my own art being in a gallery space or anything like that."
Redhead draws in ink and coloured pencils. She's a writer, as well. Lately, she's been immersing herself in beadwork.
"I have ADHD so I struggle sometimes with mindfulness and being able to, like, just sit and be present," she says. "So I think that beading is really good for that."
Like many women, Redhead got her ADHD diagnosis as an adult, at the beginning of the pandemic. "It's still seen as 'the little boy who can't sit still' kind of thing," she says.
But she'd noticed it throughout her life, the inattentiveness, the difficulty being in the moment. Teachers would get frustrated with her for spacing out. In university, she struggled with writing papers and meeting deadlines.
"I had always struggled with it but it was getting worse with time, so I had to do something about it," says Redhead, who is planning on pursuing her master's degree in Cultural Studies. "Getting that diagnosis was very helpful." Sharing that, too, is important to her; she knows what it's like to feel alone in something.
"I have ADHD so I struggle sometimes with mindfulness and being able to, like, just sit and be present. So I think that beading is really good for that."–Marie-Anne Redhead
While she relishes her (mostly) behind-the-scenes work at WAG-Qaumajuq, she's been inspired to put her own art — and heart — out there. Eventually.
"I will do it eventually. I will get it out there," she says. "Because I think just seeing all these Indigenous artists and writers have the courage and the strength to do so is really meaningful."
That she's part of a long line of Indigenous women who are changing the status quo is not lost on her, either.
"I just look at so much of the work that's already been done for decades now by Indigenous women who have worked in cultural institutions, and there's such a rich history there already. And so, to follow in those footsteps is truly an honour. I'm really grateful for it."
jen.zoratti@winnipegfreepress.com
Art therapy space gutted in 'terrible' Montreal heritage building fire – Montreal Gazette
Article content
The mission of Les Impatients, established in 1992, is to help people with mental health problems through the vehicle of artistic expression. The Monastère du Bon-Pasteur building, a multi-purpose building on Sherbrooke St. E., had been home to Les Impatients since 1999.
"A lot of people are in shock," Frédéric Palardy said of participants. "It's almost like a home for them. Some come twice a week."
They participate in art workshops and, as well, some are in music and dance workshops and a choir — all organized by Les Impatients.
"The main thing is that everyone is safe and no one was hurt," Palardy said. "My thoughts are for our neighbours."
The multi-purpose building housed a seniors' residence and a housing co-operative, Heritage Montreal, a daycare centre, condos and a chapel that served as a concert hall.
"I know a lot of people in the residence and the co-op," he said.
But the fire "is terrible for us, too."
Les Impatients was on the top floor and among the building's most severely affected by the blaze, said Palardy. Although it is not yet known for sure, the fire is believed to have started in the roof.
Article content
The space the organization occupied included its downtown workshop space, offices, gallery space and a boutique. Also lost in the fire were the organization's archives, its musical instruments and about 10 per cent of its artworks.
With about 30,000 works, Les Impatients has what is believed to be North America's largest collection of outsider art, Palardy said. The term describes art that has a naïve quality and was often produced by people without formal training as artists.
Les Impatients had insurance, but it was primarily for theft, Palardy said.
"We have to start from scratch," he said, adding that the organization is working on an appeal.
Meanwhile, Palardy said the organization has received countless emails and messages of support, including a text Sunday from deputy health minister Lionel Carmant and messages from representatives of the City of Montreal's culture department.
Article content
"A part of the soul of Les Impatients has gone up in smoke," the organization said in a communiqué. "The emotion and the sadness are vivid but the priority for the organization is to continue its mission, through this chaos, to serve its community well."

An interim location for Les Impatients administrative offices has been found, Palardy said Sunday, but the activities of the downtown section, which were held in the former monastery building, are suspended for now. That location normally serves about 130 people five days and three evenings every week through its workshops and the organization is already at work to find a new location, Palardy said.
The former monastery location is the largest and most well-established of Les Impatients' 25 locations elsewhere in Montreal and across Quebec which, together, serve more than 900 people. The other locations will continue to function, he said.
The Parle-moi d'Amour event, the biggest fundraiser of the year for Les Impatients, is set for September. Sadly, Palardy said, some of the works that were to be included were lost in the fire.
Remembering a pioneer of local Indigenous art – Sault Ste. Marie News – SooToday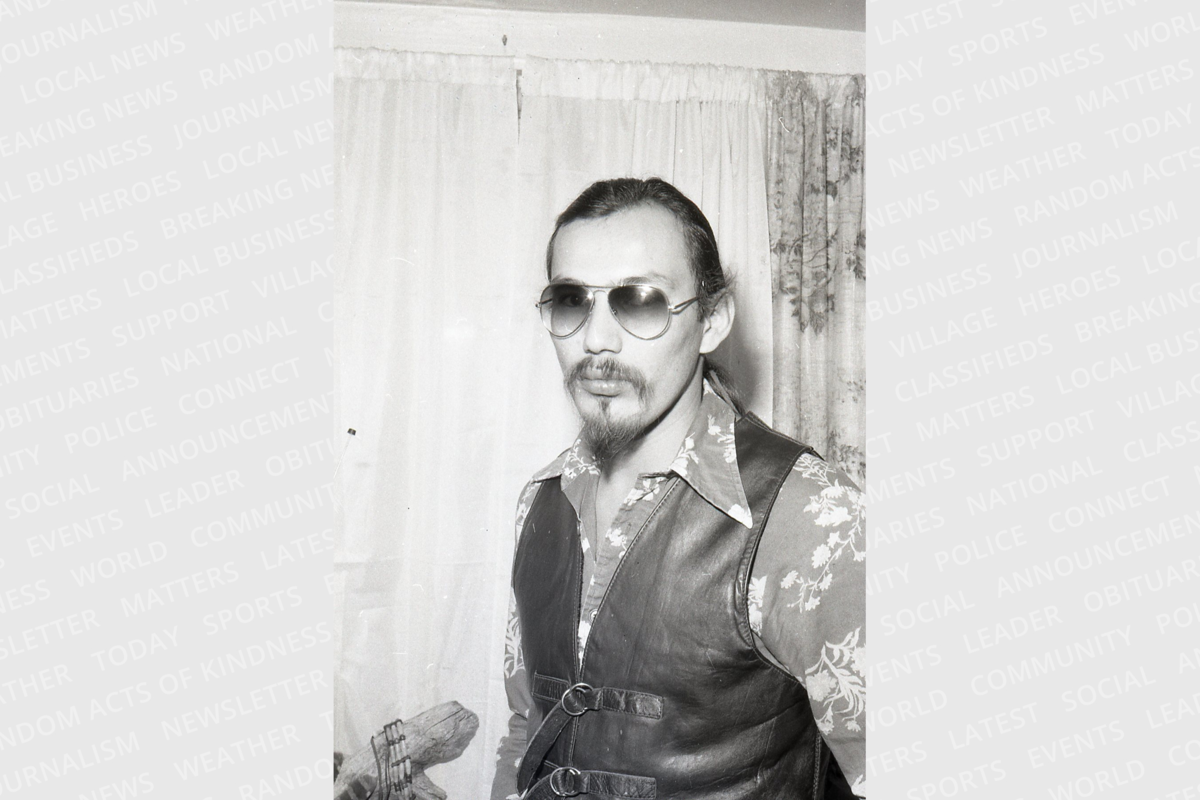 From the archives of the Sault Ste. Marie Public Library:
John Laford was a prominent Sault Ste. Marie artist, who was born in 1955 on an Indigenous reserve in the West Bay area of Manitoulin Island.
Leaving his home at the age of 15, he eventually made his way to Sault Ste. Marie by his early 20s.
He felt that he had been painting for as long as he could remember. He always enjoyed art, design and doodling after he finished school but with no formal training, he was largely self-taught.
Laford travelled throughout Europe, Canada and the United States, studying and learning from various artists along the way.
"I would only paint to get enough money to continue along the way," he said.
By 1969, Laford began painting full-time. In 1977, at the age of 22, he had his work exhibited at the Centennial Room at the Sault Ste. Marie Public Library. He used his work to show his Ojibway legends and spiritual beliefs. His spiritual beliefs and Ojibway legends were central not just to his artistic career but to his personal life as well.
Laford went on to be a vocal critic of the Children's Aid Society (CAS).
As a child, he played with a young boy who lived next to him. In a 1978 Sault Star article he explained, it was not until he was 12 that he realized that the boy was his older brother.
When he was one year old, his father died. His mother took his four sisters and two brothers and moved back to her reserve. She did not receive any financial assistance to care for her children and CAS took over.
"CAS saw my mother had too many kids and just took them away," Laford said. "To me, it seemed they just wanted to scatter the family. I wasn't adopted into a native family and the Children's Aid paid for my care but no one ever bothered to tell me about my real parents and brothers and sisters."
The foster family cared for four of them for a while which he described as very strict but fairly good people which he says helped him.
At the age of 15, he ran away from home with his older brother and travelled to Toronto in an attempt to find their mother.
"I quit school. Things weren't too good on the reserve. I was drinking a lot," he said.
When they arrived in Toronto it took them a week to find their mother. He spent three years with her getting to know her and the rest of his family.
"What I'm saying is my opinion, just my own ideas about the things I went through with Children's Aid. I would have liked to have grown up with my mother, stayed with my real mother, but it didn't happen that way. You could look at it (CAS) as destroying Indian families but they're trying to do something good," he said near the end of the Sault Star article.
Laford and two other Indigenous artists Cecil Youngfox and Peter Migwans formed a group called "Artists of the Northern Sun." They hoped it would "form the nucleus of the Indian community in Sault Ste. Marie."
The three artists created the group around 1977 when Laford moved to Sault Ste. Marie. They planned on organizing events that would bring Indigenous and Non-Indigenous Canadians together. The three wanted to create a higher profile and take on a leadership role in the community.
By 1980 Laford had become a well-established artist in his own right whose work was included in the McMichael Canadian Art Collection. His work had been exhibited in Hamilton, Toronto, and Montreal and in 1980 his work was part of the Manitoulin Island artist's show at the Royal Ontario Museum (ROM). In 1990 his work was once again featured in Sault Ste. Marie at the Art Gallery of Algoma.
Laford passed away in 2021 at the age of 67. He left a lasting mark and legacy in the
Indigenous community. He used his spirituality and culture's legends to create works of art that are enjoyed and viewed by Canadians and the world alike.
Each week, the Sault Ste. Marie Public Library and its Archives provide SooToday readers with a glimpse of the city's past.
Find out more of what the Public Library has to offer at www.ssmpl.ca and look for more "Remember This?" columns here.
Indigenous art market comes to downtown Kitchener – CTV News Kitchener
A celebration of Indigenous culture is in downtown Kitchener for the weekend.
The "I Am Kitchener: Indigenous Art Market" has taken over the Gaukel block, with everything from clothes, to art, to beadwork.
The two-day event is a showcase for artists across Southwestern Ontario, but also a welcoming to the wider community.
"I think it's really important for folks in the region to really come out and support events like this," said co-organizers Maddie Resmer. "It's a huge step forwards. What it means to connect with Indigenous community members in the region, in Kitchener, and for folks in the area to get to know some of the Indigenous artists that live here and are close to these territories, that's how we celebrate ourselves, right?
"We highlight the positive and brilliant people who come from our culture."
The Indigenous art market wraps up Sunday.