The art of love and equality – St. Albert Today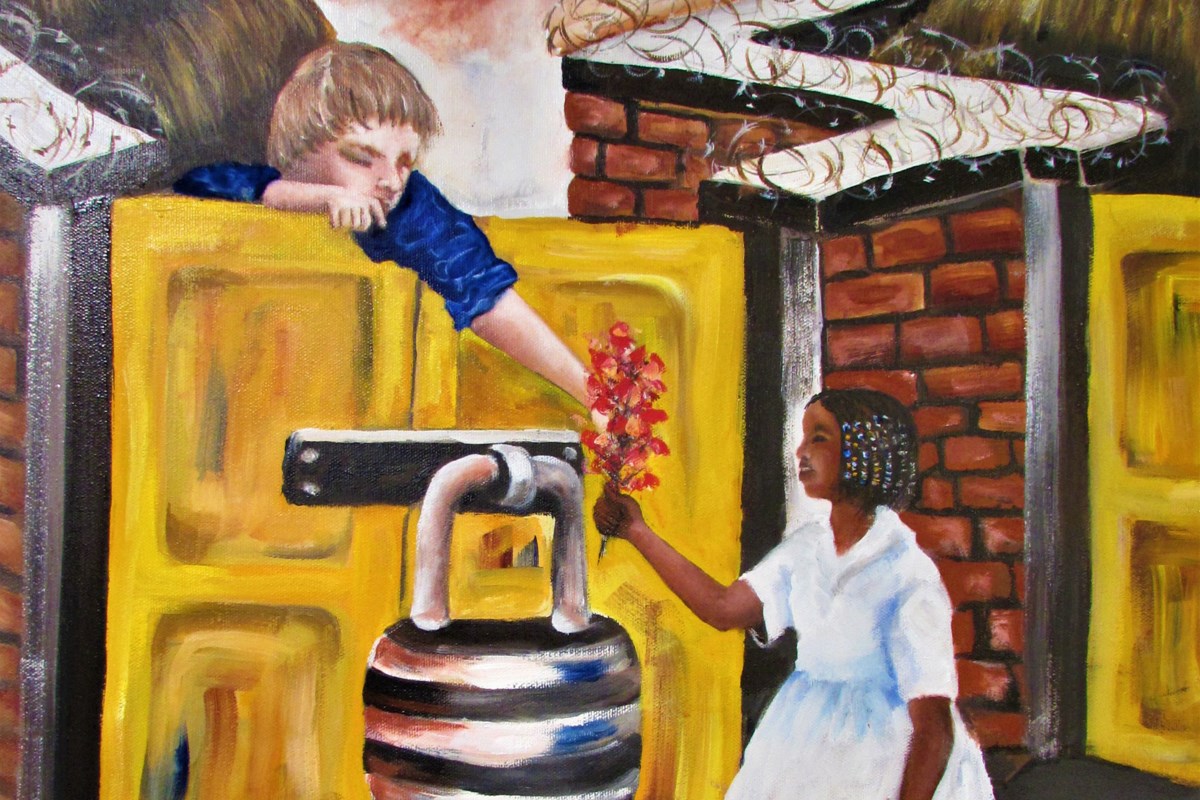 DETAILS

Love Thy Neighbour

Featuring artworks by Elsa Robinson and John Kayinamura

Opening reception on Saturday, Feb. 1, from 1 to 3 p.m. The event will feature a diverse array of family-friendly programs including a hands-on art activity, African dance performance, and a talk by Owen Fregene of Reez. Artists will be in attendance.

Until Saturday, Feb. 29

Art Gallery of St. Albert

19 Perron St. Call 780-460-4310 or visit artgalleryofstalbert.ca for more information.
Love thy neighbour. We all know this phrase and its importance to spiritual practice and in good community living in general. Now, it's the title of the new exhibit at the Art Gallery of St. Albert. It's also the cultural institution's first exhibition marking Black History Month as a way to recognize, honour and celebrate the achievements of black people.
The moment couldn't have been better accomplished than with the contributions of John Kayinamura and Elsa Robinson. Rwanda-born Kayinamura opened his own gallery in Kigali in 1995 but then migrated to this country nearly a decade later. Now an Edmonton resident, his Realist oil works reflect not only his memories of his homeland but also his views on the history of race relations in this world.
"Before, people created boundaries because of physical differences. New generations have come, and they have made changes. They have reached beyond the boundaries to make this world better," he explained in an artist's statement.
Robinson has primarily been using mixed media collage to explore metaphors that "address identity, spirituality, culture and present positive images and positive messages for the community." The Jamaican-Canadian artist explained positivity and spirituality are the keys to the future of the world.
"The theme is 'love thy neighbour' as a response to racism. Of course, my approach is always more solution-driven than to express problems all over again," she began.
For her contribution, the artist and art educator developed new works that have long lingered on her to-do list: a limited colour palette. If you aren't already familiar her artwork, a quick visit to the gallery on her website at elsarobinson.com will explode onto your computer screen with brilliant and saturated colours from every stripe and corner of the spectrum. A lot of these works are biographical by her own admission as well.
For Love Thy Neighbour, she poignantly and deliberately limited herself to two colours, one of which is black. She contributed only four works to the show – Black Paintings I through IV – to draw attention to colour choice and how people react to it.
"The reason I did that is that it's trying to address people's attitude to blackness in two ways," she continued, noting black's use as a colour and as a symbol. The other colour isn't white, by the way. It's gold, which still makes for a striking contrast with the black.
But don't be content to give each piece a quick glance. Robinson invites you in for a closer look. You won't be disappointed in doing so.
"Within the black there are different tints and shades of black. In other words, when you look upon or when you name a person black, it doesn't tell you anything much more than what their physical looks might be. It doesn't tell you anything about the person. Using an image that has a lot of different shapes and textures of black is basically saying that there's no one thing if you're looking at labelling even fabric, but if you take it as far as people then it simply is a colour. That's all it is in that straight-up way."
The paintings are black, she added, because she wants people to come to the paintings to come and look in the same way that she wants them to look at people who have been labelled as black or any other colour.
"Come closer to look at what is actually there, and try to understand what you're actually looking at. In the paintings, it's looking at the textures or looking at what the painting is saying. If you stay far from the painting, you may see just black and gold but then the closer you get to the painting is the more you start to see the detail of what that painting is all about. My idea is it's the same thing that when you look at a person. As far as racism goes, we need to get past labelling people a colour and start to find out who these people are as people."
New Canton art: ceramic animals, Kat and 'Monster Steve,' still life – Canton Repository
CANTON − New exhibitions at the Canton Museum of Art showcase artistically precise ceramics, the vivid realism of a nationally showcased artist, and the wildly imaginative paintings of two local artists.
Opening last week, the winter exhibitions will be on display through March 5.
A free public reception will be 5 to 7 p.m. Dec. 2 at the art museum during First Friday activities in downtown Canton. Visitors will have an opportunity to meet exhibiting artists and receive a balloon animal from local artist "Jumpin' Jelly Bean," said Danielle Attar, the museum's marketing and events director.
Light hors d'oeuvres will be served, and a cash bar will be available. Admission also will be free during extended hours from 10 a.m. to 8 p.m. Dec. 2 in conjunction with First Friday.
More:Artist couple: 'We both like making things'
What's new at the Canton Museum of Art?
New exhibitions include the ceramic works of more than 50 artists in "Thinking With Animals"; the "dream world" paintings and mixed media artwork of "Potion Park: The Kaleidoscopic Garden of Steve Ehret and Kat Francis"; and "Right Place, Right Time: Paintings by Robert Coleman Jackson," a contemporary still life artist whose work has been showcased in galleries and museums across the country, including at the Delaware Art Museum and South Dakota Art Museum, as well as in the homes of collectors worldwide and in various corporate collections.
Another showcase is "Color Wonder: From the CMA Collection," which features "some of the brightest and boldest examples" from the museum's collection, where viewers "learn to decode the messages that different colors send in art," the museum said in a news release.
More:'Very strange even by my standards.' Canton artists paint quirky images at Condado Tacos
Museum hours are 10 a.m. to 8 p.m. Tuesday through Thursday; 10 a.m. to 5 p.m. Friday and Saturday; and 1 to 5 p.m. Sunday. The museum is closed Mondays, as well as on Christmas, Christmas Eve, New Year's Eve and New Year's Day.
Admission is free on Thursdays through a sponsorship by the PNC Foundation. The museum is at 1001 Market Ave. N.
Tickets are available at the museum during gallery hours. Admission is $8 for adults and $6 for senior citizens. Children 12 and under are admitted free. Blue Star families are free with a valid ID. More ticket information is available at https://www.cantonart.org.
The museum can be reached at 330-453-7666.
Moss spreading on a tree, plants reaching toward the sun
Ehret and Francis' work is displayed in the Milligan Gallery.
Francis' art is "created by collage-like assemblage of realities, to portray memory, attitude on contemporary culture, personal experience and reflections on society," the museum said in a news release. Her work blends "urban landscape along with real life experiences."
Francis graduated with master of fine arts degrees from Columbus College of Art & Design and Ohio State University.
Ehret, a self-taught painter also known as "Monster Steve," is inspired by the natural world he sees during trail runs throughout the year.
"He makes careful observations of moss spreading over a fallen tree, or plants reaching towards the sun," the museum said, noting such experiences inspire the phantasmal settings of his paintings.
More:'There's only your art': Canton museum uses creativity to bond, heal, connect
Sculptures of prehistoric animals on display
"Thinking with Animals" features the creations of Taylor Robenalt, Ariel Bowman, Shelsea Dodd and many others.
The artists "are a diverse representation of gender identity, culture, backgrounds, and career stages," the museum said. The range of building techniques demonstrated includes slip casting, paper clay, solid building, hollow building, wheel throwing and mixed media.
Ceramic pieces are an example of how animal symbolism provides a "universally understood way to examine ideas that may be difficult to discuss or understand in any other form."
In 2020, the Canton Museum of Art hosted Robenalt's solo exhibition, "Symbolic Narrative." Bowman creates sculptures of prehistoric animals.
"My work uses reflective nostalgia to present the animals in my own fantasy of an imagined place and time," Bowman writes on her website.
Balloon dogs, food, toys, assorted props inspire art
Jackson worked as an electrical engineer for Motorola and then as an assistant pastor before working full-time as an artist.
He also authored the 2014 publication "Behind the Easel," which explores the unique voices of 20 contemporary representational painters.
Jackson's work is both comedy and drama through realism in bright colors and an amusing narrative, the museum explained. Painting subjects include balloon dogs, food, toys, books and assorted props.
Reach Ed at 330-580-8315 and ebalint@gannett.com. On Twitter: @ebalintREP.
Pearl Lam and Basma Al Sulaiman on their feisty, art-fuelled friendship – Financial Times
We met because Basma and one of my friends shared a divorce lawyer!" Gallerist Pearl Lam and her friend Basma Al Sulaiman laugh heartily as they sit in Al Sulaiman's impressively appointed, art-filled London home. Lam recalls their first encounter around 2004 as they sip tea: "The lawyer introduced my friend to Basma and said, 'If you collect Chinese art, you must meet Pearl.'"
With her gravity-defying purple bob – paired when we meet with a lemon-yellow jumper – Lam has been involved in the Chinese art world for nearly 30 years. In 1993, she began collecting Chinese art; in 2005, she opened her first physical space in Shanghai and since 2012 has had a second Pearl Lam Galleries space in her hometown of Hong Kong, representing homegrown and international artists from pioneering Chinese abstract painter Zhu Jinshi to British-Nigerian artist Yinka Shonibare.
Saudi Arabia-born Al Sulaiman, meanwhile, began collecting contemporary art in the 1990s. Her first purchase was a Hockney, and today she owns more than 800 works ranging from high-profile international artists such as Ai Weiwei, Tracey Emin and Andy Warhol to Saudi artists. In 2000 she moved to London and completed a diploma in modern and contemporary art from Christie's Education. It was then that she became interested in Chinese art. "A Saudi collecting Chinese art!" explodes Lam. "You know? It was so strange to me. And she was buying political pop art." She shakes her head. "I thought, 'Why?!'"
"Because it was different from what I'd been seeing; it was fresh, it was human, it was real," says Al Sulaiman, who has never worked with an art adviser and was introduced to Chinese art through a friend. "He called me and said, 'Basma, there's this amazing artist, I love his work but it's too big for my house, would you be interested to see it?'" The artist was Beijing-based Yue Minjun, now famous for his "Cynical Realist" oil paintings depicting himself laughing, his face frozen in a demonic grin. Al Sulaiman bought the painting Face on the Land in 2003 for £40,000. In 2007, when Sotheby's London auctioned Yue's seminal 1995 work inspired by the Tiananmen Square massacre, Execution, it sold for a record-breaking £2.9mn – the highest price for a contemporary Chinese artwork at the time.
"People started to buy contemporary Chinese art in 1995," explains Lam. "In the early 2000s – when Basma was there – it was just a very interesting, exciting time. There was this vibrant art scene, the government had not endorsed it, and there were only a handful of Chinese collectors – so tourists were going there to buy art as a souvenir, because the prices were low. After about 2006, though, it went crazy." Before then, Al Sulaiman would travel to China regularly, discovering artists while visiting her daughter, who was working in Shanghai. But she met Lam for the first time at a dinner in London. The two clicked straight away – but more because of what they didn't agree on than what they did, says Lam. "Basma loves political pop; I don't. I consider political pop to be the western definition of Chinese contemporary art. And Basma likes figurative art; I don't. But when you're talking about art, it's much better to have two different opinions," she says.
The first piece Al Sulaiman bought from Lam was by Shao Fan – "a deconstructed Chinese chair, put together as a sculpture. And eventually, she bought Chinese abstracts," says Lam, referencing two works in Al Sulaiman's home by Beijing-based Zhu Jinshi, a pioneer of Chinese abstract painting who cakes his canvases in heavy, impasto layers. "He uses a shovel to throw on the paint," says Al Sulaiman, standing in front of a large-scale triptych that she bought in 2015. "It's so beautiful. When you think about it as a landscape, you can see it, you can feel it."
In fact, abstraction is well represented in her home, and two minimalist, multi-frame works command the living space: the first, consisting of nine pink Plexiglas squares, is by French conceptualist Daniel Buren (Framed Colours, 9 Magenta Elements, 2007), and the other is a series of bi-colour paintings (Hommage à Le Corbusier, 2000) by German modernist Günther Förg. At the other end of the room is a huge work by Ghanaian artist El Anatsui, its undulating, nearly 5m-high form constructed from bottle tops pieced together with copper wire. "I bought it in 2012, but only when I moved in here in May was I able to see it," she says. "It's one of the reasons I bought this place: I needed big walls." The art is all displayed, slightly incongruously, alongside 18th-century antique furniture – from France, Italy and England – and French Aubusson tapestries. "Pearl doesn't like my carpets," Al Sulaiman smiles.
The other place where Al Sulaiman's collection lives is online. In 2011, she launched Basmoca, a virtual museum that can be walked around via an avatar. "I wanted eagerly to share the collection but the concept of building a physical space back home in Saudi Arabia was a bit difficult at that time," she recalls. Instead, she explored the idea of creating a space within the online multimedia platform Second Life, but eventually built her own virtual world.
"Basically, Basma was doing metaverse before anyone else was doing metaverse," says Lam. "But it was like gibberish to people," adds Al Sulaiman. "Nobody understood it at that time, it was way too early. Now, of course, everybody is doing it." Earlier this year, she showed a portion of her Saudi art collection in a physical space – inside Maraya, a striking, mirrored building in Saudi Arabia's historic desert canyon site AlUla.
Al Sulaiman has also dipped her toe in NFTs. She points to a screen on the wall. "It resembles Monet's Water Lilies," she says of the digital work by Italian artist Davide Quayola, which plays on a loop and is surrounded by a wall of portraits – most are "classical", but there is one with a cat's head. "It's supposed to be Mao," she says of the painting by Shanghai-born artist Qiu Jie.
"It's unusual for traditional art collectors to buy NFTs because they have no museum credentials," suggests Lam, adding the cryptocurrency crash earlier this year has led to a weaker market for NFTs, but that they still have a role to play for a younger generation of artists and collectors. "There are young artists selling NFTs for $50 or $100. This is democratised art. And if it's not NFT, another mode of technology will emerge."
One of the artists Lam represents is London-based Philip Colbert, a self-titled "pioneer of the metaverse" who this year launched NFT project The Lobstars. And an artist Lam is keen to introduce to Al Sulaiman is Mr Doodle, aka British artist Sam Cox, who recently covered his entire Kent home in his graphic, graffiti-like imagery; the stop-motion video of the process has been watched nearly 2mn times on YouTube. "I did check him out after you told me," says Al Sulaiman to her friend. "It's very different. Interesting…"
"I know some of these things are not your aesthetic," says Lam, "but I think it's interesting because this is the new generation of artists. Our minds should be very open – my gallery mission is about cultural exchange."
Both women describe each other as "open-minded", and they often travel together, visiting art fairs and discovering new artists. A few years ago they went to Japan – to Tokyo and the island of Naoshima – with friends. Earlier this year they took a trip to Saudi Arabia – a first for Lam. They've also recently uncovered an artist they're equally passionate about: Maha Malluh. "Her work is all about found objects, about reminiscing and history," says Al Sulaiman, walking over to a sculpture constructed from old enamelled cooking pots. Another artist they agree on is Babajide Olatunji, who they came across at the Art Dubai fair, and whose work Lam bought on the spot – a charcoal and pastel portrait that is hyperrealistic yet depicts an imagined sitter. Lam will showcase the Nigerian artist at her Shanghai space next year, while another of his drawings has made it on to Al Sulaiman's walls (via Sotheby's, for £10,000).
Other works in Al Sulaiman's collection include figurative paintings by Egyptian artist Adel El Siwi (Hamdi & Hamada, 2009) and Norfolk-based Jonathan Wateridge. But just as Lam considers herself a conduit for a diverse cross-section of artists in China, Al Sulaiman's ultimate dream is to bring her eclectic collection to a permanent space in Saudi Arabia, where in 2014 she became the first woman to receive an award from the government for her contributions to the country's art and cultural spheres. "Culture is a bond," she concludes. "It bonds people in a special language that doesn't need a translation."
Greater Victoria students create art to promote energy conservation
Students in the Greater Victoria School District (SD61) are having fun while helping conserve energy.
SD61's new lights out initiative has students designing stickers for light switch covers that encourage staff and students to turn off lights when no one is in a classroom.
The stickers cost less than five cents to make, and the school district believes they will save as much as 10 per cent in lighting energy costs.
"The Greater Victoria School District is committed to creating a more sustainable learning community and to providing opportunities for our students to engage in practical initiatives that support this goal," said superintendent Deb Whitten. "Involving students in energy-saving projects not only increases engagement in their learning but helps them to develop life-long energy-saving habits."
The program was piloted at Tillicum Elementary this fall and students at Hillcrest Elementary and Torquay Elementary are currently taking part in the initiative.