The Atlantic Politics Daily: Getting Out the (Latino) Vote – The Atlantic
It's Tuesday, January 14. In today's newsletter: The final Democratic debate before Iowa will be an all-white, six-person affair (one billionaire included). Plus: Are Democrats overlooking what may be the largest minority voting bloc of 2020?
*
« TODAY IN POLITICS »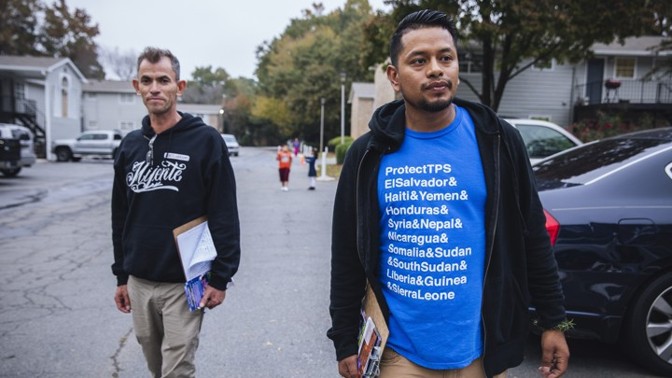 Jose De Jesus Esparza Morales ​and Ivan Vargas canvass for the Latino activist network Mi​jente in Georgia during the 2018 midterm elections. (AUDRA MELTON / THE NEW YORK TIME​S / REDUX)
The influence of the Latino vote seems to be hyped up every election cycle—leaving pundits and politicians disappointed by the final turnout, as was the case in 2016.
The U.S. is home to 4 million young Latinos who became eligible to vote after 2016. 2020 may see record-breaking turnout among Latino voters, once again making them a key bloc for candidates vying for the Democratic nomination, and also for the eventual nominee's ability to win states such as Florida and Arizona.
Before I began reporting this story, I wondered whether Latinos were checking out of the presidential race because they didn't see themselves represented in mainstream Democratic politics.
I had it backwards: Latinos are giving the candidates a chance, but most of the candidates don't seem to be biting (many did call out one candidate in particular for doing better in this arena). Latino organizers I spoke with shared a plethora of examples where Democratic candidates looking to defeat the president were lacking, such as:
Repeated attempts to schedule candidate meetings with large Latino groups;

unanswered policy questionnaires on issues such as education and affordable housing;

weak grassroots work to register voters.
As you tune in for tonight's debate, watch for how the six white candidates talk about race and minority voters: Will they merely be paying lip service to the Latino community, or will they offer truly inclusive policy proposals?
—Christian Paz
*
« DEBATE REFRESHER »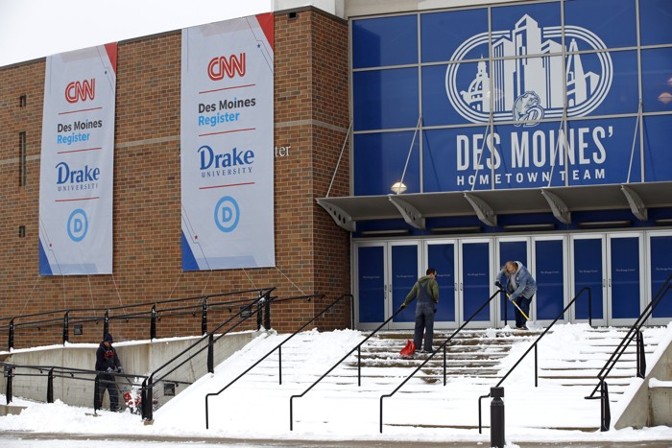 Tonight's Democratic debate features six candidates. Here's where we last left them:
‣ Joe Biden: "The kumbaya candidate."
‣ Pete Buttigieg: The young left is decidedly not a fan.
‣ Amy Klobuchar: "Can she escape the shadow of her nemesis, who has seized her sensible-midwesterner mantle?"
‣ Bernie Sanders: "Iran gives Sanders something new to talk about."
‣ Tom Steyer: Strolling through Nixon Library with our campaign reporter Edward-Isaac Dovere, Steyer had some opinions on impeachment.
‣ Elizabeth Warren: "The progressive senator doesn't talk about her Republican past." Could talking about it help her?
*
« IDEAS AND ARGUMENTS »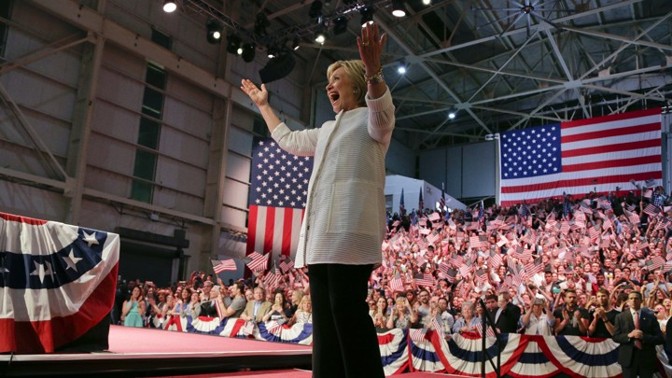 (REUTERS)
1."There is a plan that can get the country closer to having a national popular election for president within the current constitutional framework."
And it won't require a constitutional amendment, the law professor Vikram David Amar argues. Twice now in the past two decades, the person who ultimately became president received fewer voters nationwide than his opponent. Here is a careful idea on surmounting the Electoral College.
2. "To channel Leon Trotsky, you may not be interested in escalation, but sometimes escalation is interested in you."
The story of the downed Ukrainian passenger jet began with confusion, then odd denials, and then admission. It's a dangerous example of a conflict spiraling out of control, even as both the U.S. and Iran each tried to recoil from war this week. The plane crash itself is the big story, Uri Friedman writes.
---
*
« EVENING READ »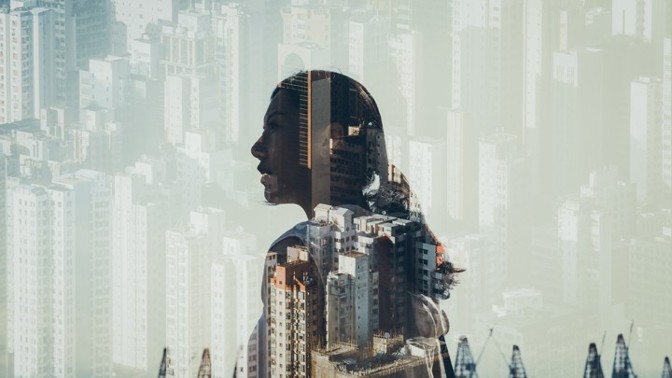 (GETTY)
Women + Promotion = Divorce?
Derek Thompson looks at a couple of recent studies on gender parity that suggest Western society still has less-than-progressive views of women with careers.
In Sweden, women who were elected mayor or parliamentarian were more likely to get divorced than men who won the same elections. The same was true in the corporate world, where women promoted to chief executive were twice as likely to divorce within five years of their promotion as men. (Several U.S. studies have shown that American women downplay their career ambitions on dates and that marriages where the wife's earnings exceed her husband's are more likely to end in divorce.)
"The modern world still isn't ready for successful women," he writes.
---
*
Today's newsletter was written by Christian Paz, our Politics desk fellow. It was edited by Shan Wang, who oversees newsletters.

You can reply directly to this newsletter with questions or comments, or send a note to politicsdaily@theatlantic.com.

Your support makes our journalism possible. Subscribe here.
We want to hear what you think about this article. Submit a letter to the editor or write to letters@theatlantic.com.
Biden says United States would come to Taiwan's defense
The United States would come to Taiwan's defense and has a commitment to defend the island China claims as its own, U.S. President Joe Biden said on Thursday, though the White House said later there was no change in policy towards the island.
"Yes, we have a commitment to do that," Biden said at a CNN town hall when asked if the United States would come to the defense of Taiwan, which has complained of mounting military and political pressure from Beijing to accept Chinese sovereignty.
While Washington is required by law to provide Taiwan with the means to defend itself, it has long followed a policy of "strategic ambiguity" on whether it would intervene militarily to protect Taiwan in the event of a Chinese attack.
In August, a Biden administration https://www.reuters.com/world/asia-pacific/us-position-taiwan-unchanged-despite-biden-comment-official-2021-08-19 official said U.S. policy on Taiwan had not changed after the president appeared to suggest the United States would defend the island if it were attacked.
A White House spokesperson said Biden at his town hall was not announcing any change in U.S. policy and "there is no change in our policy".
"The U.S. defense relationship with Taiwan is guided by the Taiwan Relations Act. We will uphold our commitment under the Act, we will continue to support Taiwan's self-defense, and we will continue to oppose any unilateral changes to the status quo," the spokesperson said.
Biden said people should not worry about Washington's military strength because "China, Russia and the rest of the world knows we're the most powerful military in the history of the world,"
"What you do have to worry about is whether or not they're going to engage in activities that would put them in a position where they may make a serious mistake," Biden said.
"I don't want a cold war with China. I just want China to understand that we're not going to step back, that we're not going to change any of our views."
Military tensions between Taiwan and China are at their worst in more than 40 years, Taiwan's Defense Minister Chiu Kuo-cheng said this month, adding that China will be capable of mounting a "full-scale" invasion by 2025.
Taiwan says it is an independent country and will defend its freedoms and democracy.
China says Taiwan is the most sensitive and important issue in its ties with the United States and has denounced what it calls "collusion" between Washington and Taipei.
Speaking to reporters earlier on Thursday, China's United Nations Ambassador Zhang Jun said they are pursuing "peaceful reunification" with Taiwan and responding to "separatist attempts" by its ruling Democratic Progressive Party.
"We are not the troublemaker. On the contrary, some countries – the U.S. in particular – is taking dangerous actions, leading the situation in Taiwan Strait into a dangerous direction," he said.
"I think at this moment what we should call is that the United States to stop such practice. Dragging Taiwan into a war definitely is in nobody's interest. I don't see that the United States will gain anything from that."
(Reporting by Trevor Hunnicutt; Additional reporting by David Brunnstrom in Washington, Michelle Nichols in New York and Ben Blanchard in Taipei; Writing by Mohammad Zargham; Editing by Stephen Coates)
Do climate politics really matter at the local level? A Seattle professor thinks so – knkx.org
The changing climate is a topic you'd think would be front and center in local elections – especially after the heat wave that killed hundreds of people in the Northwest this summer.
A professor of politics at the University of Washington noted a lack of attention to the issue – until he and a colleague pushed for a debate about it in Seattle.
Aseem Prakash directs the school's Center for Environmental Politics. In July, he wrote about his amazement that none of the candidates seemed to care about the climate. Instead, their focus – as with candidates in New York City – is on crime, policing and, lately, homelessness.
And when you ask them how we're truly adapting to climate change, the candidates either pass the buck and say some other jurisdiction is ultimately responsible, Prakash says. Or they talk about pilot programs for this and that.
And there are lots of pilot programs, he says. But he doesn't see any Seattle mayoral candidates — or past mayors — following up with data that would help keep them accountable. Instead, he says, most seem to use a local office, like mayor or city councilmember, as a stepping stone at the beginning of a career in politics — or toward something else more lucrative.
"At some point, all of us, we have to call out the B.S. You have to call out the B.S. and force politicians to confront the issues that affect us," he says.
"Because there's a program for everything, right? … Is it really helping?" Prakash wonders.
"Do we have data that the heat island effect in Seattle has improved over the years because there are programs? Have we evaluated how effective these programs are? No. … So then what's the point? This is what you call 'virtue signaling.'"
Prakash says there are too many pledges and not enough action. Accountability is missing. Most people aren't getting help with things like cooling their homes during heat waves or getting electric cars that are affordable and reliable.
"Everybody wants to be a global leader, (to) talk about the future generation. It's a moral responsibility," Prakash says, with a note of frustrated sarcasm in his voice.
"But you ask them, 'OK, can you please translate it in the context of my humble census tract, my ZIP code? What does climate change mean for my ZIP code? Why should I care?' "
These are issues that students and professors from departments all over the University of Washington want to come together to discuss and attempt to solve, as they relate to climate change.
This interdisciplinary approach is why Prakash founded the Center for Environmental Politics seven years ago. The debate is co-hosted by the UW's EarthLab.
"A Climate Conversation with Seattle Mayoral Candidates" is free and open to the public via Zoom. It takes place Friday evening from 5 to 6 p.m. You can register here.
Factbox-Queen Elizabeth, Britain's longest-reigning monarch
Britain's Queen Elizabeth, the world's longest-reigning monarch, spent a night in hospital but returned to Windsor Castle on Thursday.
Here are some facts about the 95-year-old queen:
PRINCESS:
Elizabeth Alexandra Mary was born at 17 Bruton St, London W1, on April 21, 1926, and christened on May 29, 1926, in the private chapel at Buckingham Palace.
After her uncle, Edward VIII, abdicated in 1936 for the love of a divorced American woman, the queen's father, George VI, inherited the throne.
Two years after World War Two, she married navy Lieutenant Philip Mountbatten, a Greek prince, whom she had fallen for during a visit to a naval college when she was just 13.
QUEEN
She was just 25 when she became Queen Elizabeth II on Feb. 6, 1952, on the death of her father, while she was on tour in Kenya with Prince Philip.
She was crowned monarch on June 2, 1953, in a ceremony at London's Westminster Abbey that was televised live.
MOTHER AND WIFE
Philip was said to be shattered when his wife became queen so soon.
Her marriage to Philip, whom she wed when she was 21, stayed solid for 74 years until his death in April 2021.
Their children are Charles, born in 1948, Anne, born in 1950, Andrew in 1960 and Edward in 1964.
MONARCH
Winston Churchill was the first of her 14 British prime ministers.
As head of state, the queen remains neutral on political matters. The queen does not vote.
SOVEREIGN
Elizabeth, who acceded to the throne as Britain was shedding its imperial power, has symbolised stability. Her nearly 70-year reign is the longest of any British monarch.
A quiet and uncomplaining dedication to the duty of queenship, even in old age, has earned her widespread respect both in Britain and abroad, even from republicans who are eager for abolition of the monarchy.
OFFICIAL TITLE IN THE UNITED KINGDOM
Her Majesty Elizabeth II, By the Grace of God, of the United Kingdom of Great Britain and Northern Ireland, and of Her Other Realms and Territories Queen, Head of the Commonwealth, Defender of the Faith.
COMMONWEALTH
The Queen is head of state of 15 Commonwealth countries in addition to the United Kingdom. She is also head of the Commonwealth itself, a voluntary association of 54 independent countries.
DIFFICULT TIMES
The 40th anniversary of her accession, in 1992, was a year she famously described as an "annus horribilis" after three of her four children's marriages failed and there was a fire at her Windsor Castle royal residence.
The death of Princess Diana, the divorced wife of Elizabeth's son and heir-to-the-throne Prince Charles, in 1997, damaged the family's public prestige.
Charles' younger son, Harry, and wife Meghan said in an explosive interview with Oprah Winfrey earlier this year that one unidentified royal had made a racist remark about their first-born child. The couple had stepped back from royal duties in early 2020 and moved to the United States.
(Writing by Michael Holden and Kate Holton; Editing by Guy Faulconbridge and Peter Cooney)