The Atlantic Politics Daily: The Trial Mitch McConnell Doesn't Want – The Atlantic
It's Tuesday, January 21. In today's newsletter: A "Potemkin trial," a "rushed trial," a "fair trial." Plus: How the political "hobbyism" of the college-educated is ruining American politics.
*
« TODAY IN POLITICS »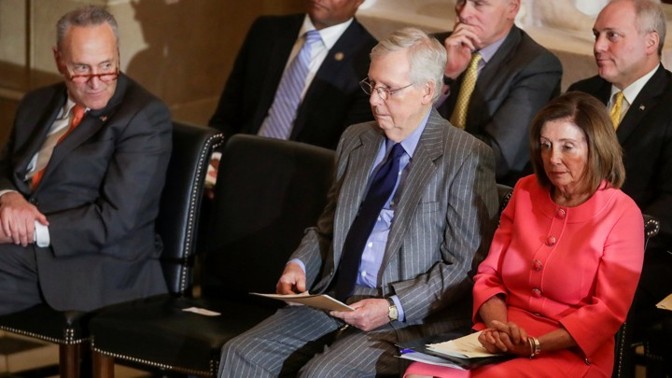 (Jonathan Ernst / Reuters)
The Senate impeachment trial kicked off in earnest today. While (spoiler alert!) President Donald Trump almost certainly won't be removed from office, and while all senators must follow no-speaking, no-cellphones rules during the trial, prepare for at least some histrionics.
The prosecution (the House impeachment managers) and defense (Trump's legal team) are set to deliver their opening arguments this week, with the final vote to convict or acquit coming as early as next week.
Here's a rundown of the characters worth keeping an eye on:
‣ Mitch McConnell: "Everyone's going to hate the Senate impeachment trial of Donald Trump," David Graham writes. But "the rules that McConnell has laid out … provide for a Potemkin trial, not a real one."
‣ Pat Cipollone: The White House counsel will get his TV debut as he oversees Trump's defense. Read the definitive profile of the lawyer Trump has always wanted.
‣ John Roberts: He's constitutionally obligated to preside over the trial, but will the chief justice be an active participant, or more of a potted plant? "Roberts could ultimately be the last man standing in the GOP with the ability to say no to a president who barrels through law and custom," Ron Brownstein writes.
‣ Adam Schiff: He's one of seven House Democrats now prosecuting the case in the Senate. Impeachment has made Schiff a household name (okay, not everywhere). What does Schiff do now, after the spotlight of December's House Intelligence Committee hearings?
+ Also an impeachment manager: Another familiar face, Jerry Nadler.
‣ The convincible ones: A couple of GOP senators have been virtually silent on impeachment. And these four occasional critics could ultimately turn against the president.
—Saahil Desai
*
« SNAPSHOT »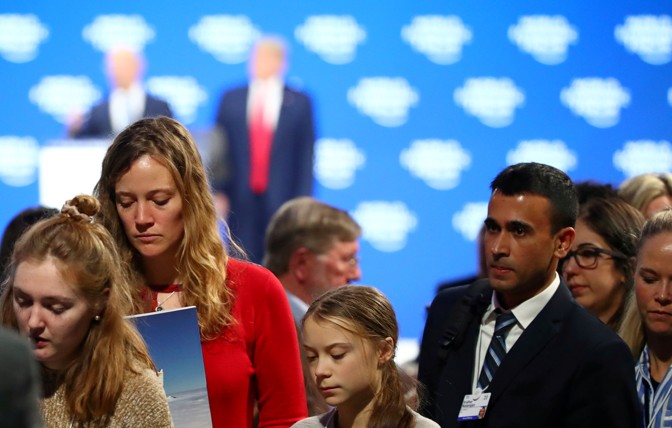 (Denis Balibouse / Reuters)
The climate change activist Greta Thunberg shortly before Trump's speech at Davos today.
*
« IDEAS AND ARGUMENTS »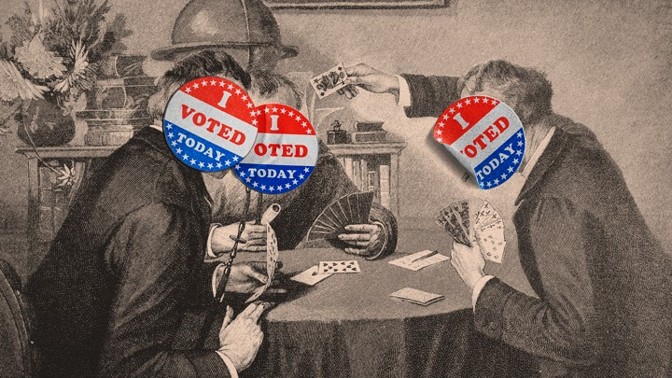 (STEVE HEAP / SHUTTERSTOCK / GETTY / THE ATLANTIC)
1. "They learn about and talk about big important things. Their style of politics is a parlor game in which they debate the issues on their abstract merits."
College-educated white men dominate political discourse, but they live in a world of hypotheticals without actively participating in political movements or activism, something that the political science professor Eitan Hersh argues is destroying how politics in America is done.
2. "One group's politics canceled those of others, in other words."
The massive gun-rights protest that swarmed the Virginia capital on Martin Luther King Jr. Day was rife with contradiction. Chief among them: How gun-rights activists leveraged the Second Amendment to shut down "the free marketplace of ideas," Garrett Epps writes. Guns aren't just symbols.
3. "Whereas the president's job is to supervise the White House staff and the executive-branch agencies that report to the White House, in the Trump presidency the inverse is what's really happening …"
Trump is smashing theories of modern presidential power, Susan Hennessey and Benjamin Wittes argue: If he can be easily manipulated, cajoled, or obstructed by his subordinates, what does that mean for future presidents and their agenda-setting power?
---
*
« EVENING READ »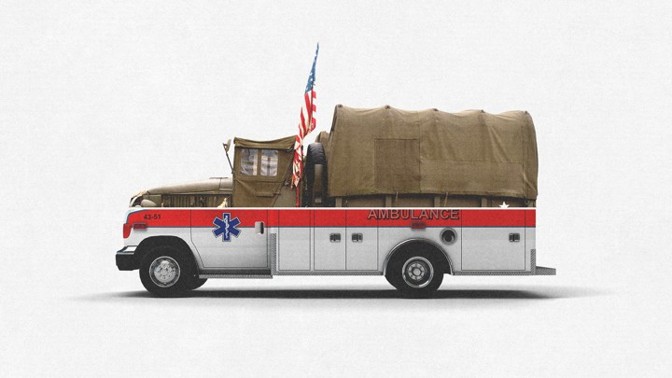 (SHUTTERSTOCK / GETTY / PAUL SPELLA / THE ATLANTIC)
One of the most aggressive medical-debt collectors in the U.S. is the U.S. government itself.
Jared Bennett and Olga Khazan report on the nightmarish web of medical debt that some patients incur after treatment at a military hospital, in this collaboration with The Center for Public Integrity.
When Ricardo Gonzalez Jurado received his first bill from the Brooke Army Medical Center, he and the hospital agreed that he would pay $100 each month until the balance was settled. He sent in his $100 faithfully, according to his medical records. In 2014, BAMC asked for larger installments, and they compromised on $300. He began sending in that amount monthly. In 2017, Gonzalez Jurado received a letter from the hospital saying his balance had been "paid in full." Knowing it hadn't—he had only paid about $8,000 at that point—Gonzalez Jurado said he tried in vain to reach the hospital's billing department. The hospital also began returning his $300 checks.

Gonzalez Jurado figured that, perhaps, he had satisfied the hospital's desire for cash. Maybe it had realized he was old and not rich, he thought, and had given up on collecting. It was a gift horse; he decided to stop inspecting its teeth. That is, until April 2018, when he received a letter from the U.S. Department of the Treasury, which collects delinquent debt for government agencies, including the Department of Defense.
---
*
Today's newsletter was written by Christian Paz, a Politics fellow. It was edited by Shan Wang, who oversees newsletters.

You can reply directly to this newsletter with questions or comments, or send a note to politicsdaily@theatlantic.com.

Your support makes our journalism possible. Subscribe here.
We want to hear what you think about this article. Submit a letter to the editor or write to letters@theatlantic.com.
Manera: To tackle climate change, take the politics out of it – Ottawa Citizen
It's time we accept, and politicians admit, that fighting climate change is not going to be painless.
It's time we accept, and politicians admit, that fighting climate change is not going to be painless. There will be costs to individuals, businesses and governments. While Canada's contribution to overall planetary climate change is very small, we have a responsibility to address it by doing not just our share, but more than our share. That's because, by world standards, we're a rich country.
Unfortunately, too much of the debate about tackling climate change has focused on how high a carbon tax has to be to achieve a specific reduction in greenhouse gas emissions. This is the wrong way to tackle the issue. Its premise is that human behaviour can be predicted by economic models. But economics is not an exact science, and human behaviour is fiendishly complicated. That's why it's impossible to predict the stock market, interest rates, GDP, inflation and a host of other economic measures. There are just too many variables at play. We don't know how to quantify them all and we don't fully understand the complex relationships among them.
So the notion that a reliable relationship can be established between a specific level of carbon tax and a consequent greenhouse gas emission reduction is questionable at best. Rebating the tax seems counterproductive. It undermines the premise that it's intended to discourage fossil fuel consumption when the optics imply that, for most people, the tax is revenue-neutral or something close to it. This doesn't make a carbon tax a bad idea; it only means that we need to think very carefully about how it's levied and to what use the revenue it generates is put.
Too much of the debate about tackling climate change has focused on how high a carbon tax has to be to achieve a specific reduction in greenhouse gas emissions.
We know that a big part of the climate change problem is emissions from the burning of fossil fuels. Hence, it appears logical that we should reduce those emissions as much as possible. Carbon sequestration and more efficient combustion can play a role. Alternative, clean and renewable energy sources can play a larger role. Canada is blessed with far more hydro, wind and solar energy than we can possibly use.
No scientific breakthrough is needed to harness hydro, and it makes sense to maximize its use wherever possible. Nuclear produces no greenhouse gas emissions, but is costly and suffers from the problem of what to do with its radioactive waste. Wind and solar offer the best prospects for the rest, but their intermittent nature poses challenges. What we really need are better ways to store such energy until it is required.
Energy extracted from the sun and wind can be stored in batteries, pumped hydro and hydrogen. We should look for ways to improve the efficiency and lower the cost of these storage techniques. We must also build the required infrastructure, such as smart grids and refuelling stations. This calls for a massive engineering undertaking. Revenue from a carbon tax to complement private capital dedicated to these types of projects would make a logical investment by government.
One approach would be to establish a panel largely made up of engineers, technologists, physicists, chemists, agricultural and forestry experts. Such a panel would oversee the allocation of revenue from a carbon tax to projects most likely to help us achieve our emission reduction targets. Its work and conclusions should take place in a transparent fashion. In other words, take the politics out of it.
Tony Manera is a retired professional engineer.
ALSO IN THE NEWS
Greta Thunberg tells Davos: You're all talk, no action on climate change
Military equipment to be installed as monuments at new DND HQ — price tag is more than $1M
Shouldn't the city fire someone over LRT problems? Your questions answered
Blood and politics in India – MIT News
Mahatma Gandhi, an icon of nonviolent resistance who helped lead India to independence by force of will and strength of mind, rather than physical power, might not seem like a person preoccupied with corporeal matters.
In fact, Gandhi endlessly monitored his own blood pressure and had a "preoccupation with blood," as MIT scholar Dwai Banerjee and co-author Jacob Copeman write in "Hematologies," a new book about blood and politics in India.
Gandhi believed the quality of his own blood indicated his body's "capacity for self-purification," the authors write, and he hoped that other dissidents would also possess "blood that could withstand the corruption and poison of colonial violence." Ultimately, they add, Gandhi's "single-minded focus on the substance was remarkable in its omission of other available foci of symbolization."
If India's most famous ascetic and pacifist was actually busy thinking about politics in terms of blood, then almost anyone could have been doing the same. And many people have. Now Banerjee, an assistant professor in MIT's Program in Science, Technology, and Society, and Copeman, a senior lecturer in social anthropology at the University of Edinburgh, look broadly at the links between blood and politics in "Hematologies," recently published by Cornell University Press.
The book encompasses topics as diverse as the rhetoric of blood in political discourse, the politics of blood drives, the uses of blood in protests, and the imagery used by leaders, including Gandhi. Ultimately, the scholars use the topic to explore the many — and seemingly unavoidable — divisions in Indian politics and society.
For progressives wanting a pluralistic society, the rhetoric of blood has often been used to claim that people are essentially alike, no matter their religious or social differences. The notion is that "if you bleed and I bleed, we bleed the same color," Banerjee says. "In the first few decades after India's independence [in 1948], there was this idea that blood would unite all different kinds of Indians, and all these years of caste discrimination and colonial rule that had divided us and pitted us against each other would now be fixed."
But the idea that different groups in society are divided by blood is also a powerful one, as Banerjee and Copeman note, and as India has moved away from pluralism in recent years, a very different rhetoric of blood has regained popularity. In this vision, different ethnic or religious groups are separated by their blood — and bloodshed may be the price for disrupting this supposed order.
"What's become clear in the last five years is that this other valence of blood, that it divides us [and has] more violent connotations, is becoming much more inescapable now," Banerjee says.
That is not what many expected in an age of technocratic and globally integrated economics, but it is a reminder of the power of narrow forms of nationalism.
"The whole idea of modern politics is supposed to be this transcending of blood [and] ethnic religious nationalisms, and that modern contractual politics is based on less biologically based forms of cohabitation," Banerjee says. "That never seems to work out."
Focused on Northern India, where Banerjee and Copeman did their fieldwork over several years, "Hematologies" explores these issues in everyday life and with fine-grained detail. As they examine in the book, for instance, political protesters sometimes use their own blood as a medium of expression, to signal both their own commitment and the serious of the issues at hand.
The authors look closely at an advocacy group for survivors of (and residents near) the site of 1984's Bhopal chemical plant disaster, which wrote a letter in blood — collected from young adults — to the prime minister, asking for a meeting. Somewhat similarly, Indian women have gained attention using blood in the imagery they have created to accompany campaigns against sexual violence and gender discrimination. In so doing, "they deploy the substance as a medium of truth and a mechanism of exposure," Banerjee and Copeman write.
Even blood drives and blood donations have intricate political implications that the authors explore. While supposed to be separated from politics, some blood drives are de facto rallying points in campaigns and expressions of political solidarity. Blood drives also serve to highlight a tension between science and politics; some medical experts might prefer a more steady flow of donated blood, while a politically prompted donor drive can produce an unnecessary surge of blood.
"Educational campaigns talk very strategically about this," Banerjee says.
While writing the book together, Banerjee and Copeman initially had slightly different research areas of interest, but before long both discovered they were fully engaged with a whole range of connections between blood and politics.
"To me, it seemed we found this synergy in the way we worked and thought, and I can't think of a moment where we ever significantly doubted the process we were going through," says Banerjee. "Constantly bouncing ideas off another person keeps it interesting."
"Hematologies" has drawn praise from other scholars in the field. Emily Martin, an anthropologist at New York University, has called it "an extraordinary exploration of the multitudes of meanings and uses of blood in northern India."
Banerjee notes that India is hardly unique in the way the rhetoric of blood spills into politics. "There is a global similarity in which blood is always a political substance," he notes, while adding that India's own unique history gives the subject "its own flavor" in the country.
Ultimately the story of blood being traced in "Hematologies" represents a distinctive way of examining divisions, conflicts, and tensions — the very stuff of contested politics and power.
"Again and again we see that blood always gets caught up with division and divisive politics," Banerjee says. "It never escapes politics in the way that reformist and secular imaginations hope it will."
---
Campaigning in Iowa, Biden largely avoids impeachment politics – CTV News
AMES, IOWA —
As the Senate begins U.S. President Donald Trump's impeachment trial on Capitol Hill, Democrat Joe Biden is 1,000 miles away in Iowa, trying to capitalize on the circumstances without allowing the proceedings to overshadow the closing case he's making ahead of the first 2020 votes.
"The character of the nation is on the ballot," Biden told a few hundred potential caucus-goers Tuesday at Iowa State University. "We've never seen … such an abuse of power by a president."
Yet Biden mostly sidestepped the potentially complicating reality that he's intertwined with the root cause of Trump's impeachment case: The president pressured the Ukraine president to declare a public investigation of Biden and his son Hunter Biden based on discredited theories about the younger Biden's foreign business dealings.
"I fully understand the way they tried to malign my only surviving son," Joe Biden said in his only brush with the specifics. Yet Biden's aides have worked furiously to get ahead of any effort by Senate Republicans to use the trial to smear him.
Kate Bedingfield and Tony Blinken, top campaign aides to Biden, distributed a memo to the media on Monday, at the start of a three-day Iowa swing for Biden, saying Trump "is the only American president to have weaponized foreign and national security policy in an attempt to coerce a foreign country into lying about a rival presidential candidate."
Separately Tuesday, the campaign released a nearly four-minute video featuring a Biden staffer drinking a beer and explaining to viewers "what really happened in Ukraine." In it, Andrew Bates uses a vulgarity in describing Trump's framing of the situation.
The memo and video underscore the Biden campaign's long-established strategy of aggressively countering Trump's broadsides, a lesson his aides say they learned from Hillary Clinton's handling of Trump in 2016. But it is also an acknowledgment that Biden cannot necessarily control this story line, especially as some Republicans and conservative media push the idea, however unlikely, that the Bidens should testify before the Senate.
With that in mind, the memo urged media not to repeat a "malicious and conclusively debunked conspiracy theory" from the White House and GOP claiming that the Bidens engaged in wrongdoing when Hunter Biden served on the board of a Ukrainian energy firm while Joe Biden handled U.S. foreign affairs in the same country.
Indeed, Trump's unsupported assertions have always depended on the discredited accusation that the elder Biden pressed for the firing of top Ukrainian prosecutor Viktor Shokin to spare his son's company, Burisma, from scrutiny. Ousting Shokin was, in fact, the official position of the U.S. government and its Western allies, including European Union nations and the International Monetary Fund leadership, because Shokin was believed to be incompetent or corrupt himself.
House impeachment articles now being considered by the Senate are pegged to disclosures that Trump held up congressionally appropriated aid to Ukraine as he pressured President Volodymyr Zelenskiy to announce an investigation into the Bidens.
The Biden campaign insists that Trump's trial won't distract from the former vice-president's campaign effort and can be a boon to Biden's argument that he is the Democrat with the best shot to defeat Trump in November.
"It's certainly not something people talk about at town hall meetings," insisted senior campaign adviser Anita Dunn. "It illustrates the lengths to which Donald Trump will go not to run against Joe Biden."
Indeed, no one in Ames asked Biden about Hunter Biden or the Senate trial, but there are instances from the campaign trail showing potential risks for Biden.
In late December, he spent several days dealing with questions about whether he'd testify if called. He eventually told a voter at one of his events that he'd comply with a subpoena, though he sees no legal basis to be called, because the impeachment case against Trump is about the president's actions, not Biden's or his son's. It now seems unlikely that the Bidens will be called. Senate Majority Leader Mitch McConnell has indicated he prefers a quick trial that is virtually guaranteed to end without Trump being convicted and removed from office.
Earlier in December, Biden angrily rebuked an Iowa voter who accused him of "selling access to the president" and getting Hunter "a job and work for a gas company that he had no experience" to justify. Biden called the man "a damn liar." He offered the usual details during the campaign event and to reporters afterward: Hunter Biden joined the Burisma board without notifying his father; there's no law preventing a vice-president's son from taking international posts, just as Trump's children still advance his real estate interests abroad; and Ukrainian officials have said they found no wrongdoing in Hunter Biden's service on the board.
Yet the result was a new round of headlines and a day of cable news coverage involving Trump, Biden and Ukraine. And, on that day at least, it overshadowed what would have been a significant story for Biden: an endorsement from former Secretary of State John Kerry, the 2004 Democratic presidential nominee.
AP National Political Writer Steve Peoples in Des Moines, Iowa, contributed to this report.