The Canucks might play the 2020-21 season in the US – Vancouver Is Awesome
Dreams of an all-Canadian division in the NHL next season might be going up in smoke.
The NHL is intent on pushing ahead with the 2020-21 NHL season in the midst of the ongoing COVID-19 pandemic, but the league may be running into trouble with provincial health authorities across Canada.
For a time, it seemed the primary obstruction for playing the season in Canada was the closed U.S.-Canada border that would prevent American teams from travelling to Canada to play. The NHL's proposed solution to the problem was an all-Canadian division, with all teams only playing in-division during the regular season. That solves the problem of the border, but there are other issues within Canada.
According to a report by Sportsnet's Chris Johnston, the NHL has a plan B if they can't sort out those issues: moving all seven Canadian teams to the U.S.
The report came just hours after the Canucks Twitter account tweeted about Rogers Arena being ready to go for training camp and the coming season.
Primed and ready for action. 👀 pic.twitter.com/HvNtxUxt4c

— Vancouver #Canucks (@Canucks) December 17, 2020
The plan for an all-Canadian division doesn't just depend on approval from the federal government, but from five separate provincial health authorities: B.C., Alberta, Manitoba, Ontario, and Quebec. Each of those provincial health authorities has different restrictions in place that complicate the NHL's plans.
For instance, Manitoba currently requires 14 days of self-isolation for any travellers entering the province from east of Terrace Bay, Ontario. That restriction would make it nigh-impossible for the Ottawa Senators, Toronto Maple Leafs, and Montreal Canadiens to play road games in Winnipeg.
The restriction also applies to residents of Western Canada that head east of Terrace Bay within 14 days of entering Manitoba, so it would affect the Canucks, Calgary Flames, and Edmonton Oilers as well if they went on a road trip. The added complexity that would add to scheduling the season is staggering.
All five provinces currently have restrictions in place on public gatherings, which could affect games being played. With each team dressing a roster of 20 players per game, four on-ice officials, even more off-ice officials, plus coaching and training staffs, every NHL game easily exceeds even the looser restrictions on gatherings of up to 50 people that were previously in place in many provinces, let alone the tighter restrictions in more recent months.
The challenge for the NHL is coming up with safety plans robust enough to pass the muster of all five provinces, allowing them to bypass those restrictions.
The Public Health Agency of Canada is currently coordinating discussions between the NHL and provincial health authorities. Though the agency does not have the authority to make decisions for the provinces, spokesman André Gagnon released the following statement:
"The Government of Canada's priority is to protect the health and safety of Canadians. The resumption of sports events in Canada must be undertaken in adherence to Canada's measures to mitigate the importation and spread of COVID-19. NHL teams and other professional sports teams must operate within the rules of their provincial jurisdictions for sports and sporting events."
There are certainly cities in the U.S. that would be interested in hosting NHL games. Ottawa Senators reporter Bruce Garrioch suggested that Kansas City, Milwaukee, Austin, and Orlando could push to host Canadian teams. Kansas City, in particular, frequently comes up in NHL expansion talks.
The Canucks, for what it's worth, have connections to a couple of those cities. The Kansas City Blades were the Canucks' IHL affiliate during their final season in 2000-01, when they were coached by Stan Smyl.
Likewise, the Milwaukee Admirals were the Canucks' IHL affiliate from 1988-1993, with prospects like Gino Odjick, Garry Valk, and Troy Gamble spending time in Milwaukee on their way to Vancouver.
The backup plan for Canadian teams to play in the U.S. likely won't be a popular one for the players, who will be forced to leave behind families in Canada for months at a time. Relocating entire families south of the border could cause further complications, so the priority for the NHL will be their continued negotiations with provincial health authorities.
At the same time, the idea might find some support among Canadian owners, many of whom are facing the prospect of playing an entire season without fans in their arena. Relocating to U.S. cities where they may be able to have fans attend games could be a tempting prospect. It's not without its own issues, however.
The NHL isn't just running into issues in Canada, as some areas of the U.S. also have tight restrictions that could prevent games from being played. The San Jose Sharks, for example, are planning to hold their training camp in Scottsdale, Arizona instead of their home rink because of Santa Clara County's restrictions.
While attempting to play the season in quarantined bubbles as they did during the 2020 Stanley Cup Playoffs won't be possible, the NHL is exploring the possibility of hub cities that host a number of teams, playing a sort of mini-tournament between all the teams before moving on to another hub.
It's a format that could also see play in Canada if the NHL can come to an agreement with some provincial health authorities, but not others.
Draisaitl scores winner, Oilers down Maple Leafs – TSN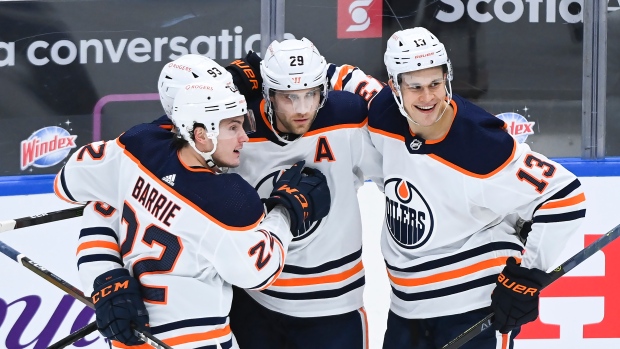 TORONTO — A mouth-watering matchup featuring some of hockey's most gifted players fell far short of expectations Wednesday.
And that suited the Oilers just fine.
Leon Draisaitl scored the winner on a third-period power play as Edmonton defeated the Toronto Maple Leafs 3-1 on a night where two offensive juggernauts largely cancelled each other out.
"Sometime the boring games are the most solid," Draisaitl said after burying his first of the season to help snap a two-game slide. "We were very solid for 60 minutes … that's a huge win.
"That's more the way we want to play."
Kailer Yamamoto was credited with the opening goal for the Oilers (2-3-0), who were coming off consecutive home losses to the Montreal Canadiens, when the Leafs fumbled the puck into their own net in the first. Mikko Koskinen made 25 saves to get the win, while Josh Archibald scored into an empty net with 1:06 left in regulation.
Auston Matthews replied for Toronto (3-2-0), which got 19 stops from Frederik Andersen.
Correctly billed as a battle of superstars between Matthews and Oilers captain Connor McDavid, one of the only positives from a neutral's perspective was the fact no fans paid for tickets inside an empty Scotiabank Arena because of COVID-19 protocols.
"I think both teams watched the pre-scout and were just trying to key in on the top guys," Matthews said. "It was a pretty uneventful game. Not really much going on.
"Not really expected, but we've got to do a much better job creating."
Edmonton and Toronto will go back at it again Friday in the second of nine North Division meetings between the clubs in the NHL's 56-game abbreviated schedule. Matthews said while the Leafs mostly contained McDavid and Draisaitl — no slouch himself as the reigning Hart Trophy and Art Ross Trophy winner — at 5 on 5, that shouldn't mean sacrificing their own offensive identity.
"Obviously we key in on those two guys," said the Leafs centre, who spent some of the off-season training with McDavid in Arizona. "They're extremely dangerous — two of the top players in the world — but we can't get away from our game. We've got to go out there and play our game and try to produce offence. We've got to play to win, not play to contain two guys.
"We were just too safe."
Draisaitl snapped a 1-1 tie on the man advantage at 9:12 of the final period with Jake Muzzin in the penalty box for tripping when Ryan Nugent-Hopkins' initial shot hit Edmonton's Jesse Puljujarvi in front.
The goal snapped an 0-for-12 streak for a power play that led the league with a success rate of 29.5 per cent in 2019-20 before the season was halted by the pandemic.
"Maybe that's the bounce that we needed," Draisaitl said. "Maybe that's one we deserved."
Toronto wasn't able to do much in response before Archibald fired his first into an empty net.
"We're frustrated with the way we started the season," Draisaitl added. "That's a very good team over there — very skilled, very dangerous. Letting up one goal against a team like that, that's always a success."
Trailing 1-0 through 40 minutes, the Leafs evened things up at 6:44 of the third when Matthews outmuscled Zack Kassian in the corner before firing shortside for his second on Koskinen.
Toronto once again dressed 11 forwards and seven defencemen, but was left with just 10 skaters up front when Joe Thornton took a hit from Archibald and headed to the locker room with what looked like an arm or wrist injury early in the period.
Head coach Sheldon Keefe said post-game it appears the 41-year-old "will definitely miss some time."
The Leafs came in feeling good about themselves after consecutive victories over the Ottawa Senators and Winnipeg Jets, while the Oilers were in a different frame of mind following those losses to Montreal to close out their four-game homestand to open the season.
Playing its first road contest since March 5, Edmonton grabbed a 1-0 lead at 10:42 of the first on a strange own goal. After the Leafs couldn't get out of their zone, Yamamoto fed a pass from behind Andersen's net that Toronto winger Jimmy Vesey intercepted before accidentally firing a clearing attempt in off Muzzin for Yamamoto's second of the campaign.
The Leafs held the Oilers to just three shots in the period, but Andersen had to be sharp with a pad save on Alex Chiasson late to keep the deficit at one.
Edmonton's power play — which went 0 for 10 and gave up two short-handed goals in those losses to Montreal — got two chances in the second, but continued to struggle with former Leafs defenceman Tyson Barrie quarterbacking the first unit in place of the injured Oskar Klefbom.
Toronto blue-liner T.J. Brodie then blasted a one-timer late in the period that hit Koskinen, struck William Nylander in front and dribbled just wide.
The Leafs got their second man advantage off that sequence when McDavid, who scored a highlight-reel goal that even brought Wayne Gretzky out of his seat to put a bow on Edmonton's 6-4 victory in Toronto last January, was whistled for hooking.
Wayne Simmonds fired a shot looking for a tip from Mitch Marner that hit the post before Matthews flubbed one attempt and saw Koskinen snag another with his glove inside the empty rink.
"It was a strange game," Keefe said. "It was the first game that felt like a game with no fans.
"Being on the bench, it just felt like one of those nights where you try and get something going. We didn't feel like we ever really got there."
Notes: Puljujarvi's assist on the winner was his first NHL point since Jan. 19, 2019, after spending all of last season in Finland. … The Oilers head to Winnipeg for two following Friday's game before hosting the Leafs on Jan. 28 and 30. … Toronto opens a four-game Alberta road trip Sunday and Tuesday in Calgary.
This report by The Canadian Press was first published Jan. 20, 2021.
___
Follow @JClipperton_CP on Twitter
Blue Jays officially sign reliever Kirby Yates to one-year contract – Sportsnet.ca
The Toronto Blue Jays have officially signed reliever Kirby Yates to a one-year contract worth $5.5 million.
Yates appeared in six games with the San Diego Padres during the 2020 shortened season before having surgery in August to remove bone chips from his pitching elbow.
During the 2019 season, the 33-year-old recorded an MLB-high 41 saves, walked only 13 batters and struck out 101 through 60.2 innings. In seven seasons with the Padres, Tampa Bay Rays, New York Yankees and Los Angeles Angels, Yates has a career 3.54 ERA and 400 strikeouts through 282.1 innings.
Why George Springer is such a big get for the Blue Jays – CBC.ca
This is an excerpt from The Buzzer, which is CBC Sports' daily email newsletter. Stay up to speed on what's happening in sports by subscribing here.
Here's what you need to know right now from the world of sports:
The Blue Jays gave out their richest contract ever
Toronto has lured centre-fielder George Springer away from the Houston Astros with a six-year agreement reportedly worth $150 million US. Here are the key things to know about Springer and the deal, which is awaiting a physical to become official:
This is the largest contract in Blue Jays history. The only other one to hit nine figures was the seven-year, $126-million extension signed by Vernon Wells in December 2006. The previous Jays record for a free agent was the $82 million given to Canadian catcher Russell Martin before the 2015 season. At $25 million per year, Springer's average annual pay eclipses that of pitcher Hyun-jin Ryu, who signed for $20 million a year for four years last off-season.
But this isn't the biggest free-agent signing in Jays history. In terms of sheer "Holy s—! I gotta tell everyone I know!" impact, that would be the Roger Clemens deal in December of '96. The four-year, $40-million pact worked out pretty well too, at least to start. Clemens won the Cy Young in his only two seasons with the Jays before demanding a trade. The signings of Jack Morris (two years, $10.85 million before the '92 season) and Paul Molitor (three years, $13 million prior to '93) were also very big at the time and helped propel the Jays to World Series titles.
Springer was one of the top free agents on the market. This list on MLB.com ranked him third, behind Philly catcher J.T. Realmuto and Cincy pitcher Trevor Bauer. Not the greatest class, but Toronto can say it got the best non-battery player available.
Springer is a very good player. His best years were 2017 and '19, when he averaged about 36 homers and an OPS+ of 145 — meaning his on-base-plus-slugging percentage was 45 per cent better than the average hitter's in his league when adjusted for ballpark. He hit well in the shortened 2020 season too, smashing 14 homers in 51 games with an OPS+ of 140. Springer was named the MVP of the 2017 World Series after hitting five home runs in seven games vs. the Dodgers. The Astros won that year with the help of their infamous signal-stealing scheme that allowed them to tip off their hitters about what kind of pitch was coming.
He's a bit old, though. Six years is a lot to commit to a 31-year-old, so the Jays might end up regretting the last few years of the deal. But that's the price teams usually have to pay to land a player of this calibre.
The Springer signing adds excitement to an already-promising Jays team. Last year's post-season appearance may have been a pandemic-induced fluke — as much a product of the shortened season and expanded playoff field as the actual skill on Toronto's roster. A (presumed) return to a full 162-game regular season would probably benefit stronger-looking AL East rivals New York and Tampa Bay, and another 16-team playoff tournament is unlikely. But baseball seems interested in expanding from the old 10-team field, which would give the Jays more hope of making it through their tough division. And Springer joins a talented lineup of hitters whose returning core — Bo Bichette, Vladimir Guerrero Jr., Cavan Biggio, Teoscar Hernández, Lourdes Gurriel Jr. — are all currently between the ages of 22 and 28. If the pitching can just not be a trainwreck again (prospect Nate Pearson might help there) this team has a lot of upside.
Quickly…
The Calgary ski and snowboard bubble burst. The plan, announced two weeks ago, was to hold the world championships for freestyle skiing and snowboarding there in February and March. Some World Cup competitions were also part of the pitch, which was awaiting approval from various authorities. But the world governing body for skiing and snowboarding decided today to pull the plug on the idea, with the backing of the Canadian federations for those sports. Read more about the decision here.
The NHL postponed two more Hurricanes games. Five Carolina players have been placed on the league's COVID-19 protocol list, resulting in the postponement of last night's game at Nashville and now a pair of home dates vs. Florida on Thursday and Saturday. These are the first three games to be postponed since the NHL season began. Dallas' first few games were postponed before the season started. Read more about the Carolina outbreak here.
Marielle Thompson won another medal. Today's silver in Sweden is the 2014 Olympic ski cross champion's 45th career World Cup podium spot. This one came in a "sprint" event, where the course is shorter than the standard one. Read more about it and watch highlights here.
Tiger Woods needed another back surgery. This makes five, and it'll keep the 45-year-old out for at least the PGA Tour's West Coast Swing, which starts this week and runs through Feb. 21. The operation was to remove a disc fragment that Woods said caused him pain during the event he played with his 11-year-old son last month. Tiger's friend and fellow tour star Rory McIlroy said he thinks Woods will be out of action "for the next couple of months" but will return in time for the April 8-11 Masters "if not before that." Read more about Tiger's latest setback here.
Also…
Philip Rivers retired.
He never made it to a Super Bowl, and he didn't make it look pretty, but the fiery Alabaman owns one of the best quarterback resumés ever. Rivers' awful-looking, shot put-style throwing motion should not have worked in the NFL. But he overcame it (and then some) with supreme accuracy and a savant's understanding of how to attack defences. He spent 17 years in the NFL (all but the last one with the Chargers) and ranks eighth in wins and fifth in completions, yards passing and touchdown passes.
Two other numbers essential to the Rivers story: nine (how many kids he has) and zero (how many games he missed after becoming an NFL starter in 2006). Rivers played his only conference championship game on a torn ACL on Jan. 20, 2008 — one of the reasons he chose today to announce his retirement with a charmingly down-home statement that included the word "dadgummit." Read more about Rivers' career here.
And finally…
Donald Trump isn't the only polarizing Republican we'll be hearing less from now.
As the 45th President left the White House today, Kelly Loeffler also appeared set to vacate her most public-facing roles. The pro-Trump U.S. Senator recently lost her seat to Raphael Warnock in one of the two high-profile Georgia run-offs that resulted in Democrats grabbing control of the Senate. As Warnock was sworn in today, a sale of the Atlanta Dream was being finalized that would presumably see Loeffler give up her 49 per cent stake in the WNBA team.
If that goes through, it will fulfill the wish of the WNBA players who openly campaigned for Warnock and called for Loeffler to sell her piece of the Dream after she criticized the league for embracing the Black Lives Matter movement. Read more about Loeffler's potential departure from the league here.
You're up to speed. Get The Buzzer in your inbox every weekday by subscribing below.