The cauldrons of gold theory of media and startups – TechCrunch
Another week, another email newsletter. This time, the story is Punchbowl, a politics-centric newsletter founded by a crop of recent Politico alums including Jake Sherman, Anna Palmer and John Bresnahan. Ben Smith has the story, as does Maxwell Tani at the Daily Beast with some more juicy details.
Why do we need another newsletter analyzing Beltway politics in a world of Politico Playbook, Axios, The Daily 202 and a hundred others? In fact, why do we need the voluminous output of tech-oriented newsletters covering startups (by my count, there are at least several thousand newsletters covering our industry)? Why, in a media world that was supposed to be all about the long-tail, does it seem that every new media startup is targeting the same single niche over and over again?
That's where the cauldrons of gold come in. Media is not unlike many startup markets — there may be infinite needs for diverse products, but there are only a handful of those needs that have serious dollars attached to them.
In media, these are beats like DC politics, or investment banking / M&A, or VC coverage in our quaint little world of startups, where the winners get to own massive audiences and, by extension, massive dollars from subscribers and advertisers. There are thousands of other niches, but they are impoverished with limited readership, users and recourse to revenue.
Put another way, these are tournament markets, where the winners can take all and where it is worth the gamble to have a small chance at a massive outcome rather than a good chance at a mediocre one. In medicine, "everyone" wants to cure cancer, not some neglected tropical disease (which might well have millions of people who could benefit from a cure). After all, the Nobel Prizes don't go to merely good science, they go for the biggest advances of the century that have the right level of notability. In startups, founders want to target the largest business and consumer markets, not the small application that might be useful but won't become a juggernaut.
Unicorns are not born in small markets.
There are of course hugely negative externalities to this model for many markets. All that competition to dominate the "first-read newsletter" on Capitol Hill or along Sand Hill Road means that we are overwhelmed with identical analyses on the same subjects rather than being able to select from a wide spectrum of different options. We probably should have more coverage of emerging market tech or state capitols than we do today.
In startups, we have way too many entrants in some extremely valuable layers of fintech, for example. There are at least … 50? 100? wealth-management startups and incumbent products that focus on automated investing in ETFs (so-called "roboadvisors"). Yet, there is so much money to be made in some of these layers, that every founder with sense is essentially saying "I'll take my chances for the reward at the end of that particular road."
You would sort of think the free market would work itself out in these niches. All that competition for attention in the DC media world or for wealth management users should ultimately lower costs and divide the pie thinly enough that it becomes less attractive for new entrants and makes other niches and markets look far more relatively competitive.
That would be true if the pie did actually subdivide further and further. Experience over the last decade though has proven to me that this is quite often not the case. DC politics is the cauldron of gold for politics coverage, and there are one to three newsletters that will always dominate that beat. M&A coverage on Wall Street is the cauldron of gold of business journalism, and a handful of reporters are going to own that beat by being the switchboards for all the most important sources. And VC coverage is the cauldron of gold for startup media, which is why TechCrunch and a few of our friendly competitors work so hard to cover it every day.
New markets do get invented and old markets expand and contract. There are absolutely startups that sort of come from nowhere and dazzle us with their originality and ability to create whole new categories. Yet, for every unicorn that gets its start that way, there are 10 others that get built in existing major markets and compete for the big reward offered to the winner.
There isn't anything wrong with investors who want to fund the fifteenth startup in a space. It makes sense — that's where the rewards are, or at least, where we perceive the rewards to be. What needs to change is how to make some of those other niches offer the same incentives for innovation. How can more markets offer cauldrons of gold? Is that even possible? Or are we destined to read 100 newsletters on McConnell and Schumer's machinations while getting ads for Marcus?
Sleep, social media and mental health: Western U researchers look for links – Globalnews.ca
Researchers out of Western University in London, Ont., are trying to find out exactly how social media and sleep impact mental health, particularly among young people.
While the interplay between sleep, social media, and mental health has not been confirmed and "warrants further study," two recently published papers are starting to shed light on how complex the relationship is.
"There is quite a large body of evidence linking poor sleep with adverse health outcomes, especially among adults," Dr. Saverio Stranges, chair of the department of epidemiology and biostatistics, told Global News.
"However, the evidence among younger people, especially people like adolescents facing critical life transitions, is much more limited."
One of the studies, which analyzed data from the Canadian National Longitudinal Survey of Children and Youth, found that adolescents who experience difficulties sleeping are at higher risk of developing symptoms of anxiety and depression.
In particular, girls between the ages of 12 and 15 with persistent difficulties sleeping experienced higher rates of anxiety and depression.
"When present, these symptoms can persist into young adulthood and negatively impact relationships, quality of life and employment," said Stranges.
In another study, associate professor Kelly Anderson looked at previously published studies and reportedly found significant associations between excessive social media use and poor mental health outcomes, as well as between poor sleep quality and negative mental health.
"They are likely all part of a larger process that are feeding back to each other. So, if you aren't sleeping well, you are probably going to use social media more often, which is going to impact your mental health, which impacts your sleep and so on."

5:51


Foods that help with sleep



Junayd Hussain, one of the contributing authors, says it's the link between the three that "really interested us."
"Based on our research, it seemed as though at least part of the negative effects that social media use has on mental health may act through sleep disturbances."
The researchers say the studies highlight the need for public health initiatives to promote sleep hygiene.
Stranges said that, in terms of public health campaigns, there has been much attention paid to the importance of diet and physical activity and the impacts of smoking and alcohol consumption, but he doesn't believe sleep hygiene gets the same amount of attention.
"Good sleep habits should be really promoted in the very early stage because otherwise, you know, this may translate to long-term adverse health outcomes. And I think is important also from a public health perspective that we pay more attention to the way we sleep."
Researchers say one way to promote good sleep hygiene is to limit screen time before bed.
© 2021 Global News, a division of Corus Entertainment Inc.
Amnesty International extends deadline for 26th annual Media Awards – Canada NewsWire
OTTAWA, ON, Jan. 15, 2021 /CNW/ – Canadian journalists have an extra week to submit their stories to Amnesty International's Media Awards in Canada, the human rights organization announced today.
The English-speaking branch of Amnesty International's Canadian section will now accept submissions up to 11:59 p.m. EST on Jan. 22, 2021.
These awards honour outstanding reporting on human rights issues by journalists in Canada and Canadian journalists abroad, while also increasing awareness and understanding of human rights issues for all in Canada.
If you are a Canadian journalist or working as a journalist in Canada, we invite you to review the judging criteria below and submit your 2020 human rights stories with the link provided. We look forward to hearing from you.
All entries must be published or broadcast in Canada between Jan. 1, 2020 and Dec. 31, 2020. Unfortunately, we can only accept English submissions at this time.
Categories for 2020-2021:
Written News: A written story on a current or breaking news story relating to a human rights issues of 2,000 words or less.
Written Feature: A written story of more than 2,000 words on a human rights issue. Investigative pieces and multi-part series are also welcome.
Short-Form Video: A filmed news story relating to a human rights issue of no longer than 10 minutes.
Long-Form Video: A documentary or film relating to a human rights issue with a runtime of more than 10 minutes.
Audio News: A radio or podcast news story highlighting a human rights issue with a maximum runtime of 35 minutes.
Long-Form Audio: A radio or podcast feature, or series, highlighting a human rights issue with a maximum runtime of 70 minutes. *If submitting a series, please select 2-3 examples to highlight the series. The total runtime of the selected works must not exceed 70 minutes.
Mixed Media: A combination of at least two of the abovementioned elements: text, video and audio.
Post-Secondary Youth Award: A text, audio, video or mixed media story about a human rights issue created by a student attending a post-secondary school in Canada. The piece must be published or broadcast with a school publication.
Secondary Youth Award: A text, audio, video or mixed media story about a human rights issue created by a student attending a secondary school in Canada. The piece must be published or broadcast with a school publication.
Please complete the electronic form, answer all the required questions and ensure you have URLs for your media work.
The Amnesty International Media Awards winners will be announced in late February or early March 2021. Due to the ongoing pandemic, we are opting to host the awards ceremony online again. The virtual ceremony will be held in May 2021, with an exact date to be determined.
Click here for the Media Awards submission form.
Judging criteria:
1. Is there a human rights issue at the heart of this story? This is yes or no. If no, then don't go any further. No points awarded.
2. Does it advance the voice and agency of individuals or communities whose experience is at the centre of the story? Maximum 10 points.
3. Is the story told in ways that advance and promote diversity and equity, and avoid maintaining stereotypes or narratives that are racist, oppressive, sexist or otherwise discriminatory? Maximum 10 points.
4. Is there a solution suggested or being worked on by different stakeholders? Or does the story simply point out the abuse or violation without going further to suggest what needs to change? Maximum 10 points.
5. How much research and enterprise reporting was involved in the story? Maximum 10 points.
6. What is the level of professionalism of the story? i.e. Is it accurate, fair, and well-written? Maximum 10 points.
7. What is the impact of the story? Has it resulted in a change to law or policy? Has it positively impacted the lives of those who are at the centre of the story? Maximum 10 points.
SOURCE Amnesty International
For further information: Lucy Scholey, Media Relations, Amnesty International Canada, 613-853-2142, [email protected]ty.ca
Media survey request becomes discussion topic for local councils – OrilliaMatters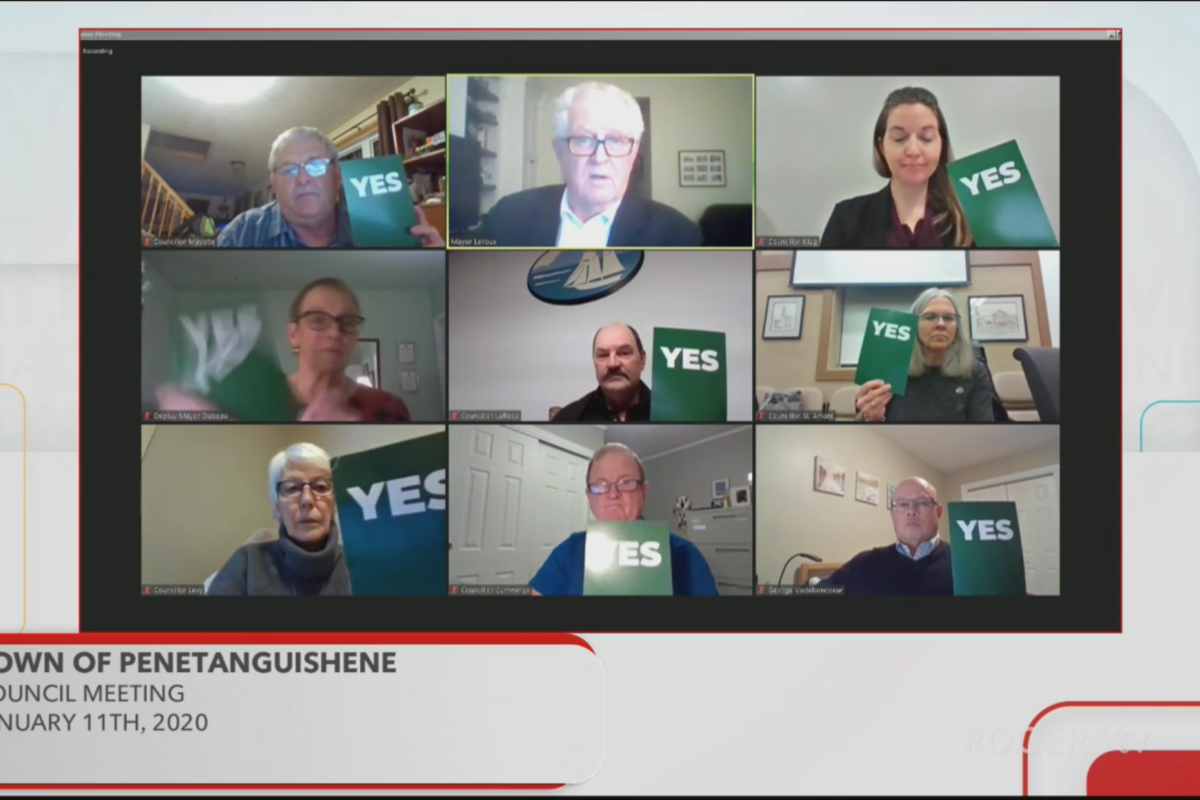 A move by MidlandToday to tap the mood of local elected officials has brought a simple survey request to the council debate floor.
Over the past month, Community Editor Andrew Philips sent along a short survey to all council members in North Simcoe. The survey became a topic of discussion at Penetanguishene's council meeting Wednesday.
The question: Should councillors be given the freedom to respond to it on their own or should staff craft an answer with council input?
"I have had discussions through the mayor's teleconference with neighbouring municipalities and it's kind of a mix," said Mayor Doug Leroux. "We all know that Midland has been doing it individually. Tiny Township has decided they don't want to do it individually. They want to send in a response as council as a whole.
"In Tay's case, they were hoping to do the same," he added, "but Mayor Ted Walker informed me that a couple of them wished to do their own and then he was also told that there were two of them that had no intentions of responding at all."
Leroux said he was bringing it up at council to ask council members how they wanted to proceed.
"If (you) want to do a combined one or if (you) want to do one on your own, or there might be those that don't want to do one at all," he said. "It's up to each councillor what their wish and desire is."
Coun. Brian Cummings was the first one to speak up.
"These questions are personal opinion, personal political views and I don't believe staff really should be providing answers that members of council are providing," he said. "I think we all have our own little ideas of what's going on, even though we are united with our strategic plan, there are some things that may come up. I believe we should be free to answer on our own if we choose to."
Deputy Mayor Anita Dubeau and councillors Debbie Levy and Michel Mayotte showed support for what Cummings said.
"I will be doing my own, thank you very much," said Levy.
Leroux said this was exactly why he asked the question.
"If you all want to, you can just go ahead and proceed all do your own," he said. "If there are those that don't want to do one, then you're free to do that as well."
Leroux did add a clarification: "It's not staff's ideas or recommendations. It's input from members of council that staff would prepare."
The survey Philips sent out to council members in the four municipalities is a common year-end practice in newsrooms. It gives council members a chance to reflect on their year in office and focus on the gains and losses. It also helps in realigning their ideas moving forward.
Five responses to the survey by Midland council members have already been shared on MidlandToday's website.
Philips received a call from Tiny Township staff indicating all of council will provide a combined response to this individual exercise.
So far, four Tay Township councillors have also sent in their responses, but a Thursday committee discussion indicated they still sought clarity around how council members should deal with members of the media. (Story to follow.)
The Penetanguishene motion around the survey died on the floor as there was no mover or seconder.
The survey provided to councillors (question #4 varied by municipality):
Question 1. What are you most proud of, personally as a councillor, that you/council have been able to accomplish in the first half of your mandate?
Question 2. What is your biggest disappointment as it relates to a council decision/direction or issue?
Question 3. Nobody saw the pandemic coming. Specifically, as a councillor, what is the biggest challenge the pandemic has created and how have you tried to tackle that challenge?
Question 4. What is your vision for the area known as Midland Bay Landing (i.e. a full park, half a park and the balance development, mostly development)?
Question 5. Are you doing enough as a council to be transparent, to encourage public input and to listen? How so? How could that be improved during the second half of your mandate?
Question 6. What is the biggest challenge council faces in the second half of its mandate (ie. Staff retirements, promised tax freeze, capacity) and what are your top priorities?
Question 7: Lastly, do you intend to seek re-election? Why or why not?