The Challenges of Social Regression
Oh, the good old days. Have you ever heard someone say such a thing? Thinking about the "Good old days" often brings a shivering feeling to my spine, a feeling of taking three steps back instead of a pace or two forward. Regression on a social scale is hope toward historical better times. Better times for whom?
Say you lived anywhere 20-50 years ago, no matter the nation. Perhaps you are a woman. The many struggles for equality, freedom of speech, human rights and the control of your bodies would be flourishing actively. A gay person would be struggling to get out of that closet, gathering the courage to announce themselves to others. You would have been tied up in the struggles that surrounded you within your families, community, and possibly your church and workplace. One cannot be an island after all.
An island. An interesting concept don't you think? It is not a new idea, is it? If you do not like something, isolate yourself from it. You can then feel safe and unchallenged in all things. Many religious communities and political organizations separate themselves from the greater community, trying to keep themselves isolated from the challenges of their society. Many Religious Muslims, Jews and Christians have historically isolated themselves from societies that seem to them to be deceptive, manipulative and perhaps even unsafe. This self-isolation can work only for so long, however, as no one is an island, everyone is a part of the global ocean. This realization does not stop people from making a stand against what they believe in.
Do employees have the right to not serve someone because of their religious beliefs? Within many retail spaces, religious people have refused to serve customers who have tried to purchase, say a condom or birth control pills. While moral judgements are not in the employee's job description, their rights to refuse service are. What they are supposed to do is transfer the customer to another employee, but instead the outraged employee makes a stink about the sale of what is to them blaspheme. In Michigan is a wedding venue that serves only straight couples. Bakers, Florists and other vendors have all sparked outrage at their refusal to serve homosexual couples, arguing that doing so will violate their religious principles. The LGBTQ community tries to respond to these commercial refusals to serve community members through the power of consumer spending. Can these retailers discriminate against anyone? It's their place of business, and do they not have the right to express their beliefs?
Some Public Libraries in Iowa have been closed after members of the community not only complained about books within the library having LGBTQ themes, but community protests and pressures upon the Mayors and Council Members made public safety an issue. Which books did they complain about? Well, Vice President Kamala Harris wrote a book, as did Jill Biden, a book called "Joey". The complaints were about perceived liberal bias, and these protesters further attempted to expose any employee that was a member of the LGBTQ Community. So outright prejudice is shown because of the spectre of a liberal agenda and a feared invasion of public employees by the LGBTQ Community. While the number of religious books outnumbered those with LGBTQ themes. The library staff left over the ongoing community unrest, leaving the children's rights to use the library's services a second thought.
There is a cultural war brewing globally. In Russia, many of its citizens hope for a return to the good old days of The Soviet Union, an empire of strength and power. Right-wing political parties are flourishing, as members of the EU dream of better times promised by nationalistic organizations. Right-wing organizations in Israel work towards the expansion of Israeli territory. While American Democratic Party tries to limit Trump's return to national politics.
What will America expect in the near future? Who hopes for a return to the good old days?
1. A grassroots movement(A revival) of Religious Fundamentalists who see an abortionist or LGBTQ members under every bed.
2. Wall Street Investors who oppose all public regulations and dream of unfettered profits.
3. Political and Economic Opportunists hoping to become wealthy at the public's trough.
4. Those who see chaos in the future & promise stability by returning to the past.
Years ago the Jewish Defense League, and militant gay activist organizations showed the right-wing how to get the job done and achieve their goals through activism, often violent protests, harassment of private individuals and those that challenge these organizations. We now see various State Governments regressing back to the days of the past, denying women, gays, blacks, migrants and those on the fringe of society the rights and services they fought for in the past.
Will we see a return of The Confederate Flag, cone head coverings, open-in-your-face bigotry and social-economic prejudice throughout our society? Will we have to endure four more years of Trumpites and their self-serving political agenda? These days it is difficult to be an optimist. In Canada, the National Conservative Party is having a leadership contest, and the leader of this race, Pierre Poilievre has shown himself to be a right-wing opportunist likened to Donald Trump.
Folks, please hope for the best, but be prepared for the worst to come. The fight for equality, freedom and justice never ends.
Steven Kaszab
Bradford, Ontario
skaszab@yahoo.ca
Two families found dead trying to enter US from Canada: Police – Al Jazeera English
Authorities have launched an investigation following the discovery of eight bodies in a marshy area of the St Lawrence River in Quebec near Canada's border with the United States.
The Akwesasne Mohawk Police Service said six bodies were found about 5pm (21:00 GMT) on Thursday in the marsh in Tsi Snaihne, Akwesasne. Two more were discovered on Friday.
At a news conference on Friday, deputy police chief Lee-Ann O'Brien said the dead belonged to two families — one of Romanian descent with Canadian passports, the other Indian. One child under the age of three was among the fatalities, she said.
"All are believed to have been attempting illegal entry into the US from Canada," O'Brien said at the press conference.
Later that day, the chief of the Akwesasne Mohawk Police Service, Shawn Dulude, said that one of the two additional bodies recovered was that of an infant from the Romanian family.
The deaths came one week after the United States and Canada announced the expansion of a border agreement granting them the authority to expel asylum seekers who cross the nations' shared border at unofficial points of entry.
O'Brien said the bodies were found near a capsized boat belonging to a missing man from the Akwesasne Mohawk community, which stretches along both sides of the St Lawrence River, with land in Ontario and Quebec on the Canadian side, and in New York state.
Authorities were awaiting the results of post-mortem and toxicology tests to determine the cause of death.
Marco Mendicino, Canada's minister of public safety, said the Canadian Coast Guard and the Quebec provincial police force were assisting Akwesasne police in their investigation.
[embedded content]
"The news coming out of Akwesasne is heartbreaking," the minister wrote on Twitter. "I've reached out to Grand Chief Abram Benedict to express our condolences. As we await more details, my thoughts are with the loved ones of those lost."
Canadian Prime Minister Justin Trudeau also expressed his condolences to the families. "This is a heartbreaking situation, particularly given the young child that was among them," he told reporters.
"We need to understand properly what happened, how this happened and do whatever we can to ensure that we're minimising the chances of it happening again."
Last month, the Akwesasne Mohawk Police Service and the Saint Regis Mohawk Tribal Police reported a recent increase in undocumented entries through their lands and waterways. The statement said some people required hospitalisation.
In January, the police force noted that people involved in human smuggling had attempted to use shorelines along the Saint Lawrence River in the area.
'Put human lives at risk'
Trudeau unveiled the expanded border deal, known as the Safe Third Country Agreement (STCA), last week during US President Joe Biden's first official visit to Canada since taking office.
Since 2004, the STCA has forced asylum seekers to make claims for protection in the first country they arrive in — either the US or Canada, but not both.
That has meant that people already in the US could not make an asylum claim at an official port of entry into Canada, or vice versa, and allowed border authorities to uniformly turn people back at official land crossings.
The expanded agreement unveiled on March 24 closed a loophole in the STCA that previously allowed asylum seekers who crossed into Canada at unofficial points along the border to have their protection claims assessed once they were on Canadian soil.
The White House said last week that the restrictions would now also be applied "to migrants who cross between the ports of entry".
Advocates slammed the move, saying applying the STCA to the entire 6,416km (3,987-mile) land border between the US and Canada would not prevent people from seeking to cross, but would only force them to take more dangerous routes.
The news coming out of Akwesasne is heartbreaking.

I've reached out to Grand Chief Abram Benedict to express our condolences.

As we await more details, my thoughts are with the loved ones of those lost.

— Marco Mendicino (@marcomendicino) March 31, 2023
Migrant justice advocates laid the blame for the most recent deaths on policymakers.
"The Safe Third Country Agreement (STCA) and other immigration laws are meant to deter migration from the global south by making border crossing deadly," Nazila Bettache, a member of the Caring for Social Justice Collective, said in a statement on Friday.
"Let's be clear, these deaths were predictable and predicted — and in that sense they are intentional."
Samira Jasmin, spokesperson for the Solidarity Across Borders advocacy group, added that "these immigration policies put human lives at risk! We cross borders for a better world and instead face death".
Local authorities disputed the idea that the closure played a role in the most recent deaths.
"Right now what I can tell you is this has nothing to do with that closure," O'Brien said. "These people were believed to be gaining entry into the US. It's completely opposite."
The STCA applies in both directions, however, and US Border Patrol processed 3,577 people who crossed into the US irregularly from Canada last year, CBS News recently reported, citing government data.
Earlier this year, a family of four from India — including two children — were found frozen to death in the central Canadian province of Manitoba near the border with the US.
Authorities said they had attempted to cross over the border by foot on January 19 during severe winter weather and died from exposure.
A Haitian asylum seeker who came to Quebec via a popular, informal border crossing known as Roxham Road was also found dead at the frontier in late 2022 after attempting to go back to the US to rejoin his family.
Terrible – and just days after the US/Canada deal.

Again and again, we see punitive + deterrence-based asylum policies have horrifying and tragic consequences.

Consequences borne by migrants fleeing persecution. Consequences that are getting harder to describe as unintentional. https://t.co/mouezQ6cRF

— Danilo Zak (@DaniloZak) March 31, 2023
Police recover 2 more bodies from St. Lawrence River near Ontario-Quebec border – CBC.ca
Eight people are dead after they tried on Thursday to cross the St. Lawrence River into the United States near Akwesasne — a community which straddles Quebec, Ontario and New York state — according to officials. One other person is still missing.
Police recovered two more bodies from the river Friday, after discovering six bodies and an overturned boat during a missing person search Thursday afternoon.
The bodies are those of six adults and two children: one under the age of three who had a Canadian passport, the other an infant who was also a Canadian citizen, according to Shawn Dulude, the police chief for the nearby Kanien'kehá:ka community of Akwesasne. Dulude spoke to reporters at a Friday news conference.
They were found in a marsh on the riverbank.
They are believed to have been an Indian family and a Romanian family who were attempting to cross into the U.S., according to police.
Casey Oakes, 30, an Akwesasne resident, remains missing, police said. Oakes was last seen on Wednesday around 9:30 p.m. ET boarding a small, light blue vessel, leaving Cornwall Island. He was dressed in black, wearing a black face mask and a black tuque.
WATCH | Dulude speaks about the victims:
Shawn Dulude, the chief of the Akwesasne Mohawk Police Service, says eight bodies have now been found after an overturned boat was spotted in the water on Thursday afternoon.
He was later reported missing, leading to the search efforts that found the bodies. Oakes is a person of interest in the case, said Dulude.
Police located Oakes's vessel near the bodies, Lee-Ann O'Brien, the deputy chief of police for the Akwesasne Mohawk police service, said on Friday morning. Akwesasne is about 120 kilometres west of Montreal.
The IDs of the victims have not yet been released, pending notification of their next of kin.
A storm brought high winds and sleet into the area on Wednesday night. "It was not a good time to be out on the water," O'Brien said.
"It could have been anything that caused this tragedy," he said. "It could have been a faulty boat, it could have been human error and that the investigation will determine."
Kevin Sturge Lazore, captain of the Akwasasne Fire Department's Station 3, sent 15 volunteer firefighters to search the river on Thursday after Oakes's family reported him missing. Another dozen or so volunteers from other stations in the community joined the effort.
The firefighters recovered the boat, its hull dented on the bottom as if it had hit ice or a rock, Lazore said.
WATCH | 80 illegal crossings this year:
Akwesasne Mohawk police Chief Shawn Dulude says they have intercepted 80 attempted illegal crossings into the U.S. through their territory since January.
He and O'Brien said the boat was small, and wouldn't have been able to safely carry seven or eight people.
"What that boat could handle and the amount of people in it, it doesn't make a pretty picture," Lazore said, standing by the fire department dock on the water.
Friday morning, the water was calm and mirror-like. "It can change in the blink of an eye," Lazore said, noting waves were more than a metre high Wednesday night.
"The river is always the major concern…. Our elders tell us, always be careful, especially in the spring, with the runoff, the current is stronger and the water is freezing."
Other attempted crossings
The volunteer firefighters were only searching for one person when they discovered the first six bodies.
"It's hitting them now," Lazore said, adding they had begun a debrief Thursday evening to process what they had seen, but were interrupted by a call for a structure fire.
Thursday wasn't the first time Lazore's team has been called on to search for missing people who have tried to cross the border.
He said they rescue people attempting to enter the U.S. or Canada over the river and its tributaries about three or four times a year.
"It gets hard. It wears the guys down."
Almost exactly a year ago, they rescued a group of six Indian nationals who had just made it into the United States on the river when the boat they were in hit a shallow bank and got stuck.
They were able to stand up in the boat and were rescued by the volunteers and Akwasasne Police Department — which received $6.5 million from the Quebec government last year to help it deal with the increased flow of human smuggling in the area.
"They were lucky. It could have been a lot worse," Lazore said.
WATCH | Police search waters near Akwesasne:
Police continued the search for two people missing on Friday after the bodies of six people were recovered from the St. Lawrence River near Akwesasne, on the Ontario, Quebec and New York borders.
The fire station is next to a recreation centre where community members gathered Friday afternoon. They sit across a road from the Tsi'Snaihne River.
A police helicopter circled above.
Next to the fire station, a group of men lit a sacred fire early that morning and kept it going throughout the day. Lazore said the fire was to honour the families and Oakes.
Smuggling on the rise
O'Brien, the deputy police chief, said the community has seen an uptick in human smuggling into the U.S. There have been 48 incidents so far this year, she said.
But the recent deaths had nothing to do with the closure of the Roxham Road illegal border crossing, she added.
"That closure was people seeking refuge, leaving the U.S. to Canada. These people were believed to be gaining entry into the U.S. It's completely the opposite."
Most of those who try to enter the U.S. through the area are Indian and Romanian families, she said, but she said she "had no idea" why that was the case.
Ryan Brissette, a public affairs officer with U.S. Customs and Border Patrol, says the agency had seen a "massive uptick in encounters and apprehensions" at the border.
The agency saw more than eight times as many people try to cross from Canada into the U.S. in 2022 compared to previous years, he said. Many of them — more than 64,000 — came through Quebec or Ontario into New York.
"Comparing this area in the past, this is a significant number," Brissette said.
"There's a lot of different reasons as to why this is happening, why folks are coming all of a sudden through the northern border. I think a lot of them think it's easier, an easy opportunity and they just don't know the danger that it poses, especially in the winter months."
Eight bodies found in St Lawrence River near US-Canada border – BBC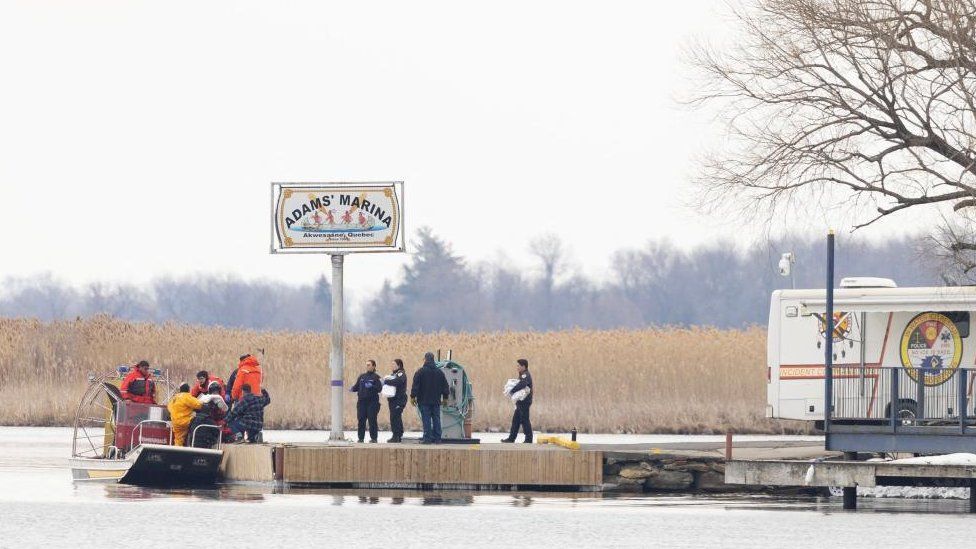 Authorities say they have recovered the bodies of eight migrants, including two children, who died trying to cross illegally from Canada into the US.
A police helicopter spotted two more bodies in the St Lawrence River on Friday. Two families from Romania and India are among the dead.
It is unclear if there is any link between Mr Oakes and the families.
Police said the first body was found around 17:00 local time (21:00 GMT) in a marsh in Tsi Snaihne in Akwesasne, a Mohawk territory right between the US-Canada border.
The other bodies were discovered nearby. Their identities have not yet been released by police.
The dead were six adults and two children.
One child was under the age of three and had a Canadian passport. The other infant was also a Canadian citizen, a local police chief told reporters at a Friday news conference.
The bodies are believed to be from two families, one of Romanian descent and one of Indian descent, Lee-Ann O'Brien, deputy chief of Akwesasne Mohawk Police Service, told reporters.
"All are believed to have been attempting illegal entry into the US from Canada," Ms O'Brien said. She added that weather conditions were rough in the area on Wednesday night.
The bodies were found in the Quebec area of Akwesasne, a Mohawk community whose territory includes parts of Ontario, Quebec and New York State. It is located about 120km west of Montreal.
Canadian Prime Minister Justin Trudeau said: "This is a heartbreaking situation.
"We need to understand properly what happened, how it happened and do whatever we can to minimize the chances of this ever happening again."
Bodies of people attempting to cross into the US from Canada have been discovered at other locations in recent months.
In January, police in Canada found the bodies of four people, including an infant, in a snow field near Emerson, Manitoba, by the US-Canada border. The dead are believed to be a family from India, US officials said.
A Montreal man was also found dead near the US-Canada border in December. Fritznel Richard, 44, was trying to cross into the US to reunite with his wife and child.