The Climate Economy Is About to Explode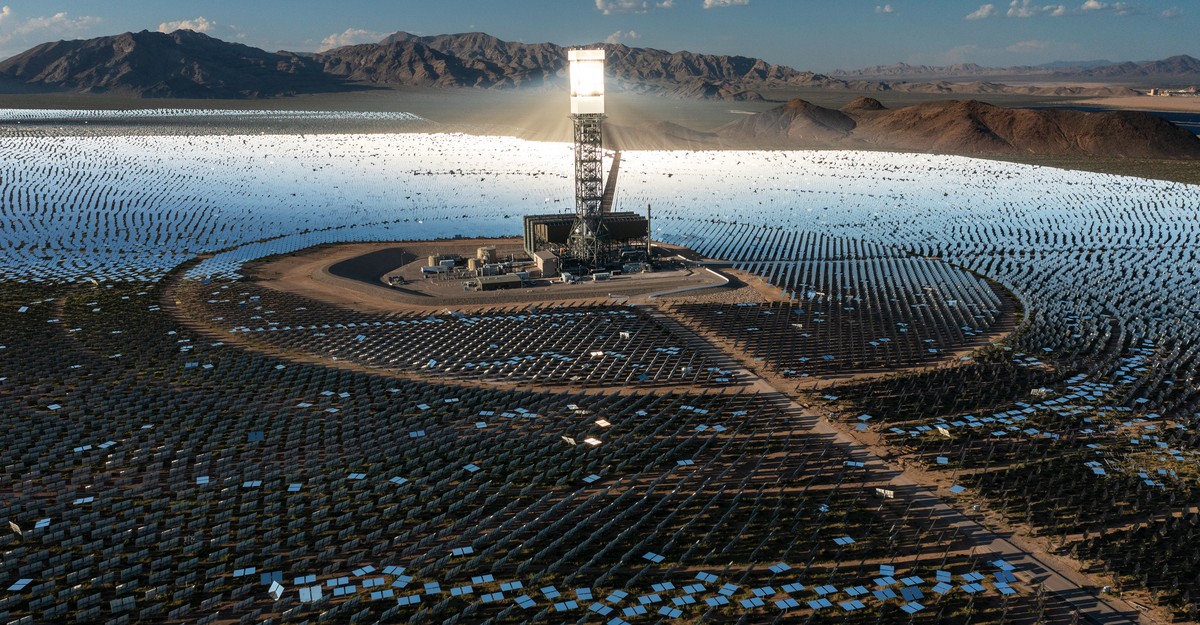 Sign up for The Weekly Planet, Robinson Meyer's newsletter about living through climate change, here.
Late last month, analysts at the investment bank Credit Suisse published a research note about America's new climate law that went nearly unnoticed. The Inflation Reduction Act, the bank argued, is even more important than has been recognized so far: The IRA will "will have a profound effect across industries in the next decade and beyond" and could ultimately shape the direction of the American economy, the bank said. The report shows how even after the bonanza of climate-bill coverage earlier this year, we're still only beginning to understand how the law works and what it might mean for the economy.
The report made a few broad points in particular that are worth attending to: First, the IRA might spend twice as much as Congress thinks. Many of the IRA's most important provisions, such as its incentives for electric vehicles and zero-carbon electricity, are "uncapped" tax credits. That means that as long as you meet their terms, the government will award them: There's no budget or limit written into the law that restricts how much the government can spend. The widely cited figure for how much the IRA will spend to fight climate change—$374 billion—is in large part determined by the Congressional Budget Office's estimate of how much those tax credits will get used.
But that estimate is wrong, the bank claims. In fact, so many people and businesses will use those tax credits that the IRA's total spending is likely to be more than $800 billion, double what the CBO projects. And because federal spending tends to catalyze private investment, that could send total climate spending across the economy to roughly $1.7 trillion over the next 10 years. That's significantly more money flowing into green-energy industries than the CBO projected, though it's unclear if that additional money will lead to more carbon reductions than earlier analyses have projected.
Second, the U.S. is "poised to become the world's leading energy provider," according to the bank. America is already the world's largest producer of oil and natural gas. The IRA could further enhance its advantage in all forms of energy production, giving it a "competitive advantage in low-cost clean electricity and hydrogen production, infrastructure, geologic storage, and human capital," the report states. By 2029, U.S. solar and wind could be the cheapest in the world at less than $5 per megawatt-hour, the bank projects; it will also become competitive in hydrogen, carbon capture and storage, and wind turbines. (The law will help America's battery industry, but the bank doesn't see the U.S. becoming the world's biggest battery producer, given that China already has such a dominant advantage.)
Perhaps rosiest of all was the bank's view of major risks to the IRA. The bill passed with not even a single Republican vote, but the bank concludes that the GOP is relatively unlikely to repeal the law, even if they take the White House in 2024. That's because it would hurt their own voters most: "Republican-leaning states are likely to see the most investment, job, and economic benefits from the IRA," the report claims. Instead, the IRA is most likely to stumble because America still struggles with building out its energy infrastructure: The country might not be able to get government approval to permit enough power lines, green infrastructure, and carbon-injection wells for the law to matter, the bank said. This risk is all the more heightened now that Senator Joe Manchin's permitting-reform bill—which, for all its flaws, would have clearly allowed for more renewable transmission construction—has failed. Powerful business groups are also lobbying to revise the most transmission-friendly sections from that bill if Congress revisits it.
The Credit Suisse report is truly remarkable. What stuck with me most was this declaration: For big corporations, the IRA "definitively changes the narrative from risk mitigation to opportunity capture." In other words, companies should no longer worry that they might be unprepared for future climate regulation, such as a carbon tax. They should be scared of missing out on the economic growth that the energy transition (and the IRA) will bring about.
If the bill's passage wasn't signal enough, the report shows that climate change as a political issue—and frankly environmental protection more broadly—has arrived to a wholly new place. For decades, the country's biggest climate advocates have tried to reduce the harm that the economy causes to the environment. Now they find themselves tasked with the biggest story in the economy itself.
Perhaps most strange, even if the United States slips into recession in the next year, the IRA will only become more important. Historically, economists and businesses have treated helping the environment as a product of prosperity—if the economy is good, then companies can afford to do the right thing. But the IRA's programs and incentives will keep flowing no matter the macro environment, which makes betting on clean energy one of the most certain economic trends of the next few years. Clean energy is now the safe, smart, government-backed bet for conservative investors. It's really a shocking reversal of the past 40 years. It is such a change that it hasn't yet been metabolized by the world of people involved in the issue.
So inspired by the vigor of Credit Suisse's forecast, let me venture a few predictions of my own. The number of Americans working in a climate-relevant industry is going to explode. It is going to undergo what you might call a techification. I was a nerd and a dreamer in high school in the late aughts, which meant I paid attention to the start-ups of that era—such as Twitter, Facebook, and Flickr—in their early years. I remember that fateful moment around 2010 when the valence of the industry switched—it was right around when The Social Network came out—and working in tech went from being a career choice for dorky optimists to the default career track for many ambitious college students. A similar switch is coming for companies working on climate change: The opportunity will be too large, the money too persuasive, the problems too intriguing.
Finally, those of us who have long worked in climate change—and here I include myself, who started covering this topic in 2015—should have some excitement and even humility about this deluge of new talent. Even setting its arduous politics aside, managing climate change is a legitimately difficult technical and cultural problem—it's going to require as many attentive and enthusiastic brains as possible, and the path to decarbonizing always required an infusion of new workers, investment, and good will. If you don't yet work in the industry, but have always cared about climate change as an issue, well, this is your moment to get involved. These companies are going to need engineers, yes, but also programmers, accountants, marketers, HR staff, general counsels—there is space for everyone now.
The fight against climate change is going to change more in the next four years than it has in the past 40. The great story of our lives is just beginning. Welcome aboard.
A Look At Canada's Growing Economy
Canada has one of the largest economies in the world, and the country's largest industries include real estate, oil, and gas extraction, manufacturing, and mining. By GDP, Canada has the ninth-largest economy in the world. In 2020, Canada's annual GDP was $1.64 trillion, and roughly one-third of GDP comes from Canada's import and export of goods and services.
The Canada Special
Canada is home to many big-name brands. E-commerce giant Shopify is headquartered in the country, and central banks like the Royal Bank of Canada (RBC) operate within the country's financial sector. RBC is regarded as one of the largest banks in Canada and the world. We recently saw HSBC Group agree to sell HSBC Canada to RBC. According to the CEO of HSBC Group, the company considered HSBC Canada's strategic fit and ultimately found an upside in selling the business. RBC is reportedly buying HSBC Canada for $13.5 billion, which is expected to close in late 2023.
RBC's top executive sees its planned purchase of HSBC Canada as a "once-in-a-generation" chance for the bank to expand its lead in the country's heavily concentrated financial market https://t.co/IVTyKnu9bt

— Bloomberg Markets (@markets) November 30, 2022
Growing Canadian Markets
Canada's economy is constantly growing, too. RBC's acquisition of HSBC Canada demonstrates this, but many other industries have taken off in the country over the years. One of the fastest-growing industries in 2022 is iGaming. iGaming refers to any online betting, such as online casino games and sports betting. This growth reflects a worldwide trend, where the global iGaming market is projected to grow to $114 billion by 2028.
In particular, Ontario's iGaming market is leading the way in Canada. Total iGaming revenue in the second quarter of 2022 in Ontario's iGaming market reached $267 million, up from the $162 million recorded in the first quarter of 2022. Likewise, total wagers, active player accounts, and average monthly spend per active player account increased in Q2 2022 in Ontario. Total bets entered the billions, jumping from $4,076 million to $6.04 billion in the second quarter.
Several operators and websites specializing in different areas of iGaming are live in Canada, helping the Canadian market reach a broader target audience. According to this review site, some of Canada's most popular online casinos include LeoVegas, which specializes in mobile gaming, and Wildz. Wildz is an online casino known for offering lucrative casino bonuses. Canada's iGaming market also offers French-speaking online casinos for Canadian players who want to speak French. This is particularly relevant in Quebec, a French-speaking province.
Interestingly, Canada's iGaming market is rising simultaneously with the country's eSports industry. In 2022, revenue in Canada's eSports market is expected to reach nearly $25 million. This growth is attractive because eSports is a sector that the iGaming market is looking more into incorporating. People have shown that they enjoy placing wagers on eSports tournaments as they do with regular sports tournaments like the World Cup.
Canada has one of the largest economies in the world, so it's no surprise to see the country continuing to push boundaries and grow its success in budding new industries like iGaming and eSports. Even though these are two competitive markets, Canada appears to have gotten its foot in the door already.
Personal Loans with the Lowest Interest Rates
Need a loan quickly? With the loans that Canadian lenders provide you, starting your dream company or even paying your bills is made easy for you.
Only individuals are eligible for personal loans in Canada, and most banks and lending institutions impose restrictions on how and why you can use one. Personal loans can be of different types, such as secured, unsecured, and credit-building loans. Lenders may have different terms and interest rates for personal loans. Some lenders require you to provide your credit score, while others do not.
If you hope to find rates that won't affect your credit, you have come to the right place. These lenders give quick loans with interest rates as low as 3%. Let's discuss some of these lenders and how they stand out:
Loans Canada is one of the best lenders for Canadians who need to borrow money for almost any cause. You can trust that the terms of any quotes you're pre-approved for are the conditions you'll receive, thanks to Loans Canada's great reputation and broad network of financial institutions. With funding for some loans available in as little as 24 hours, lenders often offer interest rates as low as 1.99%, but the rates go as high as 46.96% on amounts ranging up to $50,000.
There are lenders on the platform who cater especially to those with bad credit, and there are no credit or income requirements stated on the site. The loan term varies from 3 to 60+ months for borrowers to pay back.
LoanConnect is an entry point to numerous lenders via a single application, not a direct lender. The lenders on LoanConnect offer short-term, unsecured loans, some of which are available to borrowers with bad credit or a history of bankruptcy.
A competitive 5.99% APR is the starting rate for LoanConnect lenders, but some can go as high as 46.96% APR, depending on the applicant's credit history. To be eligible for this loan, you must be a citizen of Canada and meet certain age requirements.
Prospective borrowers can submit an online loan application in just a few minutes, receive loan approval in about 5 minutes, and typically receive their funds the same day. There are no additional fees for applying.
Borrowell offers a range of financial services and is one of Canada's top providers of personal loans. With over 50 financial partners and seven years in operation, Borrowell has created a strong network to assist you in finding unsecured loans that meet your requirements.
You can borrow between $1,250 to $10,000, and you have 36 to 60 months to repay the loan with regular payments. The interest rate is 19.99%. The platform is free, but there's a one-time origination fee of 1% to 5% that you must pay.
You must meet the following requirements to be considered: a credit score of at least 660; a minimum annual income of $20,000; solid credit history and credit utilization; and a manageable debt service ratio. Also, you should obtain a free Equifax credit score, review the offers that correspond to your credit profile, and select the best offer to accept.
Russia's Economic Prospects Have Gone From Bad To Terrible
Russia's full-scale invasion of Ukraine and Ukrainian resistance to that invasion remains the most significant international event of 2022. Beyond the military implications, the invasion has created millions of Ukrainian refugees, caused many men of military-age to leave Russia, affected food and energy supplies and changed the Russian economy.
In March 2022, I interviewed Brian D. Taylor, a professor of political science at Syracuse University and author of the highly acclaimed book The Code of Putinism. To gain his insights on the events of the past ten months, I asked Professor Taylor, who responded in writing, what the future holds for Russia. He discusses the war's progress, the state of the Russian economy, Russian attacks on Ukrainian infrastructure, Vladimir Putin's view of Ukrainian sovereignty and other topics.
Stuart Anderson: How do you think Vladimir Putin and those around him view the progress of the war in Ukraine since the widescale invasion began in February 2022?
Brian D. Taylor: Putin and his team certainly understand that the war has not gone according to plan. Two key moments stand out: the decision to withdraw units attacking Kyiv in March and April and the decision to announce a so-called "partial mobilization" in September. In the first case, Putin had to give up on his goal of quickly toppling the Ukrainian government. In the second case, he had to acknowledge that Russian casualties (killed and wounded) were so immense in the first seven months of the war that Russia needed hundreds of thousands of new troops to stabilize the front.
That said, I think Putin and his military and security elites—known collectively as the siloviki—still do not believe that Russia has lost the war. They hope to outlast Ukraine and the West by mobilizing more troops, inflicting enormous suffering during the winter on the Ukrainian population by targeting civilian infrastructure, and waiting for collective Western support for Ukraine to splinter and fall apart.
Anderson: You have pointed out the Russian economy stagnated even before the sanctions imposed in 2022. What are the biggest economic problems Russia and Russians face today and in the coming years?
Taylor: The biggest economic problem that Russia and Russians face today is, of course, the war. Instead of an expected growth of around 4% for 2022-2023, Russia's economy is expected to decline by 8% over those two years. Sanctions have hit production in key sectors very hard, and the effects will continue to mount. The government is shifting to a wartime economy, which means even more state control and military spending and less investment in human capital such as education and health care.
Hundreds of thousands of educated, young workers have left the country, and several hundred thousand more Russian citizens have been mobilized for war rather than productive pursuits—not to mention the roughly 100,000 casualties so far. Living standards will continue to fall, and an increase in wage arrears and unemployment seems inevitable as well. Longer term, the Western shift away from Russian oil and gas brought on by the war will undermine Russia's most important economic sector.
The Russian economy has been underperforming for 15 years due to poor institutions—weak rule of law, poor protection of property rights, corruption—and consequentially relatively low domestic and foreign investment. Now due to the war, Russian economic prospects have gone from lackluster to dreadful.
Anderson: Russia has openly broadcast on TV that it is taking Ukrainian children to Russia, which many people consider kidnapping. Can you explain Russian boasting about what appears to be a violation of human rights and war crimes on a mass scale?
Taylor: I think these actions, although obviously deplorable, are perfectly consistent with Kremlin messaging about the war. In Putin's own words, Russians and Ukrainians are "one people." Putin cannot even imagine that Ukraine would choose to align with the West unless it was somehow tricked or coerced into doing so.
When he launched the February invasion, he asserted that Ukraine was ruled by a "neo-Nazi" government that was committing "genocide" against its own people. Thus, the Russian state portrays these kidnappings not as a war crime but as a benevolent act to rescue endangered children from an evil illegitimate government in Kyiv. It's nonsense, of course, but that doesn't mean the views are not seriously held by both Russian state officials and the Russian families who say they are "adopting" these children.
Anderson: One notices the use of Soviet flags and symbols by the Russian Army in Ukraine and still see statues of Lenin in Russia. Since Christianity is now supposed to be an important part of Russia's identity, why does the government continue to promote Soviet symbols and Lenin?
Taylor: Putin's Russia promotes a weird mishmash of symbols and identities. In his long speech justifying the February invasion, Putin bitterly denounced Lenin for creating the Soviet Republic of Ukraine, which he considers an artificial construction. Yet, as you note, in other settings and circumstances, Putin fully embraces Soviet history and symbols. I think the way to make sense of this is to understand Putin as someone who believes in the imperial Russian myth of 1,000 years of continuous Russian history. For him, pre-revolutionary Tsarist Russia, the Soviet Union, and post-Soviet Russia are all part of a single story of "historic Russia" and its rightful status as a Great Power.
Of course, Russia is not the only country that tells a story about itself that is at odds with a much more complicated historical reality. This war is a tragic reminder of the potential dangers when myths of imperial greatness serve as a guide to contemporary foreign policy.
Anderson: A Russian commentator raised an obvious contradiction in the rhetoric about Russians and Ukrainians being one people and post-Soviet peoples belong together, arguing if Russians would not surrender because they lost heat or electricity during the winter, why should anyone expect Ukrainians to do so. What do you think?
Taylor: I can't but agree with the commentator you mention. I refer once again to Putin's February 21 speech, in which he said about Ukrainians: "These are our comrades, those dearest to us . . . colleagues, friends . . . but also relatives, people bound by blood, by family ties." Yet the actions of Russia for the last nine months shows that Putin sees no problem with the murder and torture of those he refers to as comrades, friends, and relatives.
It's not surprising that Ukrainians see his statements as empty words and have become even more determined to hold on to their sovereignty and freedom in the face of Russian efforts to inflict immense suffering on civilians through these bombing campaigns against civilian infrastructure.
Anderson: The Institute of the Study of War said recently that Putin "continues to reject the idea of Ukrainian sovereignty in a way that is fundamentally incompatible with serious negotiations." Do you agree?
Taylor: One hundred percent. Putin has made clear for many years that he does not think Ukraine is "even a state," as he told George W. Bush in 2008. This war—which goes back to 2014, when Russia annexed Crimea—stems directly from Putin's refusal to see Ukraine as a sovereign state with the freedom to make its own political and foreign policy decisions.
In his view, Ukraine must be in Russia's "sphere of control," as Fiona Hill and Angela Stent put it. Just two months ago, Putin forcibly asserted that he was annexing four regions of Ukraine that, according to international law and multiple agreements between Russia and Ukraine, are legitimately part of Ukraine. If Putin wanted to end the war, there is nothing stopping him from pulling Russian forces back to Russia's legitimate international borders.