The coronavirus is just starting to have an impact on the globe's economy and politics – CNBC
The World Health Organization has made it official: Coronavirus is the first "global health emergency" of our new era of major power competition. It will affect global markets, but also geopolitics, as well.
It's already clear that the coronavirus' impact, though too early to fully measure, will be significant on Chinese and global supply chains, markets and economies; on the legitimacy and the trust enjoyed by the Chinese Communist Party with its own people; and on Asian regional politics and U.S.-Chinese relations, where trust already was in such short supply.
So, it's not too early to contemplate the potential, unintended consequences of the virus, thought to have originated in a Wuhan wildlife wet market yet already having resulted in more than 210 deaths and more than 10,000 confirmed cases in 19 regions of China and 20 countries around the world. The cases now include the first person-to-person transmission in the United States, and a rare State Department level four advisory of "do not travel" to anywhere in China.
So even in a heavy news week during which the United Kingdom left the European Union, the United States announced a new Mideast peace plan, and the Senate advanced its impeachment trial of President Trump, none of that beats the potential of coronavirus for global impact.
The first effect, and perhaps the easiest of them all to measure, will be the hit to Chinese and other markets and economies, at a time when the world in any case was wary of a "black swan" event that might nudge it toward recession after the world economy's worst year in a decade in 2019. U.S. markets convulsed Friday, falling by more than 600 points.
The impact is all the greater as it coincides with what was already a slowing Chinese economy. It comes at a time when American and other countries' companies were already shifting supply lines from China to elsewhere due to new tariffs and trade tensions. The virus will serve as another reminder for companies to more rapidly diversify their supply chains.
Following the "phase one" trade deal with the United States, the coronavirus hit also undermines the whiff of bilateral trade optimism that had buoyed markets. It has quickly changed the narrative and increased the odds of a global market downturn in 2020. That's particularly true among emerging markets and investments in commodities from oil to copper, both down double-digits.
Should the crisis stretch out for another month, and experts now consider it more likely than not to reach well into summer, the cost could be a two-percentage point decline in Chinese growth to 4% or lower this year. First quarter growth figures in China could fall to 2% year-on-year – which would be the lowest in decades, and down from 6% in the last quarter of 2019.
The impact on the global economy will be far more significant than during the SARS pandemic of 2003, which is estimated to have provoked a global economic loss of $40 billion and a hit of 0.1% on global GDP. That's because China's share of global GDP has quadrupled since then to 16% from 4% – and fully a third of global growth has been coming from China.
Tourism markets will take an outsized hit, as about 163 million Chinese tourists in 2018 accounted for nearly a third of travel retail sales worldwide. Thailand, for example, has already reduced its 2020 GDP forecast, based on expected revenue losses of as much as $1.6 billion from 2 million fewer Chinese visitors, should travel restrictions continue for a further three months.
More difficult to calculate will be the impact of the virus on Chinese President Xi Jinping's legitimacy and that of his Communist Party.
Wall Street Journal columnist Daniel Henninger referred to a rare public apology by Wuhan's mayor, Zhou Xianwang, as "an epitaph" for the People's Republic of China. "As a local government official," said the mayor in explaining his slow response, "after I get this kind of information I still have to wait for authorization before I can release it."
Wrote Andy Xie in the South China Morning Post: "Wuhan's failure shows up the systemic weaknesses in the top-down structure of the China model, where everyone in the hierarchy is accountable to someone above."
"Though the economy will bounce back when the virus fades," writes The Economist, "the reputation of the Communist party and even of Xi Jinping may be more lastingly affected. The party claims that, armed with science, it is more efficient at governing than democracies. The heavy-handed failure to contain the virus suggests otherwise."
That brings one to the hardest impacts to calculate of all, and that is the geopolitics of coronavirus.
What's known is that Chinese leaders' confidence in their own rise, and the competitiveness of their alternative authoritarian capitalist economic model grew enormously during and in the aftermath of the global financial crisis of 2008 and 2009.
Could the coronavirus have the reverse impact? The virus may or may not be overblown as a pandemic threat, but Xi's legitimacy in any case will be tested in his handling of the emergency, given how much power has been concentrated in his own hands. Conversely, his authority could grow if he's perceived at handling the crisis well.
Meanwhile, the Atlantic Council's Digital Forensic Research Lab this week spotted what might be a sneak preview of how the global finger-pointing might shift through disinformation should the crisis deepen.
Several narratives have spread first on extreme Russian nationalist sites and to the Chinese internet, blaming the U.S. for the coronavirus outbreak. They've now been amplified by the Russian mainstream publications Pravda and Izvestiya. It's reminiscent of Operation Infektion, when Russian propaganda during the Cold War tried to pin the spread of the AIDS virus on the United States.
At the same time, the Washington Times quoted a former Israeli military intelligence officer, who has studied Chinese biological warfare, saying that the coronavirus may have originated in an advanced virus research laboratory in Wuhan.
Mercifully, Chinese authorities are taking full responsibility thus far, although without being definitive about the virus' origins, and U.S. officials thus far have praised the efforts.
That said, this is a story in its first stages. How it unfolds will help shape the contours of our age.
Frederick Kempe is a best-selling author, prize-winning journalist and president & CEO of the Atlantic Council, one of the United States' most influential think tanks on global affairs. He worked at The Wall Street Journal for more than 25 years as a foreign correspondent, assistant managing editor and as the longest-serving editor of the paper's European edition. His latest book – "Berlin 1961: Kennedy, Khrushchev, and the Most Dangerous Place on Earth" – was a New York Times best-seller and has been published in more than a dozen languages. Follow him on Twitter @FredKempe and subscribe here to Inflection Points, his look each Saturday at the past week's top stories and trends.
Vermont Outdoor Recreation Economy December News – Vermont Biz
NEW MEMBERSHIP CYCLE: RENEW OR BECOME A MEMBER OF VOBA

The Vermont Outdoor Business Alliance was established in Dec 2018 as a statewide nonprofit organization of outdoor recreation businesses, organizations, and individuals working together to strengthen, expand, attract, and retain outdoor recreation economy businesses in Vermont. VOBA's charitable purpose is to educate Vermonters about outdoor recreation and educate Vermont outdoor recreation businesses about business development initiatives, collaboration opportunities and outdoor economy policy.
Currently, VOBA's 100 members work together to provide technical assistance and resources for outdoor business development in the areas of financing, workforce development, infrastructure and branding, while committed to investments in the two core pillars of the outdoor recreation economy: the state's natural landscapes and recreation assets and participation for all people. Embedded throughout VOBA work are efforts to advance justice, equity, diversity and inclusion (JEDI) in outdoor work places and outdoor spaces. Read VOBA's 2021 Annual Report.
VOBA's fourth annual membership cycle began on July 1, 2022 and runs through June 30, 2023. We invite you to join or renew your membership and receive benefits as an Industry Member, Supporting Associate, or Strategic Associate, including: Website and social media recognition; event and workshop participation; newsletter subscription; access to research and reports; networking and mentoring opportunities; media promotion; organizational decision making; and, work groups engagement. Additional benefits, such as voting rights, policy advocacy support, and promotional opportunities, apply to some categories.
As a nonprofit organization, VOBA relies on your member donations, which are also tax-deductible charitable donations. Thank you for your support and see you in the outdoors!
UK economy to shrink in 2023, risks 'lost decade': CBI
LONDON, Dec 5 (Reuters) – Britain's economy is on course to shrink 0.4% next year as inflation remains high and companies put investment on hold, with gloomy implications for longer-term growth, the Confederation of Business Industry forecast on Monday.
"Britain is in stagflation – with rocketing inflation, negative growth, falling productivity and business investment. Firms see potential growth opportunities but … headwinds are causing them to pause investing in 2023," CBI Director-General Tony Danker said.
The CBI's forecast marks a sharp downgrade from its last forecast in June, when it predicted growth of 1.0% for 2023, and it does not expect gross domestic product (GDP) to return to its pre-COVID level until mid-2024.
Britain has been hit hard by a surge in natural gas prices following Russia's invasion of Ukraine, as well as an incomplete labour market recovery after the COVID-19 pandemic and persistently weak investment and productivity.
Unemployment would rise to peak at 5.0% in late 2023 and early 2024, up from 3.6% currently, the CBI said.
British inflation hit a 41-year high of 11.1% in October, sharply squeezing consumer demand, and the CBI predicts it will be slow to fall, averaging 6.7% next year and 2.9% in 2024.
The CBI's GDP forecast is less gloomy than that of the British government's Office for Budget Responsibility – which last month forecast a 1.4% decline for 2023.
But the CBI forecast is in line with the Organisation for Economic Co-operation and Development (OECD), which expects Britain to be Europe's weakest performing economy bar Russia next year.
The CBI forecast business investment at the end of 2024 will be 9% below its pre-pandemic level, and output per worker 2% lower.
To avoid this, the CBI called on the government to make Britain's post-Brexit work visa system more flexible, end what it sees as an effective ban on constructing onshore wind turbines, and give greater tax incentives for investment.
"We will see a lost decade of growth if action isn't taken. GDP is a simple multiplier of two factors: people and their productivity. But we don't have people we need, nor the productivity," Danker said.
Reporting by David Milliken; editing by Diane Craft
Kevin Carmichael: Jobs numbers show Bank of Canada hasn't wrecked the economy after all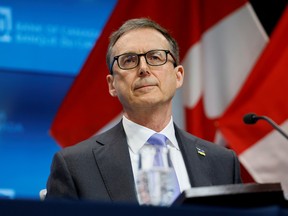 What if the Bank of Canada knows what it's doing?
Inflation is hovering around seven per cent, and the central bank's target is two per cent, so the easy answer is, "No, it doesn't have a clue what it's doing."
The news this week that the Bank of Canada lost money for the first time in its 87-year history only adds to the superficial notion that appointing Tiff Macklem to guide monetary policy was a mistake, even if the losses were incurred fighting a crisis that was unlike anything any living policymaker had ever seen.
"We didn't get everything right," Macklem told the House finance committee on Nov. 23. "We got a lot of things right. We have some lessons to learn."

The inflation miss was a serious mistake that warrants deeper scrutiny in case there are things that can be learned that will keep it from happening again. Macklem told lawmakers that as soon as inflation is back to target, "we are going to have to have a thorough review of how all our tools worked" through the COVID crisis.
When the Bank of Canada gets around to that review, it will turn up positives that are obvious to anyone who bothers to look, but end up obscured by the panic over inflation. The latest evidence that the Bank of Canada hasn't wrecked the economy arrived Dec. 2, when Statistics Canada reported that hiring was little changed in November, and the jobless rate dropped to 5.1 per cent, a possible sign that higher interest rates might be taking the steam out of the economy without severely hurting momentum.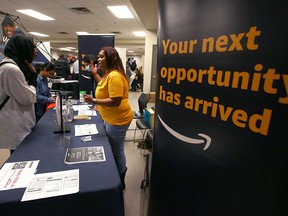 The dollar fell against the U.S. currency after the numbers were released, so some traders saw the news as a negative that would cause the Bank of Canada to balk at additional interest-rate increases. It's possible. Macklem was clear at the finance committee that he isn't finished, but Bay Street and Wall Street are split on whether that means more outsized interest-rate increases, or whether the Bank of Canada might be ready to taper its aggression, given its own forecasts show the economy could easily slide into a recession at any point over the next few months.
Statistics Canada said employers added 10,000 positions last month, less than the survey's margin of error, making it difficult to say more than the labour market stood still. However, the agency's monthly survey of households turned up 108,000 positions in October, an unusually large number, so hiring flatlined at a high level in November.

The jobless rate remains well inside any conventional definition of full employment, which is how economists describe an economy in which there are quantitatively enough jobs for everyone who wants one. Full-time employment increased by about 51,000 positions in November, and have increased by some 460,000 positions since November 2021, another sign of a strong labour market.
"It's quite clear that the labour market remains tight and in solid shape overall," Douglas Porter, chief economist at Bank of Montreal, said in a note to his clients.
Average hourly wages increased 5.6 per cent from November 2021, the sixth consecutive month that pay gains topped five per cent, a sign of upward inflationary pressure that the Bank of Canada has said it will be watching closely. Porter said the "still firm" pace of pay increases could leave Macklem uneasy about inflation heading into next week's interest-rate decision, and re-upped his prediction that policymakers will opt to raise the benchmark rate another half point, which would put the target at 4.25 per cent.
The Bank of Canada's benchmark rate was 0.25 per cent in March, and the possibility of an increase of four percentage points in less than a year will startle those who worried that a decade of ultra-low interest rates would make households and executives supersensitive to higher borrowing costs.
That worry could still be valid. Indeed, after getting beaten up earlier in the year for letting inflation get out of control, the Bank of Canada now regularly faces invective for causing a recession that hasn't yet happened.
Earlier this week, Statistics Canada reported that gross domestic product grew at an annual rate of 2.9 per cent in the third quarter, much faster than most forecasts. The GDP numbers, paired with the ongoing strength of the labour market, supports Macklem's bet that it is better to attack inflation now, when the economy is strong, rather than proceed tentatively, discover inflation is persistent, and end up having to raise interest rates when the economy is weaker. It might even be time to resume talking about a "soft landing," which is how Bay Street talks about the possibility that an inflationary economy can be slowed without crashing into a bad recession.
"We're entering 2023 at least in better shape than we have seen in many other moments in the past where we're entering a slowdown or a recession," Guy Cormier, chief executive of Desjardins Group, told the Financial Post's Barbara Shecter this week, observing that there is "still money" in the personal and business accounts of the financial institution's clients. "Yes, there will be a slowdown, but we feel that there are some positive conditions that could unfold in the next six, seven months."

Here's another positive: Statistics Canada reported that the employment rate of women aged 25 to 54 rose to 81.6 per cent in November, a record that further narrowed the gap with men. One of the goals of the Bank of Canada's assault on the COVID crisis was to keep traditionally marginalized groups from getting left behind, betting that would create the foundation for a sturdier recovery.

Macklem's not wrong when he ways the central bank got a lot of things right.

• Email: kcarmichael@postmedia.com | Twitter: carmichaelkevin