The crypto art community is having a sustainability reckoning – NBC News
Blockchain technology's many features have made it a hit in the art world, most notably the ability to stop forgeries and give artists a cut of future sales.
But one of blockchain's less heralded features has caused something of a rift in the art world: its carbon footprint.
Crypto art, which had been viewed as a space for artists seeking stronger resale rights and protections from copyright infringement, as well as a more inclusive scene than traditional art world institutions, is at the center of a fiery debate over its impact on the environment. And many in the community are heeding the call to abolish existing processes for greener alternatives.
"Every single artist that I've spoken to doesn't want to destroy the environment," said Stuart Campbell, an Australian artist who goes by Sutu. "That's a great place to come to the conversation at."
Sutu is the moderator of a group on the chat app Discord called Clean-NFTs, a channel that kicked off in the last few weeks to talk about the ecological impact of crypto art, which now has more than 1,000 members. Sutu said his investigation of crypto art's environmental impact began when a fan of his artwork replied to one of his tweets by vowing to no longer follow anyone in the community because of the environmental toll of NFT art.
In simple terms, crypto art is digital art but on the blockchain. That crucial difference creates an incorruptible platform to sell and collect digital art. That's because each work of art is minted with a unique nonfungible token, known as an NFT — a sort of digital certificate of authenticity, or "proof of work."
The crypto art world has boomed in recent months, with a piece of art and its NFT recently selling at a Christie's auction for $69 million. The artist Grimes sold $6 million of NFT-backed art.
But the physical processes many platforms use to encode the artwork onto the blockchain use electricity — and plenty of it. Artist and computer scientist Memo Akten wrote a blog post on Medium in December detailing "how ludicrously energy consuming and ecologically destructive some blockchain based activities are."
The post took off online — not just in the art community, but also among environmentalists and technologists — pushing artists and consumers to re-evaluate how they approach the crypto art space. Akten followed up his posts and his carbon emissions calculator (which was recently taken offline because of abuse and harassment) with a guide to eco-friendly crypto art.
Akten said he thinks the community is split. Some artists and fans are disengaging entirely until sustainable solutions are created. And then there are those who deny the energy-consuming reality altogether.
"There is very strong misinformation-based propaganda in the crypto world in general to deny the ecological impact of proof-of-work-based blockchains," Akten said. "It is reminiscent of the oil and tobacco industries." Akten said there are also "many whataboutisms, comparing the figures to the carbon footprint of the banking industry, fast fashion, McDonald's, etc."
But there's also a push to find more energy-efficient systems that preserve the upsides of crypto art.
Proof-of-work is the computing process that the crypto art marketplace has laid its foundation on, but the process uses a large amount of computing power. Sutu and others have instead pointed to proof-of-stake, a far more efficient process, as a better way forward.
Unlike proof-of-work, which guzzles electricity as computers crunch through extremely complex puzzles as "proofs" to verify transactions, proof-of-stake promotes reliability with a financial incentive — users deposit some of their cryptocurrency as proof that they own it and that they have a personal stake in the system's accuracy.
While engineers work toward moving to proof-of-stake, "what the community itself needs is to take some ownership on what we can do in the short and medium term," said Jason Bailey, who started the art analytics and digital art blog Artnome.
Bailey said he noticed that artists who have degrees or day jobs in tech were, in some cases, shaming artists who come from less privileged backgrounds and lean on the new crypto art marketplace to feed themselves and their families rather than as a side hustle.
"I don't dislike either side of those groups, and it bothered me that I saw so much emotional energy and human energy being burnt up without a lot of progress being made," he said.
And so Bailey launched Green NFTs, a bounty system for creating more eco-friendly NFT systems by encouraging people to donate money for a shared cause. For this bounty, some of the money will go to creating a consolidated body of research for artists and collectors and some will go to developers creating open-source solutions. The grant has raised more than $34,000.
Panels are also forming in response to the discourse. Sutu moderated the conversation "Eco-friendly NFTs: Are they bulls—?" on the social audio app Clubhouse last month and moderated a panel about the community response this month on Twitter Spaces.
It's not uncommon for viral outrage to fade, but the discourse around NFTs' environmental damage shows no signs of slowing. And it's not inherently a doomerism mindset — it's a turning point in which artists and gatekeepers can ask for and create more energy-efficient systems without stamping out the ethos of the decentralized creator economy.
Sutu said that while the art world might only be a small part of the broader blockchain community, it still has the opportunity to take responsibility and show a better way forward.
"We still can lead when we see an opportunity to lead within our industry," he said. "We've seen alternatives available to be more energy-efficient. Why not jump on that now, why not lead the way, why not show how the art community can influence those other industries to follow suit, especially if they are interacting with the blockchain?"
White House on defensive over Hunter Biden art sales – FRANCE 24
Issued on: 24/07/2021 – 01:08
Washington (AFP)
The White House assured Friday that necessary ethical precautions would be taken around any exhibitions and sale of artwork by President Joe Biden's son, whose personal life and professional career have been peppered with controversy.
Asked by reporters about upcoming exhibitions of Hunter Biden's artwork in New York's Georges Berges Gallery, White House Press Secretary Jen Psaki said the president's son would be "attending gallery events."
The discussions about sales "will be happening with the gallerist" and not Hunter Biden, she said.
"That is different than meeting with prospective buyers."
Psaki had announced July 9 that a system had been established allowing Hunter Biden to practice his profession "within appropriate safeguards," including the confidentiality of any transactions and no contact with buyers.
At exhibits of Hunter's work, "the selling of his art will all happen through the gallerist and the names and individuals will be kept confidential," she said.
When pressed that a buyer could simply tell the artist that he or she is purchasing his work, Psaki stressed that a strict rules structure will be in place.
"He will not know, we will not know who purchases his art," she said.
Contacted by AFP, the gallery did not immediately provide any comment or details.
The Biden administration, which seeks to present itself as ethically unblemished, has been repeatedly questioned about the artistic career of the 51-year-old lawyer and businessman-turned-painter.
US media point out the obvious risks of businessmen or others purchasing the artwork with the sole aim of winning access to or influence with the White House.
Press reports have said the paintings by Biden, who has had no formal training, could sell for up to half a million dollars.
Hunter Biden is one of former president Donald Trump's favorite targets.
During the 2020 presidential campaign Trump and his supporters regularly criticized Hunter Biden for his economic interests in Ukraine and China when his father was vice president under Barack Obama.
Hunter is also the target of a federal investigation into possible tax crimes.
In a memoir published earlier this year, the president's youngest son recounted his struggle with addiction to cocaine and alcohol.
© 2021 AFP
Art exhibits return to Callander's Alex Dufresne gallery – BayToday.ca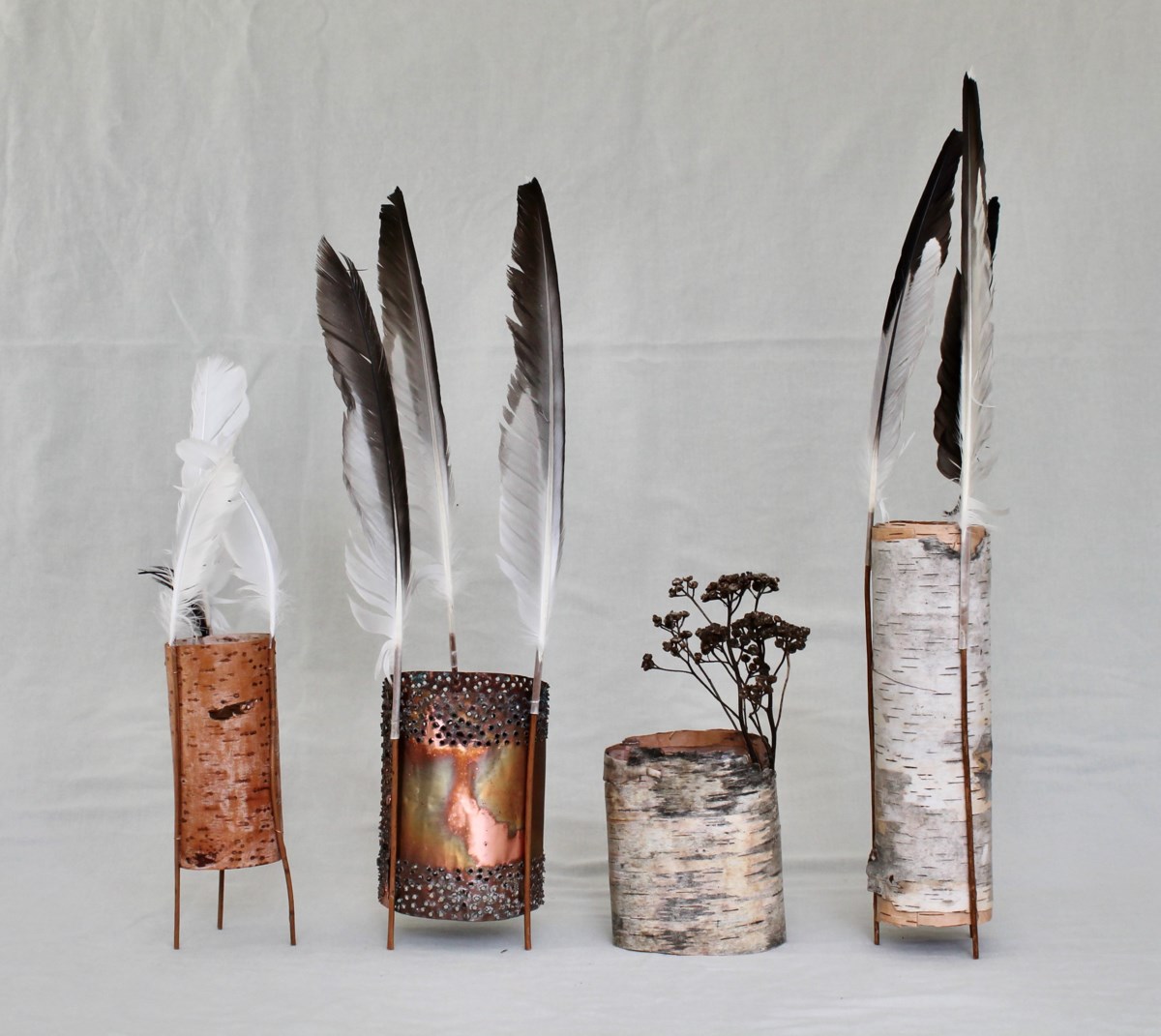 After a long hiatus, art shows are returning to the Alex Dufresne Gallery at the Callander Bay Heritage Museum this Saturday.
The works of Carole Davidson and Sara Carlin-Ball are highlighted in an exhibit entitled "Journeys to a Conversation with Nature."
In a release promoting the show, Davidson and Carlin-Ball explain the "works display a felt presence of our natural environment in unexpected materials and surprising subjects."
Their goal in selecting the pieces for the exhibit is to capture "the luscious spectacular that is Nature, Muse, Essence," and emphasize how these "inspire the audience to revision their place – their gratitude and responsibility – on this Earth."
See: Callander museum reopens from COVID with new art show
"It feels absolutely wonderful to have art back on the walls," said Natasha Wiatr, the gallery's curator.
The last show was this past April but did not last long before Covid regulations closed the event. Since then, "the walls have been empty."
"We haven't consistently had shows in what feels like so long," she said, and is pleased to launch what will hopefully be a long stretch of exhibits.
Currently, the gallery is booked until 2023, "and we've added two more shows per year," Wiatr explained.
"We see ourselves as a community-based gallery," she said, and as such, strive to present as many local artists as possible.
See: White Water Gallery has a new executive director
The Museum and Art Gallery are open Tuesday to Saturday from 10:00 – 5:00 p.m.
The gallery can hold 14 people at once, and walk-ins are welcome. Appointments can also be booked ahead of time at www.mycallander.ca/gallery.
Staff remind to you please wear a mask when you visit and maintain social distance.
Admission to the museum is $5 for seniors and students, $4.50 for kids 6-12, free for children under 6 and adults pay $5.50. Family rate for 4 is $15. Entrance to the gallery is by donation.
See: Mattawa museum celebrates reopening with Community exhibit
Callander museum reopens with art show – The North Bay Nugget
Article content
The art show Journeys to a Conversation with Nature will reopen the Callander Museum and Alex Dufresne Gallery Saturday.
Article content
The works of Carole Davidson and Sarah Carlin-Ball will remain on display to Aug. 20.
"There is an essential longing for life that erupts in a luscious spectacular that we call Nature," the artists said in a statement.
"The human animal is a part of this longing for life that some might call a Muse – a Muse for artists of every passion and discipline. Artists are at the mercy of their muse and transcribe whatever is whispered to them about life, people, and the compelling natural environment they belong to.
"One may be a studied artist haphazardly trained while another may be an experimental soul, interpreting the ever-changing environment around her."
Influenced by the gifts of their lives and the natural offerings around them, each artist interprets what touches her soul. Each piece of art tells a portion of her journey, calling to the viewer to look more closely at what life has to teach us.
Carlin-Ball's muse slumbered as she was raising her children and working. As soon as she could make time, there was an explosion of experimentation driven by her mantra 'What would happen if…?'
Mistakes happily romped with successes. Now, her careful, unique presentations interpret life and nature, and challenge one's imagination.
As she learned of the melting of the muskeg and the possibility that Canada will soon lose that habitat and vibrant spring bloom, Carlin-Bell felt the compulsion to replicate that vital image with unexpected media: patinated and fired copper was punched and threaded through with fibre knotted to create the blooms and surface stems.
Article content
Eventually, the vibrant muskeg spring emerged.
For Davidson, nature was a refuge she quietly celebrated with natural and cultivated talent for art and writing. A busy and brief career in graphic design took over until disabling MS symptoms forced (or allowed) her to slow down.
She began a meditation practice to cope with symptoms and immediately began painting again.
Her creative work parallels her spiritual path and the subjects of her study get smaller and smaller as she has the opportunity to stop and notice. She finds joy in a yellow spider on a sunflower or a nest full of baby robins.
Together, their works display a felt presence of our natural environment in unexpected materials and surprising subjects.
The Museum and Art Gallery are open Tuesday to Saturday from 10 a.m. to 5 p.m. Appointments can be booked ahead of time at www.mycallander.ca/gallery and the museum and gallery also welcome same-day walk-ins.
Those visiting are asked to wear a mask and social distance.
The museum and art gallery are located at 107 Lansdowne St. E., Callander.