The Cultish, Sometimes Scary Studio of Artist Tom Sachs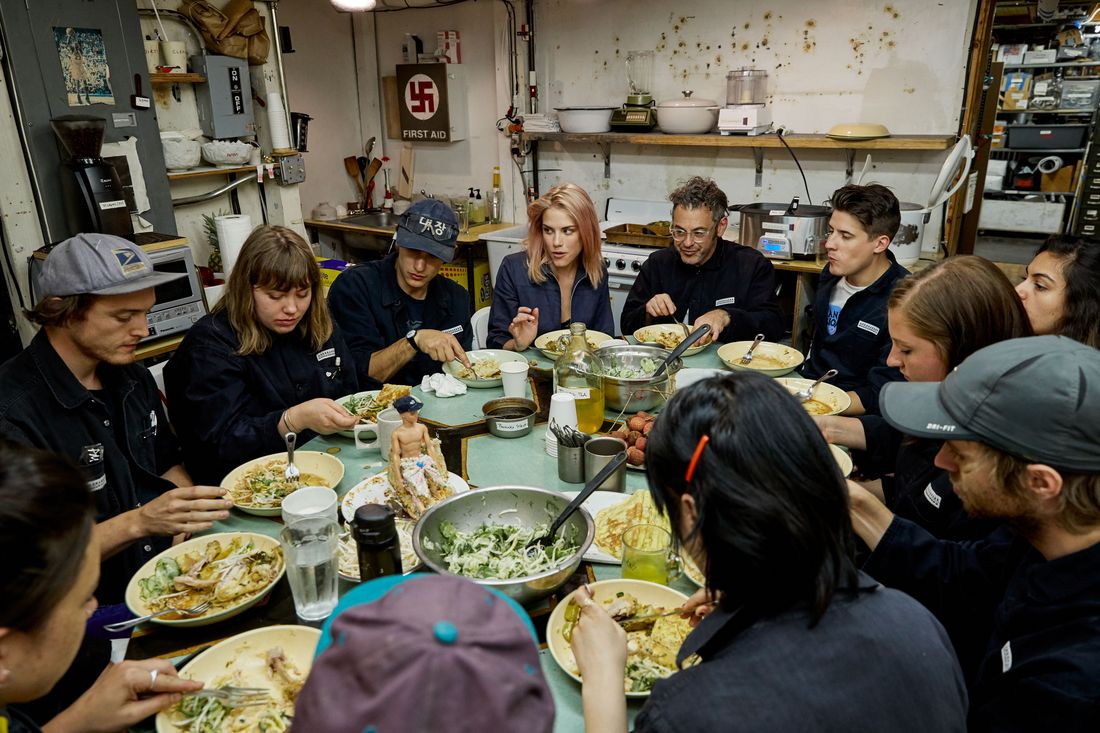 Tom Sachs, his employees, and a model in his studio during lunch in July 2016.
Photo: Alex Antitch
In February, an anonymous "Art World Family" posted a job listing for an executive personal assistant on the New York Foundation for the Arts' website. The listing sought someone who could "make life easier for the couple in every way possible." This meant picking up clothes from "high-end stores," managing "all medical need requests," helping with "rooftop garden maintenance" and "in-studio cats," and learning complicated-sounding "closet" and "dog systems." It went viral, and the New York Times covered it (the paper's summation: "The ad combined a tone so blithe with a detailed list of tasks so unreasonable"). A few days later, Artnet revealed that the couple was likely artist Tom Sachs and his wife, former Gagosian director Sarah Hoover. Of course it was Tom Sachs, thought anyone who had ever worked for him. Those "systems" were the tell.
Sachs, 56, has long been represented by Sperone Westwater, the Soho gallery that's also home to Julian Schnabel and Bruce Nauman. He's best known for installations made of consumer products: faux Knoll office furniture constructed from phone books, a McDonald's value meal wrapped in Hermès paper. In recent years, much of his work has been related to space travel, like a life-size replica of the Apollo 11 lunar module made of steel and plywood. His sculptures tend to show the way they've been assembled with duct tape, screws, and handwritten notes (often done in permanent marker). These days, his pieces go for more than $300,000. At his opening at Acquavella in October, the line to get in wrapped around 79th Street. (It "resembled more of a Kiki's waitlist than an Upper East Side gallery opening," wrote Cultured magazine.) He's revered among the Hypebeast crowd — in part because of his 11-year collaboration with Nike. For his most recent release, the NikeCraft General Purpose Shoe, the company took out a full-page ad in the Times. Then there are his other side hustles: a small furniture line and NFTs.
But he has also become famous for the unique way in which he has, for three decades, run his Chinatown studio as an extension of his art practice, complete with fastidiously detailed systems. In 2010, he released a film called Ten Bullets, which was presented as both employee handbook and artwork (filmmaker Van Neistat, one of Sachs's former studio members, directed it). In the film, Sachs describes the rules that govern his studio. Everyone must place all items at parallel or 90-degree angles. They are to walk quietly, as if in a monastery. Employees have to maintain a healthy diet-and-exercise regimen, avoid "personal inventiveness," and respond to commands with the words I understand or I don't understand. There's even a system for when the system isn't followed: Employees have to "sacrifice" money to "Leatherface," a piggy bank based on the villain in The Texas Chainsaw Massacre. The space where this all plays out feels charming, a little Wes Anderson–y. Employees wear matching utility coats, the plywood shelves are lined with Sachs's pinched ceramics, and everyone is conspicuously attractive. Sachs even sells merch designed around the mythology of his studio. His Ten Bullets T-shirts are available on SSENSE.
If this sounds like a cult, well, that was kind of the point. Employees have been known to work out in a program called Space Camp three times a week at 7 a.m., wearing uniforms printed with their first initial, last name, and the serial numbers Sachs assigned them. "We'd go out jogging in Soho, and people would take pictures of us. It's not like they knew who Tom was; they just thought they were a regular cult," says a former studio assistant. Some got their serial numbers tattooed on their bodies. Plus, Sachs called it a cult. Constantly. "This place is a cult, and I mean that in the scariest, most Manson-family kind of way, in that we're totally committed to this way of life," he said in a GQ interview. He talked about his temper, too. In Paradox Bullets, a follow-up video to Ten Bullets, he illustrates another motto — "The Virtues of a Freakout" — by throwing a typewriter through a wall. It flies into a room where a woman is calmly eating noodles. It hits her.
But it couldn't be an actual cult, right? Or else why would Sachs say it was? And if he threw objects at employees, surely he wouldn't have shown himself doing just that in a video with a cameo by Ed Ruscha?
Sachs has said the studio culture he created is "his greatest work of art." But based on interviews with more than a dozen former employees, many of whom knew they were signing up for an unusual work environment, their experiences in the studio could be characterized as destabilizing and scary. Sachs declined to be interviewed for this story, and in a statement to New York, a spokesperson describes the place as a "rigorous and exacting artist's studio" that "has fostered high standards and a fast-paced work environment to support a robust output." Not everyone, they concede, is a fit for this culture. But "Tom Sachs Studio believes all employees should feel safe and secure in the workplace and is committed to upholding these values." Here's how one of Sachs's former studio managers describes working for him: "It's almost as if he goes out of his way to sow discomfort and pawns it off as if he's a genius. It's like a ruse. So many people out there know that he's cruel, but the art world is tiny and no one gives a shit."
Sachs's studio members working out as part of their regular Space Camp exercise program.
Photo: Tom Sachs/YouTube
A certain type of person loves the idea of all of this — carefully sorting screws all day long as part of a kind of unified art-making organism. There's a recent Reddit thread called "How can I work for Tom Sachs?" (One response: "Just show up at the front of the studio, like Fight Club.") Says a second former studio assistant, "It was a really desirable place to be and a privilege in some ways." Owen Zoyt dropped out of NYU in 2021 to join the studio; he had been applying to work there every year since he was 15. "It's really, really lovely to feel like you're part of something and working in a very tightly knit group in a really fast-paced environment to achieve some really fantastical goal," he says. (Most of the former Sachs employees we spoke to asked for anonymity; many cited nondisclosure agreements, and others said they feared retaliation.)
When you start working at Tom Sachs's studio, you're given manuals, and they're substantially more detailed than Ten Bullets. In one, after suggestions on how to properly approach Sachs about his lunch, there's advice for "Avoiding Things That Make Tom Mad," which begins with a metered verse: "Tom will sometimes scream / Tom will sometimes brood / Though dire life may seem / Happiness lies in reading Tom's moods." Sachs's spokesperson says this manual was a joke. Recent employees say they took it seriously.
It's impossible to read those moods all the time or to follow any of his exacting systems precisely, say former employees, a mix of studio assistants, managers, and specialists, all of whom worked for Sachs at various points in the past 15 years. And when someone inevitably messed up — if, for instance, they put a "good" lightbulb in the "bad" lightbulb drawer — the consequences were often far worse than giving $2 to Leatherface. Multiple studio members recall Sachs calling them "autistic," "retarded," "bitch," and other names. (Sachs's studio denies this, saying such behavior is "not in line with the values of our studio." He has also denied almost all of the allegations leveled at him in this story.) "Basically, if a lightbulb went out in the middle of the night and you didn't change it the second you got in, you were getting your ass biblically reamed out," says a third former studio assistant.
According to several former studio members, you were at risk of having things thrown — if not at you, then in the direction of where you were working. "I saw him throw a sheet of steel across the room because someone had left it in the wrong place, and it almost hit a tank of welding gas," says a former fabricator. "And when I went to the studio manager to say, 'Hey, he threw something toward me,' her response was 'Well, at least he didn't throw it at you; he used to throw stuff at people.'" Says another former studio member, "He threw wood across the floor. One time, he ripped the alarm system off the wall and threw it. Threw a clipboard. A lot of clipboards. A ladder."
There were so many rules to keep track of, and they came from all over the place — the manual, the managers, Sachs himself. It was easy to get tripped up. Make Sachs's dog his thrice-daily meal of rabbit, sweet potato, julienned spinach, cranberry powder, aloe-vera juice, and coconut oil. Bring Sachs snacks like Ibérico ham if he's signing artwork. All his pens must be new but not new new (the ink should already be flowing). Group lunches are to be prepared by a "food-systems manager" (and forks are to be dropped in unison at the end of a meal). "Once, I was on the phone arranging Tom and Sarah's travel," says the former studio manager. "They mainly fly first class, and if their seat doesn't go full bed, don't bother coming back in. This was repeated to me." While she was on the phone, the door buzzed and she thoughtlessly let the person in. This was a problem, she says, because staff weren't supposed to let unidentified guests enter: "I got back upstairs, and Tom sprang at me. He was inches from my face. I could feel the heat from his body. He screamed, 'Why didn't you answer the door? What's wrong with you?'"
Many workers grew desperate to please, doing their best to find him his "italicized apples," which several former employees say was his description of Fuji apples that are slanted. Those who succeeded were occasionally rewarded. According to multiple former studio members, Sachs dispensed birthday gifts of different values to demonstrate one's standing. "The first gift is always a knife, and after that it's based off your value," says a fourth former studio assistant. If you were favored, you could get Prada shoes. If you were not, you might get regifted something from the free pile.
Around people he deemed important, several former studio members say, he sometimes made a point to act more reserved. But in stressful settings, like gallery installations, he let his guard down, according to someone who worked with him at an institution where he was showing work. She saw him yell at his studio members: "And his workers are just like, 'Yes, chef.' You see the hollow look in some of their eyes, and you're like, This is for art?"
The problem with Tom," says the artist Stuart Semple, "is he runs his studio like an artwork. It is wild and it's crazy, but it's also brilliant. But then if you look at it with the legalities of how you employ staff, it could look strange." Sachs's behavior made it hard for studio members to understand what was art and what was mistreatment. After all, he liked to be provocative. The media have incessantly referred to him as a "bad boy" of the art world. In 1999, Sachs filled a vase with live ammunition, which got his gallerist, Mary Boone, jailed overnight. In 2013, he showed a piece called Barbie Slave Ship at the Biennale de Lyon, laying naked white Barbies in a model slave ship with pink flags. He called his office the Eagle's Nest (as in Hitler's Kehlsteinhaus), and the first-aid kit had a swastika taped over the red cross. According to the studio, Sachs, who is "proudly Jewish," works "to subvert and reclaim this painful part of Jewish history." The swastika has since been removed.
Something about the way Sachs treated and talked about women didn't feel like an art project to some former employees. There was vintage porn on the walls of the studio, and Sachs talked at group lunches about the types of porn he was into, including VR. The studio says pornography was mentioned only in the context of projects. "It was always supposed to be 'for a project,'" says the third former studio assistant. "But what project, I never saw." Sachs brought up sex and bodies a lot. "He talked to me about women all the time," says the former studio manager. When he found out about one administrative employee's living situation, he asked if she was "fucking all of [her] roommates"; another time, he told her she was "lucky to live in a day and age when curves and butts are in fashion."
Sachs had a "type," which he spoke openly about in the office. The administrative employee remembers Sachs bringing his toddler to the studio: "He pointed to me and was like, 'See, this is what we call a "shiksa goddess." This is what we call Daddy's type.' He said that kind of shit all the time." (Sachs's studio says this was a joke.) Another young female studio member says she was afraid to be alone in the studio at night with him. He called a storage room in the basement the "rape room"; in 2016, he changed it to the "consent room." (Sachs's studio says this was also a joke.) And while Sachs sometimes required his employees to wear uniforms, he himself was often in formfitting underwear in the studio, according to seven former members. He once even showed up to a Zoom call with female Nike employees in his underwear, according to the administrative employee, who was on the call. (Sachs's studio describes trying on clothes as part of his "weekly virtual fittings" and a "normal part of the design process." Nike did not respond to a request for comment.)
In 2020, several studio members complained about Sachs's lack of boundaries. Around then, he hired his life coach, Shalom Melchizedek, to work with them. (On his website, Melchizedek describes himself as a "pioneer of cosmic sexuality" and offers courses that explore your relationship to your orgasm.) After he started (offering career counseling, Sachs says), the administrative employee asked the manager if she had brought up Sachs's in-office pantslessness with him. The manager told her it was on the list.
Sachs liked to remind those who worked for him that they were all replaceable. One studio assistant remembers traveling with him to an exhibition overseas where, in front of a group of gallerists, he said to her, "This is a cult. If you want to leave, we don't want you. There's a million of you." Another time, after becoming displeased with feedback she gave on a Zoom call, he screamed, "I don't care if she dies. There's a million of her and only one of me." In response to this, Sachs's studio says that "Tom would never intentionally make a person feel like they do not matter or are not important." Most everything else former employees recalled to New York, Sach's studio says is false. He has never thrown anything at an employee and is "obsessive about safety for his team." Furthermore, "no one has ever been fired or penalized because of an airline seat." While Sachs "expresses himself when standards aren't met," he denies speaking to an employee "inches" from their face. And those gifts? They say everyone in the studio receives the same thing, including a "unique-editioned work" every holiday season. The studio flatly denies that he asked a female employee about "fucking" her roommates or commented on her body.
There was a lot of churn at the studio. "We are still all very scared of Tom," says another former fabricator, one of three people who left the studio who say they still have nightmares about him. Some of Sachs's former employees ended up leaving the art world altogether. "We're not saving the world, we're not curing cancer — it doesn't have to be this serious. There's no reason for this abuse; it just didn't square. So it just made me question a lot about how contemporary art is made," says the first former fabricator. "It looks like the studio is so nicely run because you're in these great Prada outfits," says the studio assistant who traveled overseas with him. "But the Prada outfits are digging into your ass, and you're not sleeping, and your brain is broken. This job ruined the art industry for me. My psychiatrist had a field day."
Is This The Actual Cover-Art For 'The Winds Of Winter'? – Forbes
I've penned many an article and blog post about the long, long wait between books in George R.R. Martin's fantasy series A Song Of Ice And Fire upon which the HBO hit show Game Of Thrones was based. Mostly, when I post these it's some kind of grappling with disappointment, some attempt to give up the ghost and move on from what used to be my favorite fantasy series of all time.
After all, the world has changed since A Dance With Dragons released back in 2011. I've changed, too. Maybe I should be able to move on now, nearly twelve years later. I wish I could.
Today, however, I come to you with that terrible, wonderful poisoned chalice: Hope. Winter may be coming at last, and just in time for spring. Don't get me wrong, I'm still a "chalice half-empty" kind of guy when it comes to Martin's novels. I love his writing—just not the pace of his prose.
But now we have this possible cover art for The Winds Of Winter and while it might not be the official cover art for the book it also might be. The artist, Ertaç Altınöz, released the below image a few days ago on Instagram and Art Station and it's possible this is more than just fan-art. This is, after all, the same artist who did the cover art for The Rise Of The Dragon, the new illustrated book set in Martin's fictional realm of Westeros.
I reviewed that book not too long ago, and it really does have a bunch of lovely art.
That lovely artwork on the cover of Belarion the Black Dread? That's by Ertaç Altınöz. So when he posted this cover of The Winds Of Winter, I stopped and took note:
When a follower on Instagram asked the artist if this was the official cover, since he's worked with Martin before, Altınöz replied "I have my moments David, so who knows, my friend?"
That's what we call 'playing coy' and could mean a lot of things. It doesn't rule out the possibility that this is, indeed, the long-awaited Winds Of Winter cover. Then again, it's far from a sure thing.
Let's pretend it's the real deal for a moment. If it is, that could also mean that we're getting an official announcement of some kind—perhaps even a release date!—in the not-so-distant future. In the artist's other Instagram posts, he typically notes when something is a fan poster or fan-art and he doesn't do that here. Then again, when he posts the official artwork, it usually is accompanied with some kind of publisher copyright—and this, I'm afraid, has none.
I know what you're thinking. I'm thinking it, too. This is probably nothing, signifying nothing, a bit of fan-art from an artist as hopeful as the rest of us that Martin will finish the damn book and we can all wait another decade for the last one (to probably never come out). I'm not bitter, you're bitter.
Imaginary Friends: Barcelona art show aims to connect with our inner child – The Guardian
Nine leading contemporary artists have come together to create an interactive exhibition in Barcelona for kids – and anyone in touch with their inner child.
"Before the pandemic we had the idea of mounting an exhibition of contemporary art for people of all ages, something that children could relate to but also so that older people could relive the experience of being a child and participate as if they were children," said Martina Millà, who jointly curated the show at the Fundació Joan Miró with Patrick Ronse, the artistic director of the Be-Part contemporary art platform in Belgium.
Millà added: "There's much in this exhibition that's therapeutic, above all a return to a pre-pandemic spirit after we've all suffered so much."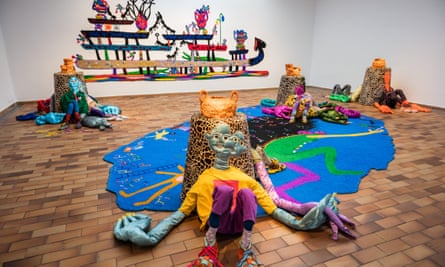 The show, titled Imaginary Friends, brings together installations from nine contemporary artists, several of whom are known to Ronse from his involvement in the 2018 Play festival of contemporary art.
Outside, at the entrance to the exhibition, visitors are invited to sit on Jeppe Hein's beguilingly convoluted bench, conceived as a riposte to the hostile architecture of street furniture, such as benches designed so that homeless people cannot sleep on them.
One of the most striking installations is We Are the Baby Gang, a collection of colourful, feathered polar bears created by Paola Pivi, an Italian artist who lives in Alaska, which Millà says is designed to make us consider the anthropomorphic way we look at animals.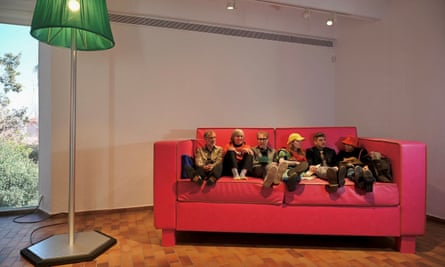 The creatures are very tactile but this part of the show is not interactive, leaving one small and disappointed boy to go into a screaming meltdown when he was told off for touching the exhibit.
That aside, the gallery is filled with the babble of excited children and the British artist Martin Creed's Half the Air in a Given Space gives them plenty of opportunity to let off steam.
Creed has filled a room almost to the ceiling with large orange balloons, creating an immediate feeling of disorientation and claustrophobia accompanied by an irresistible impulse to burst out laughing.
Perhaps the most engaging work in the show is the Swiss artist Pipilotti Rist's oversized sofa and armchair. Sitting on the enormous sofa, with your feet barely reaching the edge of the seat, never mind the floor, is an Alice in Wonderland moment that provokes a powerful physical memory of childhood.
"These works are a way of inventing a parallel life," said Millà. "It's like having an imaginary friend, and also a means of escape."
Imaginary Friends is at the Fundació Joan Miró in Barcelona until 2 July
Inspired by a Lifetime exhibition showcases art by nonagenarians – CollingwoodToday.ca
A local artist is capturing the beauty in sunset years by teaching seniors how to paint. Their work has made the walls of a local gallery.
"I thought I'd be dead before I got famous. Thank God that's not the case," jokes 92-year-old Keith Sumner, one of the many seniors whose original art is displayed at the exhibit titled Inspired by a Lifetime at Stonebridge Art Gallery.
A resident of Leacock Retirement Lodge in Orillia, he is one of the students taking lessons with Lisa Harpell, an Elmvale-based artist who has been teaching art classes to seniors in retirement homes in the region.
The work of about 40 senior artists ranging in age from 81 to 101 years old from seven retirement communities is on display at the Wasaga Beach gallery until March 27. The show includes work done by residents from Waterside Retirement Lodge (Wasaga Beach), Chartwell Whispering Pines (Barrie), Aspira Waterford Retirement Residents (Barrie), Allandale Station (Barrie), Lavita Barrington Retirement Lodge (Barrie), Bayfield House (Penetanguishene), and Leacock Retirement Lodge (Orillia).
The exhibition also includes Harpell's paintings and sculptures.
True to its title, each painting displayed for Inspired by a Lifetime has an impactful story to tell.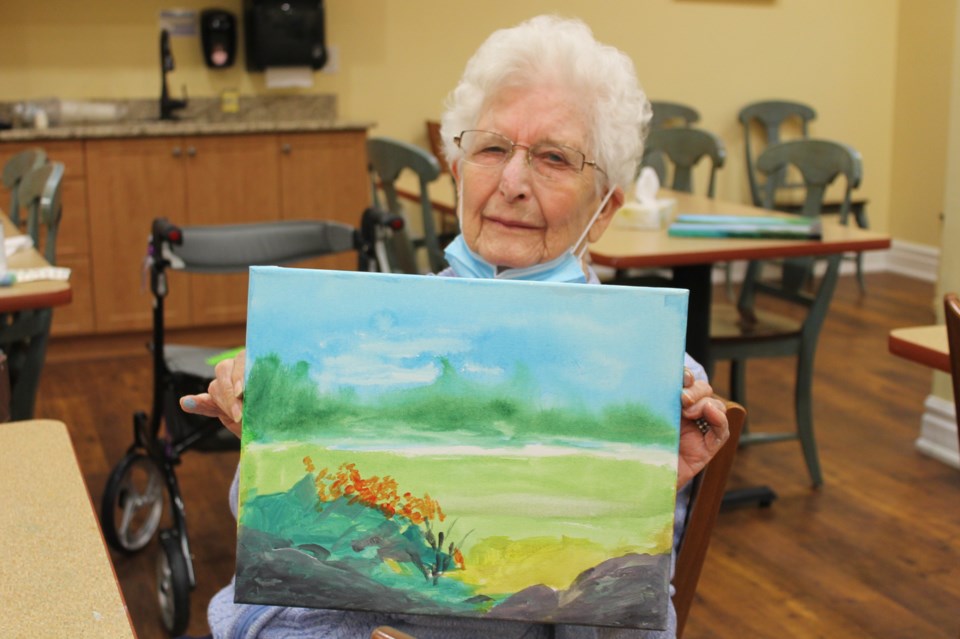 Verna Stovold, who lives with macular degeneration, is one of the many seniors attending the classes.
"Verna paints beautifully because her body remembers how to paint background, middle ground and foreground," said her teacher, Harpell. "She tells us the paint that she wants and she dabs her brush and goes right ahead and paints. She asks me all the time if it's okay if she comes to class … I say, 'Verna, you're the one that's inspiring everyone else.' Because I am holding up [her] paintings and everybody goes 'wow.'"
Stovold has two large paintings and ten studies included in the exhibition.
The process of training seniors to paint has been extremely gratifying for Harpell.
"It is deeply satisfying to the soul. It brings me to tears all the time," she said. "Because I know that what they created is worth showing. And it needs to be brought to the community not only for their sake, but for the community to realize that anyone can do this. Creativity is something that gives us hope. And that is something that is necessary in this world right now."
In her early days, Georgian College, Barrie, grad worked with the late Canadian artist, William Ronald.
"He really did bring out the kid in me. He was such a kid himself. And that [thought] is what I really try to pass on, not only his legacy. I also find that the child in every one of my students wants to just play with paint and get their hands dirty. And have some fun and laughs," says the mother of four.
Alysanne Dever, lifestyle and programs manager at Chartwell Whispering Pines Retirement Residence, said the exhibition and art classes have brought a wave of positivity for the artists, their family, and their caretakers.
"This is the first time that I have ever seen or heard of an art gallery showing for seniors with no prior experience," says Dever, noting the opening day reception crowd packed the gallery. "Really, that's what it's all about! The residents were so proud that people were complimenting and wanting to learn about what inspired them to paint specific photos. One of our residents actually sold an art piece as well and she was so thrilled!"
Dever is a strong proponent of the benefits of art therapy, and says it provides residents with a creative outlet to express what might otherwise stay bottled up.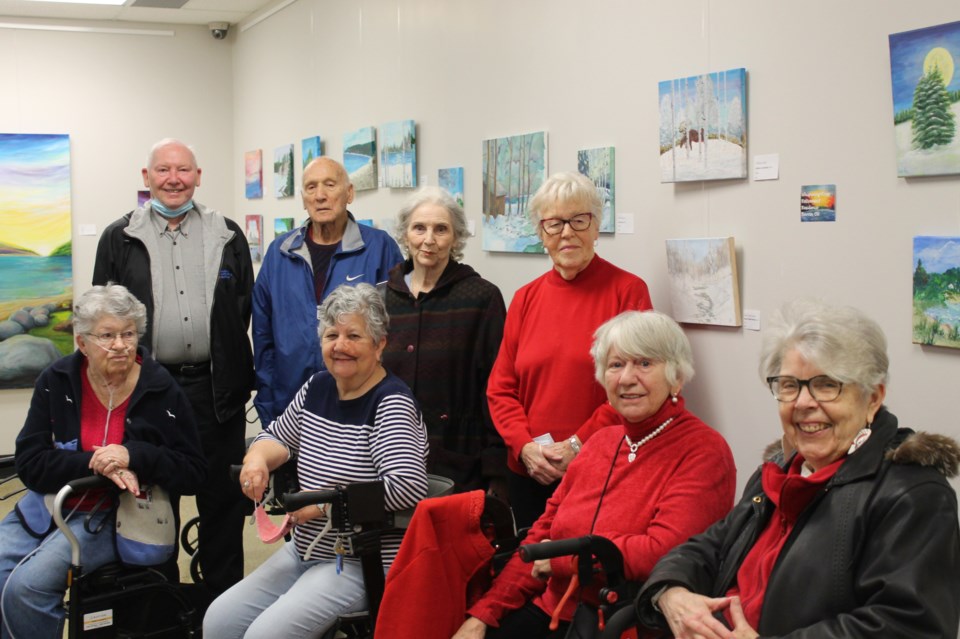 "This allows them to escape from reality, even for a little bit as they immerse themselves in their art piece in that moment," says Dever. "Art therapy encourages seniors to use their creativity and gives them a sense of control and independence, which are essential qualities as you age."
Not every brush stroke is smooth, and not every day was wrinkle-free for Harpell while she taught lessons in retirement homes. From outbreaks and whiteouts to loss of confidence, the behind-the-scenes training and coordination to make the exhibit happen meant clearing several hurdles.
And yet, Harpell says, it is during the most trying circumstances that intuitive art therapy has a larger role to play, especially among the community's vulnerable ones. Art has played such a role in Sumner's life, after he picked up the brush in his 90s.
"Painting puts you in a different mindset. Takes you away from everyday things," says Sumner. "My perception of things has changed. The sky is different every day… and it intrigues me. I am observing things more critically, in more detail…and painting has encouraged that."
The exhibit is supported by the Wasaga Society for the Arts, in part because it helps accomplish the society's mandate of making art accessible.
The society's interim president, Steve Wallace, said the group aims to introduce the community to all kinds of art, and to promote diversity and inclusion for artists and patrons.
The Inspired by a Lifetime exhibition runs at the Stonebridge Art Gallery until March 27 on Thursdays and Saturdays and on Monday, March 27 from 1 p.m. to 4 p.m.