The detection of phosphine in Venus' clouds is a big deal – here's how we can find out if it's a sign of life – The Conversation US
On Sept. 14, 2020, a new planet was added to the list of potentially habitable worlds in the Solar System: Venus.
Phosphine, a toxic gas made up of one phosphorus and three hydrogen atoms (PH₃), commonly produced by organic life forms but otherwise difficult to make on rocky planets, was discovered in the middle layer of the Venus atmosphere. This raises the tantalizing possibility that something is alive on our planetary neighbor. With this discovery, Venus joins the exalted ranks of Mars and the icy moons Enceladus and Europa among planetary bodies where life may once have existed, or perhaps might even still do so today.
I'm a planetary scientist and something of a Venus evangelical. This discovery is one of the most exciting made about Venus in a very long time — and opens up a new set of possibilities for further exploration in search of life in the Solar System.
Atmospheric mysteries
First, it's critical to point out that this detection does not mean that astronomers have found alien life in the clouds of Venus. Far from it, in fact.
Although the discovery team identified phosphine at Venus with two different telescopes, helping to confirm the initial detection, phosphine gas can result from several processes that are unrelated to life, such as lightning, meteor impacts or even volcanic activity.
However, the quantity of phosphine detected in the Venusian clouds seems to be far greater than those processes are capable of generating, allowing the team to rule out numerous inorganic possibilities. But our understanding of the chemistry of Venus' atmosphere is sorely lacking: Only a handful of missions have plunged through the inhospitable, carbon dioxide-dominated atmosphere to take samples among the global layer of sulfuric acid clouds.
So we planetary scientists are faced with two possibilities: Either there is some sort of life in the Venus clouds, generating phosphine, or there is unexplained and unexpected chemistry taking place there. How do we find out which it is?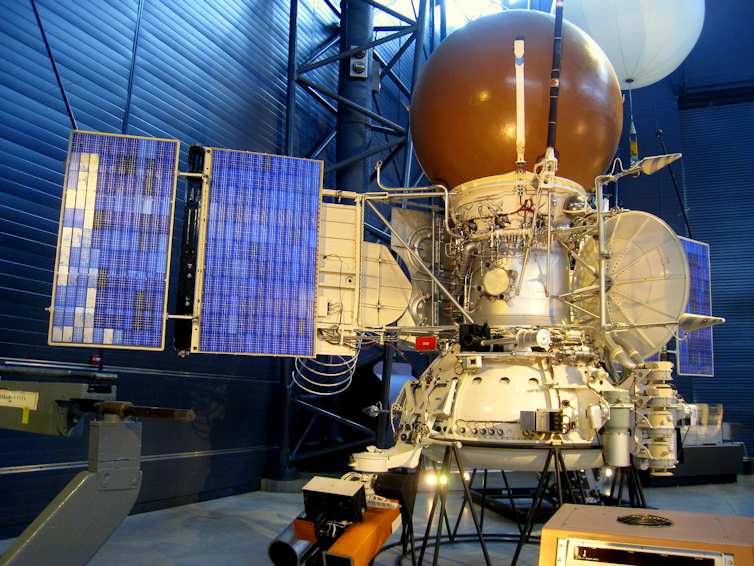 First and foremost, we need more information about the abundance of PH₃ in the Venus atmosphere, and we can learn something about this from Earth. Just as the discovery team did, existing telescopes capable of detecting phosphine around Venus can be used for follow-up observations, to both definitively confirm the initial finding and figure out if the amount of PH₃ in the atmosphere changes with time. In parallel, there is now a huge opportunity to carry out lab work to better understand the types of chemical reactions that might be possible on Venus — for which we have very limited information at present.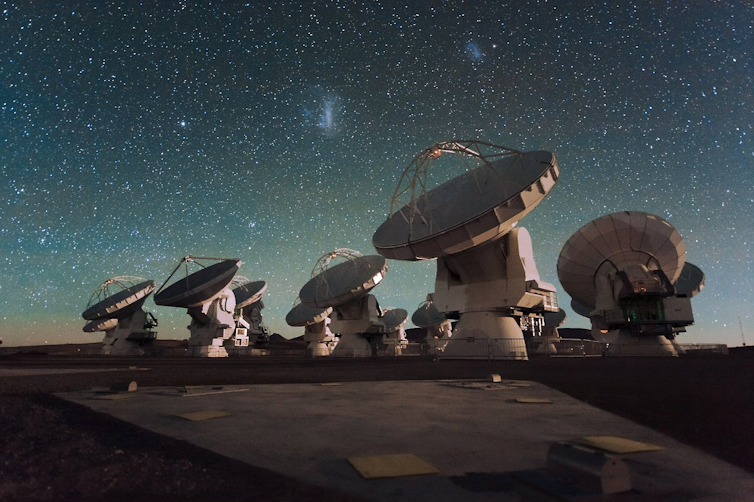 Once more unto the breach
But measurements on and from Earth can take us only so far. To really get to the heart of this mystery, we need to go back to Venus. Spacecraft equipped with spectrometers that can detect phosphine from orbit could be dispatched to the second planet with the express purpose of characterizing where, and how much, of this gas is there. Because spacecraft can survive for many years in Venus' orbit, we could obtain continuous observations with a dedicated orbiter over a much longer period than with telescopes on Earth.
But even orbital data can't tell us the whole story. To fully get a handle on what's happening at Venus, we have to actually get into the atmosphere. And that's where aerial platforms come in. Capable of operating above much of the acidic cloud layer – where the temperature and pressure are almost Earthlike – for potentially months at a time, balloons or flying wings could take detailed atmospheric composition measurements there. These craft could even carry the kinds of instruments being developed to look for life on Europa. At that point, humanity might finally be able to definitively tell if we share our Solar System with Venusian life.

A new dawn for Venus exploration?
Thirty-one years have elapsed since the United States last sent a dedicated mission to Venus. That could soon change as NASA considers two of four missions in the late 2020s targeting Venus. One, called VERITAS, would carry a powerful radar to peer through the thick clouds and return unprecedented high-resolution images of the surface. The other, DAVINCI+, would plunge through the atmosphere, sampling the air as it descended, perhaps even able to sniff any phosphine present. NASA plans to pick at least one mission in April 2021.
[Deep knowledge, daily. Sign up for The Conversation's newsletter.]
I have argued before for a return to Venus, and will continue to do so. Even without this latest scientific discovery, Venus is a compelling exploration target, with tantalizing evidence that the planet once had oceans and perhaps even suffered a hellish fate at the hands of its own volcanic eruptions.
But with the detection of a potential biomarker in Venus' atmosphere, we now have yet another major reason to return to the world ancient Greek astronomers called Phosphorus — a name for Venus that, it turns out, is wonderfully prescient.
City of Vernon extends temporary patio permits for a full year – Vernon News – Castanet.net
The City of Vernon is extending temporary measures so businesses can use outdoor spaces in response to impacts of the COVID-19 pandemic.
The city created a temporary outdoor commercial use program this past summer, allowing businesses to expand patios into parking lots, sidewalks and parking stalls, so customers and staff could continue practising physical distancing.
With the extension, businesses can continue using the spaces in the downtown business improvement area until next fall. They will also be able to use single, on-street parking stalls to create pop-up patios or for retail uses during the warmer months, from March 1 to Oct. 31, 2021.
Businesses with liquor licences will be pre-approved to have licences extended into the temporary spaces.
"Through the temporary outdoor commercial use program, the city is helping our community maintain physical distancing," Mayor Victor Cumming said in a press release. "This program extension will also help businesses continue to adapt as we head into the colder months and plan ahead for spring and summer."
For information on the guidelines, visit vernon.ca/covid-19/.
NASA spacecraft collects up to 4.5 pounds of asteroid to be sent to Earth – Global News
A NASA spacecraft tucked more than two pounds of asteroid samples into a capsule for return to Earth after losing some of its precious loot because of a jammed lid, scientists said Thursday.
They won't know the precise amount of the cosmic haul from asteroid Bennu, more than 200 million miles (322 million kilometres) away, until the capsule parachutes into the Utah desert in 2023.
"We've still got a lot of work to do" to get the samples back safely, said lead scientist Dante Lauretta of the University of Arizona.
The spacecraft Osiris-Rex won't depart Bennu's neighbourhood until March at the earliest, when the asteroid and Earth are properly aligned.
Osiris-Rex collected so much material from Bennu's rough surface on Oct. 20 that rocks got wedged in the rim of the container and jammed it open. Some of the samples were seen escaping into space, so flight controllers moved up the crucial stowing operation.

2:08


NASA spacecraft gets sample from nearby asteroid Bennu



Based on images, scientists believe Osiris-Rex grabbed 4 1/2 pounds (2 kilograms) of rubble, a full load. The minimum requirement had been 2 ounces (60 grams) — a handful or two.
"Just imagine a sack of flour at the grocery store," Lauretta said of the initial haul.
But tens of grams of material were lost following the successful touch-and-go maneuver and again this week when the spacecraft's robot arm moved to put the samples inside the capsule.
"Even though my heart breaks for the loss of sample, it turned out to be a pretty cool science experiment and we're learning a lot," Lauretta told reporters.
While collecting the samples, the container on the end of the robot arm pressed down nine to 19 inches (24 to 48 centimetres) during the six seconds of contact, indicating a sandy and flaky interior beneath the rough surface, Lauretta said.
The slow, tedious stowing operation took 36 hours. After each successful step, flight controllers cheered, saving the biggest and loudest response when the lid on the capsule finally was closed and latched, sealing the samples inside.

6:06


Space Talk: Asteroid mining



It will be September 2023 — seven years after Osiris-Rex rocketed from Cape Canaveral — before the samples arrive here.
Rich in carbon, the solar-orbiting Bennu is believed to hold the preserved building blocks of the solar system. Scientists said the remnants can help explain how our solar system's planets formed billions of years ago and how life on Earth came to be. The samples also can help improve our odds, they said, if a doomsday rock heads our way.
Bennu — a black, roundish rock bigger than New York's Empire State Building — could come dangerously close to Earth late in the next decade. The odds of a strike are 1-in-2,700. The good news is that while packing a punch, it won't wipe out the home planet.
Japan, meanwhile, has retrieved samples from other asteroids twice in the past two decades, although just tiny amounts. The second batch is due to arrive in December.
© 2020 The Canadian Press
Man and dog: Ancient genetics study reveals complex history – FRANCE 24
Issued on: 29/10/2020 – 19:30Modified: 29/10/2020 – 19:28
Washington (AFP)
Much of the diversity seen in modern dog populations was already present around the time the last Ice Age had ended 11,000 years ago, a global study of ancient DNA revealed Thursday.
The paper, published in Science, showed how our canine companions spread across the world with their masters, but also found intriguing periods when our shared history was decoupled.
A research team led by the Francis Crick Institute sequenced the genomes of 27 dogs, some of which lived nearly 11,000 years ago, across Europe, the Near East and Siberia.
They found that by this time, well before the domestication of any other animal, there were already at least five different types of dog with distinct genetic ancestries.
Pontus Skoglund of Crick's Ancient Genomics laboratory, the paper's senior author, said: "Some of the variation you see between dogs walking down the street today originated in the Ice Age.
"By the end of this period, dogs were already widespread across the northern hemisphere."
He added this implied that the diversity arose far earlier, "way back in time, during the hunter gatherer Stone Age, the Paleolithic, way before agriculture."
When and where dogs first diverged from wolves is a contentious matter — analyses of genetic data indicates a window of roughly 25,000-40,000 years ago.
The new paper doesn't enter this vexed debate but does support the idea that, unlike other animals such as pigs which appear to have been domesticated in multiple locations over time, there is a "single origin" from wolves to dogs.
The scientists found that all dogs probably share a common ancestry "from a single ancient, now-extinct wolf population," with limited gene flow from wolves since domestication but substantial dog-to-wolf gene flow.
– Convergent evolution –
By extracting and analyzing ancient DNA from skeletal material, the researchers were able to see evolutionary changes as they occurred thousands of years ago.
For instance, European dogs around four or five thousand years ago were highly diverse and appeared to originate from highly distinct populations from Near Eastern and Siberian dogs. But over time, this diversity was lost.
"Although the European dogs we see today come in such an extraordinary array of shapes and forms, genetically they derive from only a very narrow subset of the diversity that used to exist," said the paper's lead author Anders Bergstrom.
Evolutionary pathways between our two species have at times followed similar routes.
Humans, for example, have more copies than chimpanzees of a gene that creates a digestive enzyme called salivary amylase, which helps us break down high-starch diets.
Likewise, the paper demonstrated that early dogs carried extra copies of these genes compared to wolves, and this trend only increased over time as their diets adapted to agricultural life.
This builds on previous research that found Arctic sled dogs, like Inuits, have evolved similar metabolic pathways to allow them to process high-fat diets.
There have also been periods when our histories have not run in parallel — for example the loss of diversity that once existed in dogs in early Europe was caused by the spread of single invasive species, an event not mirrored in human migrations.
The field of ancient DNA study has revolutionized the study of our ancestors and researchers are hopeful it can do the same for dogs, our longest animal allies.
"Understanding the history of dogs teaches us not just about their history but also about our own history," said Bergstrom.
© 2020 AFP