The Economy Has 'Recovered' – Anemic Growth To Follow – Forbes
The September jobs report was filled with cross-currents, some showing possible economic weakness, some showing strength. This makes the Fed's job exceedingly difficult. Is the economy strengthening or weakening? What's the correct monetary policy prescription? "Taper" asset purchases? Raise interest rates? Since September payrolls were so ambiguous, perhaps October's (which will be available to the Fed prior to its November meeting) will shed brighter light on the economic trends.
Just to review the latest employment data, the most watched of the two Bureau of Labor Statistics (BLS) surveys, the Establishment (Payroll) survey at +194K was quite light vs. the consensus expectation of +430K. BLS admits that the pandemic continues to distort the data, especially the seasonal adjustments. This time, the distortions occurred in education employment. Excluding teacher payrolls, total private sector employment growth (+317K) was still quite light vs. the consensus.
Some of this weakness had been signaled in the weekly Department of Labor Initial Unemployment Claims (IC) data (i.e., new layoffs). As shown on the chart, ICs were rising during the mid-part of September when the BLS was taking their surveys. Since then, there appears to have been some slight improvement.
The sister employment survey (The Household Survey), a monthly BLS telephone survey of households (the Payroll survey calls on businesses) shows a similar pattern. That survey showed a gain of +526K in September, similar to August (+509K), but much slower than July (+1.043 million).
All the surveys show growth, but at a much slower pace than what we were seeing mid-summer. The chart at the top of this blog is the Atlanta Fed's GDPNow estimate for Q3 real GDP growth. The line at the bottom of the chart (green) shows the precipitous decline in the Atlanta Fed's GDP forecast beginning in late August, but especially in the last few weeks ending in early October. Our blogs over this time period have been consistent with this GDP graph. Meanwhile, the dark blue line shows the significantly higher consensus estimate. The range is between 3% and 8% with the consensus at 6.5%.
The chart below shows the NY Fed's Weekly Economic Index. While not falling as dramatically as the Atlanta Fed's GDP, this index peaked in May has been on a four-month decline.
Still, despite slowing economic growth, interest rates continue to spike upward. 10-Year Treasuries spiked to over 1.6% from the 1.3% level in mid-September a rate not seen since pre-pandemic December 2019.
The Alternative View
Along with the employment data, BLS released data on wages and hours worked. Average weekly pay rose 1.2% on a month/month basis, and this was partially responsible for the last upward blip in interest rates. Most of this occurred in the leisure/hospitality and retail sales sectors. Employers in those sectors have been competing with the generous federal supplemental benefits and Pandemic Unemployment Assistance (PUA) programs. Now that those programs have ended, we believe that the upward pressure on wages will also end. Nevertheless, there are some reputable economists who have theorized that September's slow hiring and the rising wages point to a tight labor market, and therefore continued upward wage pressures. We are at odds with this interpretation, as we see moderating wage pressures in these sectors as the competition from the federal government has now ended. In addition, the Payroll Survey still shows five million fewer jobs than in February 2020, the last pre-pandemic month. How can the labor market be tight with so many who were once employed no longer holding a job? If we are correct, the interest rate spike discussed above will reverse.
The Fed's Dilemma
As previously indicated, the Fed is scheduled to meet in November, and Powell has promised that the FOMC will be discussing policy moves. The "tapering" issue has to do with the current Quantitative Easing (QE) program, although the media doesn't refer to this policy with that moniker any longer. But it is QE because the Fed is creating and injecting $120 billion/month into the banking system. In past blogs we have commented on the record levels of Reverse Repos. These are excess bank reserves. The chart below shows the recent huge spike in those reserves, reaching $1.6 trillion at the end of September before falling back to $1.4 trillion in early October. It is clear that QE has become excessive, is now only finding its way into the banking system as excess reserves, and is not positively impacting the economy.
If Banks Aren't Lending…
It is clearly our view that the expansion of the Fed's balance sheet is having little positive economic impact, as the funding is stuck in the banking system. Unless the banks lend these reserves, they just become redundant. The business media believes such money creation has the potential to cause "systemic" inflation, and we often read commentary referring to the rapid expansion of the money supply as an inflation potential. Thus, another reason why interest rates have moved up of late. (But because the banks aren't lending, the velocity of money has fallen.) Thus, so far, there hasn't been an economic or an inflationary impact. In the end, the Fed can create an infinite amount of bank reserves, but if the banking system isn't lending, there is little economic impact. It's like the Fed printing paper money but placing it into a vault where it lies idle.
The chart below shows total bank commercial and industrial loans. Prior to the pandemic, such loans were growing at a 5% annual rate. Then came the pandemic, and, as you can see from the chart, bank loans skyrocketed as companies drew down their lines of credit to stuff their balance sheets with cash, not knowing what might lie ahead. They did this because many had the 2008 experience of banks freezing those lines as the Financial Crisis unfolded. Looking at the chart, one can see that since the beginning of 2020 to the latest September 2021 data, growth has slowed. (We did the math and the growth rate from March 2020 to late September is 3.3%.) Remember that pre-pandemic, economic growth was struggling to get to 2%. So, with slower lending, we don't see how the economy can achieve the 6.5% Q4 GDP consensus forecast.
Is "Tapering" Really "Tightening?"
Markets are interpreting the upcoming "tapering" of the current $120 billion/month QE as a monetary policy "tightening." Our view is that this is a move to reduce "redundant" ease as shown in the above "Reverse Repo" graph. To use an analogy: It isn't like they are about to step on the brakes of a speeding car; but they are about to let up on the accelerator. Policy will continue to be ultra-easy for many more months.
The Economy Has "Recovered"
Q2's real GDP caught up to that of Q4/19. In a sense, we are now in an economy that has "recovered." Here is what we see for the immediate future:
There is still a lot of labor force slack with the economy still 5 million jobs short of its pre-pandemic high. We do expect that much of that slack will be taken up over the next few months as the special (disincentivizing) unemployment programs ended in early September. (Note: Using data provided by the Department of Labor through the week ended September 25 with the week ended May 15 as the base, the Opt-Out States (those that didn't pay the federal $300/week unemployment supplement) reduced their unemployment levels by 52.7% (with their trend accelerating in September) while the same statistic for the Opt-In States was less than half (23.8%).)
The BLS employment surveys were taken the week of September 12-18. We believe that it was too early to see those benefit recipients as already re-employed. However, we do expect to see significant job creation for both October (release date November 5) and November (release date December 3).
Because both the PUA and the special $300/week supplement both ended in early September as did the rent moratorium for 11 million households, we do expect Q4 consumption (and therefore GDP) to show weakness. Clearly, the Atlanta Fed sees what we see.
We do think the Fed will begin its "taper" in November. They can no longer ignore the record level of excess reserves in the banking system. Remember, they will still be expanding their balance sheet until mid-2022. That means QE will continue for 9 more months! But we don't connect the "taper" with any move to raise interest rates. That move, we think, won't come until the pandemic is a distant memory. Powell himself has directly told the media that the "dot-plot" (the individual views of the FOMC regarding where the Fed Funds rate will be in the future) don't forecast policy, and Rosenberg Research has done quantitative work that shows that the "dot-plot" is a very poor forecaster of what lies ahead.
What GDP growth will look like is yet another question. Prior to the pandemic, 2% appeared to be the economy's non-inflationary potential. We don't see how the pandemic has significantly changed that economic potential. Remember, the Fed began to reduce its balance sheet in 2018 (i.e., negative QE as opposed to "taper"), but had to pivot (the now famous "Powell Pivot") when economic growth stalled.
The rest of the world's industrial economies are also struggling. In past blogs we've discussed the slowdown in China which now faces major issues in their real estate sector, a sector which accounts for 30% of their GDP. And Europe is now facing a significant energy shortage which is sure to have a major impact this winter.
We've "recovered." But we don't see that anything has changed to alter the anemic growth path of the pre-pandemic economy. In fact, quite the opposite. Demographics were already slowing growth, and the pandemic inspired many who were over 65 but still working to retire and many approaching 65 to take early retirement. Retirees don't spend like those in their working years. Then there is the skyrocketing level of growth sapping debt both in the private sector (corporations) and public (federal debt). For these reasons, we believe that any rate increases by the Fed are still a long way off.
(Joshua Barone contributed to this blog.)
Swiss National Bank Warns of Risks With Green Economy Push – Bloomberg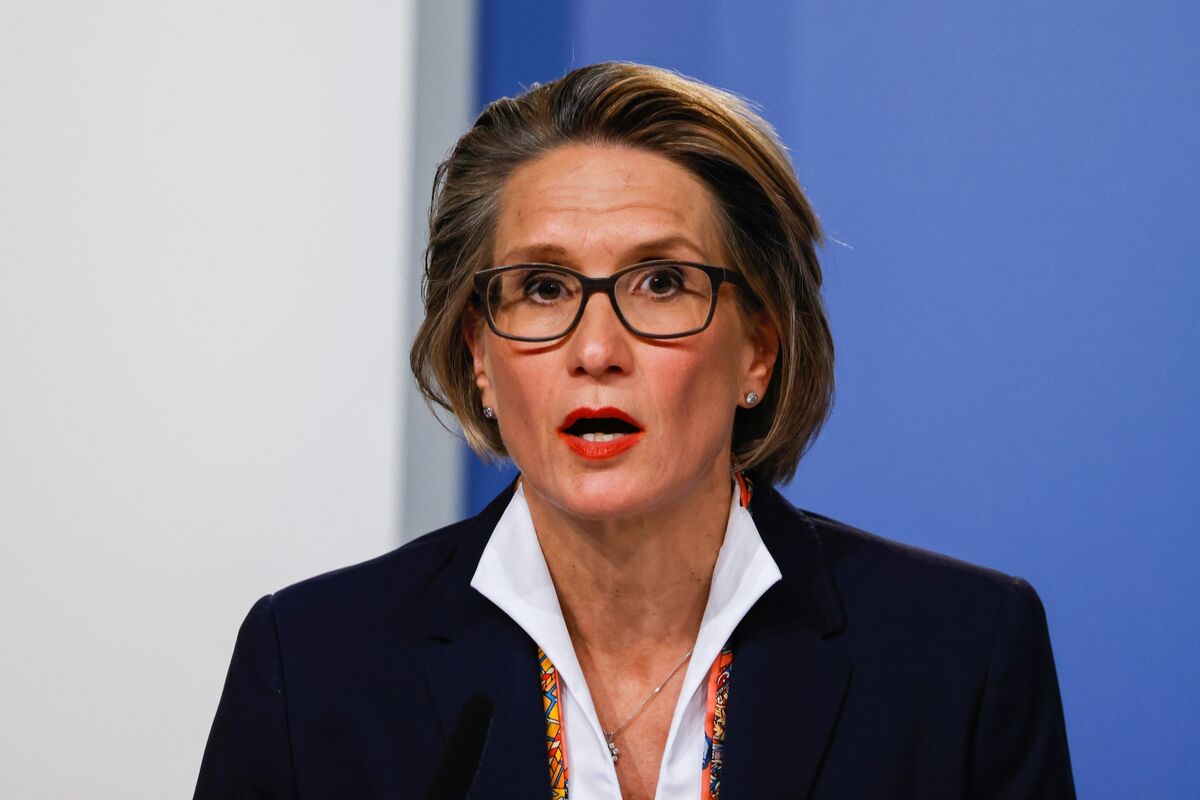 Want the lowdown on European markets? In your inbox before the open, every day. Sign up here.
Actively pushing for a green transformation of the economy could undermine the effectiveness of the Swiss National Bank's monetary policy, Governing Board Member Andrea Maechler said.
UBS logs surprise 9% rise in Q3 net profit
UBS posted a 9% rise in third-quarter net profit on Tuesday, as continued trading helped the world's largest wealth manager to its best quarterly profit since 2015.
Its third-quarter net profit of $2.279 billion far outpaced a median estimate of $1.596 billion from a poll of 23 analysts compiled by Switzerland's largest bank.
"Our business momentum, our focus on fueling growth, on disciplined execution and on delivering our full ecosystem to clients – all of this led to another strong quarter across all of our business divisions and regions," Chief Executive Ralph Hamers said in a statement.
In each of the last four quarters, UBS saw double-digit percent gains in net profit as buoyant markets helped it generate higher earnings off of managing money for the rich.
From July through September, favourable market conditions, and higher lending and trading amongst its wealthy clientele, unexpectedly helped raise earnings over the bumper levels reported in the third quarter of last year.
(Reporting by Oliver Hirt and Brenna Hughes Neghaiwi; Editing by Michael Shields and Edwina Gibbs)
America Inc and the shortage economy – The Economist
IF YOU LOOK only at the scale of the profits cranked out by American businesses, they seem to be indestructible (see chart). Despite a pandemic and a savage slump in 2020, large listed American firms' net income for the third quarter of this year is expected to reach over $400bn, at least a third higher than in the same quarter in 2019. Yet as earnings season gets into full swing this week, bosses and investors are watching for signs that three related worries are biting: supply-chain tangles, inflation, and hints that a long era of profitable oligopolies is giving way to something more dynamic and risky. Already big firms such as Snap, Honeywell and Intel have given the jitters to investors. Could there be more to come?
Only a quarter or so of firms in the S&P index have reported results so far. Those that have done so have pleased investors with better than expected figures. Superficially the picture is of "back to business as usual". Bad-debt provisions taken by banks in the depths of the panic over the economy, which proved unnecessary, have been unwound. JPMorgan Chase got a $2bn benefit to its bottom line from this reversal in the third quarter. Goldman Sachs has shelled out $14bn in pay and bonuses so far this year, up by 34% year on year. American Express reported a leap in revenues as small firms and consumers spent on their cards more freely. United Airlines confirmed it was on track to hit its performance targets for 2022.
Yet look again and the three worries loom. Start with supply chains. The number of ships waiting off California's big ports remains unusually high at about 80, according to Bloomberg. On 22nd October, Jerome Powell, the chair of the Federal Reserve, said that supply-chain problems may last "well into next year". The knock-on effects are feeding through industry. Union Pacific, a railway firm, lowered its forecast for traffic volumes because semiconductor shortages (often in Asia) have hit car production, in turn reducing the number of vehicles and components transported by rail. Honeywell, an industrial firm, cut its full year sales target by 1-2% complaining of a shortage of parts. VF Corp, which makes shoes (including white ones that fans of Squid Game, a hit TV show, hanker after) complained of supply-chain problems in Asia. So far the problem is not disastrous but it is inflating costs and forcing firms to adapt.
This supply chain headache is one element of a second, broader worry, about inflation and its impact on profits. Commodity prices are a source of pressure, with crude oil reaching $86 a barrel this week. Wages are too: although there are still 5m fewer people employed across the economy than before the pandemic hit, average hourly pay rose by 4.6% year on year in September. The immediate effect tends to be felt by low-margin firms that employ a lot of people: Domino's Pizza has complained of a "very challenging staffing environment" and falling sales.
Elsewhere a mild inflationary mindset is slowly infiltrating boardrooms. Procter & Gamble predicted that commodity and freight inflation would raise its operating costs this financial year by about 4% and that sales would rise by up to 4%, owing to a mixture of price rises, and volume and mix effects. Honeywell warned there would be a "continued inflationary environment" in 2022. All firms are weighing how much they can raise prices to compensate for higher costs. So are fund managers who are busy running screens for companies that they judge to exhibit the all-important quality of "pricing power". The shifting psychology of bosses and investors towards expecting more inflation should concern Mr Powell at the Fed.
The final big issue is whether an economy with shortages that is running hot ultimately forces an end to the managerial consensus of the past decade, which has favoured keeping margins high and being stingy with investment in order to maximise short-run cashflow. Already there are signs that attitudes are shifting in response to shortages and pent-up demand: economy-wide investment, excluding residential investment, rose by 13% in the second quarter of 2021 compared with the preceding year. United Airlines has said it will increase its capacity on international routes by 10%. FreePort McMoRan, a huge miner of copper (used in electric vehicles among a wide array of industrial applications), has said that it is "prepared to make value enhancing investments in our business" in response to red-hot prices. Hertz has announced an order of 100,000 cars from Tesla. And on Wall Street a fund-raising bonanza for speculative start-ups continues, including last week the merger of a special-purpose acquisition company with the social-media ambitions of a certain Donald Trump.
Rising investment is exactly what economists want because it increases capacity today and boosts the economy's long-run potential. Yet whether investors are prepared to take the plunge remains to be seen. Habituated by years of high margins, they tend to run shy of rising investment and competition. Snap's share price dropped by over 20% on October 21st as signs that the war over privacy settings on the iPhone between Apple and social-media firms, and the intensifying competition in advertising between a wide array of tech firms, is hurting its results. And Intel, which earlier this year boldly announced plans for a huge rise in investment in order to return to the frontier of the semiconductor industry, alongside TSMC and Samsung, presented Wall Street with the bill in the form of much lower than expected short-term earnings: its shares dropped by 12%. If you run a company or invest in one this is the new calculation: demand is recovering and costs are rising. Can you raise prices? And should you expand capacity? By the end of this earnings season the answer may be clearer.