The Economy Is Booming but Far From Normal, Posing a Challenge for Biden – The New York Times
High inflation, ghostly downtowns and a resurgent virus have rattled consumers and created new obstacles as the president tries to push his broader economic agenda.
The American economy is growing at its fastest clip in a quarter-century, yet it remains far from normal, with some workers and small-business owners facing increasingly tough times while others thrive. That divergence poses a challenge to President Biden, who has promoted the nation's economic recovery as a selling point in his quest to win support for a multitrillion-dollar spending agenda that could cement his legacy.
A summer that many business owners and consumers had hoped would bring a return to prepandemic activity has delivered waves of disappointment in key areas. Restaurants are short on staff and long on wait times. Prices have spiked for food, gasoline and many services. Shoppers are struggling to find used cars. Retailers are struggling to hire. Beach towns are jammed with tourists, but office towers in major cities remain ghost towns on weekdays, with the promised return of workers delayed by a resurgent coronavirus.
The University of Michigan's Consumer Sentiment Index suffered one of its largest monthly losses in 40 years in August, driven by the rapidly spreading Delta variant and high inflation. The survey's chief economist, Richard Curtin, said the drop also reflected "an emotional response, from dashed hopes that the pandemic would soon end and lives could return to normal."
Mr. Biden and his advisers are confident that many of those issues will improve in the fall. They expect hiring to continue at a strong pace or even accelerate, fattening worker paychecks and powering consumer spending. They remain hopeful that a reinvigorated labor market will take the place of the fading stimulus from the president's $1.9 trillion economic aid bill signed in the spring, and that the latest wave of the virus will not dampen growth significantly.
On Friday, they released new projections forecasting that growth will hit 7.1 percent this year after adjusting for inflation, its highest rate since 1983.
"Our perspective is one of looking at an economy that is growing at historic rates," Brian Deese, the director of Mr. Biden's National Economic Council, said in an interview.
But there is mounting evidence that the coming months of the recovery could be more halting and chaotic than administration officials predict, potentially imperiling millions of left-behind workers as their federal support runs dry.
Private forecasters have pared back growth expectations for the end of the year, citing drags on spending from the spread of the Delta variant and from the nationwide expiration of enhanced unemployment benefits next Monday. Emerging research suggests the end of those benefits might not immediately drive Americans back to the work force to fill the record level of open jobs nationwide.
"People will be surprised at how much the economy decelerates over the next year as the stimulus boost fades," said Jim O'Sullivan, the chief U.S. macrostrategist for TD Securities.
Administration officials do acknowledge some potential hurdles. Some big-city downtowns may never return to their prepandemic realities, and the economy will not be fully "normal" until the virus is fully under control. They stress that increasing the nation's vaccination rate is the most important economic policy the administration can pursue to accelerate growth and lift consumer confidence, which has slumped this summer.
.css-1xzcza9list-style-type:disc;padding-inline-start:1em;.css-3btd0cfont-family:nyt-franklin,helvetica,arial,sans-serif;font-size:1rem;line-height:1.375rem;color:#333;margin-bottom:0.78125rem;@media (min-width:740px).css-3btd0cfont-size:1.0625rem;line-height:1.5rem;margin-bottom:0.9375rem;.css-3btd0c strongfont-weight:600;.css-3btd0c emfont-style:italic;.css-w739urmargin:0 auto 5px;font-family:nyt-franklin,helvetica,arial,sans-serif;font-weight:700;font-size:1.125rem;line-height:1.3125rem;color:#121212;#NYT_BELOW_MAIN_CONTENT_REGION .css-w739urfont-family:nyt-cheltenham,georgia,'times new roman',times,serif;font-weight:700;font-size:1.375rem;line-height:1.625rem;@media (min-width:740px)#NYT_BELOW_MAIN_CONTENT_REGION .css-w739urfont-size:1.6875rem;line-height:1.875rem;@media (min-width:740px).css-w739urfont-size:1.25rem;line-height:1.4375rem;.css-9s9ecgmargin-bottom:15px;.css-uf1umedisplay:-webkit-box;display:-webkit-flex;display:-ms-flexbox;display:flex;-webkit-box-pack:justify;-webkit-justify-content:space-between;-ms-flex-pack:justify;justify-content:space-between;.css-wxi1cxdisplay:-webkit-box;display:-webkit-flex;display:-ms-flexbox;display:flex;-webkit-flex-direction:column;-ms-flex-direction:column;flex-direction:column;-webkit-align-self:flex-end;-ms-flex-item-align:end;align-self:flex-end;.css-12vbvwqbackground-color:white;border:1px solid #e2e2e2;width:calc(100% – 40px);max-width:600px;margin:1.5rem auto 1.9rem;padding:15px;box-sizing:border-box;@media (min-width:740px).css-12vbvwqpadding:20px;width:100%;.css-12vbvwq:focusoutline:1px solid #e2e2e2;#NYT_BELOW_MAIN_CONTENT_REGION .css-12vbvwqborder:none;padding:10px 0 0;border-top:2px solid #121212;.css-12vbvwq[data-truncated] .css-rdoyk0-webkit-transform:rotate(0deg);-ms-transform:rotate(0deg);transform:rotate(0deg);.css-12vbvwq[data-truncated] .css-eb027hmax-height:300px;overflow:hidden;-webkit-transition:none;transition:none;.css-12vbvwq[data-truncated] .css-5gimkt:aftercontent:'See more';.css-12vbvwq[data-truncated] .css-6mllg9opacity:1;.css-qjk116margin:0 auto;overflow:hidden;.css-qjk116 strongfont-weight:700;.css-qjk116 emfont-style:italic;.css-qjk116 acolor:#326891;-webkit-text-decoration:underline;text-decoration:underline;text-underline-offset:1px;-webkit-text-decoration-thickness:1px;text-decoration-thickness:1px;-webkit-text-decoration-color:#326891;text-decoration-color:#326891;.css-qjk116 a:visitedcolor:#326891;-webkit-text-decoration-color:#326891;text-decoration-color:#326891;.css-qjk116 a:hover-webkit-text-decoration:none;text-decoration:none;
"I don't want to put a timeline on this," said Cecilia Rouse, the chair of the White House Council of Economic Advisers. "We won't feel totally completely normal until we have, whether we want to call it herd immunity or a greater fraction or percentage of the American population is vaccinated."
"As we conquer the virus," she said, "we will regain normalcy."
The economy's rebound this year has been stronger than almost anyone predicted last winter, a result of the initial wave of vaccinations and the boost from Mr. Biden's stimulus bill. Gross domestic product returned to its prepandemic level last spring, and retail sales have soared far beyond their pre-Covid path.
Yet the recovery remains uneven and rattled by a rare set of economic crosswinds. In some sectors, consumer demand remains depressed. In others, spending is high but supply constraints — whether for materials or workers or both — are pushing up prices.
For instance, the construction sector has regained most of the jobs lost early in the pandemic, and other industries, such as warehousing, have actually grown. But restaurants and hotels still employ millions fewer people than they did in February 2020. The result: There are more college graduates working in the United States today than when the pandemic began, but five million fewer workers without a college degree.
Compounding the problem, employment in the biggest cities fell further than in smaller cities and rural areas, and it has rebounded more slowly. Employment among workers without a college degree living in the biggest cities is down more than 5 percent since February 2020, compared with about 2 percent for workers without a college degree in other parts of the country.
Even as millions of people remain out of work, businesses across the country are struggling to fill a record number of job openings. Many businesses have blamed expanded unemployment benefits for the labor shortage. If they are right, a flood of workers should be returning to the job market when the benefits end after Labor Day. But recent research has suggested that the benefits are playing at most a small role in keeping people out of the work force. That suggests that other factors are holding potential workers back, such as health concerns and child care issues, which might not ease quickly.
The Michigan sentiment data and the fade-out of stimulus benefits suggest consumers may be set to pull back spending further. But other data shows Americans increased their savings during the pandemic, in part by banking previous rounds of government support, and could draw on those funds to maintain spending for months to come.
Administration officials hope to buck up consumers and workers by pushing Congress to pass the two halves of Mr. Biden's longer-term economic agenda: a bipartisan infrastructure bill and a larger spending bill that could extend expanded tax credits for parents, subsidize child care and reduce prescription drug costs, among other initiatives.
"Our hope is that the new normal coming out of this crisis is not simply a return to the status quo and the economy, which was one that was not working for most working families," Mr. Deese said.
The virus remains the biggest wild card for the outlook. There is little evidence in government data that the spread of the Delta variant has suppressed spending in retail stores. But air travel, as measured by the number of people screened at airport security checkpoints, has tailed off in recent days after returning to about 80 percent of where it was during the same week in 2019.
Restaurant bookings on OpenTable, which had nearly returned to normal in June and July, are back down to 10 percent below their prepandemic level. Data from Homebase, which provides time-management software to small businesses, shows a sharp decline in the number of hours worked at restaurants and entertainment venues.
The variant is already casting a shadow over the new school year, with some schools, including a middle school in Fredericksburg, Va., temporarily returning to virtual learning amid new outbreaks.
Urban downtowns, once hopeful for a fall rebound in activity, are bracing for prolonged delays in white-collar workers returning to their offices.
"Our No. 1 job is to get office workers back — that's the driver of the downtown," said Paul Levy, the president and chief executive of the Center City District, a local business-development group in Philadelphia.
Mr. Levy's group estimates that 30 percent of downtown office workers have returned so far to Philadelphia. It had been expecting that number to hit 75 to 80 percent after Labor Day, and had built an advertising campaign around the idea that the fall would mark a milestone in the return to normalcy. But now major employers such as Comcast have delayed their return dates, worrying business owners.
Yehuda Sichel signed a lease for Huda, his gourmet sandwich shop in Philadelphia, on Feb. 29, 2020 — two weeks before the pandemic sent virtually his entire prospective customer base home indefinitely.
He made it through the pandemic winter with takeout orders, holiday meal kits and some creativity. A short-rib special on a snow day when many other restaurants were closed helped him make payroll during a particularly grim period. Last spring, business began to improve, and Mr. Sichel invested in new equipment and a new kitchen floor in hopes of a surge in business once office workers returned. Now he doubts he will see one.
"September was supposed to be this huge boom," he said. "Now, September is going to be fine. I'm sure we'll see a little bump, but not the doubling in business that I was hoping for."
Germany is the biggest economy in Europe. What if it shifts left? – CNN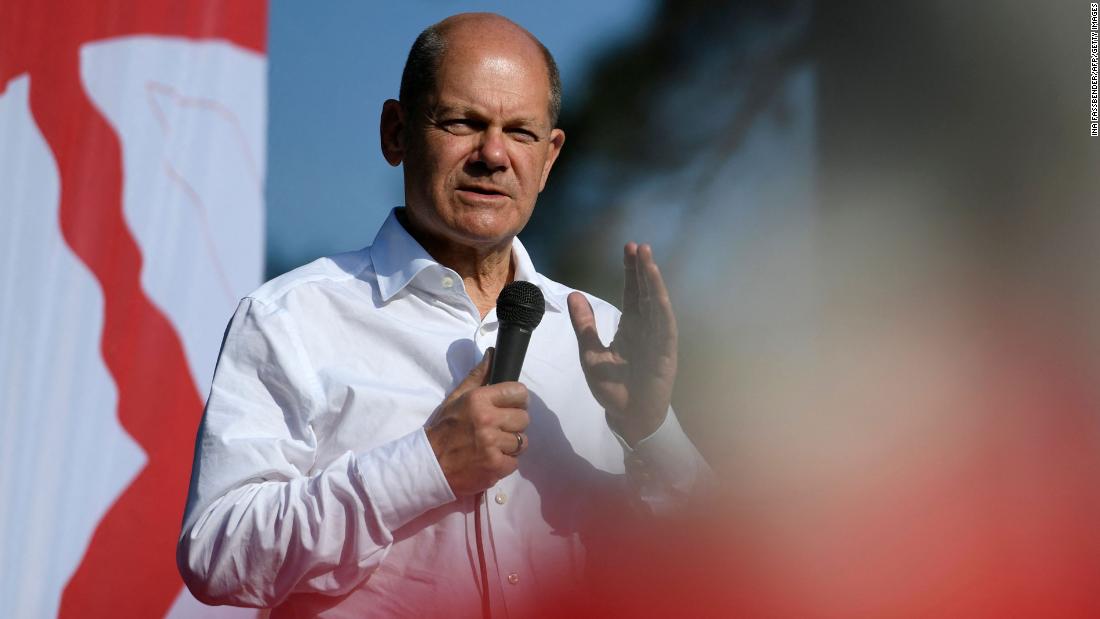 The results of
Sunday's election
are hard to predict, and the formation of a government could take weeks or months to play out. But when the dust settles, polls indicate that the new chancellor could be the left-leaning Social Democratic Party's Olaf Scholz, who steered Germany's economy through the pandemic as finance minister in a coalition with Merkel. Meanwhile, the Greens could more than double their number of seats in parliament.
Scholz's SPD and the Greens
could partner with the pro-business Free Democratic Party, gaining enough power to shift the country's economic agenda to the left. Taxation and spending could increase as political leaders double down on digitization and
climate policy
, while wariness about rising government debt may take a back seat.
"Greens and liberals in a coalition would bring the freshest innovative forces that we have had in a while in a German government," said Carsten Brzeski, ING's global head of macro research.
Spend more, worry later?
Global banks say that the eventual outcome of post-election jockeying among the parties is far from certain, while advising investors to prepare for two potential results: a coalition of the SPD, Green Party and the FDP, or a narrow victory for Merkel's center-right Christian Democratic Union, led by Armin Laschet, which would also likely need to team up with the Greens and FDP.
The former option would mark a move to the left, but would be less dramatic than an alliance between the SPD, Greens and hard-left Die Linke. This result, which could produce much more ambitious efforts to redistribute wealth and levy taxes, has been downplayed by analysts, and would likely take investors by surprise.
Whichever combination takes charge will have to manage the ongoing recovery from the coronavirus pandemic. Germany's economy is on track to grow by 2.9% this year and 4.6% next year after contracting by 4.9% in 2020, according to the latest projections from the Organization for Economic Cooperation and Development.
Yet recent data indicates momentum could be slipping. The Ifo index, which tracks the country's business climate, fell for the third month in a row in September, according to data released Friday. Slower growth in China, snarled supply chains and surging gas prices are likely to be taking a toll.
This pullback could add to pressure on the country's new leaders to scrap Germany's notoriously strict fiscal rules so they can keep spending on the domestic economy.
The country enshrined a so-called "debt brake" in the constitution in 2009, severely limiting public borrowing after the financial crisis with few exceptions. Because of the pandemic, debt rules were suspended until 2023. That allowed German borrowing to jump, with the country's debt-to-GDP ratio climbing sharply to 70% in 2020.
Though such a ratio pales in comparison with the United States, where debt is now projected to exceed annual GDP, Germany's centrist parties have been eager to get the country's public finances back under control. The Greens, meanwhile, want more permanent easing of debt rules.
UBS strategists Dean Turner and Maximilian Kunkel think the debt brake — which has become a key tenet of German fiscal conservatism — is likely to remain in place, since overturning it would require a two-thirds majority in parliament.
Still, they expect Germany's new leaders will find other ways to increase spending to address the climate crisis, an issue that gained even greater prominence after
devastating flooding
hit the country in July.
"The one common area of agreement for all parties is the need to tackle climate change," Turner and Kunkel wrote in a recent research note. Whatever coalition emerges, they continued, green investment "will rise."
Tackling the climate crisis
Brzeski expects that the incoming governing coalition, no matter its makeup, will create a special investment vehicle to circumvent the debt brake, allowing money to flow to green initiatives.
With a more liberal coalition government, however, some timelines could be moved up.
"[The Greens] would likely push for an acceleration of the green transition of the German economy as a pre-condition for entering government," Goldman Sachs said in a recent note to clients.
The Green Party has called for a 70% cut in greenhouse gas emissions from 1990 levels by 2030, compared to the current government goal of 65%. It also wants coal plants shuttered by the end of this decade, rather than by 2038, and for new cars to be emissions-free by that point, too.
This could set up a clash with Germany's most powerful businesses. In its latest strategy update,
Volkswagen
(VLKAF)
said it wanted 50% of sales to come from electric cars by 2030, rising to almost 100% in 2040.
How much the state should intervene could generate friction between coalition members.
"The biggest controversy will be: How do you change people's behavior?" Brzeski said. "Do you do this by incentives, and by educating people, or do you do this by [increasing] prices and costs?"
A left-leaning government in Germany could also lead to an increase in taxes for the wealthiest Germans, with the SPD proposing a new wealth tax on the super-rich.
But banks are emphasizing that it remains hugely unclear how the election will play out — and the more conservative CDU could still prevail, keeping Germany more firmly on its current fiscal and economic path.
Province Invests in Wellington County Businesses to Boost Local Economy – Government of Ontario News
Powell meets a changed economy: Fewer workers, higher prices – 95.7 News
WASHINGTON (AP) — Restaurant and hotel owners struggling to fill jobs. Supply-chain delays forcing up prices for small businesses. Unemployed Americans unable to find work even with job openings at a record high.
Those and other disruptions to the U.S. economy — consequences of the viral pandemic that erupted 18 months ago — appear likely to endure, a group of business owners and nonprofit executives told Federal Reserve Chair Jerome Powell on Friday.
The business challenges, described during a "Fed Listens" virtual roundtable, underscore the ways that the COVID-19 outbreak and its delta variant are continuing to transform the U.S. economy. Some participants in the event said their business plans were still evolving. Others complained of sluggish sales and fluctuating fortunes after the pandemic eased this summer and then intensified in the past two months.
"We are really living in unique times," Powell said at the end of the discussion. "I've never seen these kinds of supply-chain issues, never seen an economy that combines drastic labor shortages with lots of unemployed people. … So, it's a very fast changing economy. It's going to be quite different from the one (before)."
The Fed chair asked Cheetie Kumar, a restaurant owner in Raleigh, North Carolina, why she has had such trouble finding workers. Powell's question goes to the heart of the Fed's mandate of maximizing employment, because many people who were working before the pandemic lost jobs and are no longer looking for one. When — or whether — these people resume their job hunts will help determine when the Fed can conclude that the economy has achieved maximum employment.
Kumar told Powell that many of her former employees have decided to permanently leave the restaurant industry.
"I think a lot of people wanted to make life changes, and we lost a lot of people to different industries," she said. "I think half of our folks decided to go back to school."
Kumar said her restaurant now pays a minimum of $18 an hour, and she added that higher wages are likely a long-term change for the restaurant industry.
"We cannot get by and pay people $13 an hour and expect them to stay with us for years and years," Kumar said. "It's just not going to happen."
Loren Nalewanski, a vice president at Marriott Select Brands, said his company is losing housekeepers to other jobs that have recently raised pay. Even the recent cutoff of a $300-a-week federal unemployment supplement, he said, hasn't led to an increase in job applicants.
"People have left the industry and unfortunately they're finding other things to do," Nalewanski said. "Other industries that didn't pay as much perhaps … are (now) paying a lot more."
Christopher Rugaber, The Associated Press