The economy is expected to have barely grown last quarter and it may have contracted – CNBC
Shipping containers are seen at a terminal inside the Port of Oakland as independent truck driver continue protesting against California's new law known as AB5, in Oakland, California, July 21, 2022.
Carlos Barria | Reuters
Economists are forecasting the economy barely grew in the second quarter, and some expect that it actually contracted.
The estimates show the economy may have grown by several tenths of a percent. Goldman Sachs expects a 1% increase, while Moody's Analytics sees a 1% decline. The GDP report will be released at 8:30 a.m. ET Thursday.
The sluggish growth forecasts follow the 1.6% decline in the first quarter. But there are plenty of forecasts for a shrinking economy, including the Atlanta Fed's GDP Now tracker, which has negative 1.2% for the second quarter.
That would make it the second negative GDP report in a row, one of the signals that the economy is in recession. However, economists are careful to point out that the strong labor market and other factors make a recession unlikely for now. They also note the National Bureau of Economic Research, the official arbiter of recession calls, also is not expected to declare one now.
Fed Chairman Jerome Powell Wednesday said he does not believe the economy is in a recession.
"Let's say it's negative. The headline everywhere is going to be 'recession.' That's not how the markets think about it, but you'll see people screaming 'recession,'" said Michael Schumacher, head of macro strategy at Wells Fargo. "Then there will be a debate about it. … It will matter more to the political types than the market."
Some economists raised their forecasts Wednesday, ahead of the second-quarter report, after the monthly durable goods report came in better tha expected, and advance trade data showed the trade gap narrowed significantly. Durable goods rose by 1.9% in June after a smaller 0.8% advance in May.
Goldman Sachs economists boosted their gross domestic product forecast to 1% from 0.4% after the data.
Mark Zandi, chief economist at Moody's Analytics, said he now has a forecast of negative 1%; before the data it was at negative 1.3%. But he, too, does not believe the negative number, when combined with the first quarter's contraction, would signal a recession.
"I think it's hard to see a recession when we created so many jobs. There are record unfilled positions," he said, noting job growth has been averaging about 500,000 a month. "It's not consistent with the idea the economy is in a recession. It's every single industry and in every corner of the country that is experiencing robust jobs growth. It's just not a recession."
The economy added 372,000 jobs added in June.
Zandi noted the negative growth numbers are likely to be revised higher, and the causes of the contraction are not lasting. The slowdown can be partly linked to the impact of Covid on the economy, which resulted in snarled supply chains and inventory issues.
"The weakness in Q1, Q2 GDP goes to trade and inventories primarily, and those are temporary factors in GDP," he said. "They swing the GDP number around quarter to quarter, but they're not persistent sources of growth or weights on growth."
Trade subtracted 3.2 percentage points from GDP in the first quarter, but it should be a positive factor in the second quarter, Zandi added.
"We had a pretty large inventory gain in Q1. … I think this goes to disruptions in trade related to the pandemic and the timing of things," he said. "Inventories were up significantly in Q1. … We're going to see some inventory accumulation in Q2 but not as large an inventory gain. Therefore, that's a drag on GDP."
JP Morgan economists raised their growth forecast from 0.7% to 1.4% following Wednesday's economic releases.
"The most significant surprises were tied to trade and inventories, as the June trade deficit came in narrower than we had anticipated and the June nominal inventory changes were above expectations," the JP Morgan economists wrote in a note.
The nominal goods trade deficit narrowed to $98.2 billion in June from $104 billion in May, and exports rose 2.5% as imports fell 0.5%. The trade data is not complete, as it does not include services, but the JP Morgan economists said they now expect an improving trade deficit means more growth.
"We think the data in hand are strongly suggestive that the real trade deficit narrowed noticeably in 2Q [which we now think added 1.6%-pts to 2Q real GDP growth]," they noted.
Kevin Cummins, chief U.S. economist at NatWest Markets, said the trade data supports his view that the economy grew at a 1.5% pace in the quarter.
"It's not to say you can't get a negative print but it's less likely," he said. Cummins also stressed two negative quarters back to back do not mean the economy is actually in a recession.
"If we get another negative quarter for Q2 they call it a technical recession," said Cummins. "The problem with that is it's not how the NBER looks at things. … They look at monthly data. They'll look at employment. They'll look at personal income, consumption, industrial production, all the monthly data and decide whether the economy is in contraction or expansion."
UK economy avoids recession but businesses still wary
LONDON, March 31 (Reuters) – Britain's economy avoided a recession as it grew in the final months of 2022, according to official data which showed a boost to households' finances from state energy bill subsidies but falling investment by businesses.
With the economy still hobbled by high inflation and worries about a weak growth outlook, gross domestic product (GDP) increased by 0.1% between October and December after a preliminary estimate of no growth.
GDP in the third quarter was also revised to show a 0.1% contraction, a smaller fall than initially thought, the Office for National Statistics (ONS) said on Friday.
Two consecutive quarters of contraction would have represented a recession.
Despite the improvement, British economic output remained 0.6% below its level of late 2019, the only G7 economy not to have recovered from the COVID-19 pandemic.
"The latest release takes the UK a little further away from the recessionary danger zone although the report does not change the overall picture that the economy's performance was lacklustre over the second half of 2022 as the cost of living crisis hit hard," Investec economist Philip Shaw said.
The International Monetary Fund forecast in January that Britain would be the only Group of Seven major advanced economy to shrink in 2023, in large part because of an inflation rate that remains above 10%.
Since then, a string of economic data has come in stronger than expected by analysts.
Ruth Gregory at Capital Economics said Friday's figures showed high inflation had taken a slightly smaller toll than previously thought.
"But with around two-thirds of the drag on real activity from higher rates yet to be felt, we still think the economy will slip into a recession this year," she said.
House prices slid in March at the fastest annual rate since the financial crisis, mortgage lender Nationwide said.
The Bank of England (BoE) last week raised interest rates for the 11th consecutive meeting and investors are split on the possibility of another increase in May.
Britain's dominant services sector rose by 0.1%, boosted by a nearly 11% jump for travel agents, echoing other data which has pointed to a surge in demand for holidays.
Manufacturing grew by 0.5%, driven by the often erratic pharmaceutical sector, and construction grew by 1.3%.
Individuals' savings were boosted by the government's energy bill support scheme and households' disposable income increased by 1.3% after four consecutive quarters of negative growth.
The BoE expects Britain's economy to have contracted by 0.1% in the first three months of 2023 but it forecasts slight growth in the second quarter.
The outlook has improved thanks in large part to falling international energy prices and a strong jobs market.
But the picture could darken again if recent turmoil in the global banking sector leads to lenders reining in loans.
BUSINESS INVESTMENT FALLS
The data suggested businesses remained cautious. Business investment fell 0.2% in quarterly terms, a sharp downgrade from a first estimate of a 4.8% rise after changes to the way the ONS calculates seasonal adjustments.
Earlier on Friday, a survey painted a more upbeat picture for businesses.
Finance minister Jeremy Hunt this month announced new tax incentives to encourage companies to invest, although they were less generous than a previous scheme and came just as corporate tax is due to jump.
The ONS said Britain posted a shortfall in its current account in the fourth quarter of 2.5 billion pounds ($3.1 billion), or 0.4% of GDP.
Excluding volatile swings in precious metals, the shortfall fell to 3.3% of GDP from 4.2% in the third quarter.
The ONS said increased foreign earnings by companies, particularly in the energy sector, helped narrow the deficit.
Britain's financial account surplus – which shows how the current account deficit was funded – comprised large net inflows of short-term, "hot" money. Foreign direct investment was negative in net terms for a sixth quarter running.
($1 = 0.8073 pounds)
Additional reporting by William James, graphic by Vineet Sachdev; Editing by Robert Birsel and Catherine Evans
Our Standards: The Thomson Reuters Trust Principles.
Canada's economic growth resumed in January: StatCan
OTTAWA –
Statistics Canada says economic growth resumed in January following a small contraction in December.
The agency says real gross domestic product rose 0.5 per cent to start the year after contracting 0.1 per cent in the final month of 2022.
It also says that its initial estimate for February indicates growth continued with a gain of 0.3 per cent, though it cautioned the figure will be updated.
For January, the growth came as the wholesale trade, transportation and warehousing, and mining, quarrying and oil and gas extraction sectors all rebounded after falling in December.
Wholesale trade gained 1.8 per cent in January, helped by wholesalers of machinery, equipment and supplies, while the mining, quarrying and oil and gas extraction sector grew 1.1 per cent after falling 3.3 per cent in December.
The transportation and warehousing sector added 1.9 per cent in January, more than offsetting a drop of 1.1 per cent in December that was due in part to bad weather.
This report by The Canadian Press was first published March 31, 2023
Canada's economy jumps back to life after stalling last year: What you need to know – Financial Post
Economy's resilience means higher interest rates remain a possibility this year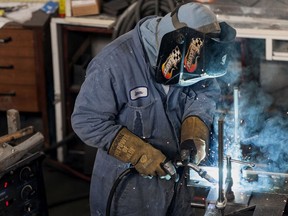 Article content
Statistics Canada reported March 31 that Canada's economy surged back to life at the start of the year after stalling at the end of 2022, complicating the Bank of Canada's efforts to get inflation back to its two per cent target. Here's what you need to know:
Article content
Gross domestic product, as measured by industrial output, increased 0.5 per cent in January from the previous month, more than reversing a 0.1 per cent drop in December.
GDP increased an additional 0.3 per cent in February, according to Statistics Canada's "flash estimate," which is based on preliminary data.
Seventeen of the 20 broad industries that Statistics Canada monitors posted gains, led by wholesaling, which increased 1.8 per cent from December. Mining, quarrying, and oil and gas gained 1.1 per cent.
The Canadian dollar increased somewhat, and short-term bond yields rose, as traders repositioned amid expectations that the Bank of Canada will leave interest rates high for longer.
Article content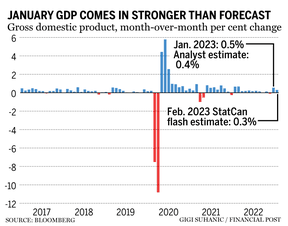 Backstory
Canada's economy was supposed to be in a recession by now. At least that was the vibe for much of last year, as economists reckoned the most severe burst of inflation in four decades and the most aggressive series of rate hikes in the Bank of Canada's history would combine to sink the recovery from the COVID-19 crisis.
Article content
The economy slowed, but nowhere near as much as forecasters predicted, as a surprisingly strong labour market offset the effects of higher living costs. Earlier this year, it looked like Canada's impressive run had finally run out of track when Statistics Canada reported that GDP growth stalled in the fourth quarter, aligning with the Bank of Canada's prediction that there would be essentially no growth for the first part of 2023.
But some economists observed the fourth-quarter numbers were influenced by an unusually large depletion of inventories, suggesting the economy might still have some spark. That appears to be the case, as many industries that posted declines in December rallied in January.
What does it mean for interest rates?
Article content
The Bank of Canada stopped raising interest rates for the first time in a year on March 8. Headline inflation had been dropping steadily from its peak in June, so policymakers said it was appropriate to pause and assess the situation. Governor Tiff Macklem had made it clear he didn't want to cause a recession if he could avoid it.
However, policymakers emphasized that they were still worried about inflation and that they would err on the side of getting year-over-year increases in the consumer price index back to two per cent. (Inflation was 5.2 per cent in February.) That means another interest rate increase will be on the table when Macklem and his deputies gather to update policy on April 12.
Faster economic growth will be a concern for the central bank only because it will exert upward pressure on inflation. (That's why it's tended to take a recession to bring price increases under control.) But policymakers probably will look at these numbers and call it a wash. Their quarterly economic outlook in January predicted a 1.3 per cent annual rate of growth in the fourth quarter, not zero, which is what Statistics Canada's actual tally produced.
Article content
The Bank of Canada's outlook for growth in the first quarter was 0.5 per cent, and some economists said the January and February monthly figures imply the economy is growing at an annual rate of about 2.5 per cent.
So, the gains in January and February could represent some of those sparks of strength that the Bank of Canada already thought it was seeing. That calculation probably will be enough to leave interest rates unchanged in April. But the economy's resilience means higher interest rates remain a possibility this year, and the rate cuts that some forecasters see on the horizon remains a distant bell.
An earlier version of this story stated that the Bank of Canada predicted the economy grew at annual rate of 0.5 per cent in the fourth quarter. That was its prediction for the first quarter. The mistake has been corrected.
• Email: kcarmichael@postmedia.com | Twitter: carmichaelkevin